Best travel pillows: 6 comfy picks to help you sleep on the go
Whether you're traveling by plane, car, bus or train, the right travel pillow will transform your journey...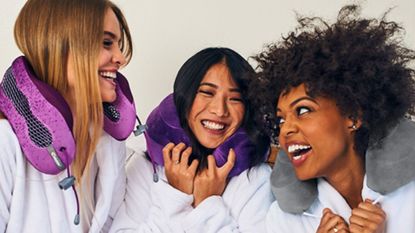 (Image credit: Cabeau)
Sign up to the Homes & Gardens newsletter
Decor Ideas. Project Inspiration. Expert Advice. Delivered to your inbox.
Thank you for signing up to Homes & Gardens. You will receive a verification email shortly.
There was a problem. Please refresh the page and try again.
If your travel schedule is starting to pick up, especially as we glide right into the holiday season, make sure you have one of the best travel pillows strapped to your carry-on, whether you're traveling by plane, train, or car.
A good travel pillow isn't usually the one you panic buy at the airport or in a service station halfway through a long drive. It should be a design that suits how you like to sleep, whether you've got a particularly heavy head, or are prone to lolling forward when you do nod off.
The best travel pillows need to be everything that your favorite pillow is at home, and more. They should support your head and neck, help reduce strain, and help you relax, but travel pillows also need to be adjustable, multi-functional, and will win bonus points for being packable into your hand luggage.
We've found the finest travel pillows whatever your budget, designed for every eventuality, from curling up on the back seat, to having to find a quiet corner of the airport to bed down on during a delay.
1. Tempur-Pedic TEMPUR Neck Pillow, Travel
The best travel pillow to suit any sleeper and any journey
Specifications
Dimensions: 12" x 10" x 4" in / 31 x 25 x 10cm
Material : memory foam / fabric cover
Reasons to buy
+
Feels like a full-size pillow
+
Compact carry case
+
Machine washable cover
Tempur is a household name these days, but the memory foam they use was first created by NASA in the 1970s to cushion and support astronauts during lift-off. As you can imagine, if it's OK for astronauts, it's pretty good for vacations and business travel too.
Rather than redesigning something that already has legions of fans, to create the TEMPUR Neck Pillow for travel, they simply chopped their Original full-sized pillow in half and designed a travel case that easily slips into your hand luggage.
The resulting design is a wonderfully comfortable and supportive pillow that means you can take full-sized comfort with you as you travel. If you already use a Tempur pillow and hate leaving it at home when staying in hotels, this is the ultimate solution.
It's not that ergonomic if you're using it on a plane — it is better suited to being very comfortable when camping or in strange beds — but being memory foam, it will mold to the contours of the seat or window and keep you comfortable much better than a rolled-up jacket ever could.
2. Travelrest NEST
The best C-shaped travel pillow
Specifications
Dimensions: 12" x 11" x 5" in/ 12 x 23 x 27 cm
Material : Memory foam
Reasons to buy
+
Lies flat against chair back
+
Super snuggly
+
Non-slip
+
Packable carrying case
A million air miles away from the typical cheap inflatable C-shaped pillow, the Travelrest NEST is plush, supportive, and extremely comfortable.
It has a flat back that's angled to rest against a seat head, while the molded memory foam supports and squishes in all the right places around your shoulders. There's also a non-slip backing too that helps to keep the pillow in position rather than slipping around as your weight shifts.
It looks big and feels large and supportive but impressively it managed to pack down into a drawstring stuff sack that's to around a quarter of its original size, and the velour cover is machine washable.
Available in blue and grey, the Travelrest NEST does have a Velcro fastening at the front but if your head tends to loll forward as you sleep, this isn't the travel pillow for you.
3. Infinity Pillow
The best travel pillow for flexibility
Specifications
Dimensions: 13.78" x 5.51" x 7.87" / 35 x 14 x 20 cm
Material : Bamboo and microfiber
Reasons to buy
+
Flexible design
+
Fits everyone
+
Like a mini duvet
Reasons to avoid
-
Doesn't pack down
-
Heavy (500g)
It's big, awkward to carry if not draped around your neck, but the Infinity Pillow is a brilliantly versatile design. Essentially, it's one long loop of soft-but-supportive microfibre and bamboo material that provides great neck support, but also doubles as a lumbar pillow, chin support, desk pillow, and even keeps out unwanted light and sound if you wrap it round your head.
Its packaging comes with eight suggested ways of use, so it's perfect if you change your position all the time and need your pillow to be easily adaptable.
The Infinity pillow's bamboo fabric is more breathable than cotton, but remains appreciably soft and warm, handy if you've ever been woken up shivering by a plane's air conditioning.
Discovering the best position for optimum comfort takes a bit of time, but on the whole, a quick loop around and you'll be snug as a bug, or simple scrunched in a ball and used as a standard pillow works well.
Don't however expect it to pack down and fit in your carry-on. This is a pillow to be worn like a scarf.
4. Cabeau Evolution Cool
The best travel pillow for staying cool
Specifications
Dimensions: 9.75 x 9.5 x 5.5" in/ 25 x 24 x 14cm
Material : Polyurethane Memory Foam / Polyester with spandex
Reasons to buy
+
Doesn't overheat
+
Washable covers
+
Compact
Reasons to avoid
-
Expensive
-
Toggles can catch on stuff
Big super-soft pillows keep your head supported with ease, but if you're prone to getting hot they can get uncomfortably warm in next to no time. To combat this over-heating, Cabeau created the award-winning Evolution Cool, a compact memory foam neck pillow with strategically cut-out sections and a mesh cover to help airflow and maintain a comfortable temperature.
These air vents really do make a difference and combined with the dual-density foam, that manages to be supportive and supple, your head stays securely in position.
Wear it upside down or inverted-backward –whichever feels most comfortable – and adjust the toggles to fit your neck. Once you've arrived – hopefully fully refreshed – the pillow crushes down to half its original size and fits easily in its small mesh storage case.
It's not the most stylish pillow we've seen, and the toggles can occasionally get in the way if you're not careful, but the cover is machine washable and it remains one of the most comfortable options whatever the temperature.
5. Bcozzy Bcalm Kids
The best travel pillow for kids
Specifications
Dimensions: 8.27" x 9.06" x 2.76" in/ 25.5 x 23 x 85cm
Material : Foam and cotton
Reasons to buy
+
Perfect size for kids of all ages
+
Doesn't fall off
+
Colourful designs
+
Adult version also good
Reasons to avoid
-
Expensive for a kid's pillow
-
Minimal rear neck support
Available in a great choice of bright colors, this snake-like super-supportive pillow wraps around the neck and does a great job of keeping your child's head upright but comfortable, without the risk of suddenly jolting awake if their chin drips forward.
You can adjust the Bcozzy Bcalm to give increased support or elevate their head either when resting on the right or left side of their seat. It doesn't do as good a job of supporting the back of the neck, but in most cases, the car/plane/train seat does that for them.
A lovely design for long journeys that can't fall down if they move, which should mean more peace and quiet for the parents too, especially if they're in the back of the car.
The cover is snuggly, the body firm but soft as a teddy, and the whole thing can be put in the washing machine.
But possibly best of all, it is also available in large and XL sizes for grown-ups, because it's every bit as comfortable and supportive for adults too.
6. Ostrich Pillow Go
The best travel pillow for style
Specifications
Dimensions: W26 x L24.1 x H15cm / 10.6 x 6.6 x 5.1"
Material : memory foam with viscose, elastomer blend
Reasons to buy
+
Good looking
+
Adjustable support
+
Comfortable for leaning
Reasons to avoid
-
Style comes at a steep price
-
Hand wash only
Finally, a neck pillow with real style, the Ostrich wraps around your shoulders to support the head while you're trying to sleep, but unlike the majority of designs, this one looks like something we'd actually want to own.
Inside is made of high-quality memory foam that helps adapt to the contours of your neck and shoulders, and we especially like how the large Velcro pad means we can wrap the pillow snugly around our neck like a thick scarf, or wear it looser, depending on the situation. The tighter you secure it, the more support you have for your chin.
The Pillow Go can be adjusted from a maximum loop of dia 45cm / 17" down to dia32cm/12.59". It's also worth noting that one side of the pillow is higher than the other – 17cm/6.6" rather than 13cm/5" – which elevates your head when leaning on a wall or window.
It doesn't quite have the same plush levels of cushioning or support as the Travelrest NEST, but it does support closer into the neck. It also looks great, although you do pay a lot for the style upgrade.
How do I choose a travel pillow/neck pillow?
You can trust Homes & Gardens. Our expert reviewers spend hours testing and comparing the latest products, helping you choose the best for you. Find out more about how we test.
Amazon currently sells over 10,000 travel pillows – everything from simple inflatable c-shapes and novelty giraffe-neck styles for the kids, to ultralight camping designs for backpackers and luxury memory foam design for comfort lovers.
How you decide really depends on the type of travel you do the most, and importantly, how you manage to sleep when you're squeezed into an airline seat, train carriage, or car. If you sit upright, arms folded and nod-off, a model with front neck support will help support your head, while high-sided wrap-around models will help you lean against windows and armrests.
Is a travel pillow worth it?
Unless you're lucky enough to always travel in first-class a travel pillow is a modern-day essential and can make all the difference on a long journey. A bad pillow – maybe a cheap plastic inflatable model with sharp seams – will irritate you more than offer comfort, so it's worth investing in designs with super soft covers and natural fibers. These also tend to be machine washable which is a bonus, especially for kids.
What about neck support?
Falling asleep on a plane is easy for most people, but staying asleep is a whole lot harder, but a high sided, folly supportive pillow can help reduce strain on your neck however you manage to fall asleep. Even if you're not looking to sleep, they can relieve tension in your neck and back and provide better upright support than most standard headrests.
Are there better pillows for long flights?
What they lack in packability, solid U-Shaped and wrap-around pillows make up for in long-haul comfort, thanks to the use of memory foam for greater support than inflatable or square designs. Look for models with shoulder cutouts and flat portions to rest against the seat, and mesh ventilation if you tend to over-heat.
Sign up to the Homes & Gardens newsletter
Decor Ideas. Project Inspiration. Expert Advice. Delivered to your inbox.
Chris Haslam is an award-winning consumer technology journalist with over 15 years of experience. He lives in Walthamstow, East London - buying at least a decade before it became fashionable - and spends his days surrounded by boxes while researching, testing and writing about the latest in smart home and consumer technology. As well as writing for Homes & Gardens, he is a contributing editor for WIRED and writes for a host of leading design, lifestyle and technology titles.