Best brambles – 8 easygoing options for berries and blooms
Grow the best brambles with our pick of the finest blackberries, raspberries and hybrids – for juicy fruit and charming florals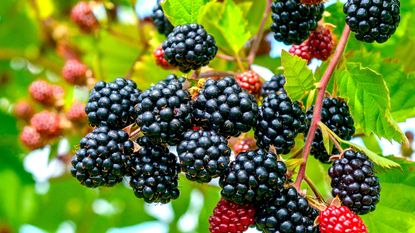 (Image credit: Muller McPhoto / Alamy)
The best brambles can provide a luscious fall harvest – but that's only part of their allure. There are also a few brambles grown for their flowers, sometimes scented and in a few cases fully double. A few are also invaluable in winter for their shining, waxy stems. There are even evergreen ground covers. Alongside blackberries, there are raspberries, tayberries and other cane fruits. All come under the heading of brambles (Rubus).
Brambles are a diverse group and very different in the way they look, how they grow, and whether they produce an edible crop or attractive florals. However, most have this in common: they're tolerant of a wide range of growing conditions, and they are easy to propagate. They also thrive on neglect and can be some of the best fast-growing shrubs – although they soon get out of hand if left unpruned.
Another feature that's common to almost all bramble varieties is they are good for wildlife. A tangled blackberry thicket is a popular nest site for birds, as thorns help protect nests from predators. Birds, mice and voles enjoy feeding on the fruits, as will quickly become clear if you forget to net your raspberries. And whether you're looking for groundcover, flora or winter stems, these versatile shrubs offer something for everyone. Here are some of the best types of brambles for your plot.
8 of the best brambles for berries and blooms
When choosing the best brambles, it can help to understand how they are grouped. 'Primocane' and 'floricane' are terms used to describe the flowering and fruiting habits of cane fruits. Floricane varieties produce flowers, then fruits, on short lateral growths that spring from the leaf joints of stems that grew the previous year. These are early-fruiting varieties, and examples include 'Glen Ample' and 'Glen Coe' raspberries.
Primocane varieties produce flowers and fruits later in the season, on growth developed since spring. These are late-fruiting, though if canes are left in place they carry fruits again the following year. Examples include 'All Gold' and 'Autumn Bliss'. Several of the best flowering shrubs are prized for their stunning petals (like 'Olympic Double').
1. Raspberry 'Autumn Bliss'
Hardiness: USDA Z6
Season: Mid-August to mid-October
Good for: Poor soil conditions
The large, firm, rich berries of Raspberry 'Autumn Bliss' take wet weather well and have an excellent flavor. The canes are thorny, but relatively short and easy to manage. These types of brambles fruit from mid-August to mid-October, but mostly in September. If you like to grow raspberries, 'Autumn Bliss' does well in poor conditions. Cut back to ground level in winter for the best results the following year.
2. Blackberry 'Black Butte'
Hardiness: USDA Z6
Season: Early July to mid-August
Good for: Massive fruits
One of the best edible bramble varieties, 'Black Butte' produces fruits that are 2in long, twice the size of other blackberries. They have a strong, sweet blackberry flavor and plenty of juice.
They are excellent low maintenance garden border options, but bear in mind that the plants are thorny. These plants fruit from early July to mid-August. Cut out stems that have fruited, at the base, after picking.
3. Tayberry AGM
Hardiness: USDA Z6
Season: Late July to late August
Good for: Extra hardiness
For something that combines the strengths of the best brambles, the tayberry is an impressive choice. Cropping from late July to late August, the large fruits of this blackberry/raspberry hybrid mature to deep purple-red. Individual fruits can be twice the size of a standard raspberry, but are best cooked rather than eaten fresh.
The crop is prodigious and the flavor is superb, but plants are vigorous. If you want something for small garden ideas, you're best trying one of the other brambles. After cropping, cut out the stems that have carried fruit.
4. Rubus 'Benenden' AGM
Hardiness: USDA Z7
Season: Flowers in May
Good for: White flowers
Anyone looking for stunning white garden ideas will find much to admire about this pretty flowering bramble (sometimes listed under its old name of 'Tridel').
Rubus Benenden produces large, scented flowers that are pure white with golden eyes. Like wild roses, these blooms line elegantly arching thorn-free stems in May.
This is one of the best bramble varieties for a cottage garden border, but they do need plenty of space. They also require fertile soil in full sun, and space to develop. Cut out some, but not all, of the old growth at the base after flowering.
5. Loganberry 'Ly 654'
Hardiness: USDA Z6
Season: Mid-July to early August
Good for: Thornless hybrids
If you are interested in thorn-free options, these are amongst the best brambles you can grow. The fruits on this thornless hybrid of a raspberry and a blackberry will mature with a rich wine red color.
Loganberry 'Ly 654' is prolific and strong growing, and crops from mid-July to early August. The fruits are sharp at first, so at that stage are best cooked, but as they deepen in color they develop more sweetness.
6. Blackberry 'Loch Ness' AGM
Hardiness: USDA Z6
Season: Early August to October
Good for: Small spaces
Fruit growers who like foraging for berries will appreciate the wild qualities of Blackberry 'Loch Ness'. This is another one of the thornless types of brambles. It is less vigorous than other varieties, so works better in small spaces.
The large berries crop generously from early August to October. They have a fine, wild blackberry flavor, unless they are picked too soon. In terms of how you prune blackberries, wait until after cropping and then cut out the stems that have carried fruit. You should also remove suckers from unexpected places.
7. Japanese wineberry
Hardiness: USDA Z7
Season: Late July to late August
Good for: Juicy berries
If you are interested in Japanese garden ideas, you will love the wineberry. This Asian native is one of the best brambles for dynamic visual tones as well as tasty fruit. It has colorful red winter stems, hosting masses of red bristles.
Small pink summer flowers make way for sweet, bright orange-red berries that mature to deep red from late July to late August. Fruits are lovely eaten fresh and also make great jam. Enjoy the red winter stems, then cut back hard in March.
8. Rubus spectabilis
Hardiness: USDA Z6
Season: April to May
Good for: Bright florals
One of the most stunning flowering bramble varieties is Rubus spectabilis (also known as 'salmonberry'). Looking like one of the more brightly tinted types of dahlias, this vigorous, thorny shrub opens its scented, magenta-pink flowers in spring.
Flowers held on tall plants are followed by slightly bristly dark red or orange fruits. Cut out some of the oldest branches each year after flowering. These shrubs are great for hummingbirds. We recommend the variety 'Olympic Double' (pictured), which has longer-lasting, semi-double flowers, but no berries.
FAQs
What are the best brambles to attract wildlife?
If you are looking for the right types of brambles to act as effective wildlife garden options, you're in luck. The economical option is to create the best nest site and the heaviest crop of fruits from the smallest number of plants. For this, blackberries (thorny types) are the best choices. The pick of them all is 'Black Butte', which is both exceptionally thorny and prolific – and the fruits are huge. 'Silvan' is also thorny and prolific.
Tayberries are sometimes recommended, because they crop so well. However, these brambles have fewer thorns than many blackberries and other cane fruits, so offer less protection from predators.
How do I propagate brambles?
There are two main ways to propagate the best brambles, depending on how they grow. When the tips of arching blackberry branches touch the ground, they make roots. You can hurry the process along by bending a stem down to the ground and securing the tip with a brick. You can also bury a pot of fresh compost where the shoots touch the ground, and root the tip in the pot instead. Come spring, snip through the stem and plant shrubs elsewhere. Your new plant will quickly take to its new position.
Raspberries tend to spread steadily at the base. So in early spring, dig up your raspberry plant, cut the growth back to ground level, then snip the plant into smaller pieces for prompt replanting.
---
Some of the best brambles are also some of the most prickly plants you can grow. For many, gloves are essential as part of your fall gardening checklist, especially when it comes to pruning. But there are some brambles, edible and ornamental, that have no thorns at all.
Thornless blackberries include 'Loch Tay', 'Loch Ness', 'Merton Thornless' and 'Oregon Thornless'. For thornless raspberries, look for 'Glen Coe', 'Tumaleen', 'Glen Ample' and 'Joan J'. Loganberries are also thornless. There are a few thorn-free ornamentals, too – these include 'Benenden' and Rubus rolfei 'Emerald Carpet'.
Sign up to the Homes & Gardens newsletter
Decor Ideas. Project Inspiration. Expert Advice. Delivered to your inbox.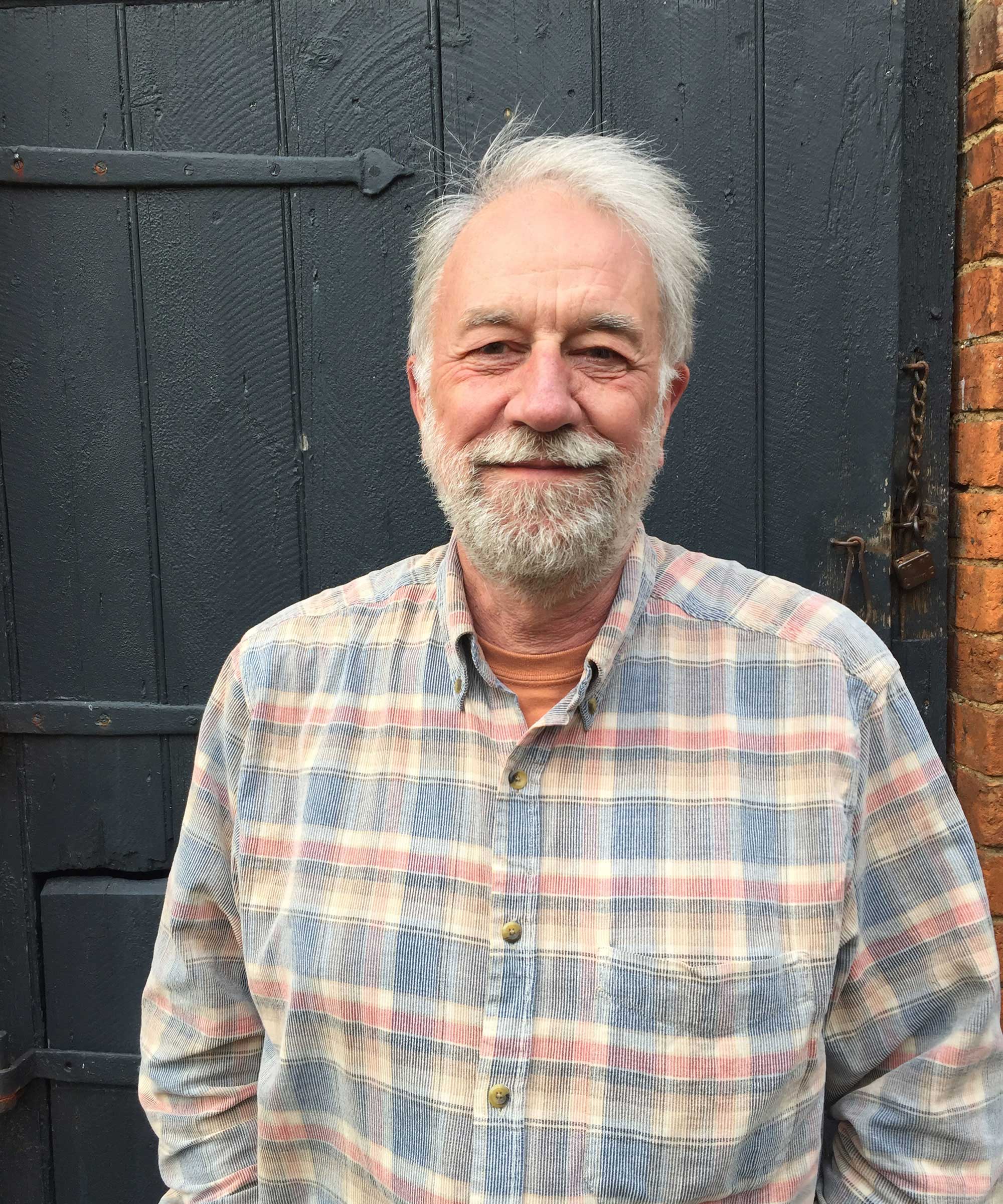 Graham Rice is a garden writer who has won awards for his work online, and in books and magazines, on both sides of the Atlantic. He is a member of a number of Royal Horticultural Society committees and the recipient of the 2021 Garden Media Guild Lifetime Achievement Award. He gardened in Pennsylvania for 20 years, but has recently returned to his native England.