10 of the best plants to cover a shed – inspirational ideas to make planting (not timber) the focus of attention
Enhance a wooden shed by surrounding and covering the exterior with pretty planting to turn it into an eye-catching addition to your backyard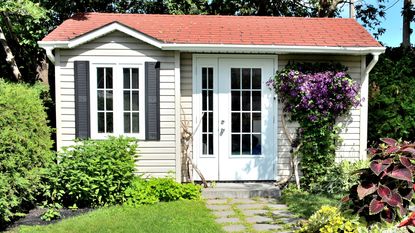 (Image credit: Ziggy1/Getty Images)
Sign up to the Homes & Gardens newsletter
Decor Ideas. Project Inspiration. Expert Advice. Delivered to your inbox.
Thank you for signing up to Homes & Gardens. You will receive a verification email shortly.
There was a problem. Please refresh the page and try again.
Maybe you love your shed or maybe you think it's an eyesore. Either way, with the right combination of plants it's easy to enhance an already eye-catching painted shed or transform a dull wooden one into a favorite corner of your backyard. You can grow plants around your shed as a screen or alternatively train climbing plants to scramble over it.
Sheds make a great canvas for planting especially if you add trellises that allow you to direct the growth exactly where you want it, allowing you to train any number of climbers and vines around a door, windows, or even over the top as you wish. If you're looking for something less permanent try planting up containers with tall plants and using them as a moveable screen you can change up according to the season to add year-round cover.
Consider using the best plants to cover a shed and you will soon be able to beautifully blend it into the existing landscape. As part of your shed ideas choose from our list of 10 of the best plants known for their flowers, foliage and fragrance.
Best plants to cover a shed
Whether you favor a traditional rustic look or a more contemporary style even the simplest shed can become a heavenly hideaway when screened with the best climbing plants, the best shrubs for privacy, and the best shrubs for containers. Now take your pick from our expert selection.
1. Star jasmine
Choosing a rapid-growing climbing plant such as a vine is an easy way to cover your shed fast so that it blends seamlessly into the garden. 'Star jasmine, is a true gem in the world of climbing vines,' says Alex Kantor, owner of Perfect Plants Nursery in Monticello, Florida. 'With its skinny, pliable stems, star jasmine is a breeze to train and guide up a shed.'
During spring and early summer, the small star-shaped white flowers will drench the air with fragrance, particularly lovely if you train it to grow around the door to your shed. This versatile climber will envelop your shed with lush green foliage all year round too, a big advantage when the summer season fades and your shed suddenly looks exposed in the garden landscape.
Find out how to grow jasmine to create a living 'throw' over your shed that's both pretty and practical.
Alex has worked in the horticultural industry for over 20 years and grew up on the farm. He is an expert on landscape trees, shrubs, and indoor plants. He is passionate about growing and helping others learn the trade. You'll see him driving around the farm with his sidekick, Brittany spaniel Cricket, in tow.
2. Bloodleaf
If you're looking for a dramatic foliage plant to enhance your shed and live in zones 10-12, bloodleaf (iresine herbstii) is the one for you. It will provide a spectacular show of color throughout the season in shades of crimson, dark purple and magenta. Even the stems are electric pink, and its tropical good looks are a real conversation piece.
Known mainly as a houseplant, don't let that put you off. If you live in a mild climate make this variety a consideration as part of your shed cover planting. Native to South America, bloodleaf requires plenty of heat and humidity, and when grown outdoors in the right conditions, can grow up to 5 feet tall with a spread of 3 feet.
Alternatively, if you live in regions with cooler temperatures but want to experiment with tropical garden ideas plant bloodleaf in containers that you can use for screening your shed then move them indoors in the fall.
3. Clematis
'Clematis flowers come in a variety of colors and bloom right through to fall,' says horticulturalist Gail Pabst, who works for the National Garden Bureau. 'A natural choice to cover a shed, clematis prefers shaded roots but full sun for the plant, so if you're looking into how to grow clematis it's recommended to add a groundcover to keep the roots cool.'
Whatever the aspect of your shed (and that even includes if it's north facing) try Clematis 'Jackmanii'. It's one of the best clematis to grow, an easy large-flowered variety that can be relied upon to produce a mass of sumptuous velvety blooms from mid-summer to early fall. It can be trained to climb and cascade over your shed for a visually interesting effect.
As well as growing a clematis on its own against a shed wall with a support like a trellis you can also grow it through a host plant such as a climbing rose, jasmine, or wisteria as part of your cottage garden ideas. The clematis will intertwine naturalistically through the other stems, and it's a great idea for covering a shed faster with a variety of blooms.
4. Cosmos
Taller varieties of cosmos can grow up to 6 feet and make a lovely hazy screen of flowers and feathery foliage to disguise a shed. They can be grown either in the ground or in pots. They need lots of sun, and staking or growing up through pea netting when they get taller otherwise, they can flop. Growing them against a shed wall is ideal as it can also provide the necessary support they need.
A popular ornamental plant for the garden, cosmos is native to Mexico and the southwestern United States, and has become naturalized in many other areas too. Blooming from summer through fall, cosmos are a reliable choice if you want to find out how to attract butterflies to your yard, as well as birds and bees. They really are the easiest plants to grow. Just remember to deadhead regularly to keep those flowers coming.
5. Honeysuckle
Deciduous, semi-evergreen or evergreen, climbing honeysuckles (also known as Lonicera) have flexible stems that twine around a support making them one of the fastest-growing flowering vines. Train them to climb up and over your shed, and the foliage and flowers, as well as the scent, won't disappoint.
There are many honeysuckles that are native to North America so there's sure to be one that will work for your shed. Go-to varieties include Lonicera sempervirens (trumpet honeysuckle) or Lonicera periclymenum (common honeysuckle), as they are two of the best plants to cover a shed beautifully.
Most honeysuckles need at least six hours of direct sunlight each day to thrive so be sure your shed is the right spot when finding out how to grow honeysuckle. Pruning in winter, when the plant is dormant, is essential to keep your honeysuckle plant contained as it can be invasive, plus it will ensure it looks good next year too.
6. Roses
Training one of the best climbing roses or a rambling rose to cover a shed is easy and the result is always beautiful. Roses around a shed works whatever the style of your yard, but are particularly fitting if you love the look of cottage gardens.
Sheds are just made for roses, and especially rambling roses, according to the team at David Austin Roses. 'Many gardens have a trusty shed, often unloved and borne out of necessity. However, these cumbersome structures can be perfect for supporting a rambling rose. Within a few years, a once dull shed will be transformed into a fragrant floral fantasy, becoming a joy to behold and blending in with the surrounding garden.'
They suggest selecting a rambling rose as one of the best plants to cover a shed. Select one that is the right size for your structure. Tie in your rose as it grows, securing it to the side of the shed. Then you can let it ramble around for the most natural-looking coverage.
7. American Beautyberry
'American Beautyberry (also known as Callicarpa americana) is a North American native deciduous shrub with arching branches that is a great way to add interest in front of a shed,' says Shubber Ali, CEO of Garden for Wildlife, based in Bethesda, Maryland. 'It adds stunning color to the autumn garden when its leaves turn chartreuse and clusters of bright purple fruit form along its stems.'
American beautyberry is one of the best screening shrubs for sheds. This easy-going plant grows up to 6 feet tall, although in some cases can reach 9 feet. These plants are pretty flexible in terms of aspect too and will tolerate full sun or dappled shade. It's also one of the best plants for birds if you want to attract wildlife into your yard.
Shubber Ali is dedicated to fostering a more sustainable world and supporting wildlife. As a passionate conservationist and enthusiastic gardener, Ali's goal is to create a substantial increase in the demand for native plants across the United States and establish millions of square feet of new native habitats. He holds an MBA from Georgetown University and has also served as an adjunct professor at the university. Among Ali's favorite pollinators, the American Bumblebee holds a special place. Given that his yard is a National Wildlife Federation Certified Wildlife Habitat, bumblebees are all around, creating a delightful environment.
8. American arborvitae
Easy evergreen shrubs and trees are some of the best plants to cover a shed year-round. The American Arborvitae has a columnar, narrow growth habit, making it an ideal choice for shed screening. The foliage is soft to the touch and a vibrant shade of green, enhancing the overall beauty of your landscape.
'Emerald Green Arborvitae (Thuja occidentalis 'Smaragd') is the tall variety of evergreen that is often seen planted in rows,' says Rich Christakes, CEO of Chicago-based Ship My Plants. 'These narrow, upright trees have dense foliage of vertical sprays and a bright green color year round. They are hardy, adaptable, and perfect for camouflaging structures such as sheds.'
Another reason why it's such a good choice for quickly screening a shed is that it grows 1-2 feet a year. You can find Emerald Green Arborvitae here at Nature Hills
9. Black-eyed Susan Vine
'Black-eyed Susan vine is an annual that gives color all summer long,' says Gail Pabst. 'The plants are long-blooming, and heat tolerant. They also do not need to be deadheaded to keep flowering. One plant can easily cover 5 feet of trellis on the side of a shed.'
This fast-growing perennial vine can actually grow to 8 feet in one season if you live in a warm climate and also spreads by self-seeding so you will need to contain its growth. Before choosing this plant for shed cover check it's not invasive in your area.
It will need a supporting trellis or structure to cling to then will happily clamber all over your shed walls. It will bloom repeatedly from late spring into fall, provided its basic needs of plenty of sunlight, water, and regular fertilizing are fulfilled. You can also grow vining black-eyed Susans in hanging baskets fixed to your shed, where it will trail down prettily.
10. Wisteria
Fast-growing and resilient wisteria will quickly transform a shed into a thing of beauty to delight in. Indigenous to the eastern half of the US, American wisteria produces lilac-blue flowers in spring that are even more beautiful than its more familiar Asian cousin, which the USDA considers invasive for its tendency to crowd out native plants.
'Wisteria 'Amethyst Falls' is the perfect choice for those looking for a show-stopping climbing vine for their shed,' says Alex Kantor. 'Its graceful, drooping clusters of vivid purple blossoms are like a magical curtain of color, adding charm and whimsy to your backyard design.'
You can find Wisteria 'Amethyst Falls' here at Nature Hills, and in more good news it's non-invasive, a compact variety, and attracts hummingbirds and butterflies too.
One final idea to spruce up your shed. If you like the look of a loose informal screen of flowers, sweet peas are one of the best plants to cover a shed. A cottage garden favorite, it will scramble up a trellis or other support and give you months of fragrant flowers in soft cream, pink, and purple. Find out how to grow sweet peas and your shed will never look the same again.
Sign up to the Homes & Gardens newsletter
Decor Ideas. Project Inspiration. Expert Advice. Delivered to your inbox.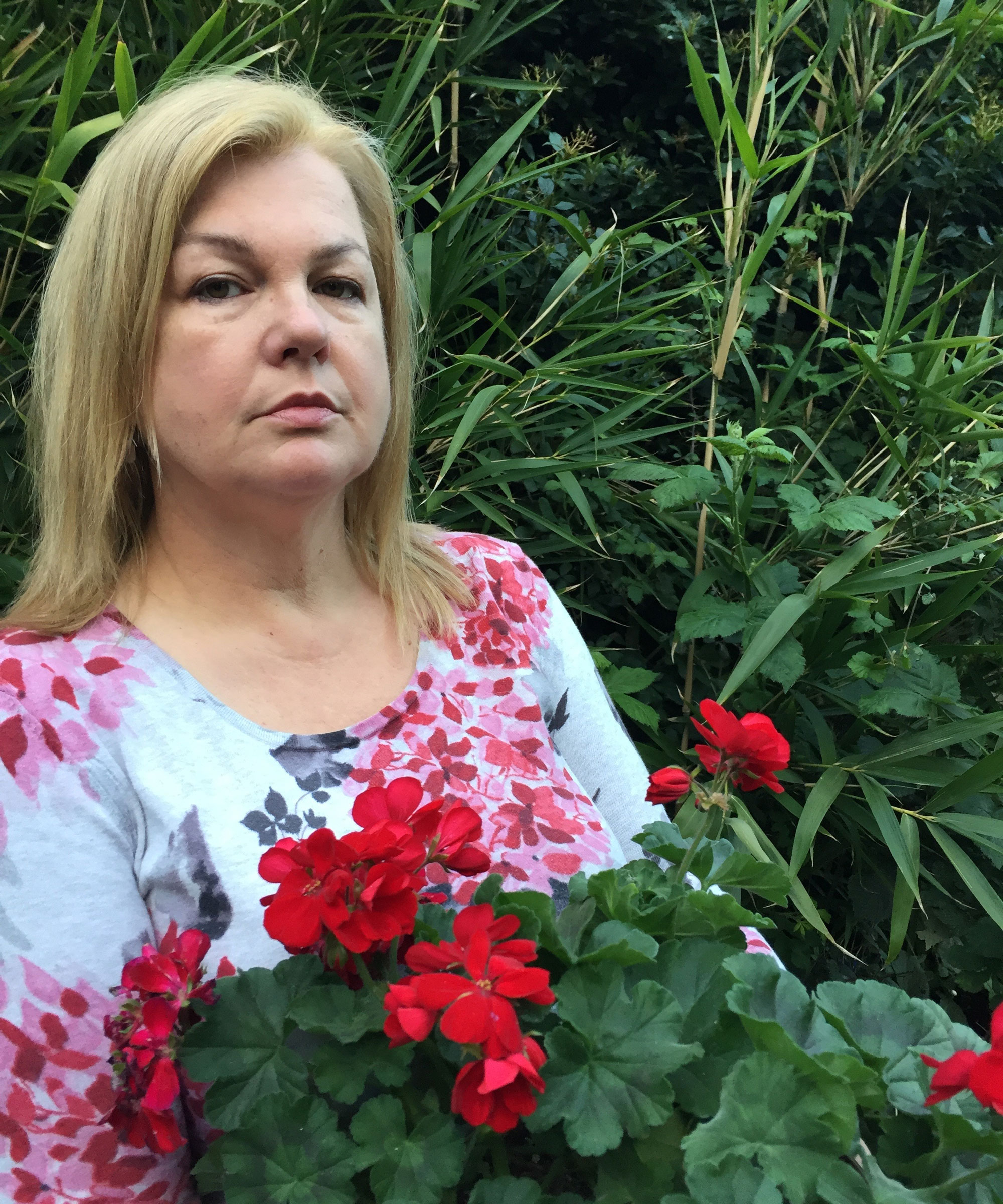 Lifestyle journalist Sarah Wilson has been writing about gardens since 2015. As well as homesandgardens.com she's written for Gardeningetc.com, Livingetc.com, Easy Gardens and Modern Gardens magazines. Her first job on glossy magazines was at Elle, during which time a visit to the legendary La Colombe d'Or in St-Paul-de-Vence led to an interest in all things gardening. Later as lifestyle editor at Country Homes & Interiors magazine the real pull was the run of captivating country gardens that were featured.