10 xeriscaping plants for climate appropriate planting that will reduce your water usage
By opting for xeriscaping plants you can reduce your water usage and ensure your garden thrives in these times of climate change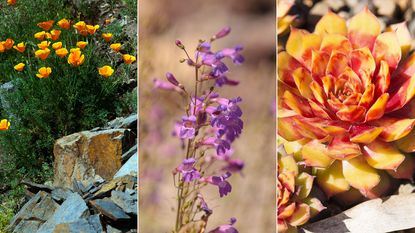 (Image credit: Alamy Stock Photo)
Sign up to the Homes & Gardens newsletter
Decor Ideas. Project Inspiration. Expert Advice. Delivered to your inbox.
Thank you for signing up to Homes & Gardens. You will receive a verification email shortly.
There was a problem. Please refresh the page and try again.
Mention the term xeriscaping plants and most people will think of a typical dry garden, planted only with cacti and more about textures than color and seasonal interest. However, this is a popular misconception that has led to the term falling out of fashion among horticulture professionals. They now typically prefer the term 'climate appropriate planting'.
Xeriscaping was originally coined by the Denver Botanic Gardens, Colorado in the late 1970s, to describe landscaping projects that conserve water and protect the environment. Although, as we garden in a changing climate, these principles have never been more important, but the term has been much misused in the intervening years.
Cricket Riley, the Nursery and Design Services Director at Ruth Bancroft Gardens, a dry garden oasis in Walnut Creek, CA in the San Francisco Bay area, explains, 'There's something about the term xeriscaping that makes people think it's only about desert plants, or that you can have a garden and never water it; and that's not correct – you can have a very lush, beautiful garden and use very little water.' Cricket explains that with the right xeriscaping plants you can reduce intervention and watering.
10 xeriscaping plants for every garden
With water in such short supply in many US states, opting for xeriscaping plants that require less water is a smart move. The team at Ruth Bancroft Gardens even works with local water districts to advise householders on how to transform lawned areas into climate appropriate gardens. Watering lawns in summer is costly and uses up valuable resources. Across many US states, in particular California, water districts are paying households as much as $6 per square foot to get rid of the classic American lawn.
Ruth Bancroft Gardens also teaches a Dry Garden Certificate where you can learn how to create a sustainable home garden. The key design principles remain the same as when designing any garden – keep the focus on texture, color and repetition, but choose climate-appropriate, drought-tolerant planting to create a garden that uses less water.
1. Penstemon spectabilis
Best for: Mass drift plantings and attracting pollinators
Height: 4ft
Spread: 4ft
Hardiness: USDA 8-11
A familiar sight growing along western state highways, these beautiful blue-flowering evergreen perennials can cope with extremes of heat. Native to southern California this perennial is perfect for xeriscaping and is ideal for attracting hummingbirds, bees and other pollinating insects.
Best planted in full sun, Penstemon spectabilis needs little watering or other attention and combines well with other water-wise perennials, such as lomandra and kniphofia and annuals like California poppy, to create a softer, meadowy landscape.
2. Lomandra
Best for: Grassy textures
Height: 3ft
Spread: 3ft
Hardiness: USDA 7-11
This Australian native recommended by Cricket Riley from Ruth Bancroft Gardens is currently used a lot in North America, particularly in California. With grassy foliage it offers year-round interest and doesn't need cutting back or much other maintenance.
It's a relatively new introduction and has proven very popular for new climate appropriate gardens for its ability to cope well in sun or shade and in dry and wet conditions.
'Lime tuft' is a beautiful upright bright green form. 'Platinum Beauty' is a relatively new introduction from Sunset Plants with a variegated green and white leaf.
3. Pelargoniums
Best for: Adding color and scent
Height: 3ft
Spread: 2ft
Hardiness: USDA 9-11
Although largely tender in cooler areas, pelargoniums work well in many different climate zones. They may be summer dormant in extreme heat and are better in container gardens in areas with harsher winters, but will grow happily in the ground in dry, warm areas. They make good garden edging plants for paths or borders and the leaves of scented pelargoniums like 'Lady Plymouth' or 'Citronella' (available from Amazon) will release their fragrance as you brush past them.
There are many to choose from including grey-green leaved types, variegated cultivars with flowers from white through to brilliant red. Use them to provide color repetition and texture through a water wise planting area.
4. Yucca
Best for: Architectural statement
Height: 3-15ft
Spread: 3ft
Hardiness: USDA 7-11
With a strong, dynamic, starburst form and distinctive sword like evergreen leaves, yuccas are great architectural plants and make fantastic focal points in backyard landscaping.
Mature yuccas become quite tree like, while younger specimens will explode out of the soil. Well known for their suitability to sites with sharply drained soil and full sun, yuccas also do well as dry shade plants.
Cricket Riley's recommended species are Yucca rostrata, tough Y. gloriosa (available from Nature Hills) and the unusual, yellow-leafed Y. gloriosa 'Bright Star'.
5. Helleborus argutifolius
Best for: Dry shade and winter interest
Height: 3ft
Spread: 3ft
Hardiness: USDA 6-9
Corsican hellebore is a Mediterranean plant with high tolerance for low watering and poor soils in shade or some sun once established.
Originating from the islands of Corsica and Sardinia, it's also good for coastal planting. With vibrant lime green flowers in late winter, early spring, it brings interest in the low season. The tough evergreen foliage also lends it a good architectural quality too and it makes for a good all season contrast plant.
6. Sempervivums
Best for: Ground cover
Height: 5in
Spread: 9in
Hardiness: USDA 3-9
Great for growing in wide, shallow containers, edging paths, or tucked in and around rocky, crevice or boulderscape plantings, these wonderful evergreen succulents will create an intricate patterned ground cover.
Cricket Riley recommends the relatively new Chick Charms series with cultivars that come in a range of rich, warm shades including 'Gold Nugget', 'Gold Mine', 'Copper Canyon' and 'Emerald Explosion', all available from Nature Hills Nursery.
7. Sedum, stonecrop, hylotelephium
Best for: Mixed planting areas into gravel or crushed stone
Height: 30in
Spread: 24in
Hardiness: USDA 3-9
Hylotelephium is the plant formerly known as sedum – and is still referred to as such by many nurseries and suppliers, but you'll also find it under the name stonecrop.
With fleshy leaves and stems and heads of small flowers in late summer and fall, it comes in muted shades of pink and purple. A wonderful plant for pollinators and bees, it's good for well-drained, dry, sunny areas.
Great for combining with ornamental grasses and summer flowering perennials such as salvias and perovskia, it will tone in well with crushed stone planting areas but dies back in cooler winter zones. Classic taller cultivars include 'Autumn Joy' and 'Matrona', but look out for the ground cover types in the 'SunSparkler' series, available from Nature Hills.
8. Manzanita
Best for: Winter interest and wildlife
Height: 12ft
Spread: 12ft
Hardiness: USDA 8-10
The Archostaphylus family is a signature plant for Sean Hogan at Cistus Nursery in Portland, Oregon. These small native north American trees are a great design feature in any yard. They are evergreen trees, but they have flowers and good-looking bark too, as well as being invaluable for supporting pollinators over the winter months.
'Our native manzanitas tend to flower all the way from Halloween to February,' says Sean. 'They are fragrant with flowers that range from peach to pink to white, with a dark forest green leaves and bright mahogany colored bark, and every pollinator loves them.'
Manzanita trees are available from Nature Hills.
9. Eschscholzia
Best for: Full sun, color splash
Height: 12-18in
Spread: 8-12in
Hardiness: USDA 8-11
The California and Mexican poppies are sunshine in bloom, with their characteristic yellow and orange zingy flowers guaranteed to light up any flower bed or planting scheme. The feathery glaucous foliage adds to the attraction. It's tempting to plant en masse for a full bloom effect, but they will self-seed and randomise through your planting over time. Very self-sufficient, you pretty much just need to sow the seed and water in and leave them to do their own thing.
California poppy seeds are available from Amazon.
10. Lupins
Best for: Early summer flower color
Height: 16in-8ft
Spread: 12in
Hardiness: USDA 3-8
North American native lupins are great for water wise planting, fantastic for adding color and height to mixed planting areas and will quickly colonise to create a naturalistic effect. They thrive in dry, sunny areas, typical of their native habit areas in the southwestern states.
With nitrogen-fixing roots typical of the pea family, these xeriscaping plants also benefit the soil and cope with low nutrients. There are many different species and different sizes from the petite Lupinus bicolor, the mid height Lupinus argenteus, and taller, evergreen Lupinus albifrons and the yellow flowered tree lupin, Lupinus arboreus.
Will using xeriscaping plants reduce your water usage?
As Cricket Riley, the Nursery and Design Services Director at Ruth Bancroft Gardens, explains, people often think xeriscaping or climate appropriate planting means gardening with no water at all. But it really means using very little supplemental watering once plants are established. The key principles of xeriscaping are to use minimal intervention and less water. So, consider a classic front lawn and the amount of labor and water involved in keeping it looking green and manicured year round. Compare this with front yard landscaping planted with climate appropriate, sustainable plants, that don't require much supplemental water, using permeable materials and good drainage – you will reduce your water usage, saving money and resources.
How do you prepare your garden for xeriscaping plants?
When creating a garden based on the principles of xeriscaping, it's important to understand your garden soil types and prepare it for planting. Drainage is key, not just to allow xeriscaping plants to establish a good root system so they can seek out water when they need it, but also to allow them to cope with excessively heavy rainfall which is also a feature of the erratic weather patterns.
For example, in areas of California with very heavy clay, it's advised to add up to 50% volcanic rock to the soil, up to 18in deep if using natives and other climate-appropriate plants. If you are planting cacti, you will need up to 70% additional drainage. Crushed stone such as granite, is a popular surface.
Designer and nursery man Sean Hogan at Cistus Nursery in Portland Oregon, favors using local stone that is 'of the place' for hardscaping where possible – it's more sustainable in terms of the carbon footprint and naturally complements local planting.
---
Using xeriscaping plants is a sustainable garden idea at its heart. Sean Hogan says it's all about knowing what plants want and making climate-appropriate choices when creating a garden – xeriscaping doesn't have to be a desert garden! 'It's about growing plants that don't need a lot of input where you live,' he stresses. It means being weather wise and water wise.
Sign up to the Homes & Gardens newsletter
Decor Ideas. Project Inspiration. Expert Advice. Delivered to your inbox.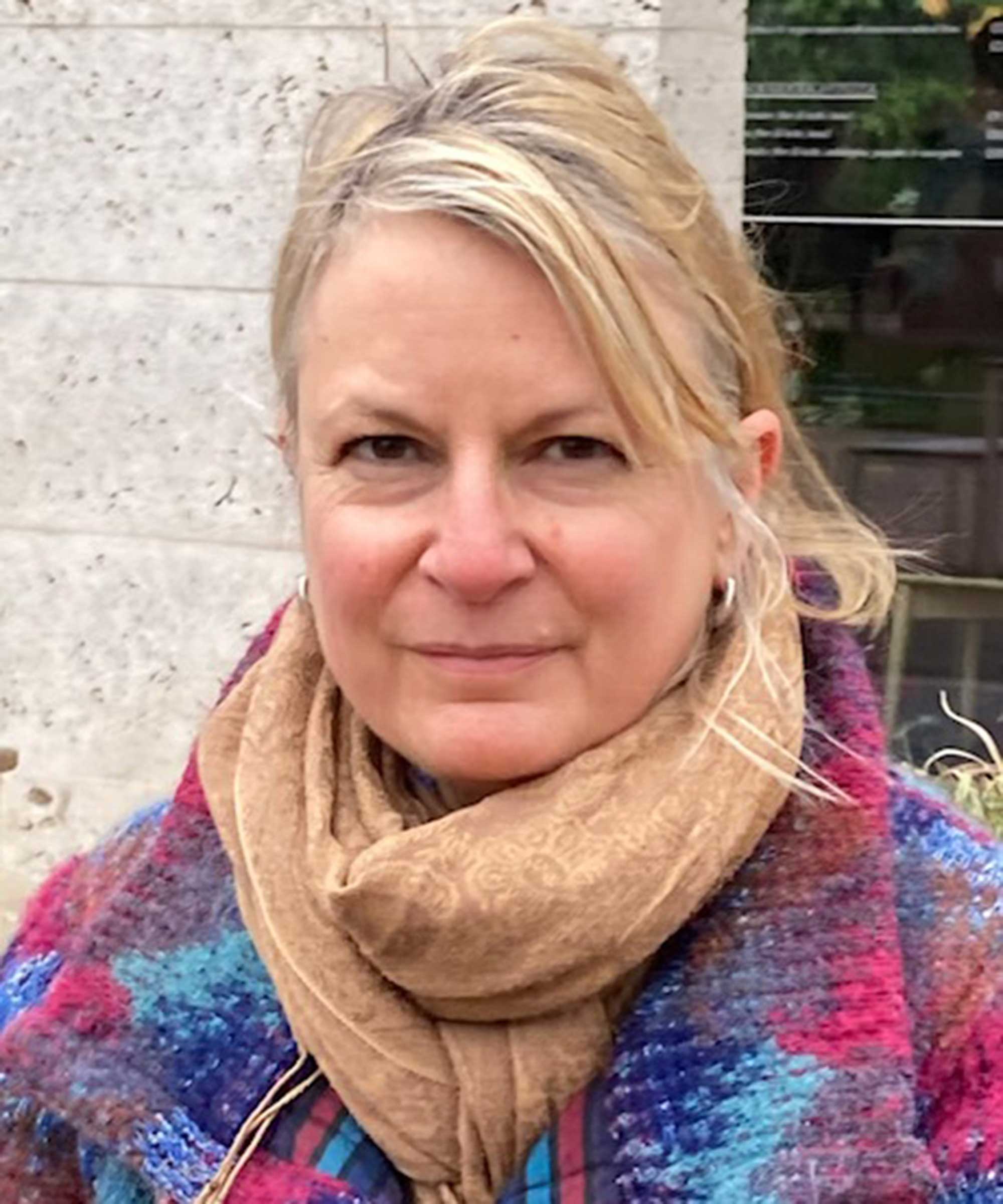 In her years of gardening, Camilla has designed planting schemes for gardens large and small in and around London, written about plants and how to grow them, and worked on BBC gardening TV shows in the UK. She's also works as a therapeutic horticulturist, teaching growing for wellbeing and mental health.