Xeriscaping is the eco-friendly, water-wise landscaping method you need to know about
Create an outdoor space that requires minimal water and maintenance, and is environmentally friendly too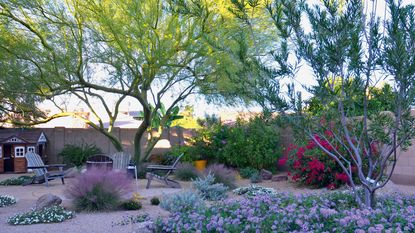 (Image credit: Noelle Johnson/Dry Climate Gardening)
Sign up to the Homes & Gardens newsletter
Decor Ideas. Project Inspiration. Expert Advice. Delivered to your inbox.
Thank you for signing up to Homes & Gardens. You will receive a verification email shortly.
There was a problem. Please refresh the page and try again.
Xeriscaping is the buzzword you're bound to have heard lately, especially if you take an interest in landscape design or topical environmental issues like getting rid of your lawn or drought-friendly planting.
Creating a thriving and sustainable xeriscape garden is based on the techniques of conserving water, selecting plants with low water requirements and mulching them, and making landscaping choices that need less fertilizers and chemicals to thrive.
Taking steps to reduce water use in your yard also benefits the environment, reducing the burden on natural resources in states such as California, Texas, and New Mexico that are experiencing unprecedented periods of drought.
The good news is, xeriscaping is an easy, low-maintenance style of gardening, especially if you want to make drought-tolerant planting ideas the focal point of your yard. Once you take watering the plants, weeding, and lawn maintenance out of the mix, life becomes a lot easier.
What is xeriscaping?
If you have lived in a dry climate for any time, you've likely heard the term xeriscape. 'There is some confusion, however, about what a xeriscape is, with some people mistakenly referring to it as a "zero-scape," meaning no plants,' explains Arizona-based horticulturalist Noelle Gordon, author of Dry Climate Gardening, available from Amazon. 'The origin of xeriscape began in Denver, Colorado, during a drought when people were encouraged to decrease water use around their homes.'
The word xeriscape is derived from the Greek 'xeros', meaning 'dry'. 'A true xeriscape is a beautiful landscape composed of low-water-use plants, native or adapted to the climatic conditions where they're planted,' explains Noelle. 'Organic or inorganic mulches are incorporated around the garden to reduce water loss.'
As a result, xeriscapes not only use less water but also take less maintenance and are resilient to the challenges of dry climate gardening. It's a natural choice if you're interested in finding out how to make a dry garden that's both beautiful and sustainable.
Noelle is a horticulturist, landscape consultant, and garden writer who lives in the Phoenix, Arizona, metro area. Popularly known as the 'AZ Plant Lady,' her passion for over 20 years has been to inspire and teach people to create, grow, and maintain beautiful gardens that thrive in a hot, dry climate.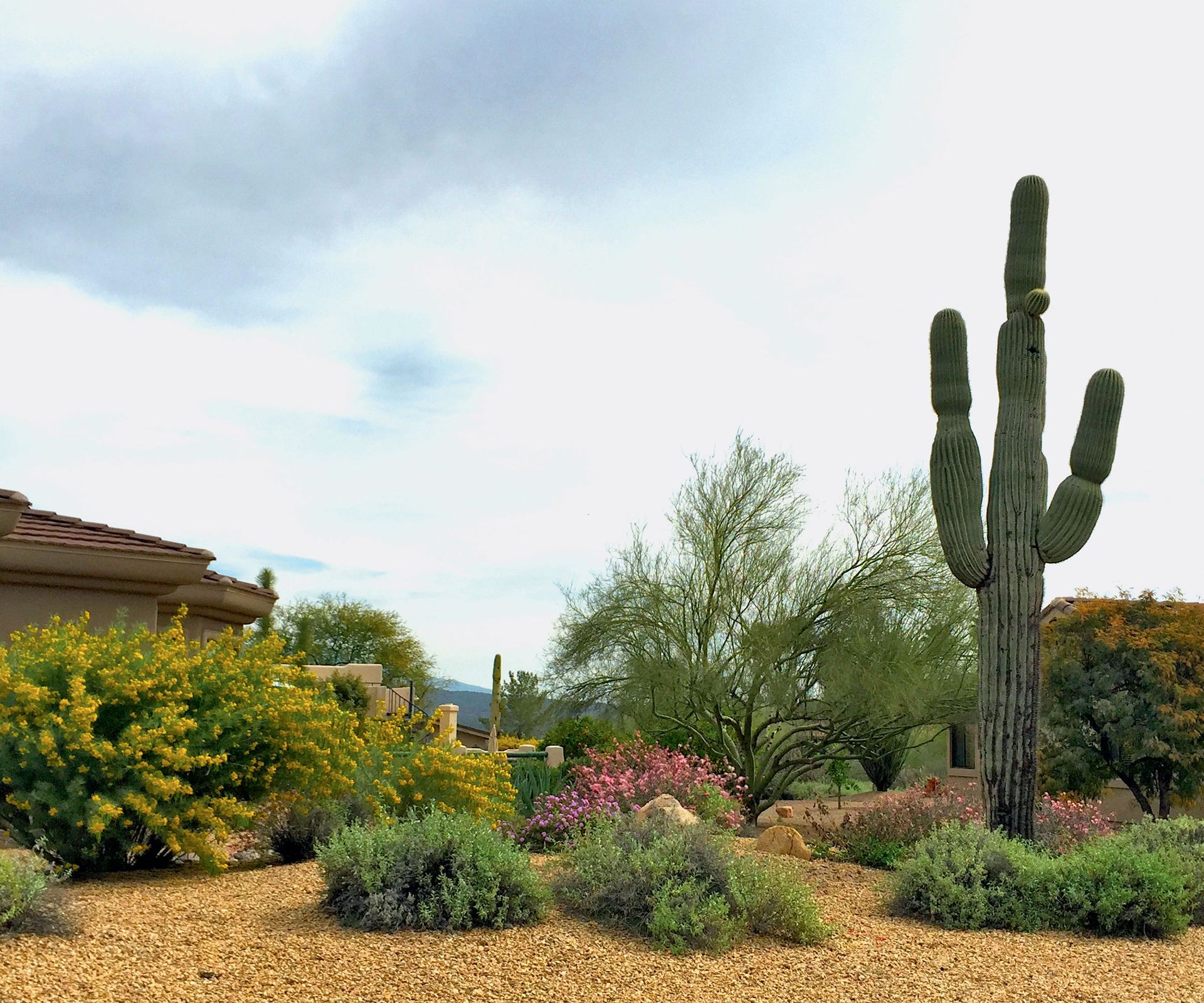 The benefits of xeriscaping
Xeriscaping has many benefits, the main ones being water conservation and reduced maintenance. 'By incorporating drought-tolerant shrubs and plants and efficient irrigation systems, the amount of water needed to maintain the landscape is significantly reduced,' says Mark Taylor of Mariscopa Landscape Co, also based in Arizona.
'Also, by choosing plants that are well adapted to the local climate and mulching to conserve soil moisture, xeriscaped landscapes require much less time and effort to maintain than traditional yards.'
If you choose xeriscaping it will definitely cut the amount of water you use in your yard compared to traditional landscaping methods and planting. Naturally this is good for the environment, as well as lowering water bills, so you benefit in more ways than one.
Meanwhile if you dig up your lawn and replace it with climate-appropriate plants you may be entitled to a rebate on your water bill too. More information can be found about rebates at bewaterwise.com.
Additionally, the plants used in xeriscaping designs require less maintenance, reducing the need for frequent watering of plants and pruning. Popular plants for xeriscape gardens are drought-tolerant varieties like agave, yucca and sedum that offer a variety of textures, shapes and colors, so this means you can design a planting scheme that's truly aesthetically pleasing.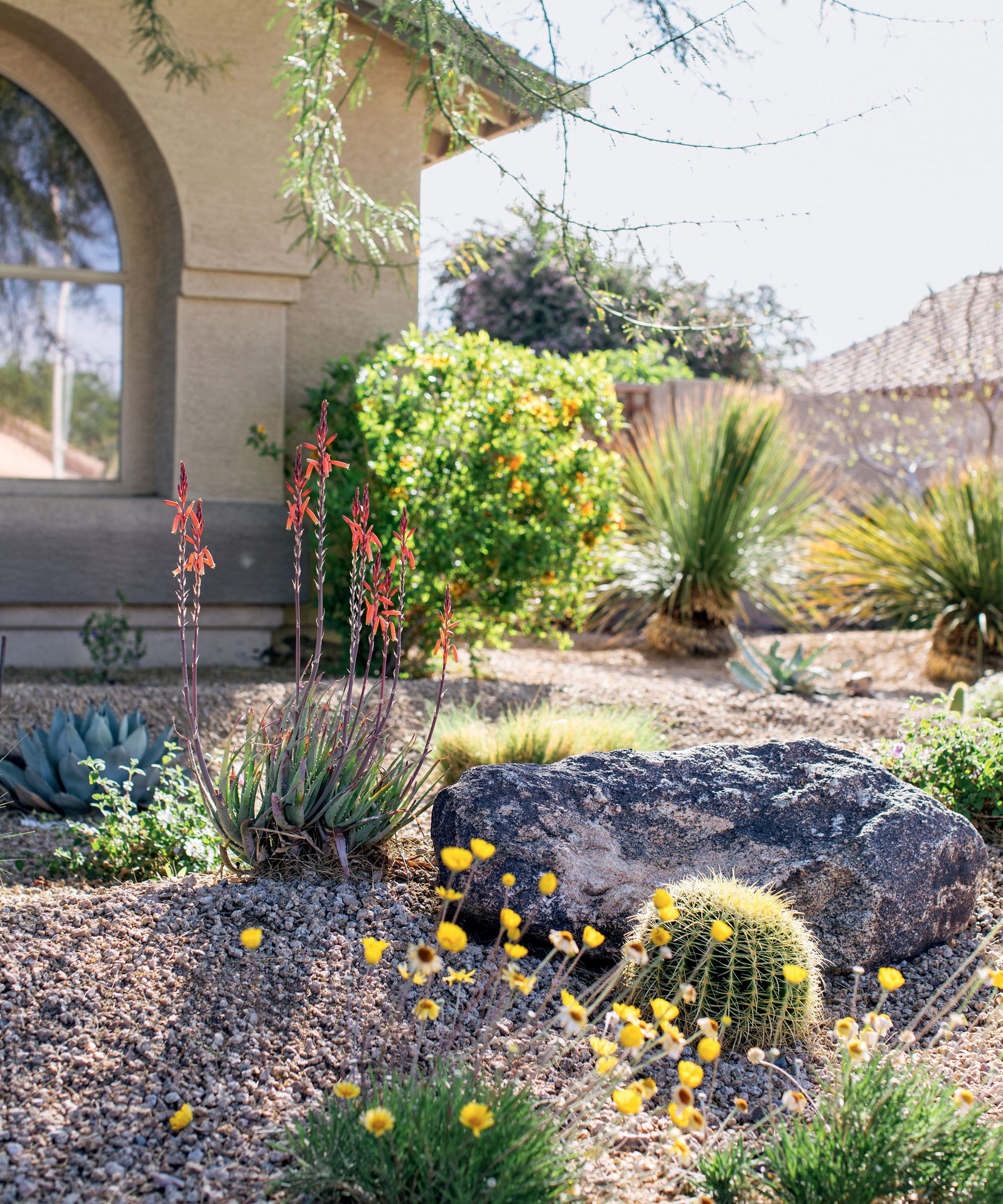 Suitable locations for xeriscaping
Xeriscaping is particularly suitable for regions with arid or semi-arid climates where water resources may be limited. The ideal location is in an area that receives low levels of rainfall and plenty of sunshine, which many drought plants prefer.
'Xeriscaping is usually associated with the southwestern United States,' says Mark Taylor. 'This part of the country receives limited rainfall making water conservation a priority.' Many localities in this region have watering restrictions too, limiting the frequency that landscapes may be watered.
Additionally, areas that used to be cooler and wetter are now experiencing more droughts and higher temperatures, also making xeriscaping a suitable backyard landscaping idea.
Sloping gardens are good locations for xeriscaping too, as the water drains rapidly downhill, which makes the soil ideal for plants that like arid desert conditions.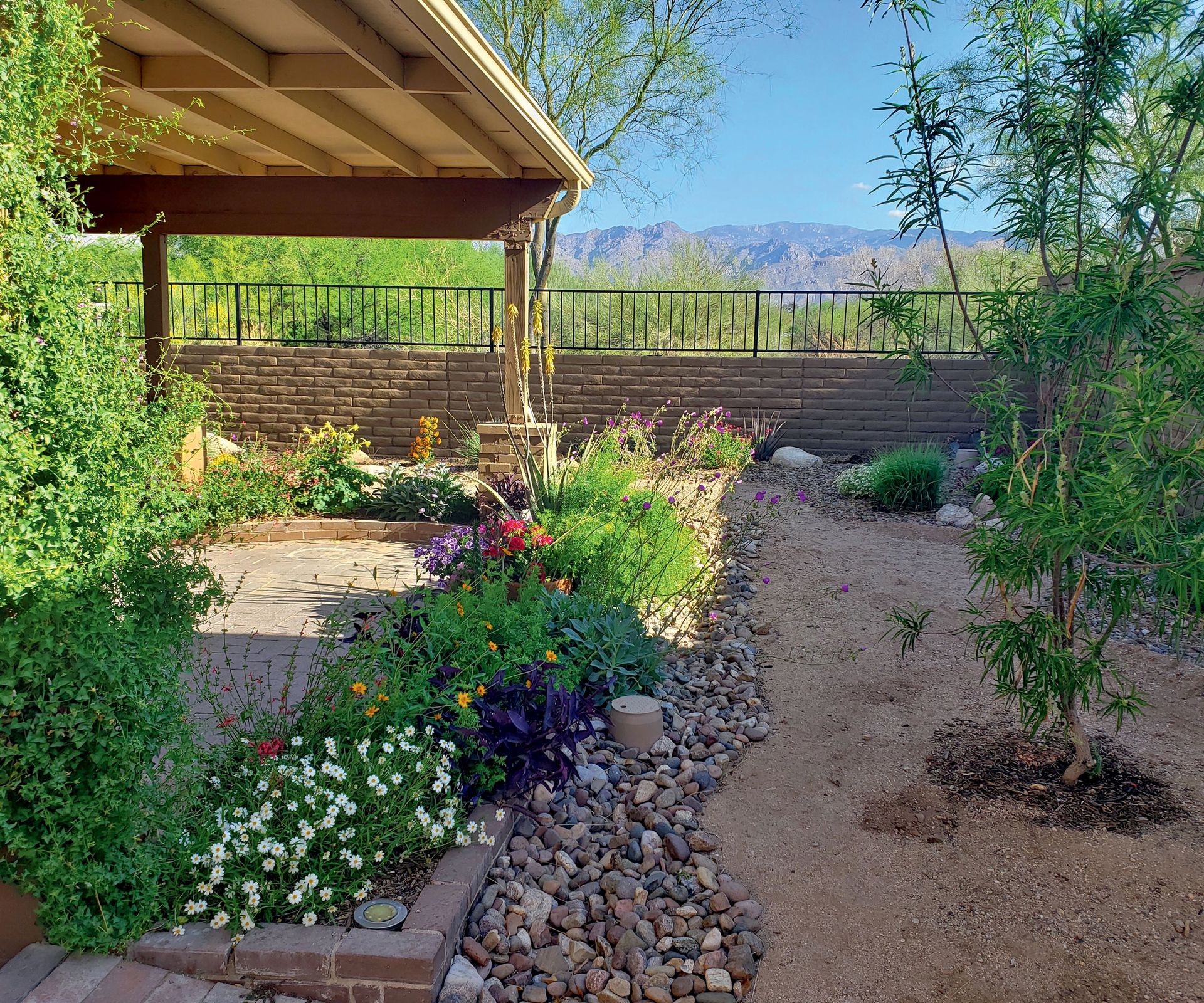 Designing a xeriscape garden
If you're considering xeriscaping, there are a few key points to keep in mind for your project to run smoothly.
First think about the basic constituents of your landscape design. Start with your soil types and enhance whatever type you have in your yard by adding the most appropriate type of mulch. Spread a thick mulch of organic matter such as homemade compost over the surface. This will improve soil structure and lock in moisture. Organic materials decompose more slowly, delivering the low levels of nutrients many drought plants require. You can also use wood chips, pebbles, gravel or stones to mulch plants.
Nutrient-rich soil, meanwhile, isn't a good idea for xeriscape planting. Remember that many drought-tolerant plants thrive in the dry, stony soil of a rock garden, so now is the time to embrace ideas like landscaping with rocks instead.
Next think about irrigation. Even though xeriscapes try to use less water, irrigation is still essential, especially when you first start. Xeriscape plants are drought tolerant when established, but you will need to check up on them regularly after planting to make sure they don't need watering, especially in the case of shrubs and trees. During periods of prolonged drought you will need to pay special attention to plants drying out too.
'Install irrigation techniques that feed water directly to plant roots while reducing waste and evaporation, such as drip irrigation or soaker hoses,' says Aaditya Bhatta, founder of Plantscraze. 'To gather and reuse rainwater, think about employing rainwater harvesting systems. Utilize organic slopes to direct water flow and reduce run-off. You can use mulch, boulders, or permeable paving to reduce evaporation and improve water retention.'
Making a rain barrel, or incorporating rain chains in the design of your backyard, are also options you should consider to harness as much of this natural resource as possible.
Aaditya is a plant lover who has worked as a horticulturist for over a decade. He launched Plants Craze as a platform where you can grab tips and tricks about growing plants. The idea came from his experience in a plant nursery, as he wanted to share the tricks he learned. If he isn't spending time with his plants, you can almost always find him with his yellow Labrador retriever Tupelo.
Planting a xeriscape garden
When it comes to selecting the best plants for xeriscaping, choose varieties that are naturally drought tolerant or suit the specific site conditions of your yard as well as the local climate, so that they will be self-sufficient once established. Native plants adapted to the local climate will require less water.
Consider the sun exposure in your yard. Some plants prefer full sun, while others prefer partial shade. As well as native plants try adding others from Mediterranean-type climates like Southern Europe, Australia and South Africa, such as the sun-loving evergreen senecio.
Succulents are an excellent choice due to their ability to store water and thrive in drought conditions. Ornamental grasses add texture and visual interest while being drought-tolerant, while shrubs like lavender and sage provide structure and color to the xeriscape. Ground cover plants such as creeping thyme help conserve soil moisture and suppress weed growth.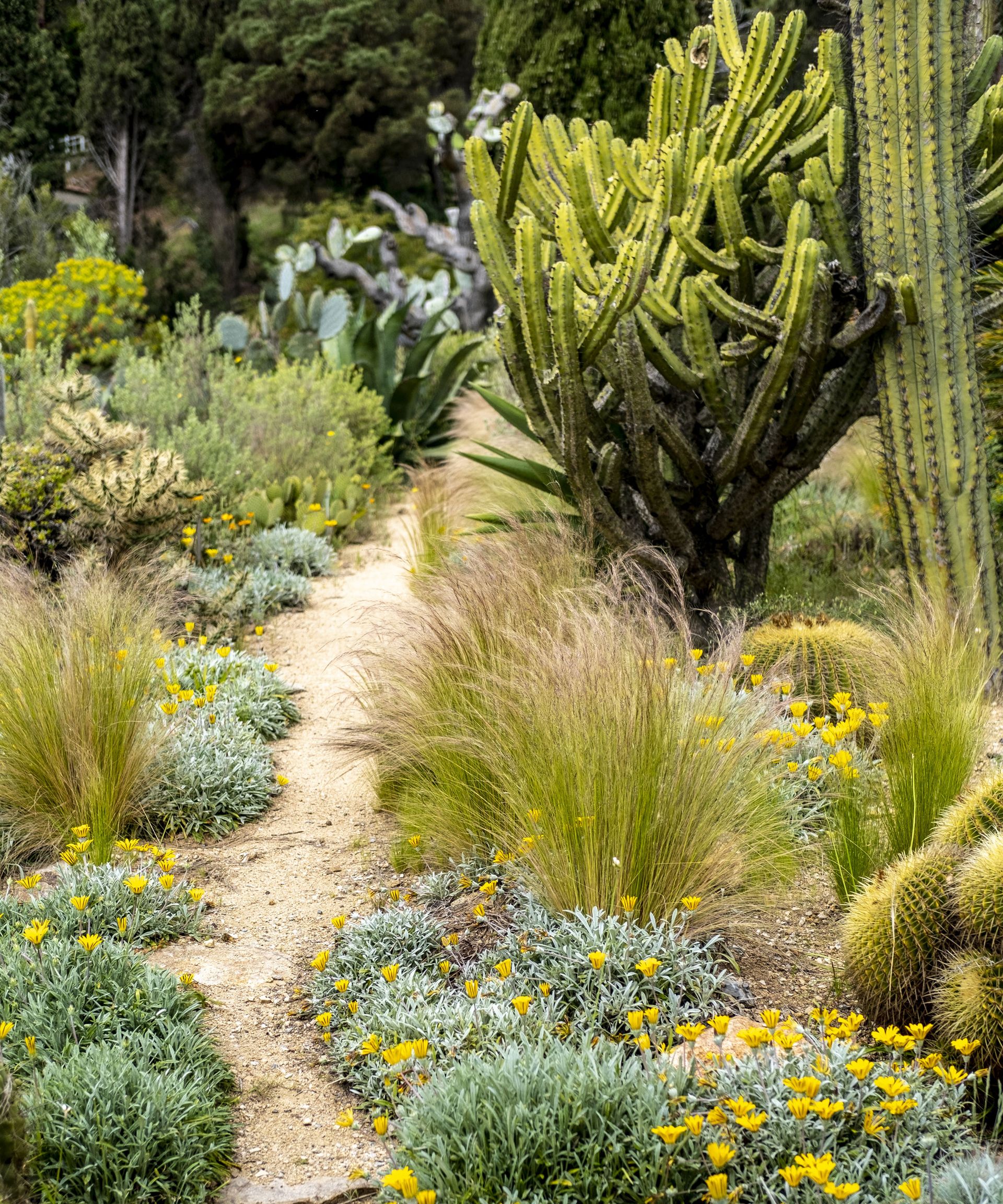 Xeriscaping a front yard
'One of the strategies I recommend to up the curb appeal and interest of front yard landscapes is to intersperse succulent plants among ground cover plants and shrubs,' says Noelle Johnson. 'This pairing does something special in the way they make each other more attractive.
'Plants that bloom at different times of year fill my own front landscape, so there is always something guaranteed to be blooming in my Phoenix-area garden,' adds Noelle. 'I love color and, like many people, gravitate naturally toward it. Thankfully, many colorful plants thrive in my hot, dry climate.'
Curb appeal is the focus for most front yards. Try adding a focal point like a shapely desert tree to provide filtered shade, suggests Noelle. Boulders spread out through the landscape will add welcome height and texture to a front yard design. The ideal is something that offers year-round interest but is relatively low maintenance.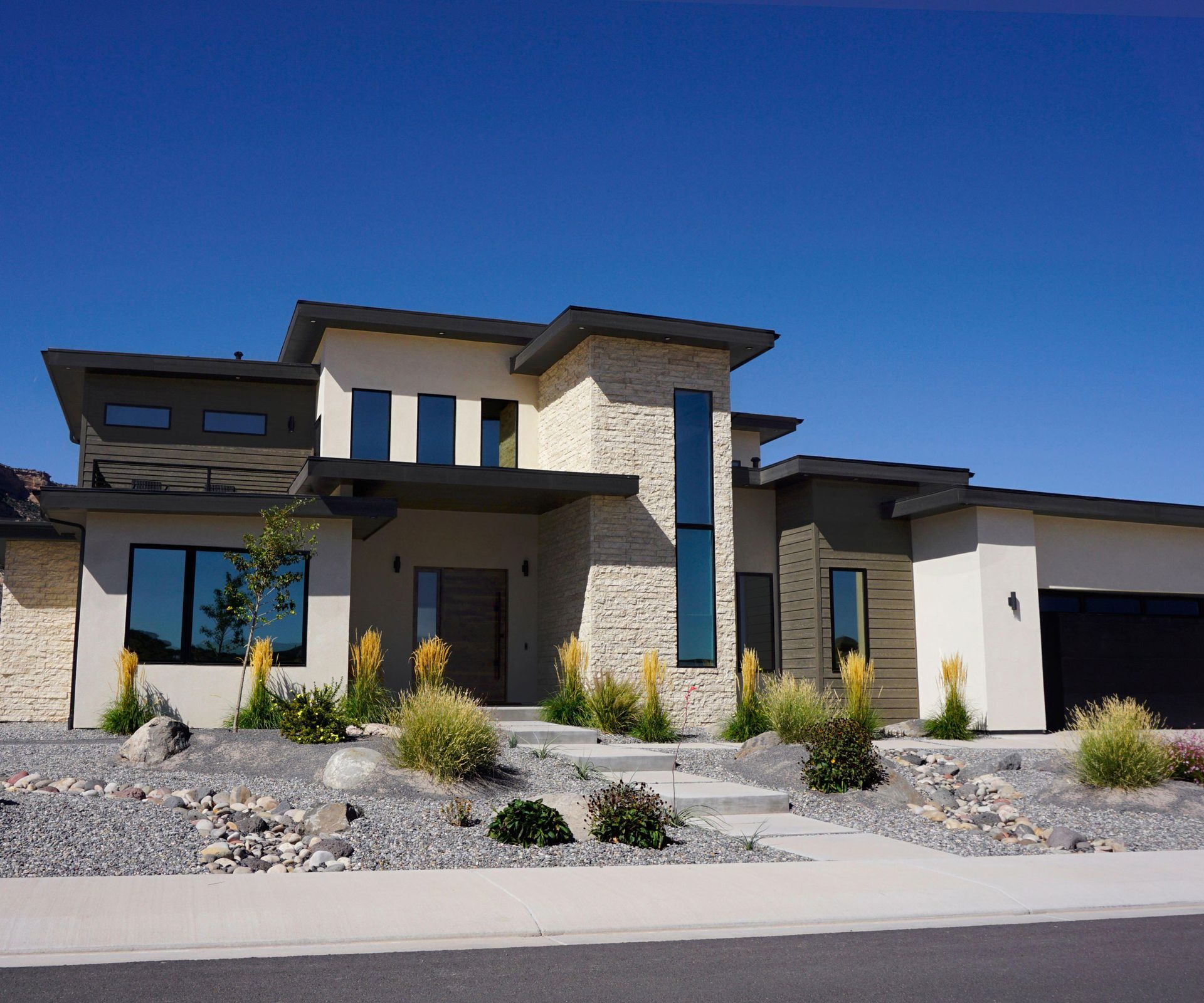 ---
If you're interested in combining your xeriscaping design with some wildlife garden ideas, you may also want to bring your yard to life with hummingbirds, butterflies, and bees.
Simply add some pollen-rich flowers, boulders for shade and shelter, and trees and shrubs that offer birds roosting and nesting sites.
Try the New Zealand tea tree plant, which has pink blooms loved by hummingbirds. To attract bees to your garden, scatter the seeds of Californian poppies around the yard and it will soon be filled with pollen-rich bright orange and yellow flowers. Meanwhile Californian native sage (Salvia clevelandii 'Aromas') is a magnet for butterflies and hummingbirds in late spring and early summer.
Sign up to the Homes & Gardens newsletter
Decor Ideas. Project Inspiration. Expert Advice. Delivered to your inbox.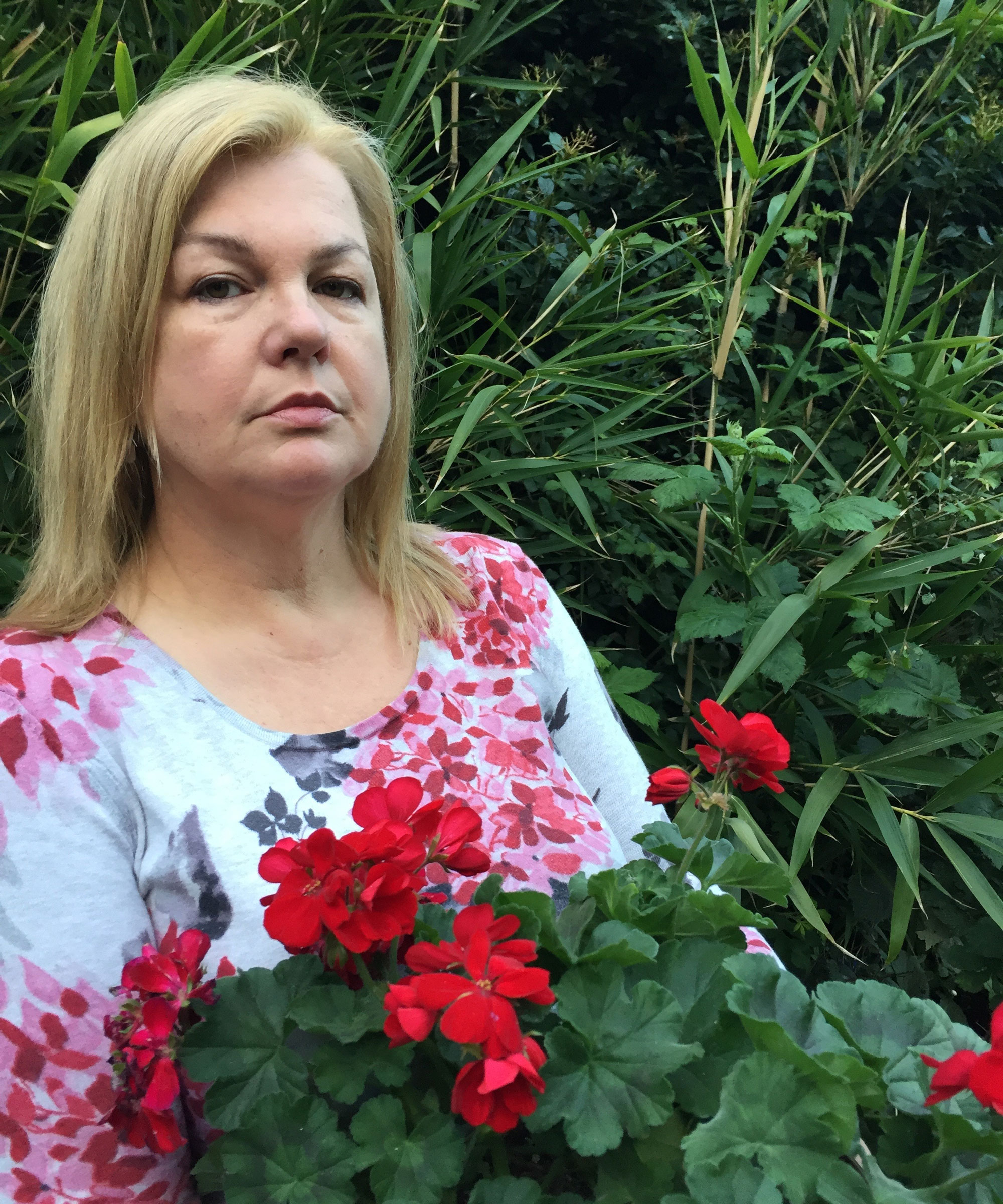 Lifestyle journalist Sarah Wilson has been writing about gardens since 2015. As well as homesandgardens.com she's written for Gardeningetc.com, Livingetc.com, Easy Gardens and Modern Gardens magazines. Her first job on glossy magazines was at Elle, during which time a visit to the legendary La Colombe d'Or in St-Paul-de-Vence led to an interest in all things gardening. Later as lifestyle editor at Country Homes & Interiors magazine the real pull was the run of captivating country gardens that were featured.