Best drought-tolerant shrubs – 12 hardy choices that can thrive with less water
These drought-tolerant shrubs can cope with low rainfall and dry conditions to ensure your backyard continues to bloom in hot weather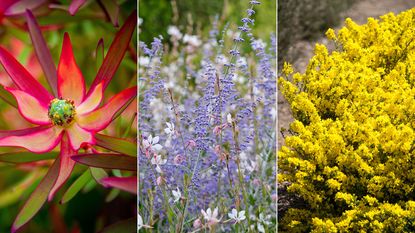 (Image credit: Alamy)
When choosing any plant for your yard, it's always important to consider the right growing conditions, but increasingly, even in temperate areas, we need to look at drought-tolerant planting as an important and desirable quality.
The choice of shrubs that suit prolonged dry heat is quite broad. Many will tolerate a level of drought if they are well established, with a mature root system that can reach for moisture as required. However, some shrubs are perfectly designed for xeriscapes, desert and gravel gardens and working with these can add a new creative dimension to planning borders and containers.
Cricket Riley, Nursery and Design Services Director at the Ruth Bancroft Garden in Walnut Creek, CA, which was established as a dry garden, observes: 'I think it is important to note that we are moving away from saying "drought tolerant" to "climate appropriate". In the Bay Area alone (where we are located) there are many different microclimates. A plant that may be able to survive drought on the coast may die 30 miles inland. The same could be said for shade. A plant that is happy in shade inland, with hot daytime temperatures, may be unhappy in the cool shade on the coast.'
Drought-tolerant shrubs for dry climates
When planning a dry garden or flower beds for hot, arid areas, look for shrubs that are native to your area, or plants that have proven drought tolerance from dry climate zones in South Africa or Australia.
1. Cotinus
Best for: Purple foliage and contrast in late summer flower borders
Height: 15ft
Spread: 15ft
Hardiness: USDA 5-9
Cotinus or Smokebush is prized for its soft clouds of palest pink summer flowers, and brilliant fall foliage.
Although technically a small tree, it's most commonly grown, as Eric Hsu from the Chanticleer Garden describes, as 'a cut back shrub' and it responds well to hard pruning to keep it to the desired size.
Chanticleer is on the east coast, just outside Philadelphia PA, and Eric reports that Cotinus coggygria did very well in the summer of 2022. He also recommends the North American native Cotinus obovatus, that is found in the southeast and south central United States.
2. Scotch Broom (cytisus)
Best for: Mid border, spring flowers
Height: 6ft
Spread: 6ft
Hardiness: USDA 5-8
The bright, sunny, traditionally yellow, pea-like blooms that appear in mid to late spring are just faintly scented, loved by pollinators and full of the promise of the growing season ahead.
A semi evergreen shrub in warmer areas, it's a good choice for mixed planting and informal boundaries as it has a rangy habit that won't tolerate grooming and pruning.
This flowering shrub grows well in poor soil types, with a slight acid pH. Its pea-pod seeds ensure that it can successfully colonize, although this means it can become invasive in some areas, particularly West Coast states.
Nature Hills recommends compact cultivars 'Sister Redhead' available from Nature Hills) for its dark, burnt orange flowers, and bi-coloured red and yellow 'Sister Disco' and pink 'Sister Rosie'.
3. Cistus or rock rose
Best for: Middle to front of borders, Mediterranean planting
Height: 4ft
Spread: 4ft
Hardiness: USDA 6-9
The rock rose is a small summer-flowering evergreen shrub that thrives in poor, well-drained soil and full sun. The grey/green slightly leathery foliage contrasts beautifully with the delicate flowers.
These papery-petalled single flowers come in brilliant magenta pink or white, with yellow centers and sometimes distinctive maroon markings, as in Cistus ladanifer available at Nature Hills (prefers acid soils), or purpurea.
A good choice for Mediterranean-style gardens, it combines well with herbs such as lavender, sage and rosemary. Prune lightly after flowering.
4. Leptospermum
Best for: Dry, sunny borders
Height: 8ft
Spread: 5ft
Hardiness: USDA 9-10
Many antipodean plants have evolved to tolerate extreme conditions. The shiny small evergreen leaves of New Zealand shrub Leptospermum scoparium are typical characteristics of a plant that can tolerate very dry conditions.
With pretty white or pink flowers appearing in early spring and summer, this drought-tolerant shrub works well combined with Mediterranean plants. Notable cultivars include the double, dark flowered 'Red Damask'. It's also known as the manuka or tea tree shrub.
However, while it's not the source of tea tree oil (this comes from Melaleuca alternifolia), it does have medicinal properties in Maori culture and bees that feed on the flowers produce Manuka honey.
5. Lemon bottlebrush
Best for: Structure and flowers in mixed borders in full sun
Height: 13ft
Spread: 7ft
Hardiness: USDA 10-11
Melaleuca pallidus is the lemon bottlebrush, often found under its old botanical name of callistemon. Native to eastern Australia, it's well adapted to hot, dry conditions.
With evergreen foliage and the stunning bottlebrush flowers that give it its familiar name, it makes an unusual statement in a flower bed, providing structure and contrast. It also works as a privacy shrub for garden screening.
The flowers can be palest lemon yellow or bright red and are loved by pollinators, in particular, hummingbirds. It needs a light prune after flowering, to keep the desired shape.
6. Perovskia (Russian sage)
Best for: Mediterranean and gravel garden plantings
Height: 3ft
Spread: 3ft
Hardiness zones: 4-9
This is classed as a deciduous sub-shrub, as it's less woody in structure. However, it brings color, scent, height and structure to mixed borders, with tall stems of small blue flowers that appear from mid summer and will see out the season. It requires very little maintenance, other than cutting back Russian sage in early spring.
The best known perovskia cultivars are known, perhaps appropriately, as 'Blue Spire'. For smaller backyards, try 'Little Spire'. These combine well with sun-loving perennials such as Gaura lindheimerei, achilleas and ornamental grasses such as Stipa tenuissima in Mediterranean-style, prairie and gravel plantings.
7. Buddleja (butterfly bush)
Best for: Back or front of borders, containers, mixed plantings
Height: 2ft-6ft
Spread: 2-ft6ft
Hardiness: USDA 5-9
No list of sunny, drought-tolerant shrubs would be complete without the tough but pretty butterfly bush, with its abundant and often fragrant blooms. It will thrive in the harshest and most unwelcoming conditions, to bring in a plethora of pollinators.
It's very vigorous and self-seeds easily so can be considered an invasive plant in some parts of the US. You will find it sprouting from any available paving cracks, and it can also easily grow out of shape, so prune hard in spring to keep it in check.
Choose from classic shades of violet, or pink, dark purple ('Black Knight', available at Fast Growing Trees), and elegant white. There are so many cultivars to choose from, there's a butterfly bush to suit yards or containers of all sizes. Compact types include the Pugster and Buzz series.
8. Trachelospermum jasminoides (star jasmine)
Best for: Walls and trellis, near seating areas and doorways
Height: 20ft
Spread: 20ft
Hardiness: USDA 8-10
If you're looking for a tough climbing plant, the evergreen star jasmine fits the bill, managing to look beautiful and elegant too. While it needs a little time to bed in, once established, it's reliably hardy and tolerates very dry conditions.
This drought-tolerant shrub is a good choice for growing against a wall with support or up a pergola, where the self-twining stems will find their way around the structure. Choose a spot in part shade and you'll be rewarded with a mass of fragrant, starry white blooms in summer and good fall foliage color too.
9. Pittosporum tobira
Best for: Evergreen structure
Height: 2ft
Spread: 2ft
Hardiness: USDA 8-12
This glossy-leaved evergreen, neat, rounded shrub makes a good full stop in a planting plan. Use the compact 'Nana' cultivar as you might do a box ball, to accentuate doorways or garden paths, either planted in the ground or in pots for a container garden.
If left unpruned, this drought-tolerant shrub will produce sweetly fragranced white flowers that give it its alternative name of mock orange. It needs to carefully cultivated and watered regularly in the early stages after planting, but once established, it will tolerate dry conditions.
10. Yucca gloriosa
Best for: Architectural statement, gravel plantings
Height: 3ft
Spread: 3ft
Hardiness: USDA 7-11
This North American native from the South Eastern USA makes a spiky statement whether in pots or combined with other succulents in a sparsely planted xeriscape. It's ideal for coping with prolonged, hot, dry weather.
The flamboyant tall white flower spike that emerges from the the center of the rosette of leaves adds to the impact of this architectural plant. Ideally it needs very dry, well-drained soil conditions in full sun, so it's a good choice for desert and coastal gardens. However, it will tolerate wet winter weather, so it can cope in more temperate zones too. Variegated forms give added interest.
11. Leucadendron
Best for: Desert or rocky landscaping planting
Height: 8ft
Spread: 6ft
Hardiness: USDA 9-11
This South African shrub makes a great dry landscaping plant, with stunning evergreen foliage and flowers that you might well have seen used in floral arrangements.
It suits sandy soils with an acidic to neutral pH, and will thrive in full sun. It looks good contrasted with lower-growing shrubs such as US natives, potentilla or Santa Cruz Island Buckwheat, Eriogonum arborescens.
12. Mediterranean herbs
Best for: Herb gardens, edging paths and borders, containers
Height: 2-4ft
Spread: 2-4ft
Hardiness: USDA zone varies
Let's hear it for herb garden ideas in a hot landscape situation. Many Mediterranean herbs will tolerate drought conditions once established, so consider planting lavender, rosemary, santolina, helichrysum or curry plant and thyme in gravel gardens, or dry areas near paths and seating areas to enjoy the aromatic foliage and flowers.
They are great for providing all-year interest, and structure in small mounded forms and need very little maintenance other than spring pruning and regular picking of leaves through the growing season.
Propagating herbs is easy too, so you can ensure you have an ongoing, homegrown supply.
Which native shrubs are drought tolerant?
It's no surprise that we can look to the west coast of the US for some great drought-tolerant shrub choices.
Zauschneria californica is a low-growing semi-evergreen shrub, pollinated by hummingbirds. Fremontodendron californicum has bright yellow flowers from spring to early summer, and is great for training against a wall. But beware, in particular when pruning, as the tiny hairs hair on the foliage can irritate skin and eyes.
Ceanothus, otherwise known as the California Mountain Lilac comes in many sizes from dwarf and lax in habit to small tree size. Its clouds of blue flowers are a delight in early summer and some varieties flower in fall too. A special mention goes to Ceanothus 'Valley Violet' as recommended by the Ruth Bancroft Garden in Walnut Creek, CA.
Which are the best drought-tolerant shrubs for shade?
Gardening in shady, dry conditions can seem like an impossible combination. However, if you work with these conditions, nature does have a solution for shade plants that can cope with less watering. You can look to a range of shrub choices that will cope, once they are established.
Cricket Riley, Nursery and Design Services Director at the dry garden oasis that is the Ruth Bancroft Garden, recommends in particular Mahonia 'Soft Caress', the Australia fuchsia or Correa cultivars and Ceanothus 'Diamond Heights'. Other reliable shade and drought-tolerant shrubs include nandina, Hydrangea paniculata, berberis cultivars and Daphne laureola.
Which drought-tolerant shrubs are good for hedges?
If you want to screen your boundaries with natural greenery, there are a number of good drought-tolerant shrubs to choose from. Choices include classic hedging plants such as English laurel, Texas privet and bay laurel.
You can also look to California again, as the evergreen California wax myrtle Myrica californica will also work as a hedging plant.
For coastal gardens, try the very tough Australian Coast Rosemary, Westringia fruticosa, for an informal evergreen boundary. With dark, rosemary-like foliage and pretty white flowers, it grows up to around 6ft, and has a natural mounded habit, but tolerates pruning.
---
As we can't plan for our unpredictable weather patterns, beware wet winter conditions and always add drainage in the form of grit or extra compost when planting drought-tolerant shrubs.
While many of them can sustain cool temperatures, they rarely tolerate soggy, cold soil conditions.
Sign up to the Homes & Gardens newsletter
Decor Ideas. Project Inspiration. Expert Advice. Delivered to your inbox.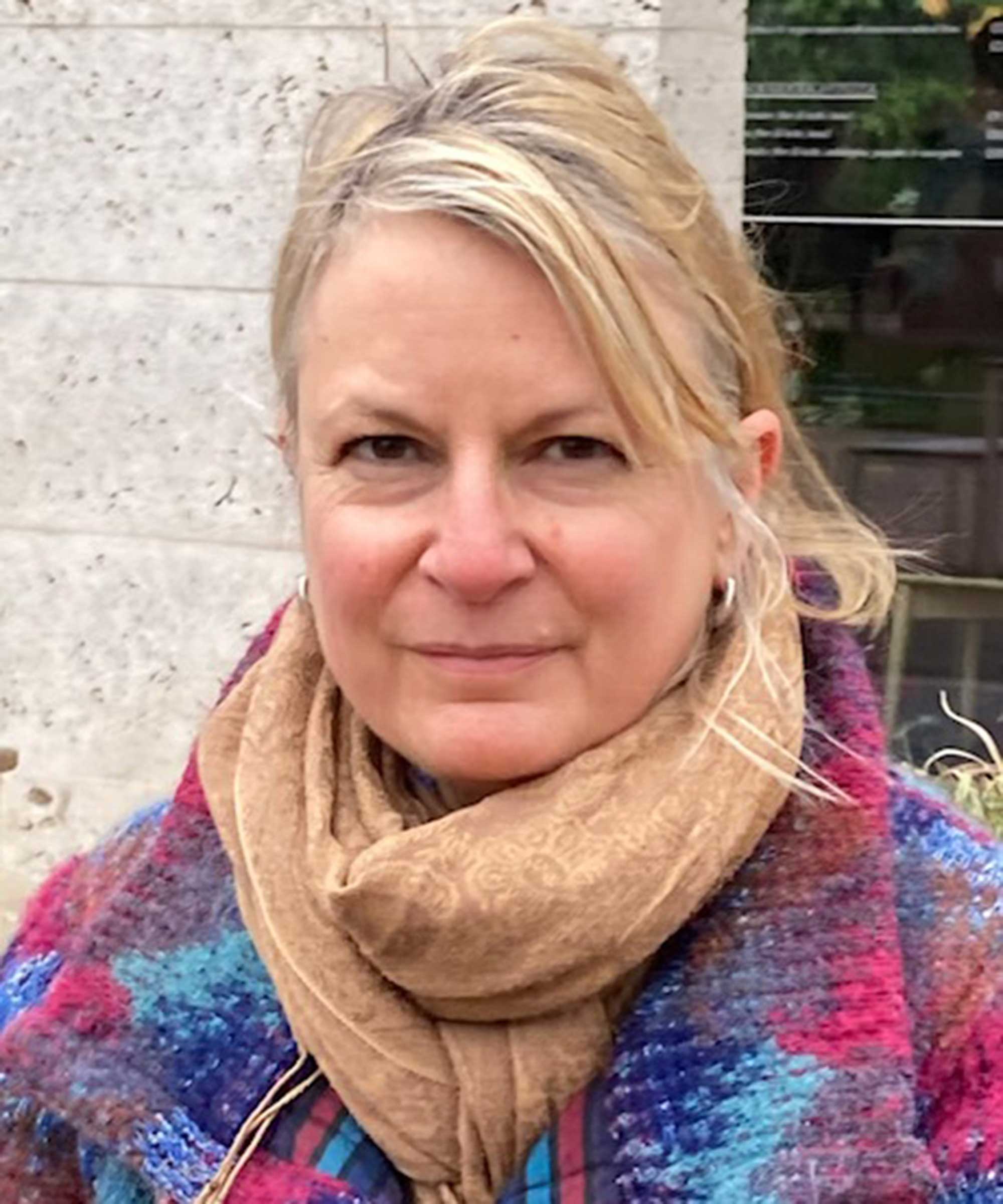 In her years of gardening, Camilla has designed planting schemes for gardens large and small in and around London, written about plants and how to grow them, and worked on BBC gardening TV shows in the UK. She's also works as a therapeutic horticulturist, teaching growing for wellbeing and mental health.