Hollyhocks care and growing guide – expert tips for these cottage garden favorites
Grow these lofty bloomers in your yard for a pretty summer display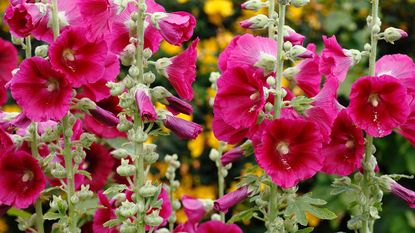 (Image credit: Stuart Aylmer / Alamy Stock Photo)
Sign up to the Homes & Gardens newsletter
Decor Ideas. Project Inspiration. Expert Advice. Delivered to your inbox.
Thank you for signing up to Homes & Gardens. You will receive a verification email shortly.
There was a problem. Please refresh the page and try again.
Hollyhocks are often spotted gracing a sunny backyard wall, standing proud and tall with their satin-like blooms. They are a classic addition to English-garden planting schemes and offer a range of pretty shades, from deep purple to pale lemon and peach.
Growing hollyhocks from seed is relatively easy, but you can often find them as plug plants or as larger, pot-grown plants in garden centers, too. Mostly biennial, they can reach great heights in their second year – 'up to 9ft tall depending on the variety,' says John Negus, a gardening expert. Because of the prevalence of hollyhock rust, a fungal disease, even perennial forms are often treated as biennials and then disposed of before they start to look unhealthy. 'However, I have seen clumps flowering year after year and they are magnificent, if slightly tatty,' says John.
Either way, they make excellent additions to the back of a border or to add interest to a fence, or even in deep pots as part of a patio container display. Plus, bees and butterflies adore the single-bloom varieties.
John has been a garden journalist for over 50 years and regularly answers readers' questions in Amateur Gardening magazine. He has also written four books and has delivered many talks over the years on horticulture.
Hollyhocks key facts
Ease of growing: Easy
Plant type: Hardy biennials or short-lived perennials
Mature size: Up to 9ft
Soil preference: Fertile and well-drained
Best grown in: Full sun
Time to plant: Early summer or fall
Peak season: Flowers from summer into fall
Hardiness zones: USDA 3-8
Scientific name: Alcea
Common name: Hollyhock
Where to plant hollyhocks
Plants in pastel shades, such as 'Peaches 'n Dreams' hollyhocks from Nature Hills, perfectly suit an informal, romantic scheme, alongside delphiniums, peonies, and sweet peas. Bolder colors, on the other hand, are brilliant in modern gardens for a splash of drama. Try the 'Chaters Pink' hollyhock from Burpee for vibrant, ruffled, pom-pom-like blooms.
For the best results, there are a few things to bear in mind when picking a spot for these plants. 'Hollyhocks thrive in well-drained soil that's been enriched with compost or organic matter,' says gardening expert Tony O'Neill. 'They tolerate a wide pH range, but slightly alkaline soil is preferred.'
They like plenty of sunshine, and benefit from a sheltered spot, too, which will protect their long stems from blowing over in the wind.
Tony O'Neill is an accomplished gardening expert, author, and educator. With a passion for simplifying gardening practices, he has inspired a wide audience through his popular YouTube channel and website SimplifyGardening.com. Tony's expertise empowers individuals to cultivate thriving gardens and connect with nature.
When and how to plant hollyhocks
According to the Royal Horticultural Society, plug plants should be potted on into larger, 4in pots to establish a good root system. When they're ready to plant into their final position outdoors, in either early summer or early fall, space them around 24in apart. As they are hardy plants, they won't need protection from frost.
Improve the soil by digging in some garden compost, first. Water them in thoroughly after planting. 'Given their height, hollyhocks often require some structural support to stay upright,' adds Tony. 'Paired with soft ties, sturdy garden stakes or bamboo canes can help prevent damage from winds.'
Seeds can be sown undercover in spring, or directly into the ground in early summer.
How to care for hollyhocks
As long as you provide supports in exposed backyards and keep an eye out for the common problems listed below, hollyhocks don't require much in the way of maintenance.
In terms of watering, they are fairly drought-tolerant once established. 'Hollyhocks prefer a deep watering at the root rather than a sprinkle from above,' says Tim Graham from YardandGardenGuru.com.
A light application of fertilizer in spring can promote better blooms – Tony recommends a balanced, slow-release one with an NPK ratio of around 10-10-10. You'll find the breakdown of plant fertilizer numbers listed on the product packaging.
Cutting back the stems once the plants have flowered will neaten up the appearance. You can use a pair of sharp and clean pruners to do so. However, wait for the seeds to develop and ripen first if you want the plants to self-seed, or if you plan to collect them for sowing elsewhere.
How to propagate hollyhocks
If you have grown a large hollyhock, with several shoots appearing from the base, you could propagate it by division. Do this in spring, advises John Negus, 'when the soil is warming nicely and the plant has started to grow again.
'Lift it carefully and split it into several well-rooted and budded portions,' he instructs. 'Replant them in organically rich soil.'
Alternatively, you can propagate your hollyhocks from seed. They are prolific self-seeders, but for a bit more control over where they end up, you can collect the seeds once they have ripened and sow them yourself. 'They will turn brown and be easy to remove from the seed pod,' says John. Store them in a dry jam jar, with the lid on, in a cool, dark, frost-free place.
You can then sow your hollyhock seeds in spring, by sprinkling them onto the surface of a 4in pot filled with seed-and-cutting compost and covering them with a 1⁄4in of grit. 'Water them in and seal the pot in a plastic bag,' says John. Then, consign it to a propagator or warm windowsill. 'Seedlings will appear within a few weeks.'
Common problems with hollyhocks
The most common problem with hollyhocks is rust. However, there are a few pests that can be a nuisance for these plants, too. These include slugs and caterpillars. Luckily, there are natural control methods for both, such as picking them off by hand and encouraging more birds to your yard.
It's also worth noting that hollyhocks are not deer-resistant plants, who will happily eat the blooms.
FAQs
Can you grow hollyhocks in pots?
It's perfectly possible to grow hollyhocks in pots, and they make lovely additions to courtyards and patios. However, the containers need to be deep enough to accommodate their long taproots.
Provide supports and make sure they're somewhere sunny. Remember to water your containers more frequently than plants grown in the ground, as pots tend to dry out quicker. Putting the pots onto pot feet, such as these non-slip UFelice ones from Amazon, will help to prevent the soil from becoming waterlogged.
Why haven't my hollyhocks flowered?
Many hollyhocks won't flower at all in their first year when grown from seed, producing only foliage. This is perfectly normal for biennials, so don't despair – if they are healthy, they should produce plenty of blooms the following year.
Other reasons for a lack of flowers could be not enough water as they establish, or not enough sunlight.
---
Although they won't last forever, hollyhocks are definitely worth growing for a splash of color in your summer display. They're easy and rewarding to grow from seed, relatively unfussy in terms of maintenance, and they're a great way to temporarily hide an ugly garden wall. And, if you want to brighten your home as well as your yard, they make lovely cut flowers for a large vase, too.
Sign up to the Homes & Gardens newsletter
Decor Ideas. Project Inspiration. Expert Advice. Delivered to your inbox.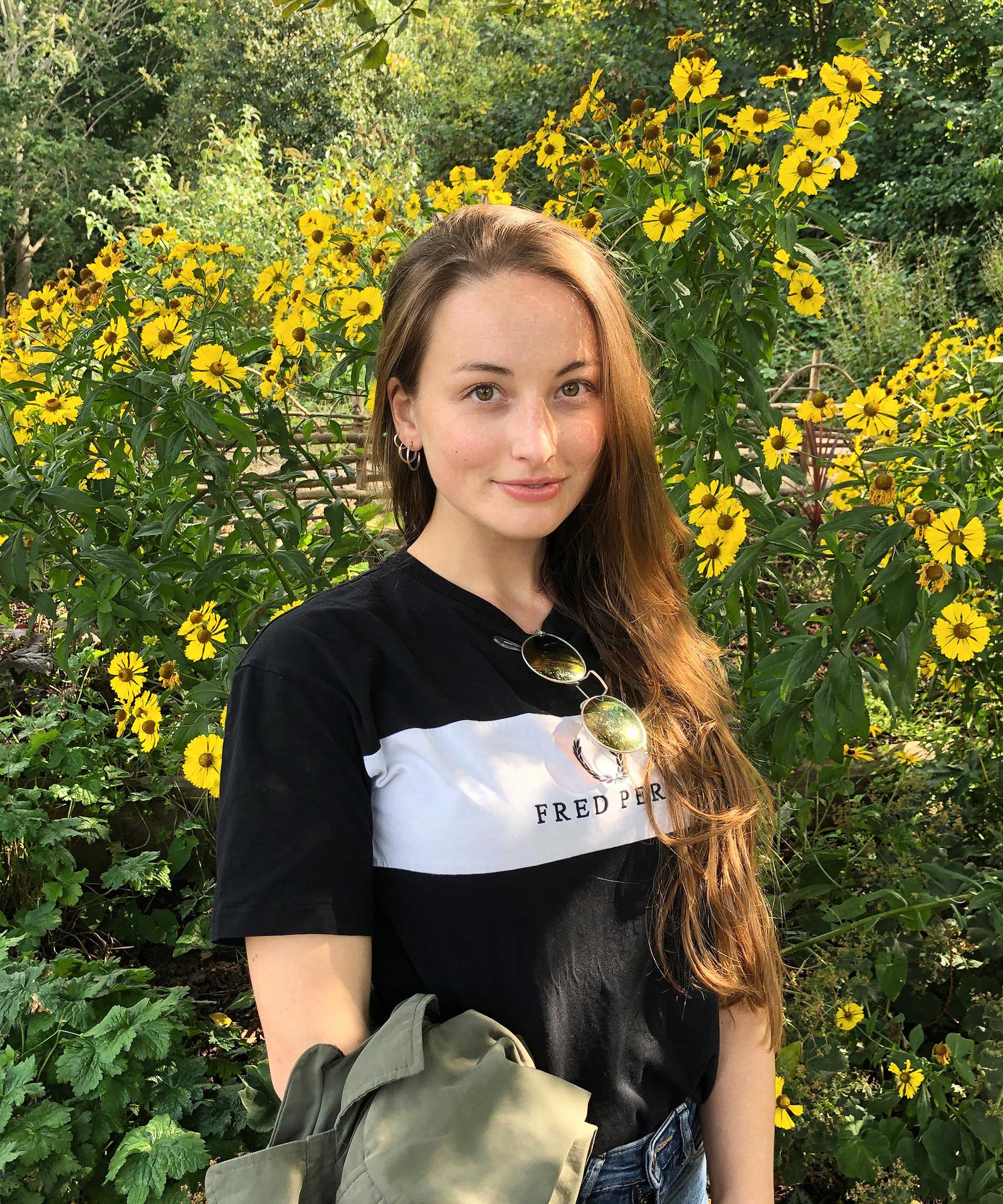 The garden was always a big part of Holly's life growing up, as was the surrounding New Forest where she lived. Her appreciation for the great outdoors has only grown since then; over the years, she's been an allotment keeper, a professional gardener, and a botanical illustrator. Having worked for Gardeningetc.com for two years, Holly now writes about plants and outdoor living for Homes & Gardens.