How to grow delphiniums from seed
Find out how to grow delphiniums from seed and enjoy these colorful cottage garden favorites filling beds and borders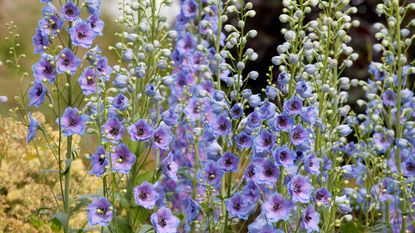 (Image credit: Leigh Clapp)
Real crowd-pleasers, once you have mastered how to grow delphiniums from seed you can enjoy these statuesque and colorful blooms filling summer garden beds and borders.
These vivid flowers have been grown in our gardens for centuries – their common name 'larkspur' dates back to Tudor times. They are mostly hardy perennials, thriving for years, dying back to a rootstock each winter, but there are also annual and biennial varieties available.
Delphiniums grace herbaceous borders and cottage garden medleys, mingling beautifully with other traditional choices such as roses, peonies, campanula, and lupins.
Delphiniums can be raised from seed as part of your flower bed ideas, with some varieties flowering in their first year. These impressive border plants do need commitment from a gardener, as they can be quite hard work, but follow our guide on how, when, and where to plant them for growing success.
A gardening writer and photographer, Leigh Clapp has over 25 years' experience of photographing beautiful gardens and writing on all manner of things horticultural. Leigh's work appears in magazines, newspapers and books, both in the UK and abroad, including Period Living, Country Life, and Gardens Illustrated. She is also the author of Vertical Gardens.
Why grow delphiniums from seed?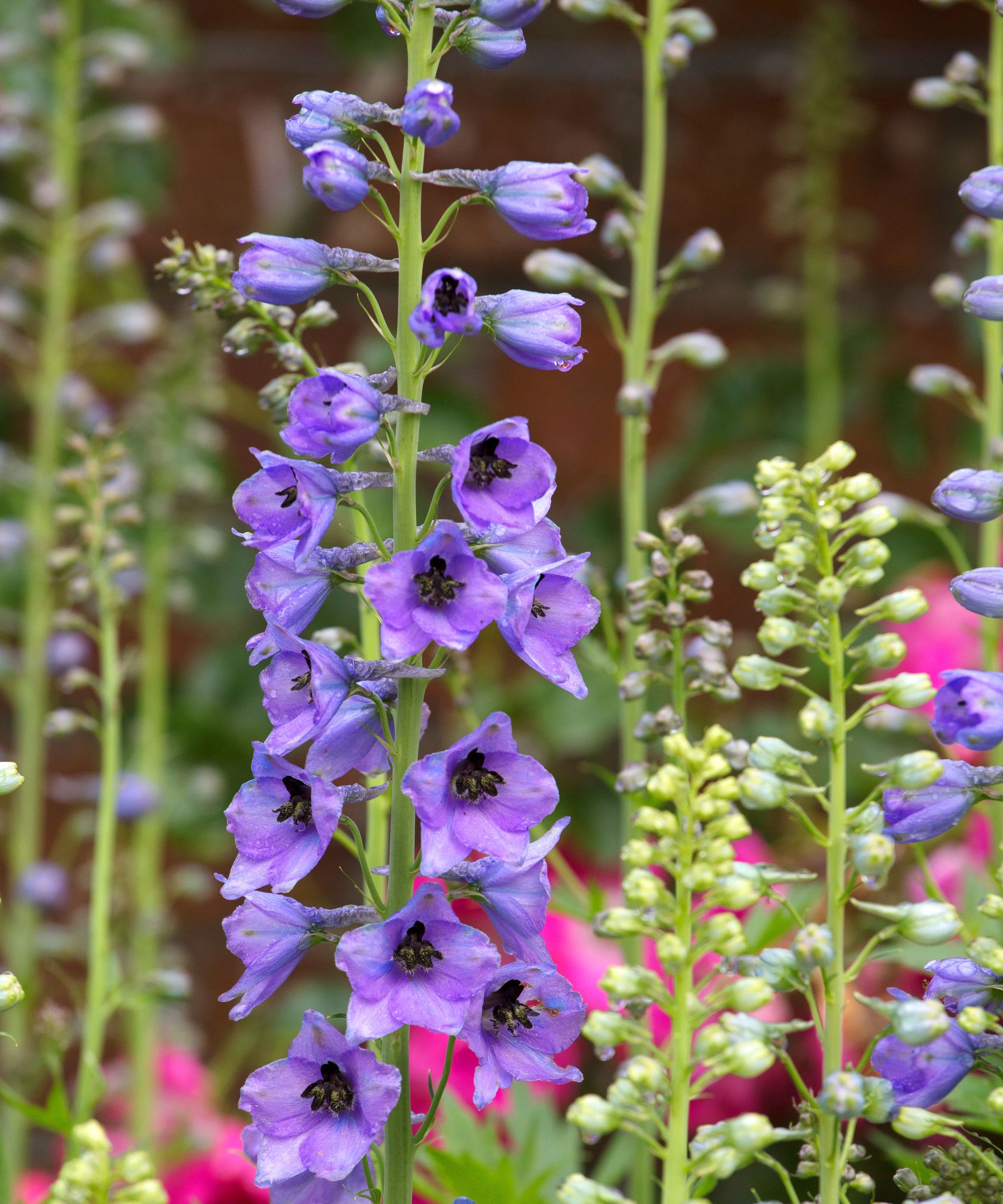 Growing delphiniums from seed is the most cost-effective way to add these attractive flowers to your cottage garden ideas.
Flowering early before many of the other main summer flowers, they will also come back and flower again in fall if you cut back delphiniums after their first early summer flowers – bear this in mind when planting a flower bed, so that you can enjoy a succession of blooms.
'The cultivars we now use have been selected and bred from the wild forms for their uniformity, size of flower, and color,' says Lou Nicholls, head gardener of Godinton House and Gardens, famous for its display of delphiniums.
As flowers that attract bees, delphiniums are ones to include if you're hoping to plant a garden for pollinators. 'They are special because few other plants give you such colorful height and the bee-like intricate flowers in solid columns in blues, whites, pinks, mauve, and similar hues,' says Guy Barter, chief horticulturist at the RHS.
'There is increasing interest in perennials as bedding plants have become more expensive. Delphiniums are irresistible in flower and lower-growing cultivars that need less staking seem more numerous,' Guy adds.
When to plant delphiniums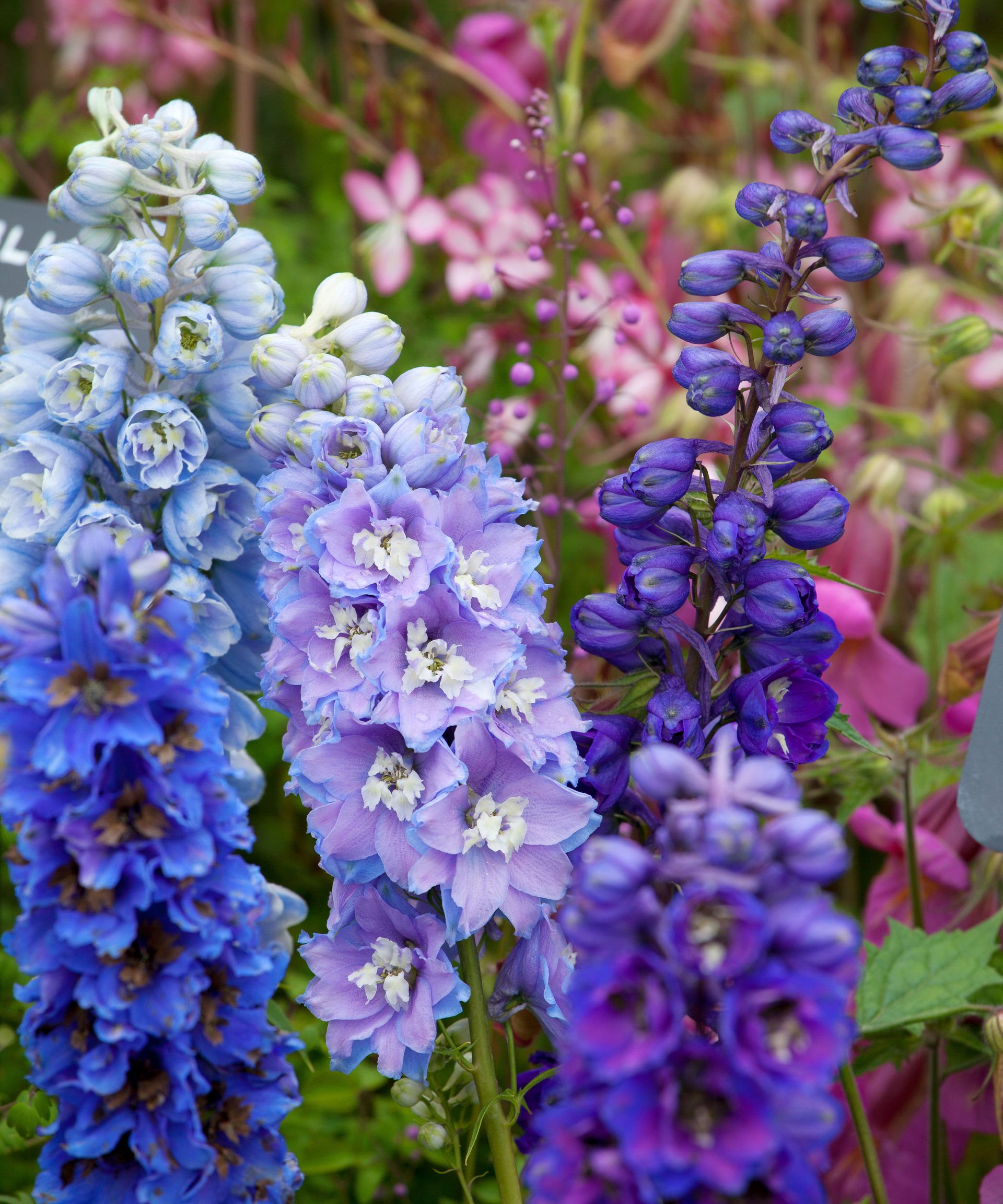 The best time to grow delphiniums from seed is in spring or fall when the soil is moist and warm.
'The best annual flowers come from September sowing, where the soil does not lie too wet over winter; but good results come from April sowing, too,' says Guy Barter. So you can plant them at the same time as sowing other summer flowers, such as if you're growing marigolds from seed.
How to grow delphiniums from seed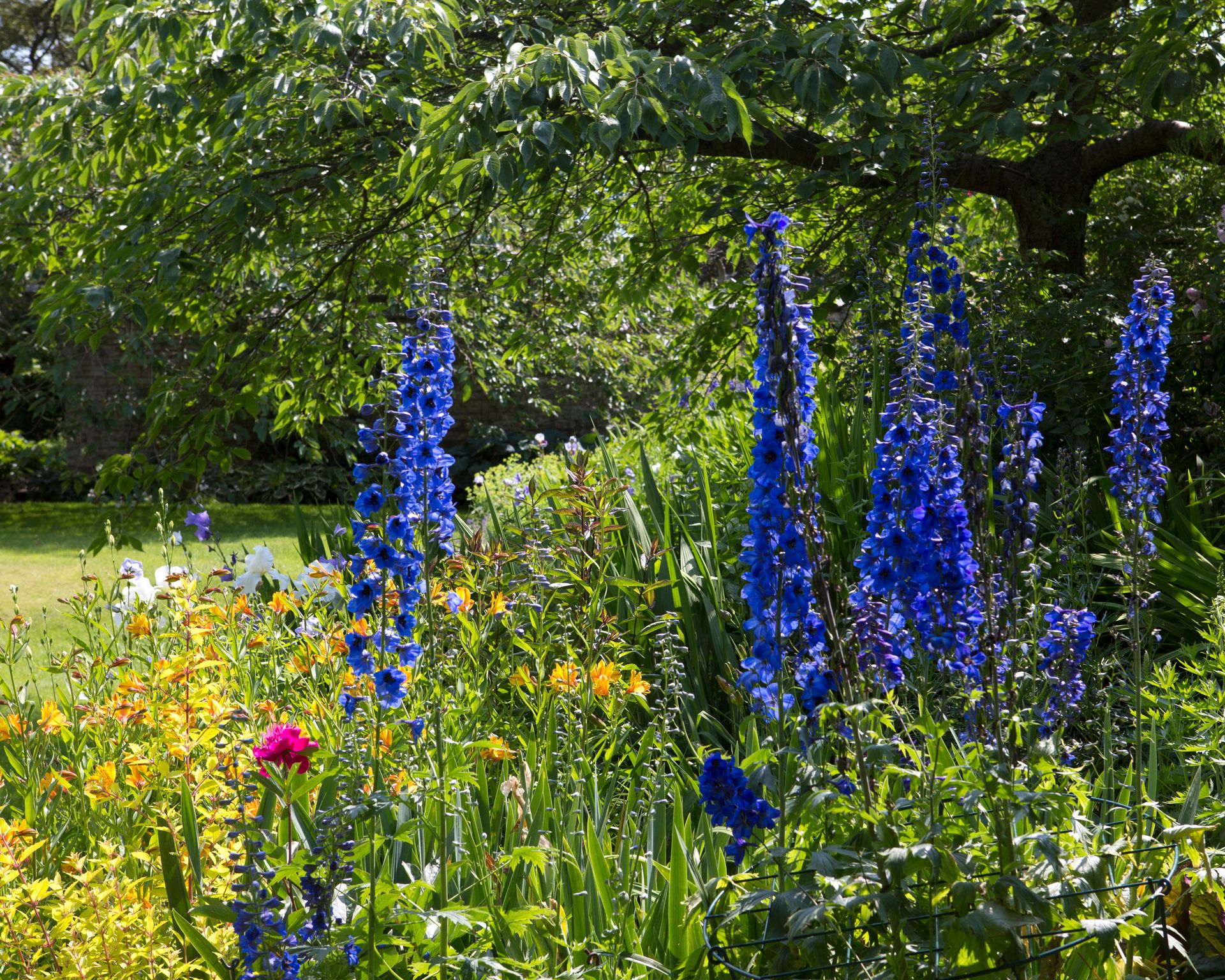 Ideally, when growing delphiniums from seed, sow them in situ where they are to grow, thinning plants if necessary, but module-raised plants are also worth considering.
'The seed is not long-lived so buy direct from seed suppliers and sow as soon as feasible,' says Guy Barter.
'They benefit from some support – classically pea sticks were used. They often self-seed but the progeny, although delightful, won't always be exactly like their parents,' he adds.
Delphiniums require moist, well-drained fertile soil. 'Make sure the soil is suitable and well prepared; they prefer sandy soil that drains well – heavy soil will restrict growth and cause rotting of the crowns during the dormant winter period. Plenty of well-rotted cow or horse manure dug into the ground is a great help for drainage and adding nutrients,' explains Simon Langdon, director at Blackmore and Langdon, specialist delphinium growers.
In heavy soil, add grit to the planting hole to increase drainage, as they don't like wet winter soil or to be waterlogged for prolonged periods. 'It's also wise to mulch with sharp grit, crushed eggshells, or cocoa shells, as a slug control method, as slugs and snails find this uncomfortable to cross,' says Lou Nicholls.
Plant delphiniums in threes for the best impact and take note of the spacing between plants as well. 'Delphiniums like plenty of room – each plant should have around 17 inches (45cm) all around. They will grow into the space you provide, and don't like being cramped,' adds Simon Langdon.
Providing good air circulation, and thinning out shoots as they emerge from the crown early in the season will also help prevent powdery mildew.
Where to grow delphiniums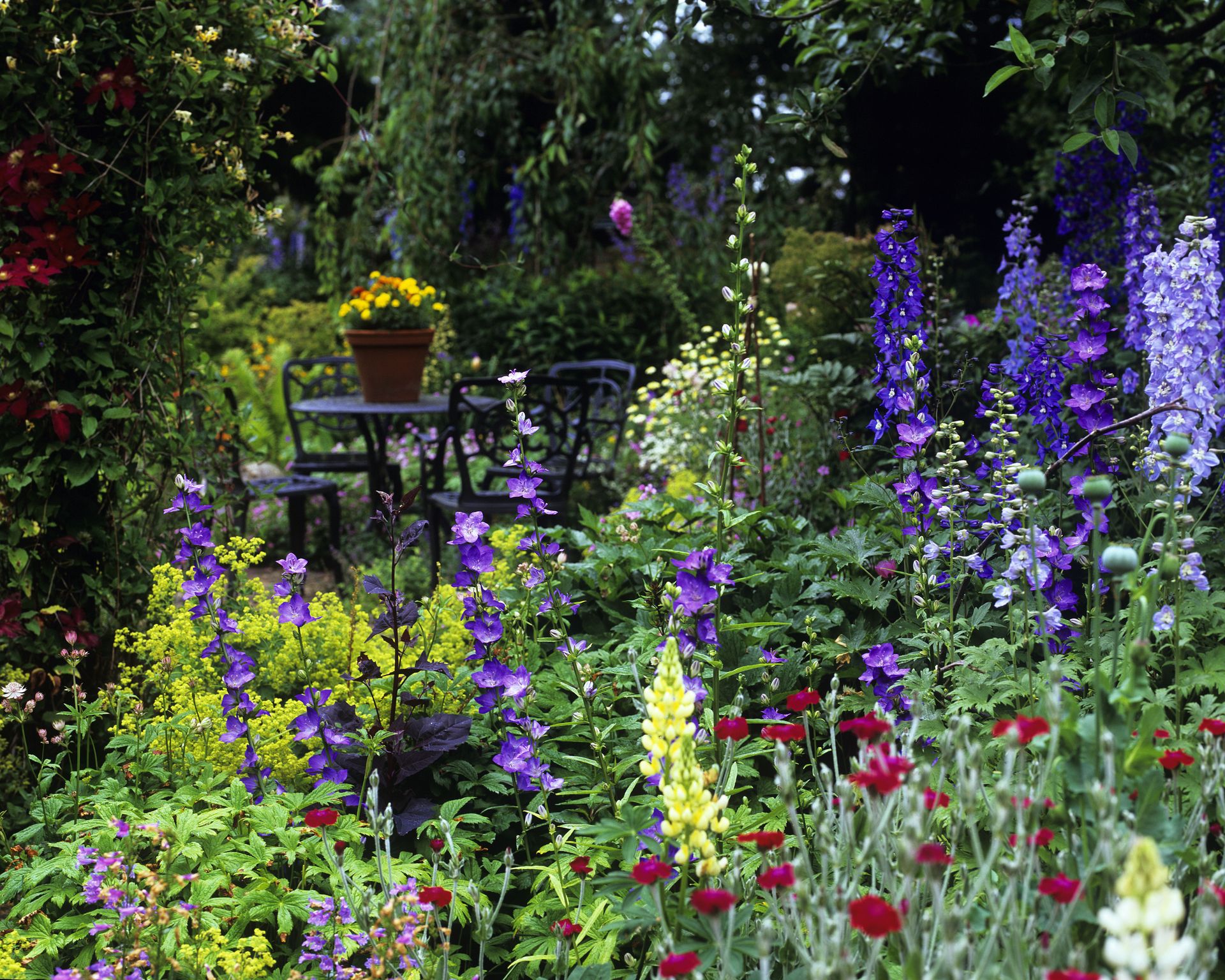 Grow delphiniums from seed in full sun or dappled shade, protected from the wind. That said, although they need sun – about six to eight hours a day – don't plant them in a really hot spot in the garden. An area that enjoys the morning sun is ideal.
They can grace herbaceous borders and cottage garden borders, mingling beautifully with other traditional choices, such as roses, peonies, campanula, and lupins.
'Traditionally they are used at the back of borders, often giving two shows throughout a season, one in early June and one later in the year once the heat of summer has passed. A wise gardener will either stake them as the flower spike emerges or will grow stout tall plants on either side to support them,' says Lou Nicholls.
'Shorter ones for the front of the border have now been bred and these are also very satisfactory plants,' adds Guy Barter.
As well as flower beds and borders, companion planting a cluster of delphiniums in a vegetable garden is a useful way to attract unwanted pests as well as beneficial insects, and they are also a good option if you are planning a cut flower garden.
NOTE OF CAUTION: all parts of delphiniums are highly poisonous so take care when handling them. Don't plant them near grazing animals and be aware if you have young children.
How to grow delphiniums in pots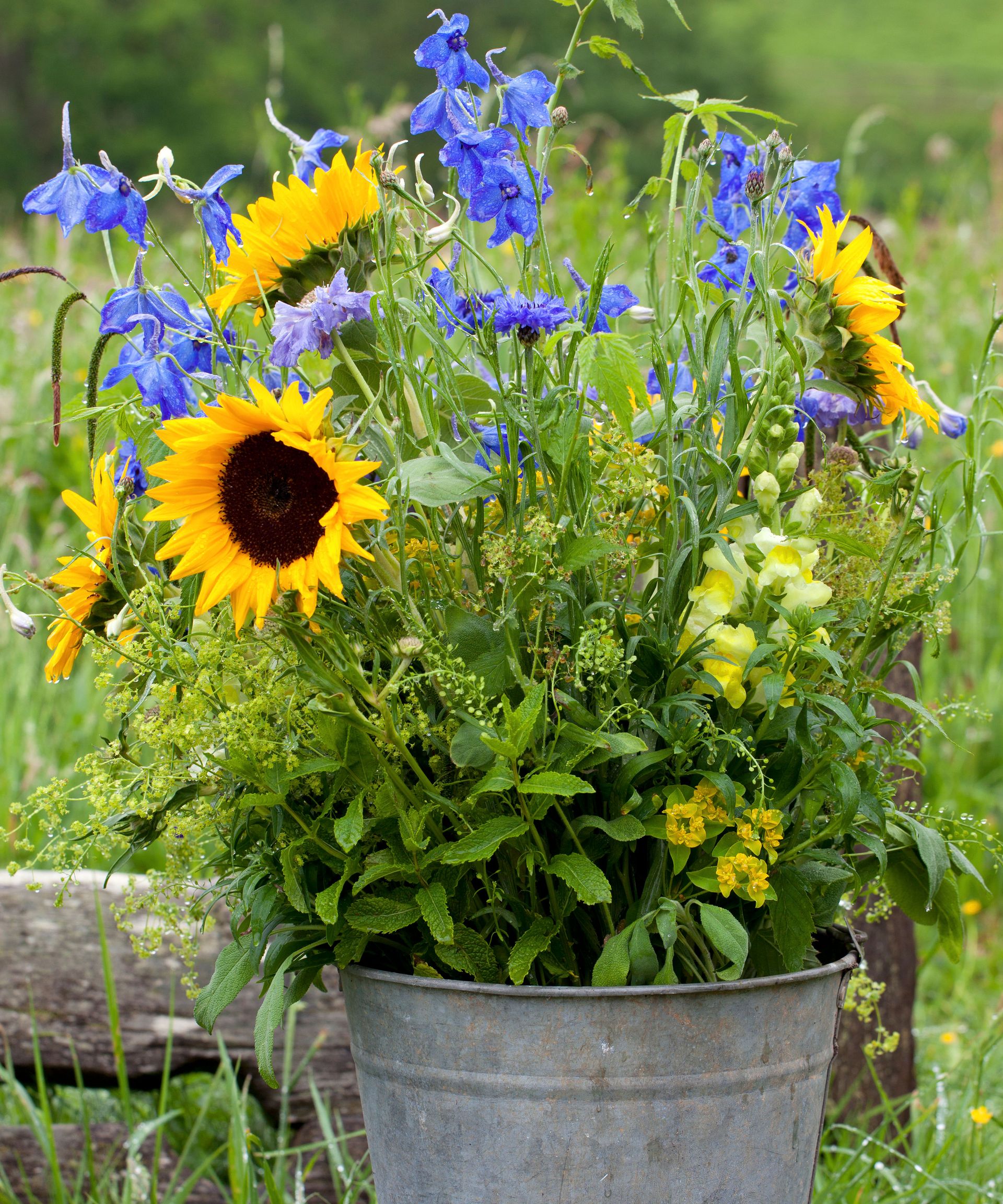 Although delphiniums do best planted in the ground they can be grown in pots as a container gardening idea as well, as long as they are heavy and stable.
For container growing delphiniums, free-draining conditions are important, so make sure there are good drainage holes at the base, with crocks, and add some grit to your potting mix. Remember they don't like being overcrowded as they have sensitive root systems.
Place your containers in a sunny, sheltered spot to protect them from strong winds, which can topple them and will also damage the flowers. 'Use a nice big pot for delphiniums, ideally 23 inches (60cm) in diameter, and fill with peat-free potting media. They do need weekly feeding in summer, such as with seaweed fertilizer,' says Guy Carter.
'Repot delphiniums every winter, dividing if necessary – learn how to divide plants to ensure success. Homemade potting composts of two parts garden soil by volume and one-part garden compost are suitable. Choose smaller growing cultivars,' he adds.
Both perennial and annual varieties can potentially be grown in pots. Magic Fountains are the best perennials to use for containers and Delphinium ajacis and grandiflora, for annuals.
Keep a careful eye on watering, as delphiniums do like moisture but not to be waterlogged. Raising your container off the ground will help the water to drain freely. Reduce the watering as temperatures cool in fall and over the winter. Move the container undercover or protect it from winter rain so they don't get waterlogged.
How to care for delphiniums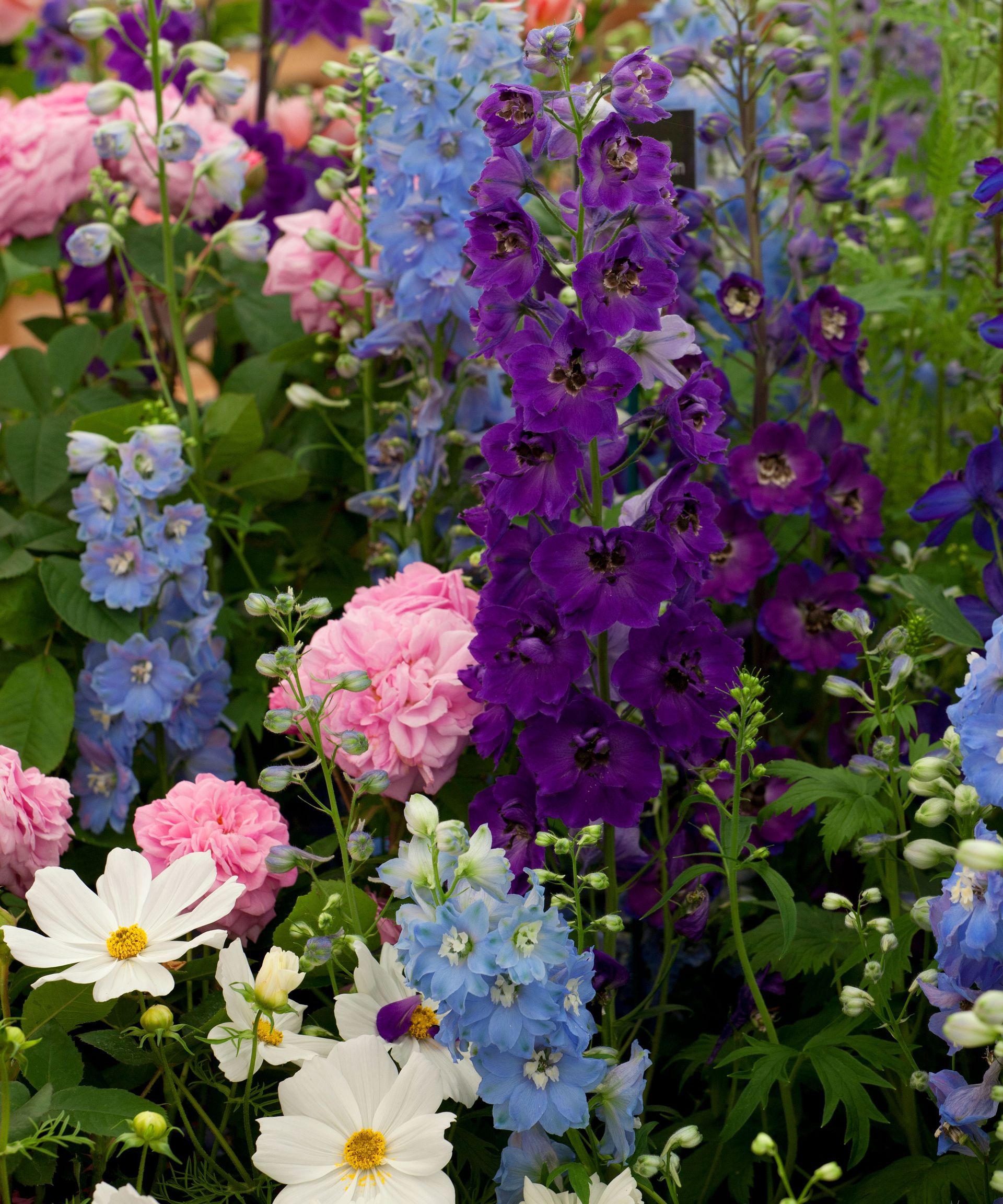 Delphiniums require care, in particular against slugs, and will need support:
In spring, protect them from slugs as the shoots emerge. 'Keeping the large adults away from your plants in the fall reduces the chances of eggs being laid. Clusters of eggs can be seen by lightly scratching back the soil on the delphinium crowns, and it is these tiny 1-2mm hatchlings that do all the damage in the spring. As the weather warms, delphiniums start to grow and the slugs hatch, nibbling off the growing tips, even before they break through the soil,' says Simon Langdon.
Stake as soon as they start to grow. 'The tall delphiniums do need sturdy staking – double what you think they will need,' says Guy Barter.
Water regularly through summer and feed weekly with a high potash fertilizer
Use a slow-release fertilizer when planting and then use a seaweed fertilizer. 'Delphiniums are hungry feeders and supplementary feeding during the growing season helps a lot,' adds Simon.
Cut back after flowering by cutting the flower spikes down to the ground with the foliage in place, for a second flush come September.
'A post-flowering haircut to elicit fall flowers gets rid of the mildew at the same time,' adds Guy Barter.
Mulch in fall with leaf mold or well-rotted manure.
'Delphiniums are very obliging, hence their popularity, but insufficient staking, lack of water, not enough space, lack of feeding, and delaying cutting back after flowering can lead to disappointment,' says Guy Barter.
Types of delphiniums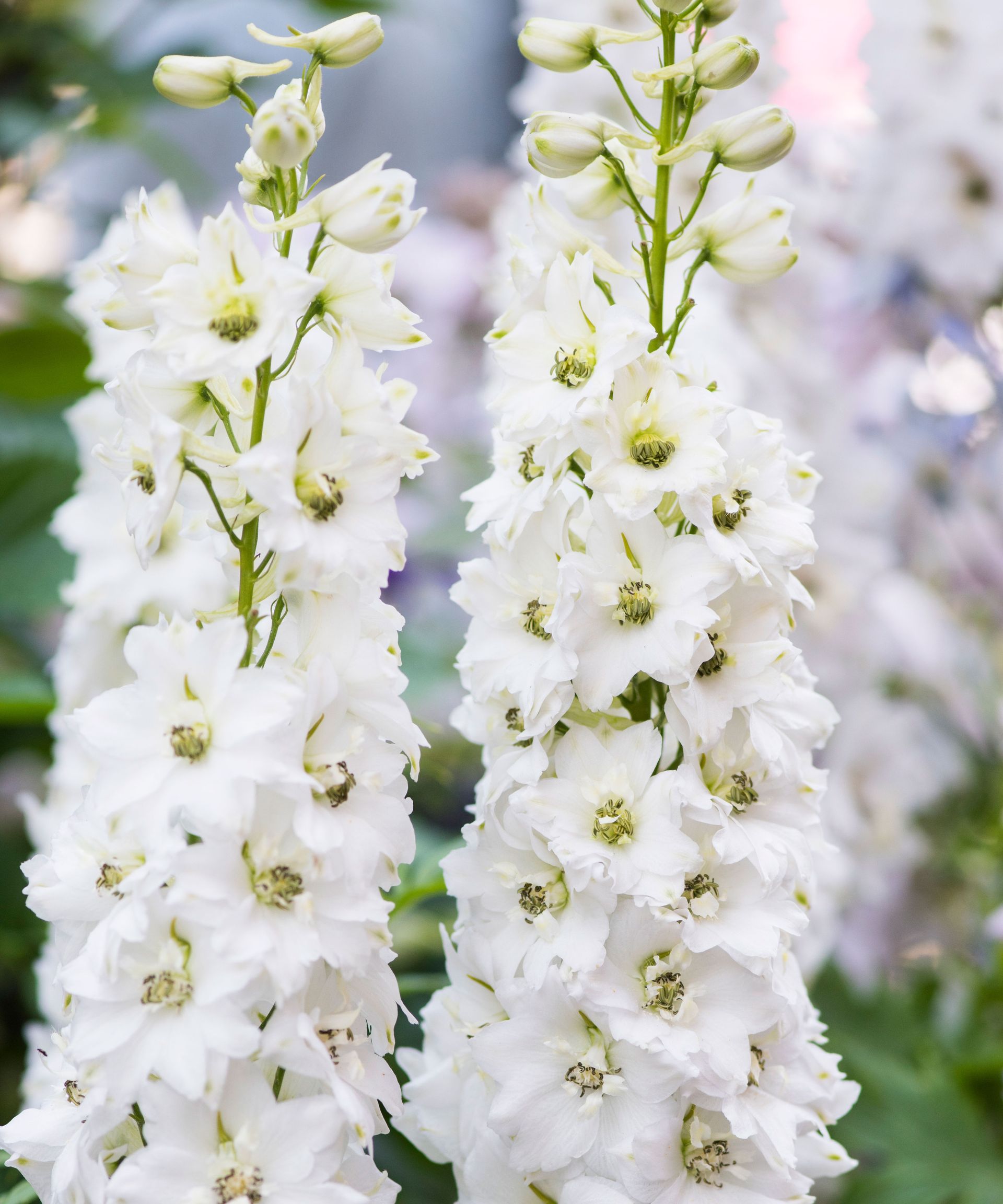 Delphiniums are mostly hardy perennials, thriving for years, dying back to a rootstock each winter, but there are also annual and biennial varieties available.
'I would always go for perennial varieties. To have a plant that delights when it blooms but won't return the following year, to me, seems such a shame,' says Simon Langdon.
The most commonly grown perennials are in the Elatum Group, with the tallest spikes of single or double flowers growing to around 6 feet (2m). 'These are the classic large delphiniums that can be seen towering in the back of borders. They become larger year on year and give pleasure for many years,' adds Simon.
Belladonna varieties are shorter, with a more branching habit and single flowers. Pacific hybrids are short-lived perennials and biennials, looking similar to the Elatum, but are shorter.
For small gardens the Magic Fountain series are popular as they are more compact.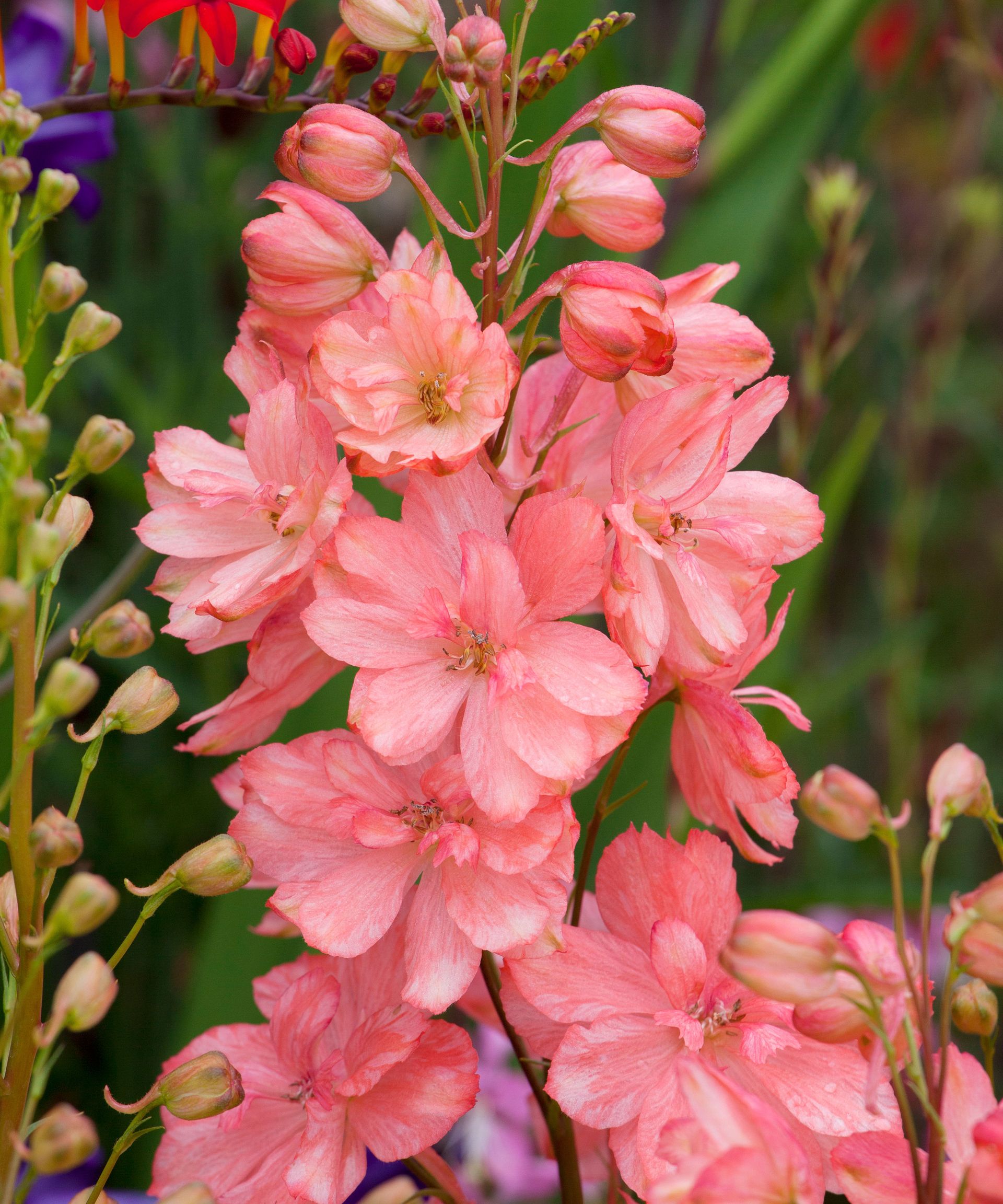 'The question of whether to grow perennial delphiniums or the very similar knight's-spur or larkspur (Consolida ajacis) will depend on what you're looking to achieve. The annual delphinium very considerately flowers in the first year and carries on between June and October. This nicely fills the gap between the two flowering periods of the perennial but it doesn't quite reach its heady heights. It is also very useful as a cut flower, giving an excellent crop very quickly. Packets of mixed seed or a specific colour strain can be chosen if you're looking to fulfil a colour scheme,' says Lou Nicholls.
Good planting companions for delphiniums that grow to a similar height and accent the wonderful flowers include:
Crambe cordifolia
Persicaria amplexicaulis
dahlias
Hollyhocks
Aquilegia
Planting a mix of medium-height perennials will hide the staking, such as phlox and foxgloves during their first flush, and echinacea, rudbeckia and helenium for the second.
'Belladonna delphiniums are said to make better cut flowers as they have stronger stems. The annual delphiniums or larkspur, make fabulous long-lasting cut flowers and can also be dried,' adds Guy Barter.
Do delphiniums grow back every year?
The herbaceous perennial delphiniums will die back each fall and regrow from their live roots come spring. Cut them back to near ground level after flowering, and don't let them over bloom. Most are short-lived perennials, coming back for two to five years, and the cooler the summers, the longer they last. Ensure that they are in free-draining soil as they will be damaged if waterlogged in their dormant time.
Do you cut delphiniums after flowering?
If you cut back delphiniums hard after flowering in summer, then they will come back and flower again in fall. 'It is true that they often suffer from powdery mildew, but this is only seriously disfiguring after flowering, so that post-flowering haircut to elicit fall flowers gets rid of the mildew at the same time,' says Guy Barter, chief horticulturist at the RHS.
So remember, you need to wear gloves and cut perennial varieties back twice: once after their first flowering, and then again down to the ground after fall blooms for their dormant stage.
Sign up to the Homes & Gardens newsletter
Decor Ideas. Project Inspiration. Expert Advice. Delivered to your inbox.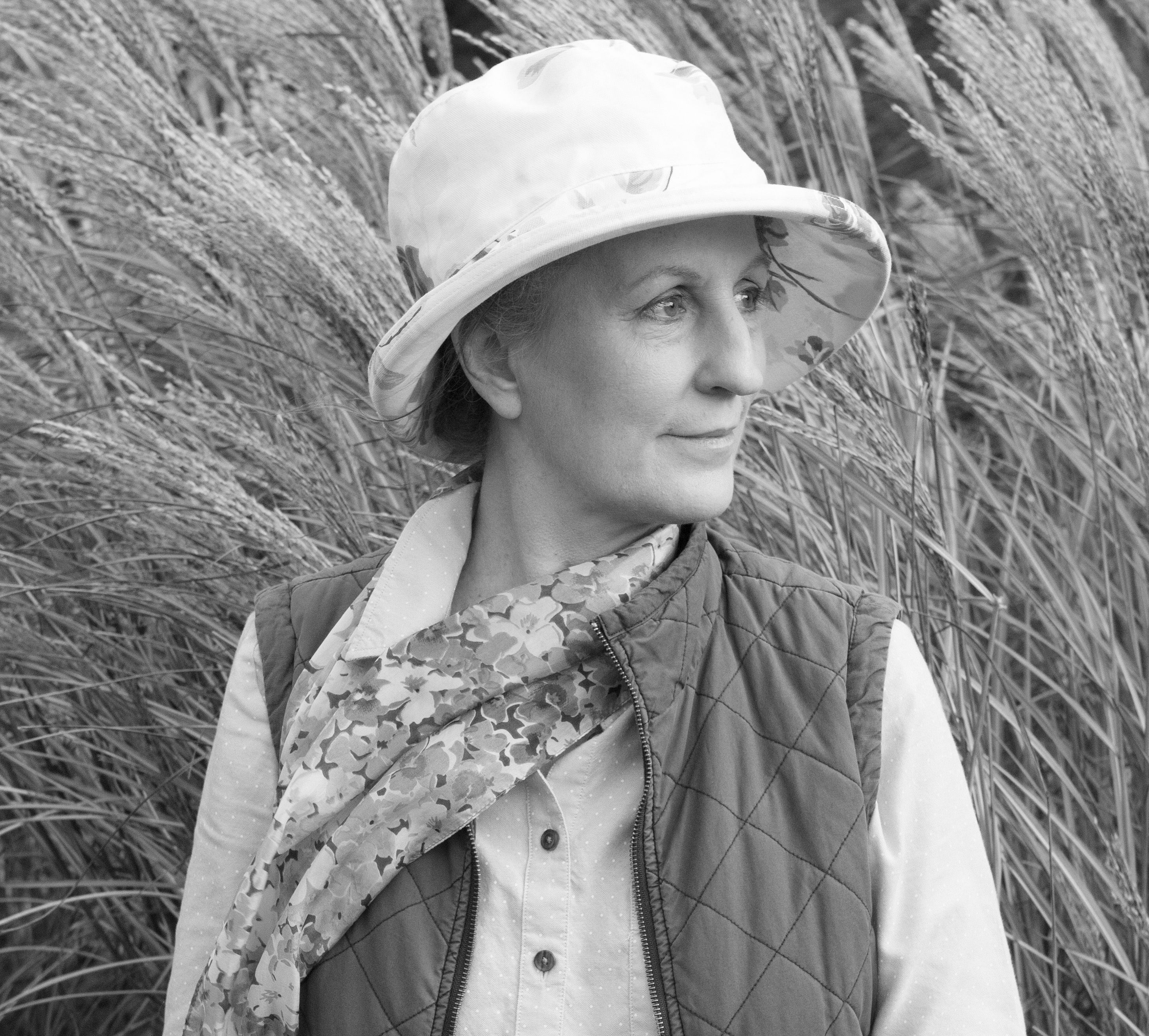 Leigh Clapp is a professional photographer with over 25 years experience, primarily as a garden specialist photojournalist but also with food and travel. She delights in exploring gardens, discovering the tiny elements to their overall essence and meeting lots of enthusiastic gardeners along the way. Leigh's work appears in magazines, newspapers and books, both in the UK and abroad, including Period Living, Country Life, and Gardens Illustrated; as well as being sole photographer for a number of books, including Garden Details, Feng Shui in the Garden, Vertical Gardens and From the Garden – fresh seasonal cooking.