How to scarify a lawn – expert tips for a professional finish
Discover the best methods for scarifying a lawn and enjoy healthy-looking grass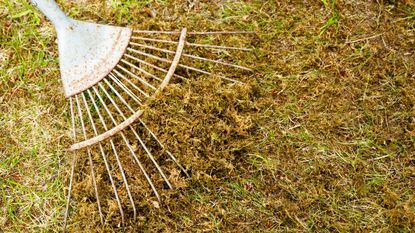 (Image credit: Alamy)
Grass looking a little under the weather? Learning how to scarify a lawn will aid healthy growth by removing nutrient-sapping moss and weeds.
Scarification essentially means removing moss and other debris from your lawn. It's an important step in your lawn care, helping to maintain beautiful grass and refreshing a tired-looking patch.
'Lawn thatch is predominantly made up of dead grass roots and runners, and while having some thatch on your lawn can be a good thing, too much of it creates a barrier,' explains Carlos Real, Lawn Expert and Managing Director of Total Lawn. 'As this barrier thickens, it restricts the amount of water, air, and nutrients that can pass through, causing your grass to suffocate and eventually die.'
Expert tips on how to scarify a lawn
More intense than dethatching a lawn, scarifying is the process of removing a build-up of thatch, moss and deeper debris. Doing so will help you to aerate a lawn, and when you come to fertilize a lawn, you will find it produces better results since the fertilizer will reach the grass's roots, and not just idle on a layer of thatch, for example.
You can use a professional machine – the Sun Joe AJ805E is Amazon's top rated buy – or a good old-fashioned rake to scarify a lawn. ORIENTOOLS Garden Rake is Amazon's Choice, and it has a useful, adjustable handle.
'Whether you use a rake or machinery is entirely up to you,' says Carlos Real. 'If you are working with a small garden, a rake will do just fine. But if you have a larger lawn, it would be more beneficial to use a professional machine as it can be quite a tiring job.'
'Before you scarify you should mow your lawn to about 1in and collect any clippings,' adds Carlos. 'This may take numerous mows, as each time you mow you should not be cutting off more than a third of the grass, otherwise you risk putting your grass under too much pressure.'
'I would advise that you cut the grass a little shorter than usual before scarifying so that the blades of the scarifier can reach the surface of the soil,' says Richa Kedia, gardening expert and publisher of NurseryLady.com. 'You should also clear the lawn of any sticks, rocks, or other debris that could interfere with the scarifying process.'
How to scarify a lawn with a rake
'You can use a lawn rake to rake out moss and to scarify the grass to keep it healthy,' says gardening expert Steve Bradley. 'Thatch (old leaves, mowings and general detritus) can build up around the base of the grass at soil level and encourage the grass to begin to root into it, rather than the soil below. Gradually, the grass level lifts, and the lawn becomes more susceptible to dry weather, as the roots are now above the protection of the soil.
Steve has written (or co-written) over 40 practical gardening books, and was commissioned to update some of the world's best-selling gardening books, The Expert series, originally written by Dr David Hessayon. He is a member of The Garden Media Guild and has a vast knowledge of gardening and enjoys sharing it with listeners to BBC local radio where he is a resident gardening expert. He regularly tests the latest gardening products, including lawn mowers and lawn rakes.
'Go up and down your lawn and gently pull up any moss or thatch with your rake – try not to use too much force, as leaving a little thatch behind will help to protect your lawn,' explains Carlos. 'Dispose of any debris.'
'Now that you've removed the top layer, switch direction and use a little more pressure, pushing your rake into the soil. The reason you need to switch direction is because you'll catch any debris that has been pushed back into the soil on your first go.'
'It is safe to add the scarified material to your compost heap, though in spring I leave little clumps of removed moss and grass in quiet areas of the garden for the birds to collect and use when they are nest making,' says Ruth Hayes, gardening expert for Homes & Gardens.
Ruth is the gardening editor of Amateur Gardening magazine, the UK's oldest weekly magazine. She is horticulturally trained and has qualifications from the Royal Horticultural Society. Ruth spends her working days writing about and photographing the gardening jobs that our readers should be carrying out each week and month, and tests many new products that arrive on the gardening market.
How to scarify a lawn with an electric scarifier
Although it's possible to scarify a lawn with a rake if you're very fit, a corded or battery-powered scarifier will make the process much easier. 'The best way to scarify is to rent a verticutter or lawn scarifying unit from a local store,' says Eric DeBoer, an agronomist with Simple Lawn Solutions. 'Doing this manually with a dethatching rake is a lot of labor and not very easy.'
'After mowing the lawn, you should start with the lawn scarifier on a high setting and go over the surface a few times,' says Carlos Real. 'As with a rake, you should repeat the process in different directions, but each time you do reduce the settings so it's less powerful (and removes less).'
'Set the blades of the scarifier to the appropriate depth, typically 1/4 to 1/2 inch depending on the amount of thatch buildup,' says Richa Kedia. 'Move the scarifier over the lawn in parallel lines, overlapping each pass slightly. Be careful not to scarify too deeply, as that can damage the grassroots. Once the lawn is scarified, collect the debris with a rake or lawn vacuum.
'After scarifying, water the lawn to help it recover and apply lawn fertilizer to promote healthy growth,' adds Richa.
Benefits of scarifying a lawn
There are multiple benefits to scarifying your lawn, most notably:
It allows air, water, and nutrients to reach the soil, encouraging growth.
It helps to get rid of moss from a lawn as well as any weeds (which, if left to fester, will deprive your healthy grass of all the nutrients it needs to survive).
It refreshes tired-looking lawns and helps make a lawn grow green and thick.
It reduces the chances of moss developing in the future.
It helps to reduce soil compaction.
'If your lawn has a thick layer of thatch (over 0.5in), it's probably time to scarify,' says Richa Kedia. 'You may also want to consider scarifying if your lawn has bare or thin patches or is prone to disease.'
Both scarifying and dethatching are useful methods for battling these problems.
FAQs
When should you mow your lawn after scarifying?
Once your lawn has been scarified, you will need to assist with its recovery by killing remaining moss and adding lawn grass seed and fertilizer to thicken it up.
Carlos comments: 'Only once your lawn has reached around 2-3in height should you mow your lawn, cutting around 1in off each time you mow, as once you have a healthy lawn you don't want to ruin it by putting it under too much stress.'
Sign up to the Homes & Gardens newsletter
Decor Ideas. Project Inspiration. Expert Advice. Delivered to your inbox.
Ruth Doherty is an experienced digital writer and editor specializing in interiors, travel and lifestyle. With 20 years of writing for national sites under her belt, she's worked for the likes of Livingetc.com, Standard, Ideal Home, Stylist and Marie Claire as well as Homes & Gardens.