Privacy trees to grow in pots – 8 pretty choices for screening your yard from view
These trees may be on the smaller side, but they can be an effective way to make your patio or deck feel more private – and they look beautiful, too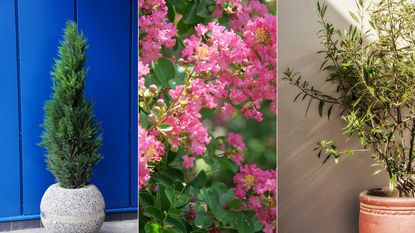 (Image credit: (From left to right) Offscreen / Alamy Stock Photo – kazue tanaka / Moment / Getty Images – Sally Mundy / Alamy Stock Photo)
Using trees to provide privacy for a backyard is a beautiful and natural alternative to installing man-made screens or bulky garden structures. And, despite what you might think, you don't need acres of space to try it at home.
The trick is to select compact varieties, plant the trees in pots, and keep their size in check by regular pruning. That way, they can make any small patio or deck feel like your own personal slice of paradise, out of view from neighboring plots. They'll up the style factor of your space, too – not to mention, provide a spot of welcome shade from the summer sun.
Screen your space by planting these trees in large containers
Not sure which trees to choose to create extra garden privacy? This round-up will help you narrow down your options.
1. Arborvitae
Lindsey Hyland, a garden expert and Founder of Urban Organic Yield, suggests planting arborvitae, otherwise known as thuja – specifically thuja 'Smaragd', available at Nature Hills.
'They have lush evergreen foliage that makes excellent screening, and they can be easily trimmed to keep their height small,' she says.
'To ensure healthy growth, place your tree in a sunny spot with well-draining soil. Water regularly during dry periods; avoid over-watering since this can lead to root rot problems. Be sure to fertilize every spring using a balanced fertilizer specifically made for trees.
'Trim any dead branches from time to time,' she adds. 'This will help promote new growth and reduce pests or diseases from settling in the plants' leaves.'
Pete Smith, a certified forester and arborist, agrees that thuja makes a good choice for privacy trees to grow in pots. He recommends 'Thin Man' for a compact, columnar shape (12-15ft tall; 3-5ft spread), which is suited for climates across much of the US. 'This evergreen will maintain its color and function throughout the winter, too.
'Another variety in the same genus is the "Fluffy" arborvitae, a semi-dwarf cultivar of the native western red cedar, reaching a height of just 5-10ft tall. Its foliage is a bright yellow-green and maintains that color throughout winter.' This one likes a cooler summer climate more than some other evergreens, he adds.
Pete Smith is a Certified Forester and a Certified Arborist, supporting community forestry and education programs at the Arbor Day Foundation. Before joining the Foundation in 2014, Pete spent 26 years with the Texas A&M Forest Service, completing his tenure as state coordinator for the Urban & Community Forestry program.
2. Amelanchier
Also known as serviceberry trees, these small, deciduous, flowering trees will bring beautiful blossoms to your patio in spring. Their foliage, which is lush green in summer, flushes with fiery hues in the fall.
Choose one of the more compact varieties, such as 'Ballerina' or 'Snowflakes', and plant it in a large pot. They prefer neutral to acidic soil but otherwise are generally easy to look after. You can shop serviceberry trees at Nature Hills.
3. Japanese maple
Japanese maples, or acers, have stunning foliage and can grow to a height of up to 15ft, says plant expert Sara Lundberg of seed company Bloom & Haul. 'They are ideal for providing privacy on balconies or patios due to their small size.
'They require partial shade and well-drained soil. It is important to water them regularly and avoid over-fertilizing.'
Just bear in mind that these trees are deciduous, so won't provide a sense of privacy for your patio throughout the winter months.
Try 'Red Dragon' acer from Fast Growing Trees for its compact size and gorgeous red foliage.
4. Oakleaf holly
'If you're wanting a broadleaved evergreen with winter interest, look no further than oakleaf holly,' suggests Pete. It's fast-growing, well-suited to warmer climates, and grows to just 10-15ft tall, with a mature spread of 8-10ft.
'In spring, its foliage emerges as a burgundy color before turning a stunning shade of green.' In the fall, its bright red berries on this plant attract birds, he adds.
5. Bay laurel
'Bay laurel is a great option for those who want to add an elegant touch to their outdoor space,' says Miguel Palma, a professional gardener and Owner of JardinTienda. 'They have lush foliage and can grow up to 10ft tall.
'They prefer partial shade and well-drained soil,' Miguel advises. 'They should be watered regularly and pruned to maintain their shape.'
It's a brilliant tree for a small garden, and what's more, the aromatic leaves can be used in the kitchen, to add a boost of flavor to meals. Bay laurels are available to buy from Fast Growing Trees.
6. Crepe myrtle
'This tree has stunning flowers and can grow up to 20ft tall,' says Sara. 'It is ideal for providing privacy due to its dense foliage and can be planted in large pots.
'The crepe myrtle requires full sun and well-drained soil,' Sara adds. Water it regularly and prune during the dormant season.
Like acers, these trees are deciduous, but there's a benefit to this: the leaf drop in late fall shows off their attractive bark. Fast Growing Trees has a good range of crepe myrtles, with blooms in different colors.
7. Olive trees
Give your outdoor space the relaxed vibe of a Mediterranean garden by planting an olive tree or two, available from Fast Growing Trees. They are evergreen, and need plenty of sunlight to flourish.
Provided you position the potted olive on pot feet, to ensure that surplus moisture freely drains away, it should remain healthy, advises gardening expert John Negus.
Move them somewhere sheltered and sunny to help them survive winter. Wrapping the pots with several layers of bubble plastic and covering the compost with 4in of chipped bark is also a good idea, to insulate roots from frost, he says.
'Start liquid feeding with a high-potash tomato fertilizer in spring, when the temperature rises, and repeat weekly until late summer. Make sure that the compost is damp before feeding and water it regularly, without saturating it, in prolonged dry spells.'
John has been a garden journalist for over 50 years and regularly answers readers' questions in Amateur Gardening magazine. He has also written four books and has delivered many talks over the years on horticulture.
8. Lemon trees
'Lemon trees are a great option for providing privacy on a patio or deck,' says Miguel, adding that they need at least six hours of sunlight a day and well-drained soil. Not only do they provide tasty fruit under the right conditions, but they offer fragrant flowers, too.
One of the key factors for growing these citrus trees successfully is providing enough warmth. This means that in some regions, they will need to be brought indoors over winter. 'Temperatures below 45˚F may cause the plant harm, and temperatures below 52˚F cause growth to slow,' explains John.
Lemons need a high nitrogen fertilizer applied fortnightly in spring and fall and weekly in summer to ensure strong leafy growth, John continues. 'The main flowering period is late winter for a plant in a warm place – spring for a plant being kept slightly cooler. Fruits can take up to nine months to mature, so you might find you have flowers and fruits at the same time for much of the year.
'Lemon trees should not be grown in a pot that is too big and should ideally be watered with rainwater,' John adds. 'Let the surface of the compost dry out between waterings and keep the atmosphere humid.'
You can shop lemon trees from Fast Growing Trees.
---
To allow your small patio trees to thrive, you need to provide the right care. 'In general, when growing trees in pots, it is important to choose a container that is large enough to accommodate the tree's roots,' advises Sara. 'The container should also have drainage holes to prevent water from accumulating.
'It is important to water the tree regularly and ensure that it receives adequate sunlight,' she adds. Don't forget to feed your tree, too, as nutrients can quickly be depleted from container compost.
With these tips in mind, you can keep your trees happy for years to come, where they will provide a valuable screen of leaves, as well as a fabulous focal point, for your patio.
Sign up to the Homes & Gardens newsletter
Decor Ideas. Project Inspiration. Expert Advice. Delivered to your inbox.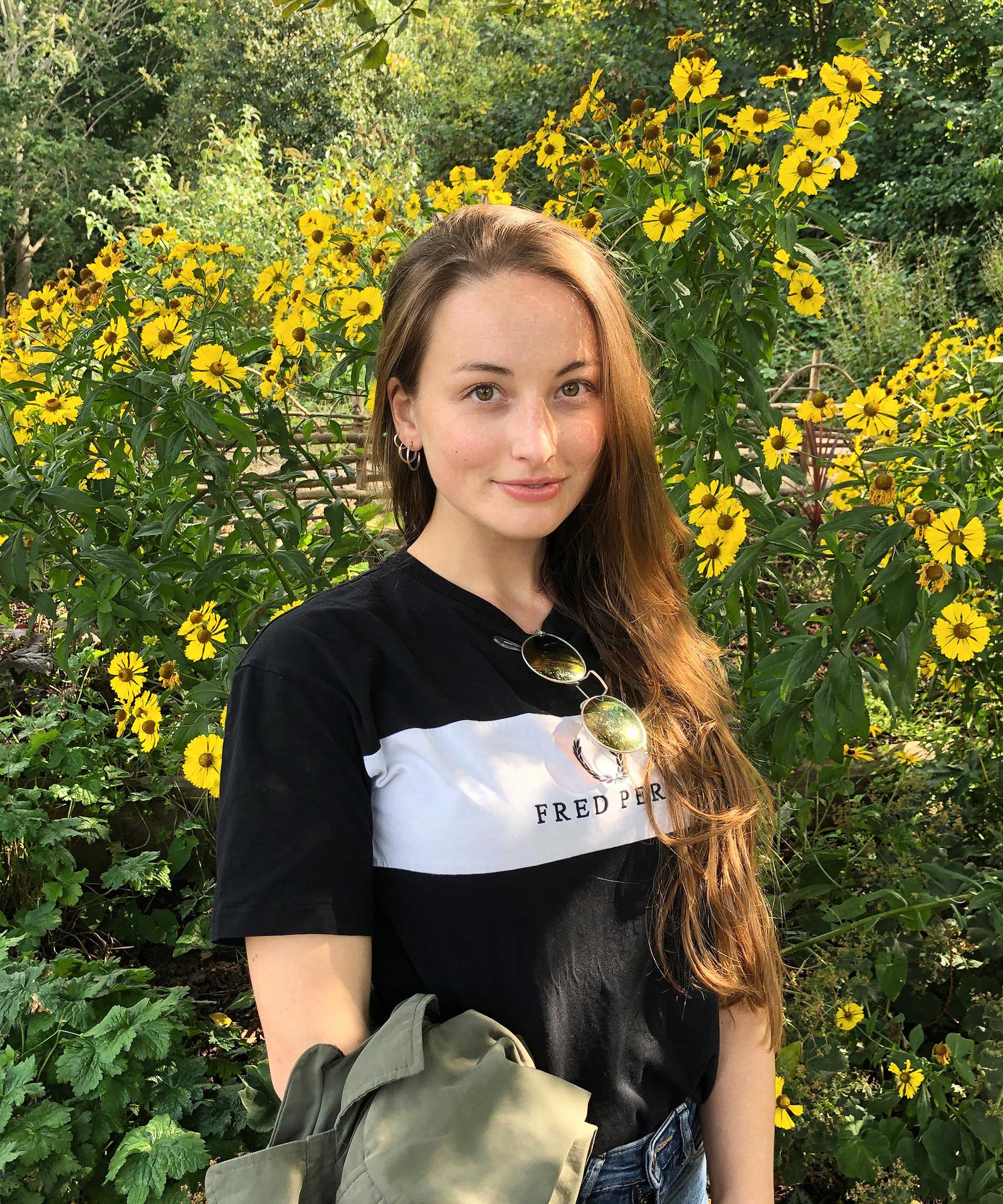 Freelance Gardening Writer
The garden was always a big part of Holly's life growing up, as was the surrounding New Forest where she lived. Her appreciation for the great outdoors has only grown since then; over the years, she's been an allotment keeper, a professional gardener, and a botanical illustrator. Having worked for Gardeningetc.com for two years, Holly now regularly writes about plants and outdoor living for Homes & Gardens.