Shed organization ideas – 11 ways to keep your shed tidy
These practical shed organization ideas will help you keep your gardening tools and outdoor furniture in order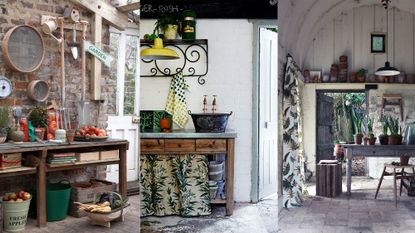 (Image credit: Alun Callender, Adrian Briscoe, Emma Lee)
Sign up to the Homes & Gardens newsletter
Decor Ideas. Project Inspiration. Expert Advice. Delivered to your inbox.
Thank you for signing up to Homes & Gardens. You will receive a verification email shortly.
There was a problem. Please refresh the page and try again.
Well-planned shed organization ideas will make gardening tasks so much easier. Whether it's used for storing tools, gardening jobs such as repotting or maintenance tasks, a shed needs to be kept well ordered in order to function properly.
At the end of a long day in the garden it's easy to dump things in the shed and lock them away out of sight and out of mind, but you'll only have the clutter to contend with next time round.
To help you get your shed ideas organized we've rounded up a selection of storage and layout suggestions to keep everything in it's place and easy to find.
Shed organization ideas
Shed organization ideas are essential to creating an efficient space, otherwise tools get easily lost and a build up of clutter can encroach on workspace. 'The shed can easily become a dumping ground for garden items that you rarely use, so make sure that you don't get into the habit of throwing old tools, plant pots, furniture to the back and leave them to gather dust,' explains Jack Sutcliffe, co-founder of Power Sheds.
The first step to organizing a shed is making sure that there are plenty of built-for-purpose shed storage ideas that suit your needs, with everything given a dedicated place. Think carefully about how to make maximum use of the space, too. 'Make use of every wall in the shed to prepare for either a vertical or horizontal organization. Maybe even both,' says Jack Sutcliffe.
However there's more to organizing a shed than simply ample storage – it needs to be arranged in an efficient way, too. 'You don't want to be rummaging around to find the things you need. The more accessible everything is, the better. Store the things you use regularly where you can easily reach them, and the things you rarely use neatly out of the way,' says Dave Dryden, home and garden Guru at Christow.
1. Arrange your shed by priority
How you use your shed should dictate how it is organized. For example, if you're planning to use a shed for sowing seeds, pricking out seedlings and repotting, then a potting bench is a must. 'A potting bench at the right height (sitting or standing) can help you do it in comfort,' says Rainer Schubert, managing director at garden tool company Burgon & Ball. 'When it comes to where to position the bench, think about light – sowing seeds is detailed work, so either have your potting bench near a window, or have a good lamp to hand,' he adds. Opting for a potting bench with a shelf beneath the work surface or drawers will give extra storage.
2. Fit bespoke shelving to suit your needs
Any well-organized shed needs plenty of shelving. Just as when organizing deep pantry shelves, bear in mind that shed shelves are often used to store heavy items, including paint cans and toolboxes, it's important that the shelves are sturdy. Fitted open shelving which is fixed to the wall is often the most secure solution, plus it allows everything to be viewed and accessed at ease. Some sheds come with inbuilt shelving; alternatively it can be fitted retrospectively at exactly the right heights to accommodate what you need to store.
3. Hang garden tools for an orderly shed
Top of the list of organizing a shed is tool storage, but this can be tricky as they are large and come in all shapes and sizes. Where possible try to get them off the floor as this is dangerous and can clutter the space.
'Hanging tools also lets the air circulate around them, reducing the likelihood of condensation and rust,' says Rainer Schubert, managing director at Burgon & Ball. 'Make sure secateurs, shears and other cutting tools are locked shut, and saws, knives, etc are sheathed.'
It's also best to store sharp tools with the sharp end facing up and away from you.
4. Keep everyday tools close at hand
Shed organization isn't just about tidiness, it's also about accessibility.
'Put everyday tools on the middle shelves within easy reach and put heavy, bulky items at floor level to avoid nasty accidents,' suggests Anna Sippel, manager at garden rooms company Waltons. This could include anything from crates of terracotta plant pots to cans of paint. 'Anything seasonal or rarely used can be stowed up top.'
5. Hang smaller shed must-haves from hooks
Hooks are essential to a well-organized shed. To curb the clutter and free-up floor space, try to make maximum use of wall space by installing pegboards with S-hooks, rails and shelves.
'For smaller tools like trowels and secateurs, S-hooks are a shed's best friend. There's no need to drill and they can be moved around until you find the perfect spot. Hook them over an expandable shower curtain rail for a quick and easy storage solution,' says Anna Sippel, manager at Waltons.
6. Designate space for drawers
Organizing drawers well, whether in a kitchen, bedroom or bathroom, will ensure that smaller items can be kept neat and orderly. Sheds are no exception to this rule, and drawers can be perfect for keeping smaller garden tools, string, even gardening gloves tidy. They are also the best place for produce, such as onions, or bulbs and tubers, provided your shed is a cool, dry frost-free place.
'Don't use plastic bags to store seeds and bulbs, as these can trap humidity and condensation,' says Rainer Schubert, managing director at Burgon & Ball. 'Instead store them somewhere with good ventilation such as in a wooden unit with slatted drawers which allows the air to circulate around them.'
7. Organize seeds, string and labels in smaller containers
Small items like screws, seed packets, twine and plant labels can easy go amiss. To keep them organized, kit out your shed's work bench or potting table with small solutions such as a compact drawer unit, compartmentalized open trays and fabric pouches. To add character search for vintage pieces with beautiful chipped paint and worn patinas.
When it comes to organizing seeds, 'excess humidity and warmth are the enemy, so we'd recommend storing your seeds in envelopes inside airtight containers, then putting in a little silica gel to stop excess moisture from forming,' says Jack Sutcliffe, co-founder of Power Sheds.
8. Hide ugly items behind pretty fabric
With storage being a primary function of shed organization, these spaces can easily look cluttered. If you are planning to spend time in your shed then introduce ways to make it feel more visually pleasing so that it is a space you enjoy being in. Adding a fabric skirt to an open storage unit is a great way to conceal the clutter as well as bring a pop of personality – why not try a vintage botanical print?
9. Max out space by using the back of the door
If you have a small shed then be sure to maximize every surface when it comes to shed organization. Behind the door is a great place to fit hooks for commonly used tools such as trowels, secateurs and hand forks as it keeps them off the work bench and means they can be retrieved and put back quickly and easily without venturing into the shed.
10. Keep shed surfaces clear by using the ceiling
If you are thinking of drying flowers and herbs for culinary purposes or use in creative projects then the shed is a great place to do so. If space allows, consider hanging a herb dryer from the ceiling; this will help keep other surfaces clear and ensure your drying foliage and flowers don't get damaged.
11. Zone your shed organization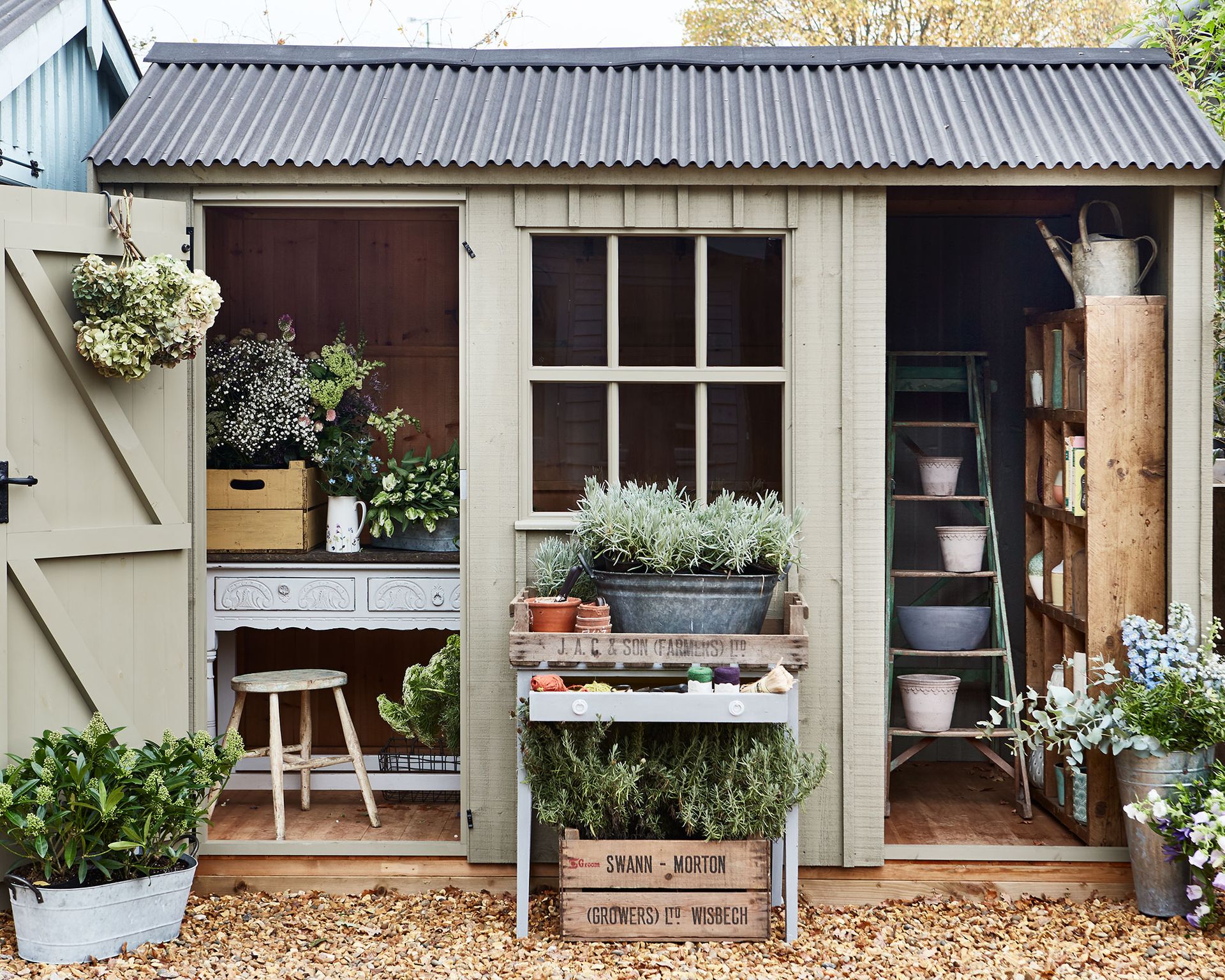 If you have a large space, splitting your shed organization ideas by category will ensure that not only can you find everything quickly and efficiently, but also that they are easier to find. This might mean having all tools in one place, all seeds in another and all kids' toys elsewhere.
How do I organize my shed?
The key to a well-organized shed is to ensure that there is ample storage space and plenty of room for all the tasks you need to carry out. However, you must first be clear on what you need to store and how you are going to use the space.
Before designing your shed's interior layout, it is essential to take an inventory of what's inside. 'Sheds can turn into the most cluttered space simply because we often dump in them everything that doesn't fit in the house. This is why you need to take all the items out and do a full inventory of the tools you own. There may be a lot of things you want to get rid of and make space for some new additions,' says Jack Sutcliffe, co-founder of Power Sheds.
'Be ruthless about the equipment and tools that will go back into the shed, the ones that will be discarded or that ones that will get donated. Consider what you will most likely use again this year and what generally sparks joy when seeing or using it. Whereas for the rest, it may be time to find them a new home. 
'Where possible, it's also best to keep the floor space clear,' adds Sutcliffe. 'If you've got a few balls or bats, use a hamper to put them all in. Roll up your hose and place it in a storage pot or hang it on the wall. For bicycles that take up a lot of space, try to hang them from the ceiling, where possible, as this will make use of all the available space without cluttering the floor.'
How do you organize a small outdoor shed?
If you have a small outdoor shed, organization is key to making the most of it. Utilize all the surfaces by adding in ceiling hooks, floor to ceiling wall shelving and hanging hooks on the back of the door.
Secure built in shelving is usually the safest and sturdiest option for a shed, however unfitted shelves do have the benefit of being moveable offering flexibility over layout.
Peg boards and rails for S hooks are handy for storing small garden tools. Hang larger garden tools such as rakes, hoes and spades from wall mounted hooks to keep them safely off the ground.
Be sure to store frequently used tools on middle shelves or where they can most easily be accessed. Store heavy items and paint cans on the floor or bottom shelves to prevent nasty accidents and store seasonal items up high out of the way.
Sign up to the Homes & Gardens newsletter
Decor Ideas. Project Inspiration. Expert Advice. Delivered to your inbox.
Pippa is Content Editor on Homes & Gardens online contributing to Period Living and Country Homes & Interiors print issues. A graduate of Art History and formerly Style Editor at Period Living, she is passionate about architecture, creating decorating content, interior styling and writing about craft and historic homes. She enjoys searching out beautiful images and the latest trends to share with the Homes & Gardens audience. A keen gardener, when she's not writing you'll find her growing flowers on her village allotment for styling projects.