What is the anti-lawn movement? Expert opinions and how you can join in with the change
Learn more about the anti-lawn movement taking off in the US from experts, and find out how you can join in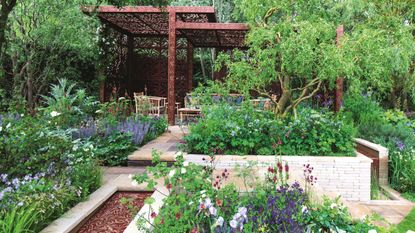 (Image credit: Andrew Sydenham / Future)
Immaculately mowed lawns have been a staple of the American yard for decades. The carefully mown lines and perfect garden manicuring has cemented itself as the ideal garden and seemed unlikely to change. Recently, however, the rise of the anti-lawn movement has challenged our initial assumptions about what a lawn can look like.
The anti-lawn movement centers itself on allowing the wilderness to take over once again, encouraging wildlife into yards and boosting the local ecosystem. A step further than simple wildlife garden ideas, the anti-lawn movement moves away from traditional gardening and towards free growth with occasional trim and tidy to ensure the yard does not become too wild and untameable.
So, why has the anti-lawn movement become so popular? And how can you join in?
What is the anti-lawn movement?
The anti-lawn movement has been around for decades, although the practice has grown significantly with the rising popularity of social media and younger generations in particular looking for an alternative to traditional grass seed lawns. The move away from plain turf grass has occurred for several reasons such as helping the environment or the desire to create a 'garden of abundance' – something that is appealing to those who enjoy the English garden look. When it comes to planning a garden, rewilding is more requested than ever and even featured at the renowned RHS Chelsea Flower Show.
Why the anti-lawn movement has become so popular
'In a word… water,' says Robb Baumann, True Leaf Market co-founder, and avid gardener. 'We, at True Leaf Market, are a seed company, and we do quite a bit of production of our own seeds. We have an operation in the Central Valley of California where we grow thousands of tons of seeds each year for the home garden seed industry and a new smaller operation in Central Utah. In both locations, there are acute water shortages, as is the case with much of the western United States. We probably are more sensitive to the issue than folks without a connection to agriculture, but the situation is extremely concerning,' he explains.
In the US, nearly nine billion gallons of water is used per day for garden ideas and landscape ideas irrigation, totalling around one-third of all residential water use according to the EPA. In the American Southwest, a household's outdoor water use could total as much as 60% of its total consumption each year.
'As the population of the western USA grows, the challenge of water management will only get worse. The bottom line is that large, green lawns consume a significant amount of the scarce water available. Big, open grass lawns are simply not the most sustainable or affordable choice anymore.'
'To a lesser extent than water, is a question of pollinators,' Ron continues. 'The honeybee population has been under pressure for years, and recently the ICUN listed the Monarch Butterfly as endangered. Swapping out some lawn areas in favor of flowers and wildflowers would only help our insect friends; and, in the case of Monarchs, Asclepias wildflowers (milkweed) are a critical part of their reproductive cycle. Every yard in the Monarch's range should have some.'
Victoria Wade, co-founder of the eponymous multi-RHS gold medal-winning landscape architecture and garden design practice practices wild lawn methods herself at her home in South Wales, UK. 'I really love a real lawn and I like to embrace the 'weeds' that grow in it too, it makes for a much more interesting and diverse space. We need to stop thinking about lawns as a monoculture of just grass and embrace the wildflowers that want to grow there!' she urges. 'In our own garden, we have sown low flowering wildflowers such as daisies, clover, birds-foot trefoil, and speedwell along with the grass seed to create our lawn.
'Our three-year-old daughter loves spending time picking the flowers in the lawn, making daisy chains, and searching the clover patches for a four-leafed clover! It makes me so happy to see the bees enjoying it as much as we do.
'Having a diverse range of species has really helped the lawn stay green in heat waves too – lawns that are just grass tend to go brown much quicker than a more diverse lawn. White clover, in particular, is brilliant for this.'
Is the anti-lawn movement a good idea?
There seem to be very few reasons to not embrace a rewilded lawn or support the anti-lawn movement. Research has shown that mowing less frequently increases the population and diversity of bee species, for instance, and well-maintained wildflower garden ideas produce stunning blooms throughout the year.
'From our perspective, we support a reasonable balance and a more sustainable approach, and there are excellent alternatives to grass lawns. In other words, it's not our position that all grass lawns should be done away with. But, we do advocate more water-smart approaches like smaller areas dedicated to lawn and other ideas,' Robb suggests.
'It's not a question of simply letting nature fully reclaim a yard and letting weeds run rampant, either. In areas prone to drought, it is in everyone's interest to consider and implement reasonable, more sustainable, and more economical approaches. The good news is this can be done incrementally.'
'In the middle of our lawn we have planted hundreds of bulbs to create a 'flowering meadow' and sown wildflowers in this area too,' says Victoria. 'We have color and interest in the middle strip of our lawn for over six months of the year – from the snowdrops in January right through Spring and Summer until the last wildflowers have faded and we cut it back at the end of July. The whole space is cut just like a regular lawn then until the bulbs start to appear again in early Spring.
'The outer areas of the lawn are maintained as short-ish grass all year round, however,' Victoria continues, 'we let the grass grow for a couple of weeks before we cut it to let the flowers bloom – having lots of low-growing species such as clover actually mean it needs cutting a lot less than it would if it was just grass as they stay short.'
'Having a diverse range of species has really helped the lawn stay green in the heat wave too – lawns that are just grass tend to go brown much quicker than a more diverse lawn. White clover, in particular, is brilliant for this.'
'One impediment to homeowners in the US looking to aggressively overhaul their lawn can be municipal ordinances or HOA covenants that make a more sustainable and water friendly yard challenging,' warns Robb. 'The time has come for these organizations in drought-prone areas to re-consider and allow for more conservationist approaches. But, even in situations where such covenants or ordinances are still not as forward-thinking as they could be, some of these ideas can be done within the bounds of such covenants and ordinances, like planting more trees.
'As I mentioned, one of the simplest first steps is to seed your lawn with clover. It's more than just saving water too. Clover is also attractive, and softer to walk on and many people find that clover is kinder to their allergies than grass. As a bonus, the small, low blooms of White Dutch Clover are helpful to pollinators.'
Alternatives to a standard grass lawn
'Many people find a well-maintained yard with less grass and more trees, shrubs, flowers, hardscape displays, etc. more appealing than one with large open areas of grass,' says Robb. 'The potential ideas are only limited by imagination but here are a few simple things that can be done.'
1. Drought-tolerant clover
Although many people usually seek to get rid of clover in a lawn, sowing a pure clover lawn is one of the most popular alternatives to traditional turf grass. Clover lawns are not only drought tolerant but provide a wonderful base for pollinators alongside plants for pollinators and flowers that attract bees. What's more, clover lawns remain green over the summer months and are less likely to turn yellow if you have dogs.
'Seeding your grass lawn with attractive drought tolerant clover will help retain moisture and keep patches of lawn prone to drying out greener and cooler during the hottest days of summer,' Robb explains. 'There are many good clover options available, but we recommend Miniature Clover and White Dutch Clover as good choices for lawn clovers. Just seed over your existing lawn, especially in patches that tend to dry out. Keep damp until established. Your lawn will require less water in the future to keep green. The more aggressive alternative is to kill the lawn grass, and re-seed heavily with clover, for a pure clover lawn, which will save even more water than a clover/grass mix.
2. More flower, herb & garden beds
If rewilding your garden is not for you just yet, embracing more flowers – particularly wildflowers, in sections such as flower bed ideas is a great alternative to or stepping stone from a plain turf grass lawn.
'Putting in some raised beds for planting flowers, wildflowers, herbs, or hardscapes will displace lawn grass, and beautify and give variety to a yard,' Robb continues. 'Raised beds can be planted with vegetables in the spring and summer, and pollinator-friendly, drought-tolerant cover crops for fall and winter. All these approaches use less water and of course, the pollinators will thank you. There are some great wildflower mixes on the market that are specific to the region you live in, and will grow beautiful, native, drought tolerant species.'
Victoria has created a bulb lawn in her own garden, for example. 'The bulb lawn has been a bit of an experiment and we have added in a few more bulbs each year and it has been an absolute joy and so fun to watch evolve. We have planted snowdrops, tulips, daffodils, Alliums, Camassias, Fritillaria, and lots more. Lots of bulbs work really well in the grass – look for ones that say 'suitable for naturalizing' when you're browsing plant catalogs. But even if it doesn't say don't be afraid to experiment – that's the most fun part of gardening – see what works in your garden.'
3. Trees, shrubs and ornamentals
'Plant more shrubs and especially trees,' Robb suggests. 'Virtually everyone agrees that the world could use more trees, and your own yard is the place to start. Trees, bushes and other ornamental plants make for a wonderful presentation, provide more ground cover and weed suppression and they provide cooling shade for nearby lawns, reducing watering requirements. As a bonus, trees can provide shade to the home, saving energy and cooling costs in the hot months.'
Why is lawn bad for the environment?
There a number of reasons why lawns are classed as bad from the environment. Research has concluded that grass uses more water than alternatives, does not foster a positive environment for vital pollinators, can damage local ecosystems by replacing important wild grasses and plants, and produce more greenhouse gasses than they soak up. What's more, the tools and products used to maintain lawns – from mowers to pesticides and fertilizers – cause significant pollution either in the air or from rain water run off.
Chiana has been at Homes & Gardens for six months, having started her journey in interior journalism as part of the graduate program. She spends most of her time producing content for the Solved section of the website, helping readers get the most out of their homes through clever decluttering, cleaning, and tidying tips – many of which she tests and reviews herself in her home in Lancaster to ensure they will consistently deliver for her readers and dabbles in the latest design trends. She also has a first-class degree in Literature from Lancaster University.