What to plant in July – the best veg, salads and flowers to plant
Find out what to plant in July as a perfect excuse to be out in the garden enjoying the sunshine while you plant a range of veg, salads and flowers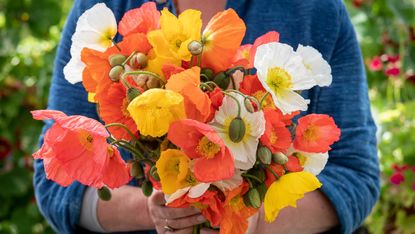 (Image credit: iceland poppies available from sarahraven.com / Jonathan Buckley)
There is plenty of choice for what to plant in July with the soil warmed up by the summer sunshine.
Crop seeds will germinate quicker for extended harvests from the vegetable patch, while now is also the time to start sowing fall blooms, and biennials in the herbaceous beds to flower next year as part of your future garden ideas.
What to plant in July – vegetables to sow or plant
When you're thinking about what to plant in July, don't forget the young crops you have grown from seed indoors or under cover in earlier months, which will be ready to plant out as part of your plans for planting vegetables.
You'll need to get these into the ground quickly to make sure they produce their harvests before the onset of fall and its accompanying frosts.
There are also veg seeds you can sow now, but be sure to keep on top of watering so that any plants and seedlings don't dry out in the summer heat.
1. Green beans – pole beans
You can plant green beans – also known as pole beans – in July if you live in zones 3 to 8, as they prefer warm soil and air.
'Try a continual sowing for 7 to 10 days of different varieties, so that you can enjoy a continual bean crop harvest in fall,' say the experts at Urban Farmer.
Plant the seeds about 1in deep and 3in apart. Green beans or pole beans grow vertically as vines, so are ideal as a small vegetable garden crop. They will need need stakes or trellises for support and to grow up.
Choose a sunny spot, mulch the soil around the plant to retain moisture and prevent weeds, and water regularly, especially in hot, dry weather.
If you are thinking of growing french beans, too, then you can also sow these in July.
2. Brussels sprouts
If you sowed Brussels sprouts seeds under cover earlier in spring as part of what to plant in March, then these can be transplanted and planted outdoors still in July.
'When you transplant the sprouts to your garden as part of your vegetable garden ideas, plant them two feet apart in rows set three feet apart,' say the experts at Urban Farm.
Plant them in a well-drained spot, where they will enjoy at least 6 hours of sunshine. If lower leaves begin to yellow, remove them from the plant.
3. Turnips
You can sow turnips now for a winter crop of this wholesome root veg.
Turnip is a versatile veg that can be eaten raw in salads, when it tastes spicy and crunchy, or boiled, pickled and broiled for a sweet and earthy flavor.
The greens can also be eaten as an additional veg – so you get 2-for-1 with this vegetable crop.
'Turnips can take up to six months to mature – so sowing the seeds now will give a crop in winter,' says Mr Mitford who looks after the kitchen garden at Hawkstone Hall.
Dig in plenty of organic matter and and sow seeds 2in apart, in rows 18in apart. Stagger the sowings every couple of weeks for a continual fall and winter harvest.
'Turnips like full sun and fertile, moist soil, so water them well,' adds Mr Mitford.
Salad leaves to plant in July
There are many salad leaves that are ideas for what to plant in July, and if you have a small plot then choosing cut-and-come-again salad leaves will make the best use of space.
1. Arugula – rocket
'Arugula, or rocket is one of the easiest seeds to germinate – seedlings will appear within a couple of weeks,' explains Mr Mitford, kitchen gardener at Hawkstone Hall.
Sow the seeds thinly, 1/2in (1cm ) deep, in rows 8in (20cm) apart. Choose a sunny spot with well-drained soil. Provide shade in extremely hot weather and take care not to overwater.
You can get repeat pickings of arugula from early summer through fall and into winter, if you time it cleverly with repeat sowings.
2. Chard
You can sow chard from spring through to fall, so if you plant another crop in July you can enjoy a fresh supply of the leaves.
It's a versatile veg as the young leaves are delicious in salads, while larger leaves can be cooked – similar to if you're growing spinach.
With brightly colored leaf stems, chard makes an attractive addition to vegetable container gardening ideas.
If sowing direct in the garden, sow in a sunny spot, in moisture retentive, free-draining soil. Sow chard seeds 1in (2.5cm) deep and 4in (10cm), in rows 18in (45cm) apart.
Sowings made in July can also be overwintered for picking the following spring.
3. Mizuna
Mizuna's feathery leaves have a distinctive, peppery flavor, and are lovely both raw in salads, or added to stir fries and cooked.
Mizuna can be sown in July and throughout the year. It is slow to bolt (produce flowers) in summer – so long as it is kept well watered – although grows better in cooler temperatures, so prefers some shade.
Dig in organic matter to the soil and then sow seeds 4-6in (10-15cm) apart. Regularly pick the small outer leaves for cut-and-come again harvesting, so it continues to grow.
Flowers to plant in July
'July is a month we can really enjoy the garden,' says plantswoman Sarah Raven.
'There's stuff to do – not least lots of watering – but overall this is a quieter-than-usual month in the garden.
'We start harvesting seedheads of alliums, opium poppies and agapanthus to use as decorations later in the year,' Sarah adds.
There are still flowers that can be sown in July – either for flowers in fall, or biennials or perennials to flower next year.
1. Iceland poppies – Papaver nudicaule
Iceland poppies can be sown now and one of Sarah's favorites is Papaver nudicaule 'Champagne Bubbles Mix'.
'This is quite simply the best possible poppy you can grow. It comes in a beautiful mix of white, pink, yellow and various tones of orange, and flowers on and off for over six months. 'Champagne Bubbles' way out-stripped all others in our garden trial,' she explains
Iceland poppies can, however, be tricky to grow, so Sarah advises to sow them into modules to minimize root disturbance, covering lightly with vermiculate.
'Overwinter in a cold frame to flower earlier and for longer next year, planting out in spring,' she advises.
The experts at Jonny Seeds add that Iceland poppies perform best in cooler conditions – below 70°F. They are a good choice for zones 2 to 9, but not so much if you live in a warmer zone.
Iceland poppies are perfect for creating a summer flower display when combined with other blooms.
2. Sweet William – Dianthus barbatus
'Sweet Williams often have showy floral sprays of super scented, saucer-shaped flowers, making them a firm favorite if you're planning a cut flower garden and for container gardens, says Sarah.
'Dianthus barbatus 'Electron Mix' is a great Sweet William that flowers year after year with tall, straight stems,' she adds.
Sow the seeds now for flowers that will arrive the following year, helping to bridge the gap between spring and summer.
'Sow seeds thinly into seed trays, modules or pots, covering lightly with vermiculate, and place in a cold frame or as part of your greenhouse plans. They should be planted into their final positions in early fall or the following spring,' Sarah advises.
3. Abyssinian gladiolus – Acidanthera murielae
Statuesque Absyssinian gladiolus, or Acidanthera murielae, is ideal for cut flowers – it was a favorite of the Victorians – and has a wonderful scent that lasts wonderfully in the vase.
'It has become one of my go to fall flowers for cutting,' says Sarah Raven.
'Plant in pots now, or direct in the ground, for flowers into October – ideally about 15 corms per 14in (35 cm) diameter pot, planting them 6in (15cm) deep. Use a loam-based compost with grit added,' she advises.
The experts at Brent and Becky's Bulbs explain that these flowers sometimes need to be staked to keep them from falling over. 'They often stand up well when planted deeply or are grown with other strong, sturdy plants acting as a trellis,' they add.
The Absyssinian gladiolus are winter hardy in zones 8 to 10.
Bring indoors for the winter if you live in a colder region. 'Any frost-free shed or garage will do. They also make fabulous fall potted house plants,' says Sarah.
Sign up to the Homes & Gardens newsletter
Decor Ideas. Project Inspiration. Expert Advice. Delivered to your inbox.
Rachel is senior content editor, and writes and commissions gardening content for homesandgardens.com, Homes & Gardens magazine, and its sister titles Period Living Magazine and Country Homes & Interiors. She has written for lifestyle magazines for many years, with a particular focus on gardening, historic houses and arts and crafts, but started out her journalism career in BBC radio, where she enjoyed reporting on and writing programme scripts for all manner of stories. Rachel then moved into regional lifestyle magazines, where the topics she wrote about, and people she interviewed, were as varied and eclectic as they were on radio. Always harboring a passion for homes and gardens, she jumped at the opportunity to work on The English Home and The English Garden magazines for a number of years, before joining the Period Living team, then the wider Homes & Gardens team, specializing in gardens.