A fisherman's cottage kitchen in Cornwall is given a bold look that bridges old and new – perfectly
Using a well-loved kitchen from one of the deVOL showrooms, the owners of this cottage kitchen have created a bright room with a nod to traditional style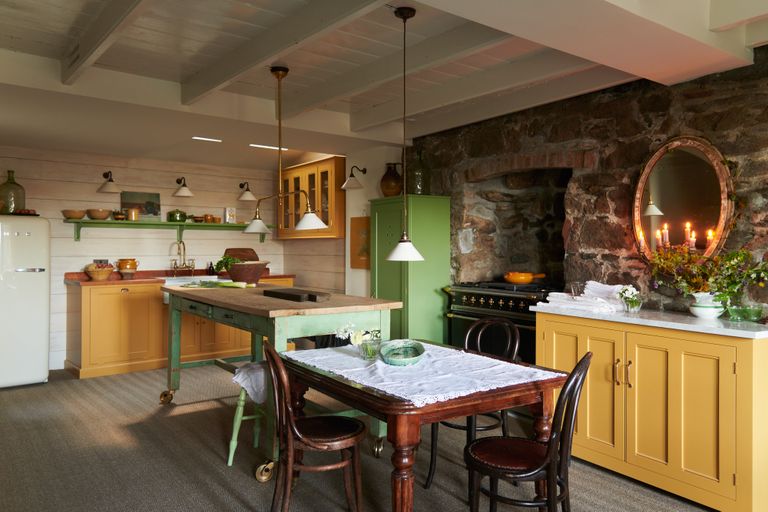 (Image credit: deVOL)
This cottage kitchen in pretty St Ives in Cornwall in England's far south west is full of personality and charm in its scrumptiously mouth-watering colors and casual air of sophistication.
'We wanted a big kitchen in a small cottage, we wanted eating, seating and prepping, we wanted some vintage and we wanted simplicity and glamor,' say the owners. 'So we found a very functional, lovely vintage prep table that was well made and had a chippy green paint finish, we added some brass castors, that was how it all began.'
A wealth of inspiring cottage kitchen ideas are to be had from this kitchen, which was created using deVOL's Classic English showroom pieces.
Originally a quite imposing and grand collection of freestanding cupboards, it had been in the showroom for eight years before being relocated to the seaside.
'The fascinating thing is how the cupboards work perfectly in both places, the same, but different,' say the owners.
Painted kitchen cabinet ideas in this space show how a new coat can transform an existing space – and also how flexible freestanding kitchens can be.
'Repainting these classic cupboards to sit alongside the prep table has completely changed their character. We kept the countertops, cherry hardwood with eight years of patina and a very well figured slab of marble, but we swapped the handles.
'deVOL freestanding cupboards are all crafted by hand in such a way that it is unlikely you will ever need to replace them, so this transformation is just like having a new kitchen.'
Though green kitchen ideas are a safer choice over yellow, the bespoke green was chosen only for detailing that matched the prep table – and the bold new Scullery Yellow deVOL paint color.
'Every time we see this yellow, we love it a bit more, we think it's the fact that it's not bright but very mellow and alluring.'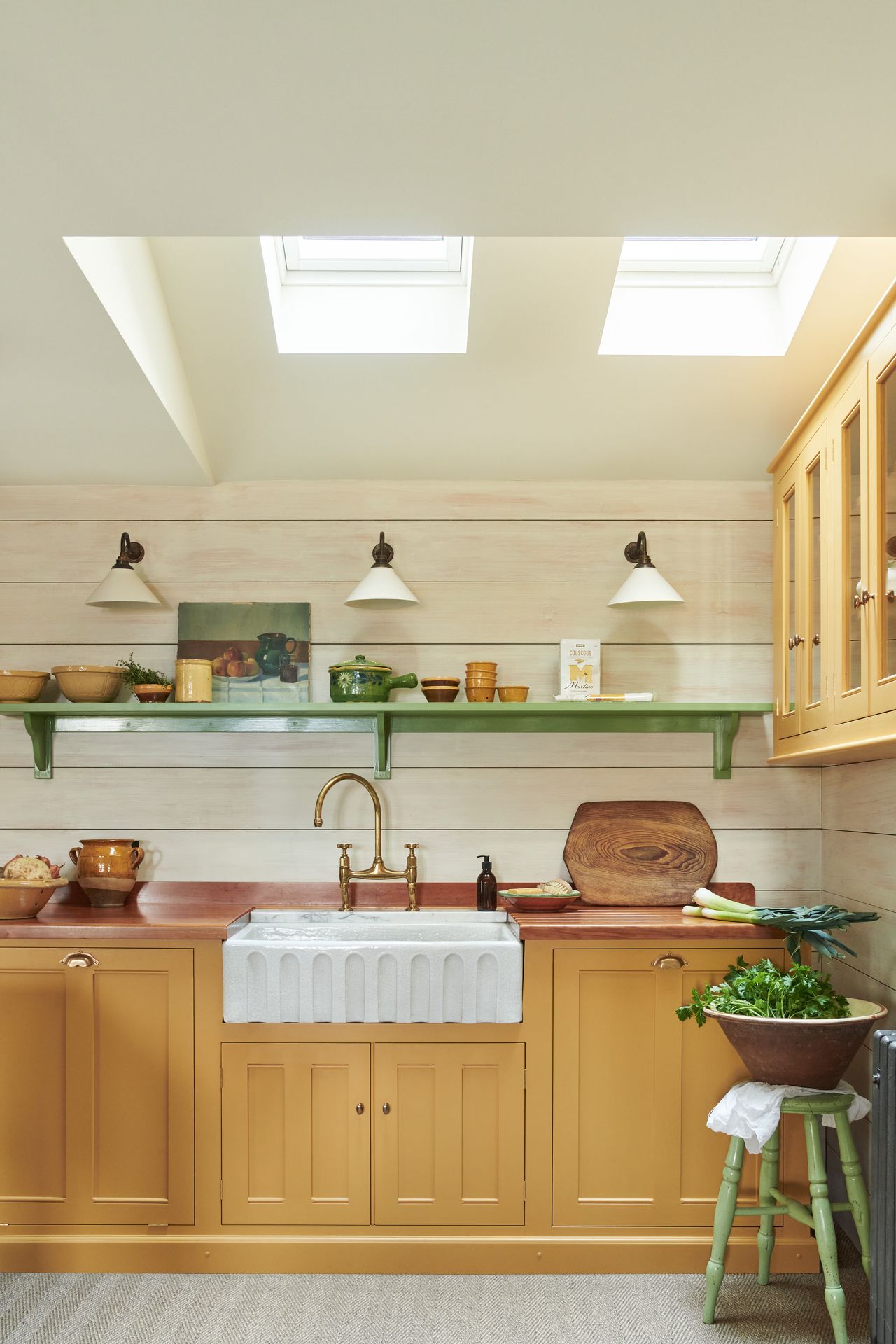 'A little pantry for holidays is enough, but we did want a big table, a big Smeg fridge and a big Lacanche range cooker because for us, holidays are about being together, hanging out, socializing and eating wonderful local produce and fresh seafood.'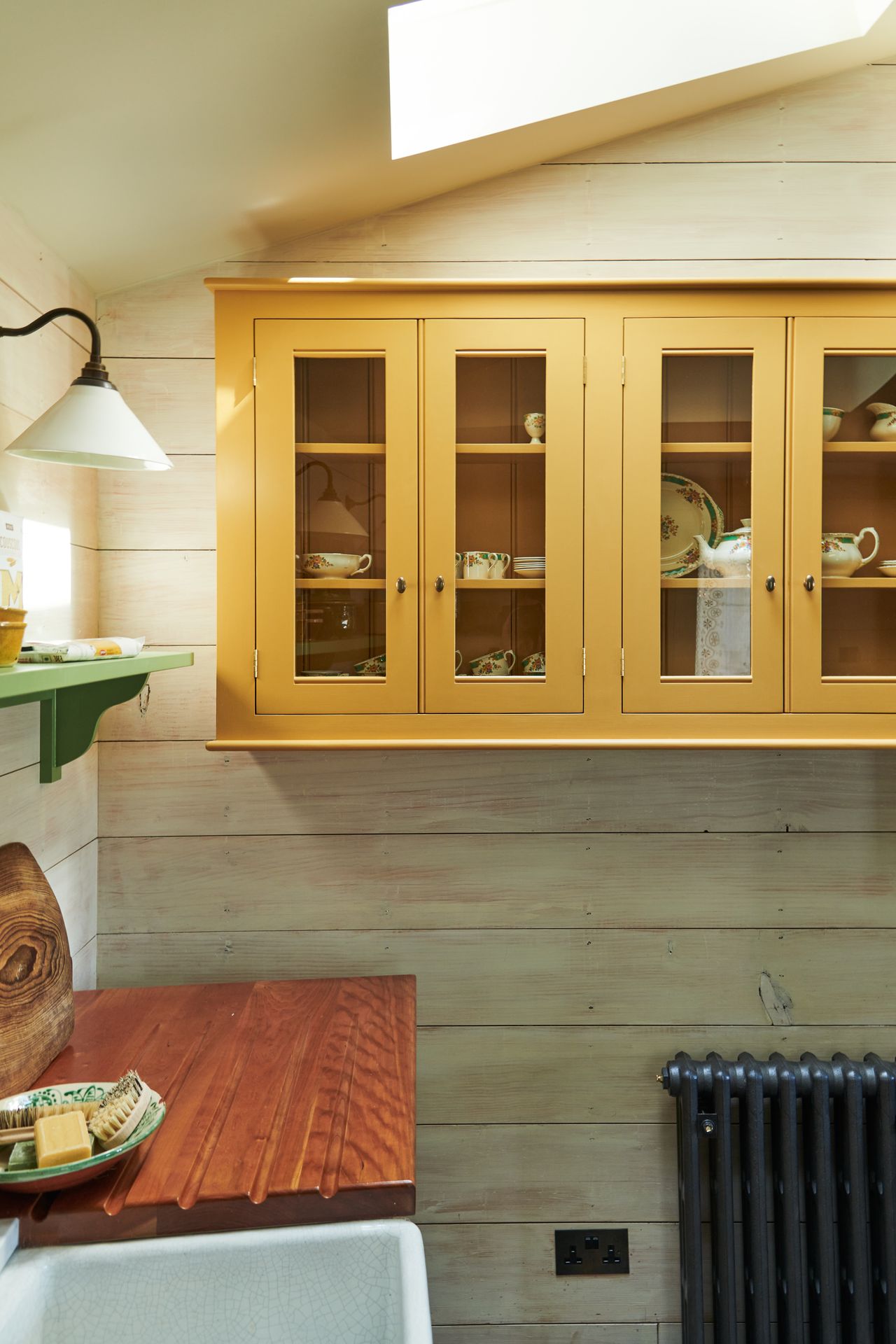 'As the room is more than just a kitchen, we decided on sisal carpets, they add a warmth and a naturalness that is quite lovely and reminded us of the beach. The casual end of the room has leather club chairs so a carpet felt more inviting.'