5 signs your wooden windows need replacing – according to the specialists
Windows should be checked regularly to allow you to address any issues when they occur – here's how to tell if you need a quick fix up, or a full replacement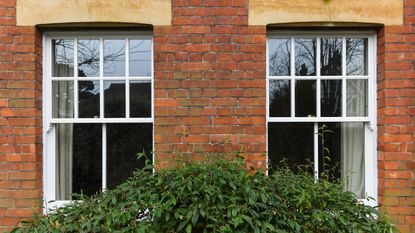 (Image credit: The Sash Window Workshop)
Whether you're renovating a period property, or have lived in your house for some time, it's normal to experience wear and tear. And while a cracked tile or chipped paintwork is not a significant cause for concern, if your windows are beginning to rot or letting in cold draughts, they should be put at the top of your to-do list.
With regular maintenance, windows can last many years. However, draughty and damaged windows can not only cause security issues but can also affect the comfort of your home.
Specializing in traditional timber windows and doors, The Sash Window Workshop understands the importance of identifying when you need new windows. These are the five key signs, according to the experts, that you should look out for, and the benefits of installing high-quality timber windows.
5 signs your windows need replacing, or repairing
1. Rattling, draughty windows
If your windows are letting in draughts this can make your home cold and uncomfortable. Draughts are normally relatively easy to spot as the windows will rattle and you will feel the cold air coming into your home when it is windy.
Energy efficiency can be improved by draught-proofing your windows. This can either be done as part of the installation of replacement windows or, where the windows are otherwise in good condition, as a separate repair service.
A cheaper alternative to replacing the windows, draught-proofing works by sealing the gaps around the windows to prevent cold draughts and dirt from entering the property. This also stops the windows from rattling in the wind. The Sash Window Workshop offers draught proofing as part of its service range.
2. Broken sash cords
It's only natural for sash cords to break over time due to general wear and tear. When cords break in sliding sash windows, the windows won't stay open and will drop. This can be dangerous to the person opening the window if they drop suddenly as sash windows can be very heavy.
3. Rotting window frames
Once your window becomes exposed to moisture, it will begin to decay. It is often more cost effective in the long-term to replace rotten windows, as opposed to repairing them.
4. Windows that are painted shut
If a window has been painted badly, or has not been opened regularly after being painted, you may find that it no longer opens.
Windows that are painted shut might look more secure, but they are more prone to rotting than those that open correctly, which in the long-term will make the window less secure.
Depending how recently the window has been painted shut, you may be able to free the window open using a flat screwdriver and a hammer. However, if the window has already begun to rot you will probably need to look at replacing the window.
5. Single glazed windows
If your current windows are single-glazed, unless the building is listed, you can improve the energy efficiency of your home by upgrading to double-glazed windows.
You don't have to sacrifice energy efficiency to have beautiful traditional timber windows. Today the majority of new timber windows are double glazed, rather than single-glazed.
If your sashes are single-glazed but in a good condition, you can typically replace the window's moving parts (the sashes) without needing to replace the window frame. This can also be a solution if the moving parts of the window are rotten, but the frames are still in good condition.
By just replacing the moving parts of the window, you will save money compared to a complete replacement.
The importance of investing in high-quality windows
When looking to replace your sash windows or casement windows, you don't have to sacrifice the traditional look of your property. Investing in high quality, traditional timber windows will help your home retain its value and ensure that your windows last.
Durability: investing in the best quality windows will increase their lifespan. Buying top-quality, timber windows made from durable timber will decrease the amount of maintenance required. Low-maintenance windows can leave you with endless problems and cost a lot more in the long term.
Established, experienced company: By choosing a well-established company that specialises in traditional timber windows and that has experience carrying out the type of work on similar properties, you can feel confident that they know what they are doing and are used to the traditional issues that can present themselves when working in period properties.
UK-made windows: Ask to see the company's workshop to see where the windows are being manufactured. This allows you to see firsthand the quality of the windows you can expect from them. By ensuring that the windows are manufactured in the UK, rather than bought from abroad, any issues can often be dealt with quickly and more easily.
What to do if my windows need to be replaced or repaired
Before obtaining quotes, it is important to check the company's accreditations.If a company is installing complete new windows including the window frames for you, they should be registered with FENSA which ensures that they comply with building regulations. You'll need to supply a FENSA document if and when you come to sell your property in the future.
It is also worth checking the company's reviews and whether they are a Which? Trusted Trader. All Which? Trusted Traders must undergo an extensive assessment to prove that they provide excellent customer service.
As a specialist in traditional timber windows, The Sash Window Workshop has extensive experience replacing and draught-proofing windows in period properties and is a Which? Trusted Trader.
In addition to sash windows, they also work on casement windows, fixed windows, and external doors. The Sash Window Workshop provides installation and repair services across London and Southern England, with a supply-only service of new joinery nationwide.
They have worked in various Conservation Areas and understand the importance of paying extraordinary attention to detail when upgrading windows in traditional homes. Visit their website to contact The Sash Window Workshop for a quote.
Homes & Gardens is committed to sharing the best advice on everything from remodeling your home to interior design. From pieces penned by interior designers to DIY how tos, to elegant room ideas galleries and product reviews Homes & Gardens offers knowledge and expertise to help you do what you need to do, in a way that makes the process easy and informative. Our sponsored content is not an editorial endorsement, but allows you to connect with brands to assist your home renovation journey and alerts you to products you may not have known about before.