How to add authentic period features – or make the most of the ones you've got
Highlight your home's classic details or learn how to add authentic period features from scratch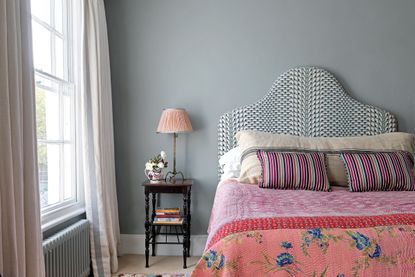 (Image credit: Future/Simon Brown)
Sign up to the Homes & Gardens newsletter
Decor Ideas. Project Inspiration. Expert Advice. Delivered to your inbox.
Thank you for signing up to Homes & Gardens. You will receive a verification email shortly.
There was a problem. Please refresh the page and try again.
A period renovation comes with its fair share of challenges. You may be tackling restrictions on what you can do, and might find unexpected faults that prove to be a money pit in themselves.
On an esthetic level, you'll also need to consider how to bring your renovation or extension in line with the history of the property to ensure a seamless and quality finish – whether that's through restoring and enhancing run-down features or installing new ones in their likeness.
Read on to discover how to make the most of the period features in your home or add authentic ones to a new extension, with advice from architects who are experts in the art of caring for a period home.
1. Fireplaces

A fireplace should take center stage in a room. 'Generally they would have been the focal point of the room they're in, and often one of the only features in there – where we now fill alcoves with shelving, for example, there would have been empty space,' says Trevor Brown of London-based Trevor Brown Architect.
'It's always exciting when we find a fireplace in a period property because we can try to recreate that focal point.'

To restore an existing fireplace, or install one that is authentic to the period of the property, Anik Pearson of New York practice Anik Pearson Architect recommends doing your research.
'Most periods can be identified stylistically, so you can research through books on the decoration of that period – I recommend Stephen Calloway and Elizabeth Cromley's The Elements of Style – and adapt that style,' she says.
'That could be finding new tiles to put around a traditional Arts & Crafts surround in the style of the original polychromatic designs,' continues Pearson, 'or in the case of this Arts & Crafts renovation (above), adapting materials. The client wanted cabinets either side of the original surround, but we were unable to find the old chestnut to match the fireplace – so we used oak and carefully stained it to match.'
2. Dado rails & picture rails
While relatively simple to add to a modern extension or renovation, as with any feature, the period should be studied in depth to ensure you're installing dado and picture rails where you should.
Though a simple design element compared to more ornate works like ceiling roses, there are plenty of opportunities to maximize the impact of dado and picture rails. 'Such features are often an opportunity to use color to define a space,' says Trevor Brown. 'You might paint a feature color onto the wall up to a picture rail, for example, and use a lighter shade from there up to the ceiling.'
Alternatively, try panelling up to a picture rail and using wallpaper above for a maximalist esthetic.
3. Wood flooring
When you're choosing wood flooring for a renovation or extension, there are considerations to keep in mind. 'It's important to honor the materials of the period,' says Anik Pearson. 'They were often made to last and are really durable, so you'll find they are naturally sustainable, too.'
With this in mind, solid wood flooring can be a favorable choice over carpet for a space. Parquet flooring is particularly characterful, but choose a wood that complements other woodwork in a space: a stairwell, for example, or original skirting. Rugs can be used to add warmth and texture, and provide extra comfort in living spaces.
4. Cornice work & decorative coving
'A lot of the features we preserve are plasterwork and sometimes, if the house is listed or features are very delicate, you can't do too much to it – you have to fall in love with its irregularities,' says Trevor Brown. 'If cornice work or coving is in a terrible condition, you can use cornice templating to introduce new elements back into the design.
If you're lucky enough to know neighbors who live in a house with its period features intact, visit them – it's the best way to see the original fit of the house.
There are so many products available and they're so abstractly placed: cornicing can be described as Victorian, but the Victorian era was so vast that there are many styles within that time period. You can find features that look elegant, but they won't hold originality.
To make the most of cornicing and coving, Trevor recommends using color again. 'We worked on a contemporary project recently where we painted the ceiling and cornicing a pale blue, which completely flipped the arrangement of the color in that space,' he says.
5. Sash & bay windows
'During a renovation, use replacing your windows as an opportunity to tighten up leaks and upgrade your glazing,' says Anik Pearson. 'It's costly short-term, but you'll save in the long run. When we started renovating this Arts & Crafts property (above), the whole house was a sieve – but now the clients hardly have to heat it, it's so well insulated.'
If your windows are in generally good condition, you can still bring them up to date by commissioning a reputable company to refurbish them in line with current efficiency standards.
After that, it's all about the dressing. Windows look best when they're layered, so consider using double curtains – the first in a lighter material, like voile, and the second in something heavier, like velvet.
Shutters will help you retain your privacy while letting light in. For bay windows in particular, make the most of the extra space: populate a spacious sill with beautiful ornaments, or create a cozy reading corner from which you can watch the world go by.
6. Stained glass
Stained glass can be a beautiful addition to a new space and a feature in their own right. You will need to research to ensure you're getting a period-appropriate design, and commission a specialist who respects the history of the property.
If you are restricted in what you can do to the exterior of your property, like many townhouses in cities like New York and listed properties in British Conservation Areas, Anik Pearson has a clever get-around. 'We had a beautiful original Tiffany piece in one of our projects, which our client was keen on using,' she says. 'We couldn't make external changes without a full review, so we hung the piece inside the window of the bedroom so the homeowner could get the benefit of seeing the glass in the light.'
7. Radiators
Traditionally, period homes wouldn't have featured radiators, so the style you choose is up to you. Contemporary designs can look striking in a more traditional space, but if you'd prefer to keep a classic aesthetic, there are two options.
One is a cast iron column radiator, which looks traditional and retains heat very well, but it can be dangerous for young children. If you prefer to keep your heating hidden away, either opt for underfloor heating or invest in a radiator cover – the best will fit seamlessly into your design and look attractive, too.
Sign up to the Homes & Gardens newsletter
Decor Ideas. Project Inspiration. Expert Advice. Delivered to your inbox.
Since venturing into the world of interiors in 2017 after a brief stint writing for true life titles, Ellen has been consistently humbled by the beautiful homes she's been lucky enough to write about and the creative DIYers she's interviewed. From her role as Features Editor on Real Homes magazine to now becoming Editor, Ellen writes for both Realhomes.com and Homesandgardens.com, its sister title.