How to organize an underwear drawer – 10 easy ways to arrange your smalls
Here's how to organize an underwear drawer, so you don't get your knickers in a knot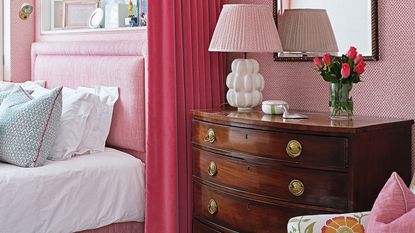 (Image credit: Future PLC / James Merrell)
As an area you access every day (we'd hope, anyway), knowing how to organize an underwear drawer so it's neat, tidy, and well-ordered should be high up on your list of priorities, particularly if you're organizing a bedroom with functionality in mind.
Undergarments are notoriously tricky to store, but drawers really are the best place, so organizing a dresser is a good place to start. Whether you can dedicate an entire drawer or just part of one, the key to maintaining an orderly system is to combine effective storage ideas with simple organization methods that are easy to stick to. Even with the best will in the world, attempting to intricately fold undies every day is just setting yourself up to fail – I think we can all agree on that.
With that in mind, we asked the experts and gathered some of the easiest ways to organize an underwear drawer, from clothes storage ideas to decluttering tips, to help you keep your undergarments orderly, organized and always close to hand.
How to organize an underwear drawer
When organizing drawers of any kind, it's a good idea to start by removing everything. This will give you a clear idea of the space you're working with, so you can be sure you're investing in suitable storage ideas that will maximize every inch. Take the opportunity to give the drawer a quick clean before you start putting things back in.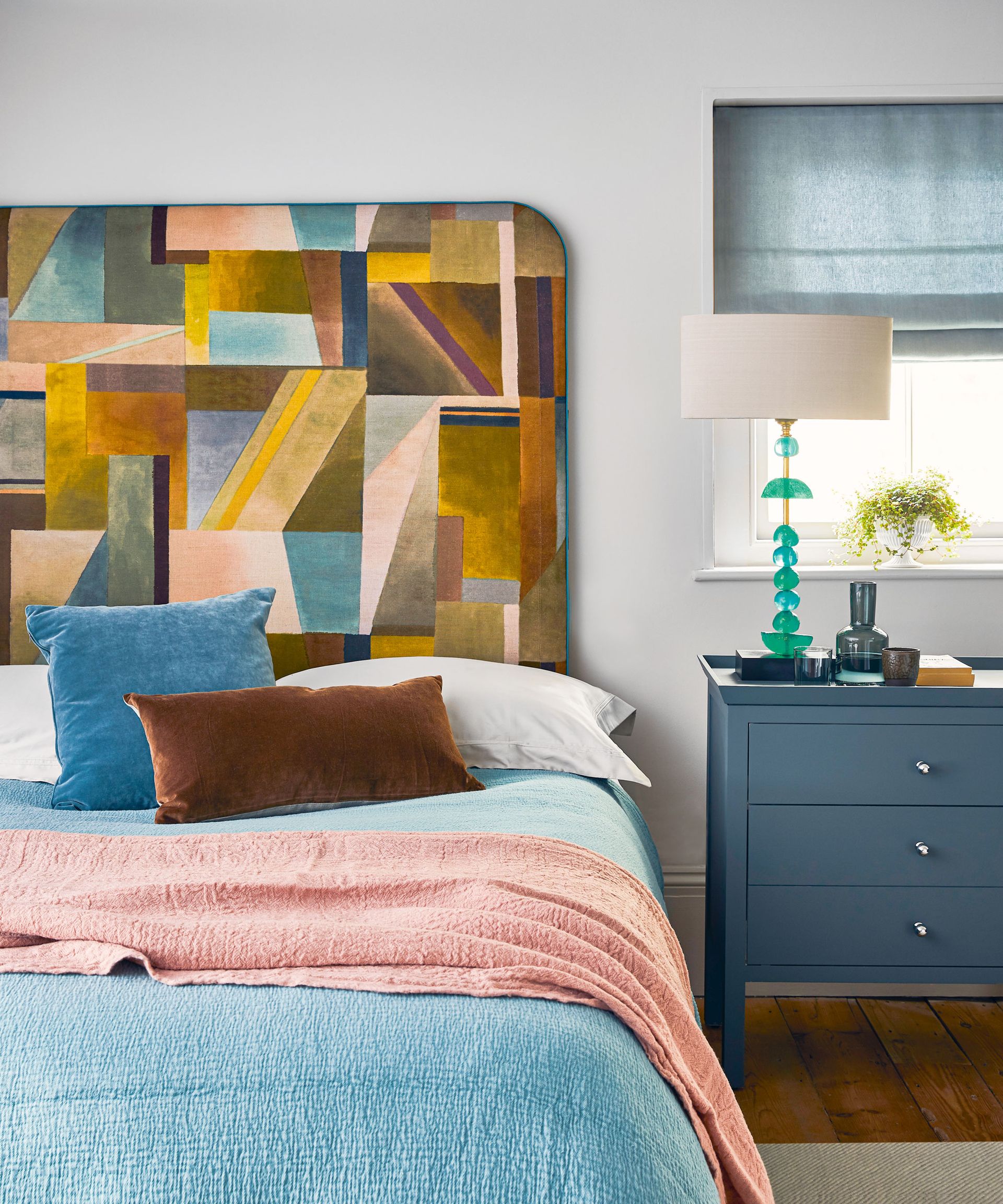 Declutter your current collection
Before you begin organizing an underwear drawer, a good clear-out is usually necessary, particularly if you haven't done so in a while. One of the best decluttering tips when organizing clothes of any kind is to gather every item, including those in the laundry basket. It's much easier to work out what you want to keep when everything is in one place.
Go through each item and discard anything that no longer fits, you never wear, or isn't in the best condition – retain only the pieces you feel comfortable and confident in. Experts recommend leaving enough 'everyday' underwear to last you about two weeks; that's plenty to keep you going whether you do laundry weekly, or bi-weekly. Bras can be worn more than once so you don't need to keep as many – a few neutrals and at least one darker color should suffice.
'You can buy all the clever storage and organizational products you could ever need but this won't help if you're holding onto too much stuff,' says Millie Hurst, Homes & Gardens' Section Editor. 'I'd recommend looking at your underwear drawer and pretending it doesn't belong to you. Do those bras look a little tired and sad? Get rid! Is this what you choose for yourself? You deserve comfortable, quality underwear that's in good condition.'
Millie Hurst the section editor of Homes & Gardens, oversees the Solved section, which provides readers with practical advice for their homes. Millie has written about and tried out countless cleaning and DIY hacks in the six years since she became a journalist, and has worked in both London and New York. She is currently completing a diploma in interior design with the Interior Design Institute.
Donate what you don't need
Most charities can't sell holey socks, tatty tights, or worn-out underwear in their shops, but they may be able to sell them to recycling companies who can reuse them. Not all will so check in advance to avoid a wasted trip.
Beyond that, there are other organizations that will take donations, providing the items are washed and in good condition; The Bra Recyclers, Free the Girls, and I Support the Girls, to name just a few. It may be simpler to throw them away, but honestly, the feel-good factor of supporting a good cause is well worth a little extra hassle… if you ask us!
Sort underwear by type
Once you're happy with what's left, it's time to sort. How you do this comes down to preference, as well as how much space you have to play with. On a broad level, bras, panties and socks/tights should always be stored separately, so start with that. Next, think about categories that make the most sense to you; 'everyday', 'activewear' 'occasional' for example. If you want to break it down even further, you could consider grouping by type (thongs, briefs, bralettes, etc) and color, too.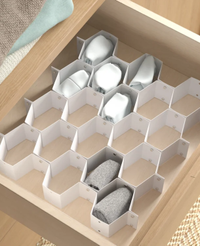 Cooke Closet Drawer Organizer | $17.99 at Wayfair
Transform cluttered drawers with a drawer organizer with a honeycomb design, like this one from Wayfair.
Give everyday essentials prime position
Just like when organizing a closet, it makes sense to position your most-worn items near the front of your dresser drawers. Not only does this make it quicker and easier to locate what you need, but it also keeps things neater – less rummaging around to find what you need!
'Position your underwear drawer at the easiest height to open, as you'll likely be doing so daily. Gym wear or pajamas might only be weekly or bi-weekly in comparison, so it makes sense that they live in the lower drawers', suggests professional organizer Katherine Blackler of Sort My Space.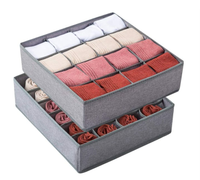 2 Pack Socks Underwear Drawer Organizer Divider | $11.69 at Walmart
This 24-cell organizer from Walmart has ample space for underwear and socks to make getting ready in the morning quick and easy.
Divide your drawers
However hard you try to keep them neat, smaller items have a tendency to get jumbled up when left to their own devices. Compartmentalizing drawers using dividers will instantly bring order to socks, ties, underwear, and accessories, making them far quicker and easier to find. Opt for adjustable versions to ensure you're making the best use of space.
'Using drawer dividers can also help with creating space limits. A space limit is when you dedicate a specific area for your things, and once that area fills up, it's time to purge and eliminate. Meaning you cannot add anything to that space until you get rid of some items. For example, if your "sports socks" row is full, it is probably time to do another purge', says professional organizer Michelle Urban of The Organized House.
Enlist organizational helpers
Once you've divided up your drawer, think about how bedroom organizers could contribute to keeping everything in place. These will depend on what you're trying to store – honeycomb-style organizers are ideal for keeping pairs of socks together, while cloth containers are useful if you want to keep your 'delicates' in good condition. Some designs even come with designated compartments for undies, socks, tights, bras, and so on.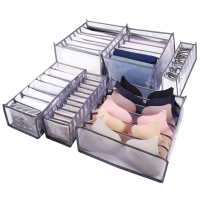 6 Packs Underwear Clothes Drawer Organizer | $12.99 at Walmart
This drawer organizer has different-sized compartments to make organizing easy. It can also be used under the bed, dividing up items and keeping everything visible.
Fold and stack
While folding can make for a neat finish, it can be more hassle than it's worth when it comes to smaller items. 'Fold to a standard you can keep up – there's no point folding socks in neat squares if you know you won't bother to do it going forwards', says professional organizer Vicky Silverthorn of You Need a Vicky.
Most undergarments can be folded easily (and neatly) enough into half or thirds. Aim for roughly the same size if you can. When it comes to bras, folding one cup into the other is a space-saver and helps them to retain their shape, too.
When placing items back into the drawer, stack them vertically, rather than on top of each other, so you can see every item at a glance and you won't knock over piles when you go to take something.
Keep it simple with clear containers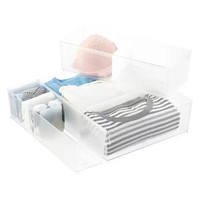 Like-It Large Adjustable Organizer | $14.99 at The Container Store
These transparent drawer organizers come in small, medium and large and they're adjustable.
Let's face it, folding underwear isn't for everyone. We understand. But that doesn't mean you have to give up on the organization altogether. Limiting your categories and using bins and containers to keep them separate is a much easier organizational method, and one that suits many, particularly children – they're far more likely to help out if you keep it simple!
'We'd recommend choosing clear designs so you can see what's inside, but if you do go for woven baskets (they are prettier, we admit), make sure they're fabric lined to avoid any snagging,' advises Millie Hurst, Section Editor at Homes & Gardens.
Ditch the drawer liners
'You'll want to avoid using scented liners in drawers dedicated to delicates – the oils have a tendency to transfer and stain. Instead, consider tucking an empty bottle of your favorite perfume alongside. Wrapped inside a sock or handkerchief, it'll give off a gentle scent', advises professional organizer Shannon Krause of Tidy Nest.
Shannon Krause is a Certified Professional Organizer who holds a specialist certificate in Brain Based Conditions from the National Association of Productivity and Organizing Professionals (NAPO), and is a Certified Reiki Master which she incorporates into her work with clients. Tidy Nest has helped dozens of clients bring order into their lives and has won local awards recognizing their work.
Put things back in the right place
Even with the best intentions, it's all too easy for items you wear every day to descend into chaos, particularly when you're trying to organize a small closet. Whatever storage system you've decided upon, make sure it's one you're likely to stick to. Investing the extra 30 seconds required to put things back neatly and in the right place – even if it means refolding and reshuffling – will save you time and effort in the long run, trust us.
What is the best way to organize an underwear drawer?
The best way to organize an underwear drawer is to keep things as simple as possible. Start by cutting down your collection. Work through each category one by one, eliminating any items you no longer like, need, or aren't in the best condition. When decluttering, bear in mind that underwear – just like any item of clothing – should only be kept if it makes you feel good.
If you're putting several categories of undergarments into one drawer, you'll need to employ dividers to keep them under control. For extra organization, invest in some bedroom organizers as well; the two work brilliantly together in tandem.
Clear containers are handy too, whether used in the drawer itself or stored elsewhere outside of prime storage space. They're also great if you're organizing for children; keep categories as simple as possible and label them to make things even easier.
How do you fold underwear?
There's no 'right' way to fold underwear. How you go about it will depend on how much time you're willing to invest – and whether you think it's really worth it.
Ultimately, you'll need to choose a folding method that will work best for you. There are several folding options, but some take more time than others. 'For example, you can fold into squares, roll them, flip them, or tuck them. There is no wrong way to fold as long as it's consistent', advises Michelle Urban.
In fact, some organizers advise against doing it at all. 'For busy clients, we actually encourage them to ditch the folding process and simply make sure each item is placed neatly in its own compartment – this is where the drawer organizer comes into play, they're an essential part of a well-organized underwear drawer', says Shannon Krause.
Sign up to the Homes & Gardens newsletter
Decor Ideas. Project Inspiration. Expert Advice. Delivered to your inbox.
For 10 years, Tara King worked as a Content Editor in the magazine industry, before leaving to become freelance, covering interior design, wellbeing, craft and homemaking. As well as writing for Ideal Home, Style at Home, Country Homes & Interiors, Tara's keen eye for styling combined with a passion for creating a happy – and functional – family home has led to a series of organization and cleaning features for H&G.