10 minimalist bedrooms that prove how versatile this always on-trend style can be
'Minimalism' is one of those chameleon trends that can blend with any space and any style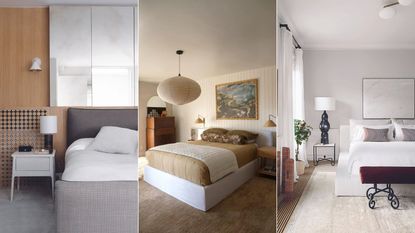 (Image credit: Future / Natalie Myers / Future)
Minimalist bedrooms are always going to be on trend. Out of all the rooms in a home, minimalism always works best in the bedroom. You want your bedroom to feel simple, serene, chic, clutter-free, and that's what minimalism is all about.
But we would like to preface this gallery of gorgeous minimalist bedroom ideas with; what exactly is minimalism? Well, not so long ago we would have used words like stripped back, clean lines, and minimal furnishings, but in an interiors design world where the best spaces are often ones that blend styles, minimalism has far less of a straightforward definition – especially in a bedroom where you can so easily mix in elements from other trends.
You can have a straight-up modern minimalist bedroom (probably what you think of when you think of traditional minimalism) but you can also have a minimalist beach style, minimalist farmhouse style, soft minimalist, warm minimalism, we could go on. Basically, take the term minimalism with a pinch of salt and see it as the starting off point for your bedroom design. Think sleek and simple and clutter-free but also look for places you can add softness, or bring in another style that will add character to the room.
Minimalist bedroom ideas
These spaces are the perfect example of how to approach minimalist style when designing your bedroom. They all have that pared-back look but are equally warm and inviting as a bedroom should be...
1. Take a softer approach to minimalism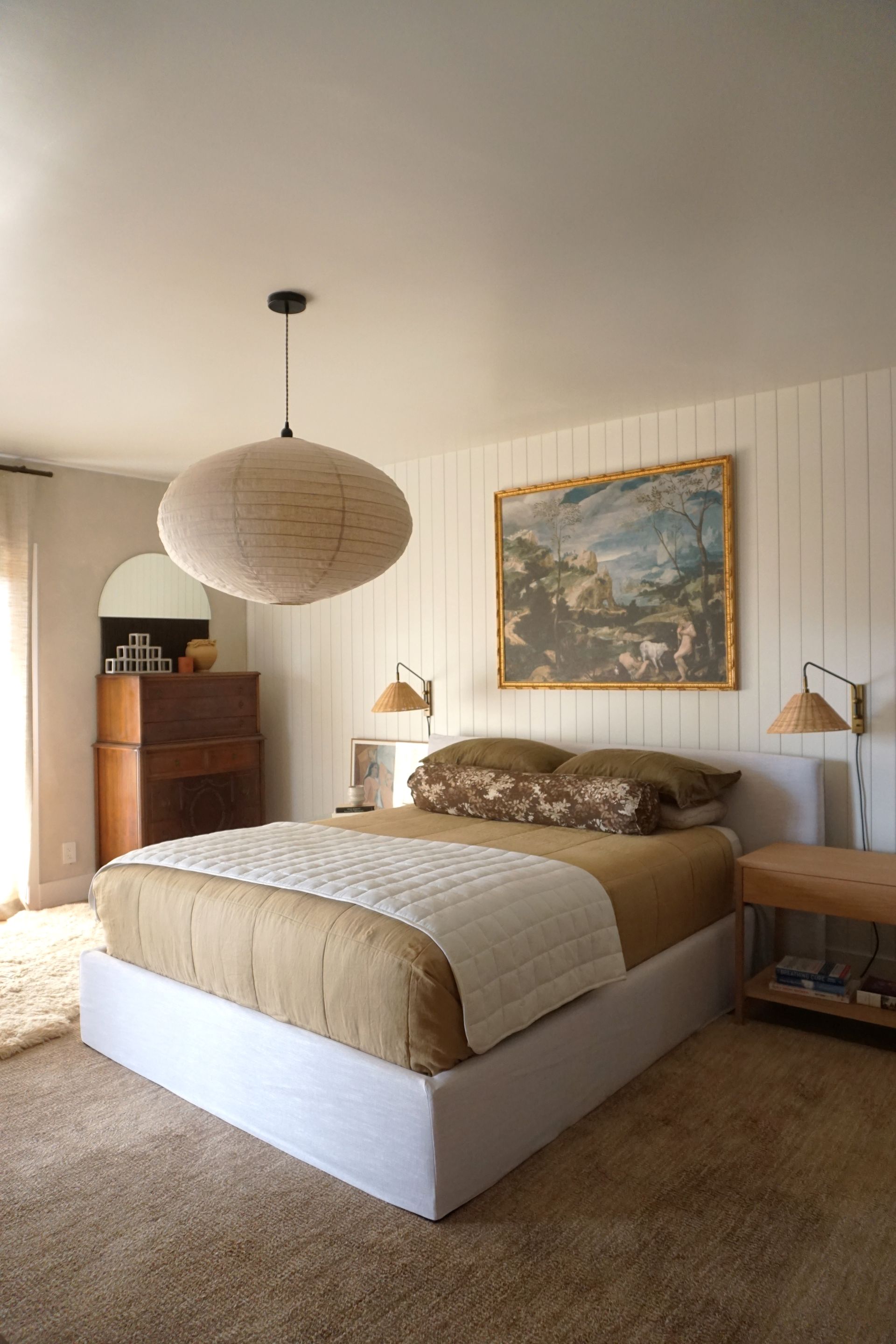 Minimalism needn't always be about clean lines, sleek furniture, and a cool-toned color palette. We are frequently seeing a softer approach to the style that still holds back on the amount of furnishings and decor but uses warmer shades and softer shapes to create a space that feels pared back and contemporary but more mellow and inviting than the classic minimalist aesthetic.
This beige bedroom designed by Natalie Myers is the perfect example of this more homey approach to minimalism. It's free from clutter and fussy decor but still feels warm and welcoming. 'Edit, edit, edit out the dust collectors and the noise makers while layering natural elements,' is her advice. 'Bedroom TVs are banned, linens and jute textures are welcome. Keep the space fuss-free with only a few impactful elements that bring you joy when you first wake up and glance around the room.'
'The bedroom is my own retreat. Influenced by travels in Europe, limewashed walls and a slipcovered bed offer simplicity as the backdrop to the Neoclassic painting and layered linen bedding.'
2. Find the right balance between pared back and laid back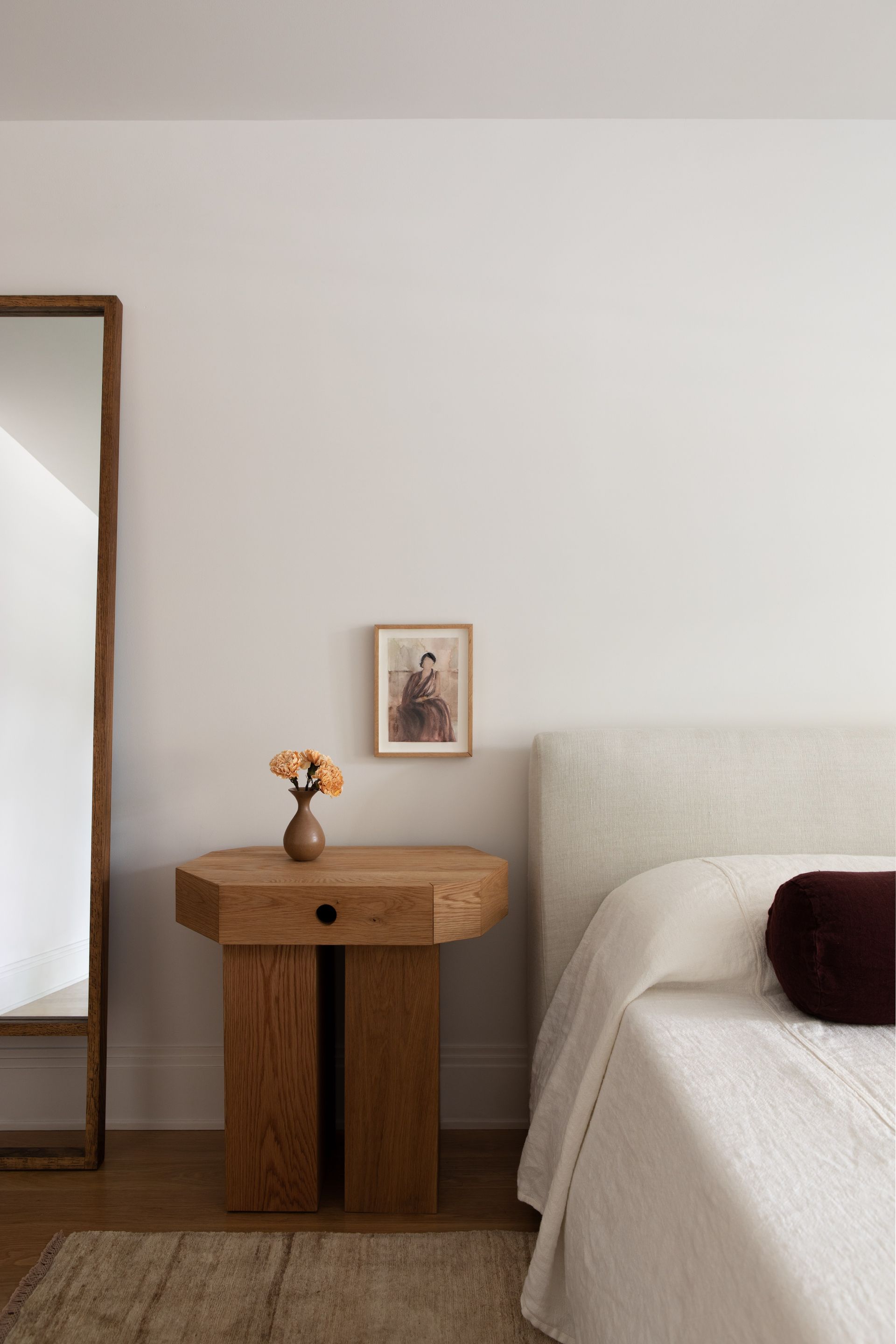 'For our version of minimalism, which is a general combination of a very restrained color palette along with modern and contemporary design and art, often within the context of historical buildings, it's all about editing and unifying,' says Sheena Murphy, founder of Nune. 'Having a clear visual direction from the start is key as is keeping things as simple as possible. However, ensuring there is enough visual interest to avoid things feeling clinical, cold, or one-dimensional is also crucial; it's a delicate balance of playing with shapes, tones, and materials and ensuring points of unification throughout a home, so there is a clear and repeated thread throughout that keeps things feeling connected and cohesive.'
'This space is on the lower ground floor of a Brooklyn brownstone and as a result, gets limited light, creating a naturally moody feel. Because the room backs onto the garden, we wanted to keep it relatively bright so it wasn't at odds with the outdoors while embracing the moodiness; this was done in both the scale and visual weight of the pieces in the room, and also the deeper tones of the side table and long burgundy bolster pillow.'
3. Minimalist doesn't have to mean neutral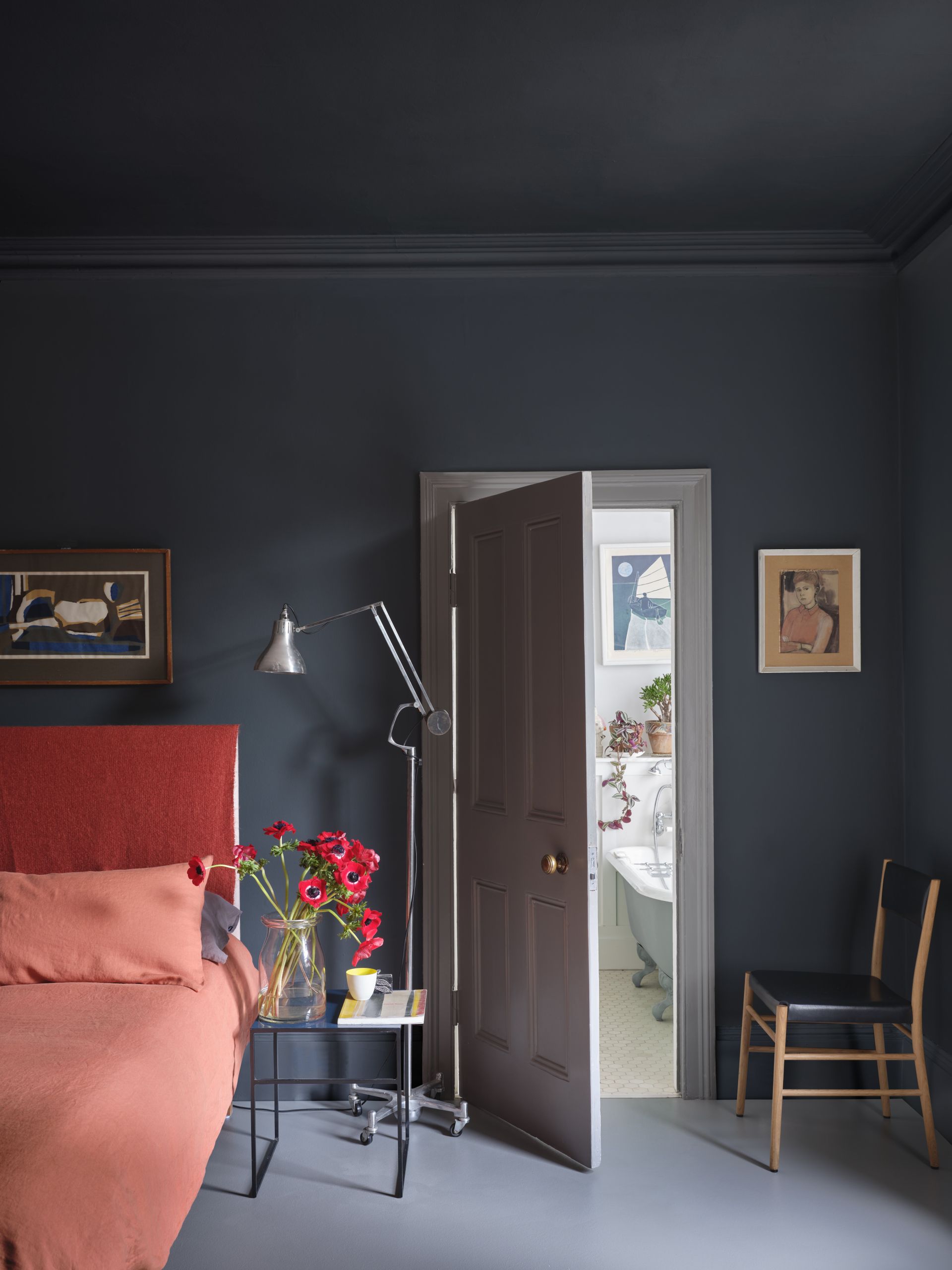 Minimalism has become synonymous with a neutral color palette, but as Patrick O'Donnell of Farrow & Ball rightly says, 'Minimalism is determined not by the color but the specific and limited curation within the space so choosing color is ultimately flexible depending on your personal choice and likes but do consider the natural lighting coming into your bedroom and make this your start point. The very aesthetic of minimalism is a lack of clutter and very considered curation – your chosen color, be it dark, mid-weight, or light will only flatter and unify your chosen elements!'
'The classic off-whites such as Shaded White with give you a delicate foil for your chosen furniture and art through to the grey/ pale mint of Mizzle which is a great choice for an east-facing room whilst dramatic darks such as Railings, Down Pipe or Hopper Head will create a striking backdrop to an otherwise sparse space and art will absolutely pop!' he adds.
You wouldn't normally associate a red and black bedroom color scheme with minimalism, but this room proves minimalist style can work with any room color palette, it's more about the shapes and styles of the furniture, and the use of pared back decor.
4. And it doesn't mean bare either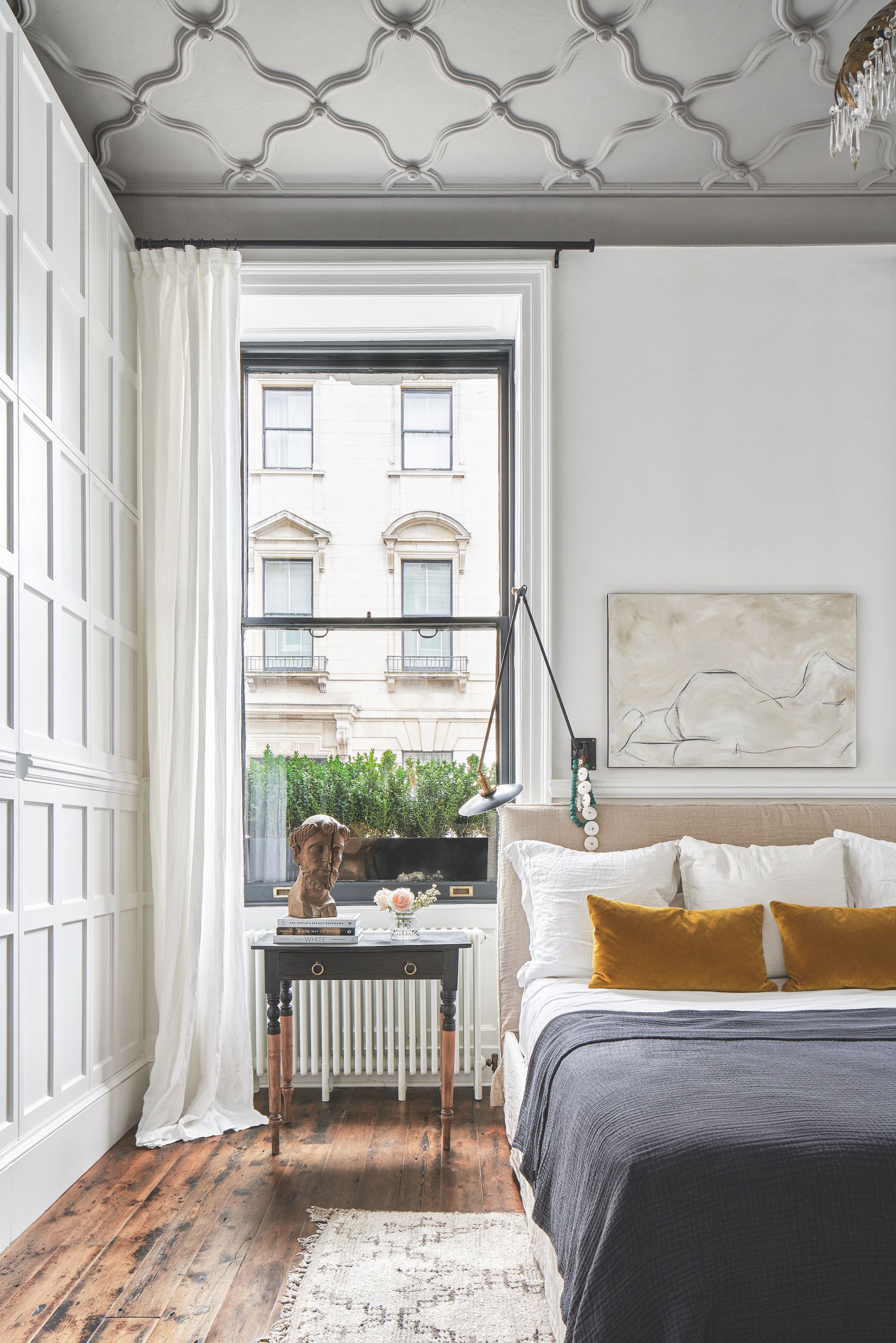 Another misconception of the minimalist style is that it favors bare and empty space. Sure, with minimalist you don't want to be filling rooms to full capacity, and negative space is definitely a big part of the look, but that's why it's important to bring in pieces that are going to work hard to add interest and texture and depth to the room.
'With minimalism, even though the goal is to approach each space with a "less is more" mentality, the pieces that you do incorporate should add texture and depth to the space. There is a difference between bare and minimalism. A bare room has fewer pieces but without richness and depth. A minimalist room has fewer pieces, but with this richness and depth, through the use of texture, rich palettes, and different types of material.' says Victoria Holly, principal and founder of Victoria Holly Interiors.
5. Give thought to every piece you add to the room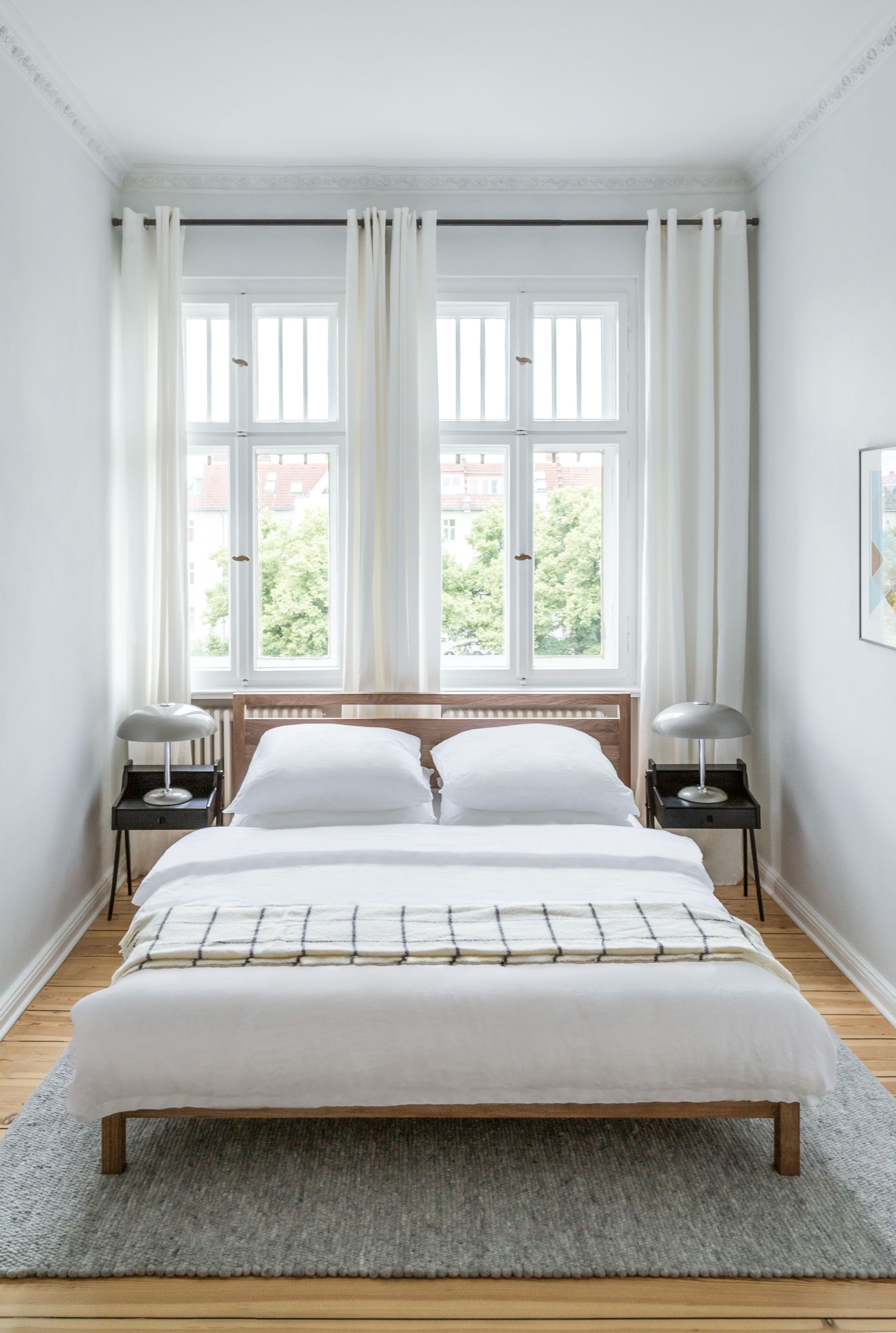 As Victoria mentions, the less-in-more approach is a big part of the minimalist style, and that means each piece you bring into your bedroom needs to be really considered. Much like minimalist living rooms, minimalist bedrooms often have a very elevated look as there are fewer furnishings within the room however those pieces are carefully chosen for the space so every piece of furniture or decor adds something to the room. So look at the silhouettes and textures, what will they bring to the space?
'In a minimal bedroom, the visual interest comes from layered texture, clean and simplified lines and shapes, and a mix of luxurious materials or thoughtfully chosen art and furniture that can hold its own visual weight in a sparsely decorated space. A room might have inherently beautiful views or a historical envelope, there might be paneling or plaster, and soft, layered lighting is key,' says Keren Richter, co-founder, principal designer at White Arrow.
'This is the primary bedroom in a pre-war Berlin apartment. The home had great bones and tall ceilings but was very narrow. We mounted the drapery up to the ornate crown molding to accentuate the ceiling height and sourced a mix of vintage mid-century German and French furniture. We painted the walls with a pale grey limewash plaster, which coordinated nicely with some simple Gustavian furniture.'
6. Be inspired by Scandinavian aesthetics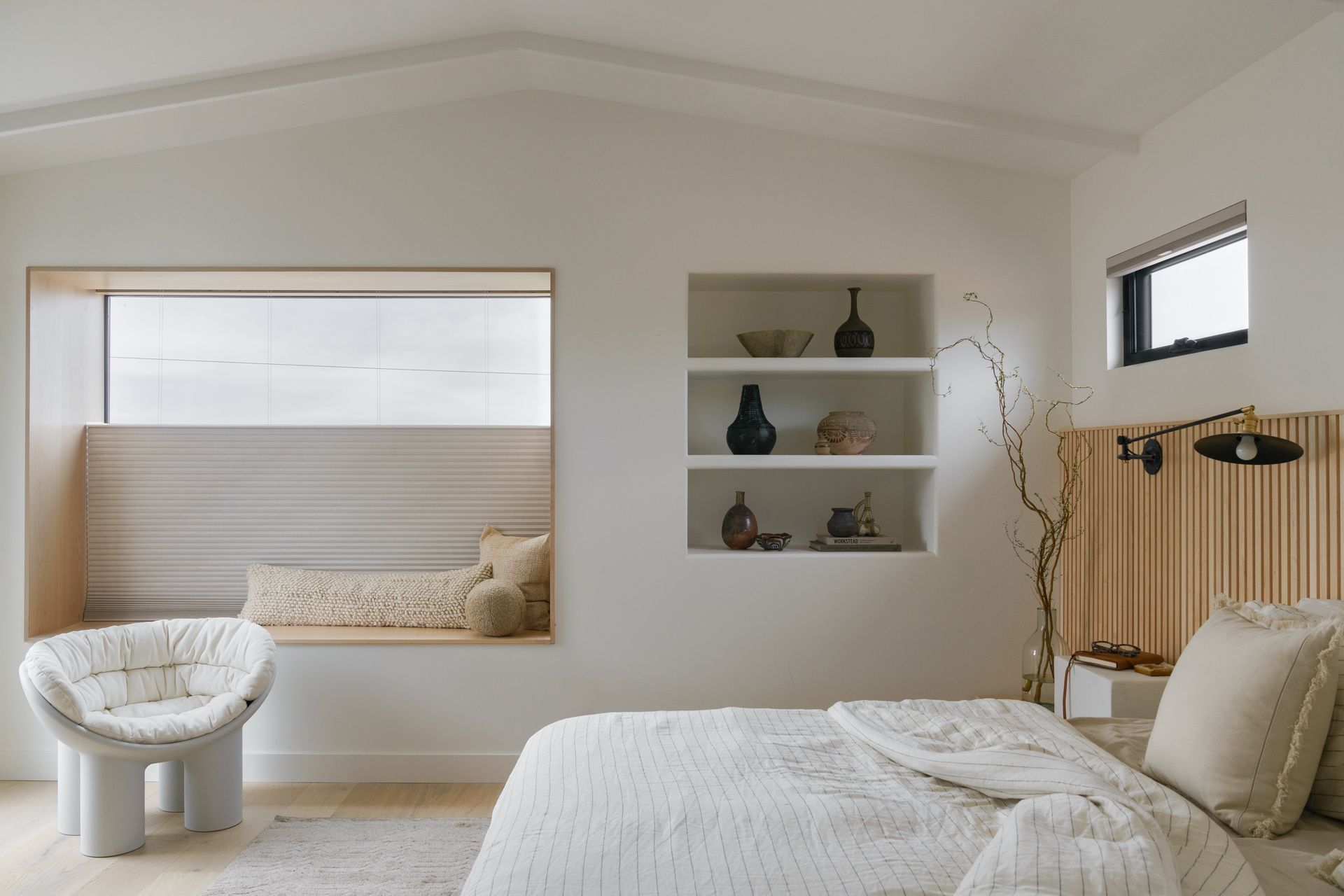 Scandinavian decor is synonymous with a minimalist aesthetic, so be inspired by those Scandi design principles of clean lines, a simple color palette, and that laid-back but elegant vibe. Contrast structural pieces of furniture with soft, slubby textiles so you still get that warmth and coziness you want in a bedroom.
'This primary bedroom renovation was part of 1200 square foot addition to my own personal home. We focused on Scandinavian/Minimal design influences which included a lot of clean bright walls and natural wood applications,' explains Abbie Naber, head designer at A.Naber Design. 'The goal was to create a calm, minimal retreat for us at the end of a long day. My favorite details include the wall-to-wall maple slatted integrated headboard and the bullnose-edged deep shelving to store my favorite treasures from travel.'
7. Let textures add the interest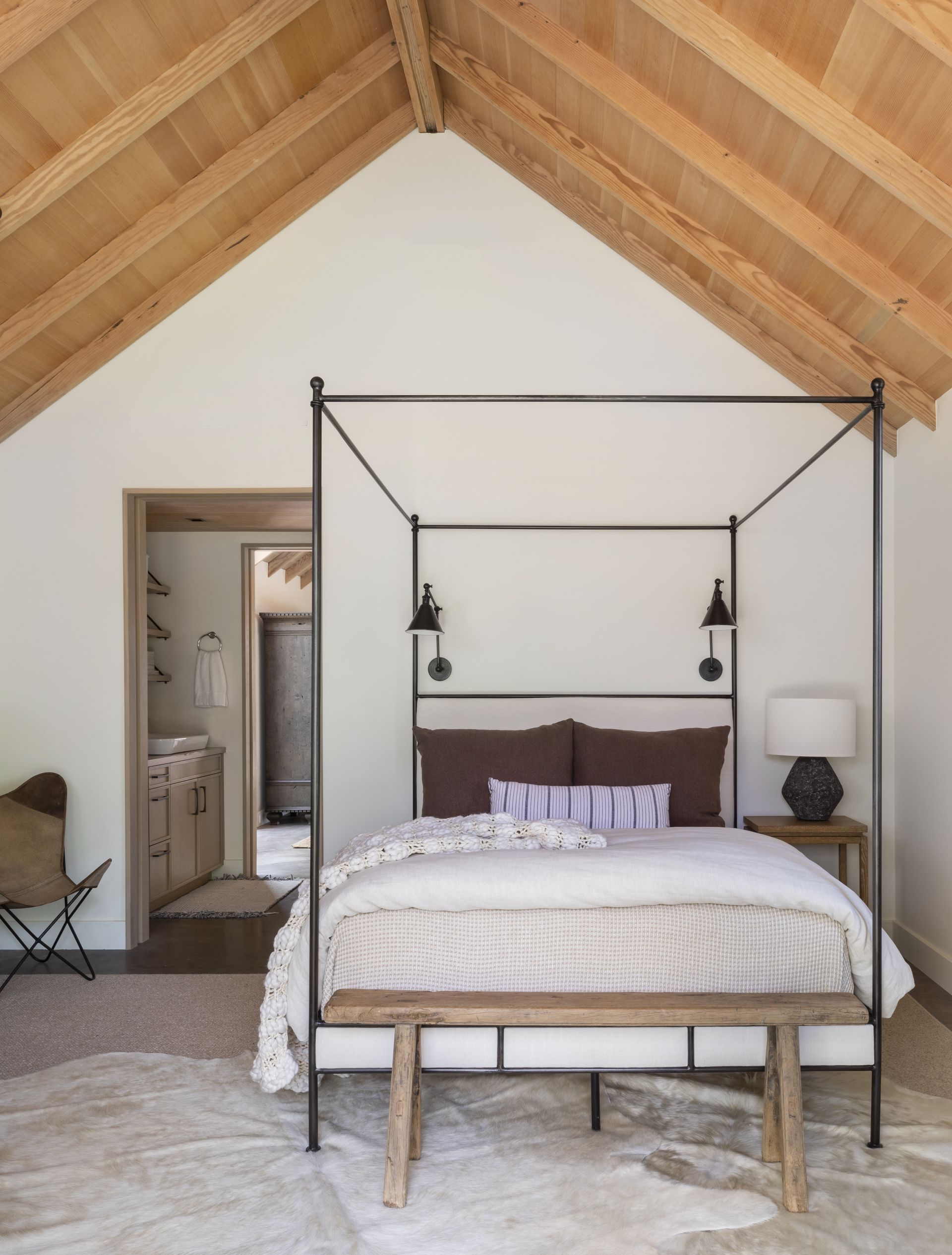 'I love a clean, streamlined bedroom. Bedrooms are an escape and getaway from the day, which is why I typically opt for simple palettes and lots of texture. First, determine what pieces you need in the space to function. Typically, there will always be a bed, side tables, perhaps a chair or bench. Then determine what rug, artwork and lighting work in the space. Those pieces will give you your staple items and you can layer from there.' says designer Marie Flanigan.
'When looking for a more minimalist design, keep your bedding palette simple with subtle color variations for added interest. To ensure that the room doesn't feel stark, include different textures whether through soft finishes like rugs, throw pillow and throw blankets or even artwork.'
8. Clear the clutter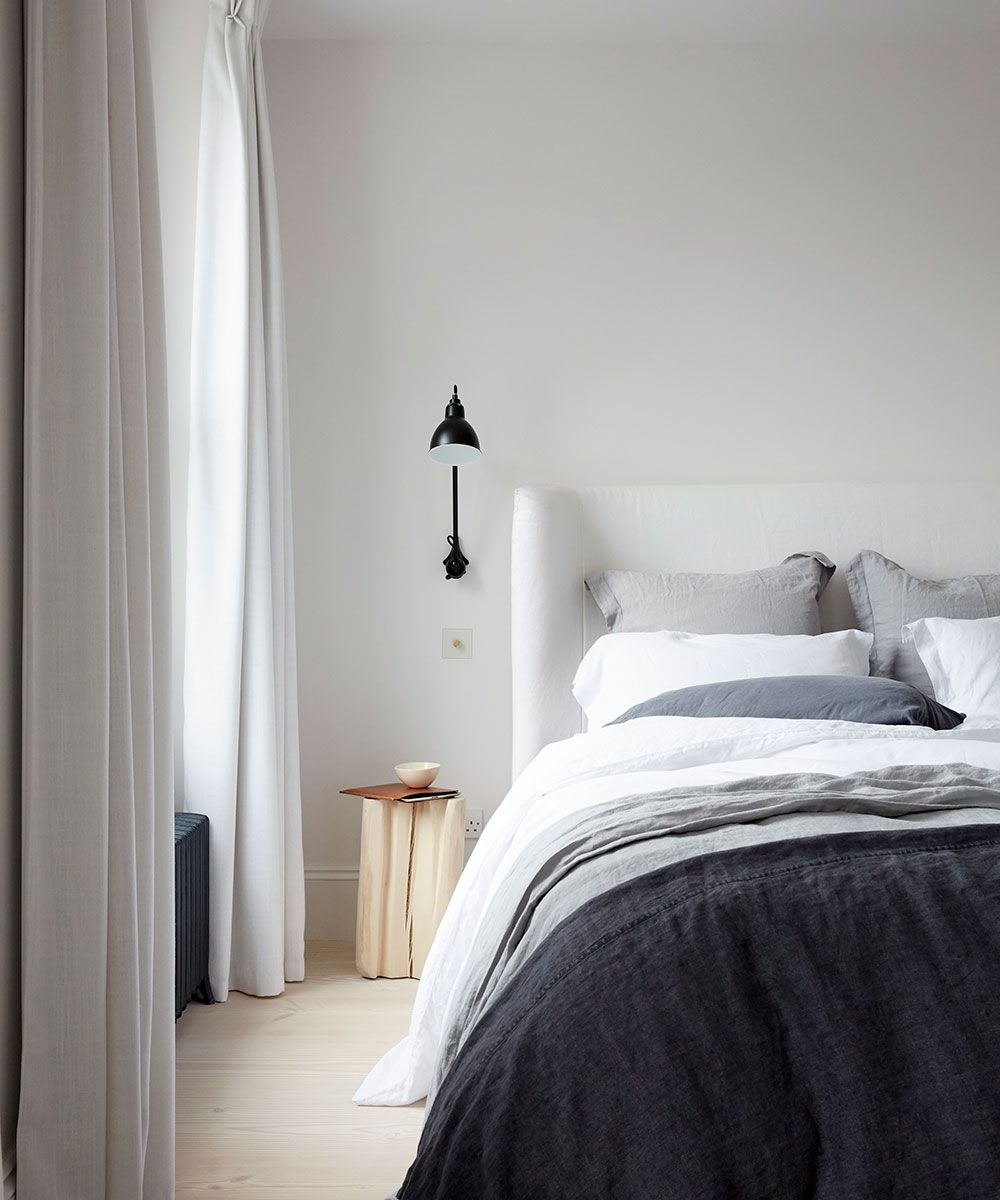 'An obvious step towards minimalism is to clear out the clutter. It's time to let go of things you no longer need or want. It's ok to start slow when letting go. Notice how you feel about the creation of more space and the good feeling you get from dropping items off at a donation site. A good rule of thumb when accessorizing a minimalist space is that if something enters, another must leave. This can help create balance in the space and avoid things suddenly feeling cramped over time. Always leave space for everything to breathe energetically. Don't be afraid of empty walls! Trays on coffee tables or dressers add a decorative element and a splash of style while also corralling the items we need in daily life,' says designer Joshua Smith.
'Leaving negative space for the eyes to rest means the mind can rest as well, which is why I love what I call double-duty furnishings and accessories. These are pieces such as ottomans or benches with inner storage and clunky baskets or wicker chests with lids for a touch of texture while concealing the clutter.'
9. Bring in subtle pattern with marble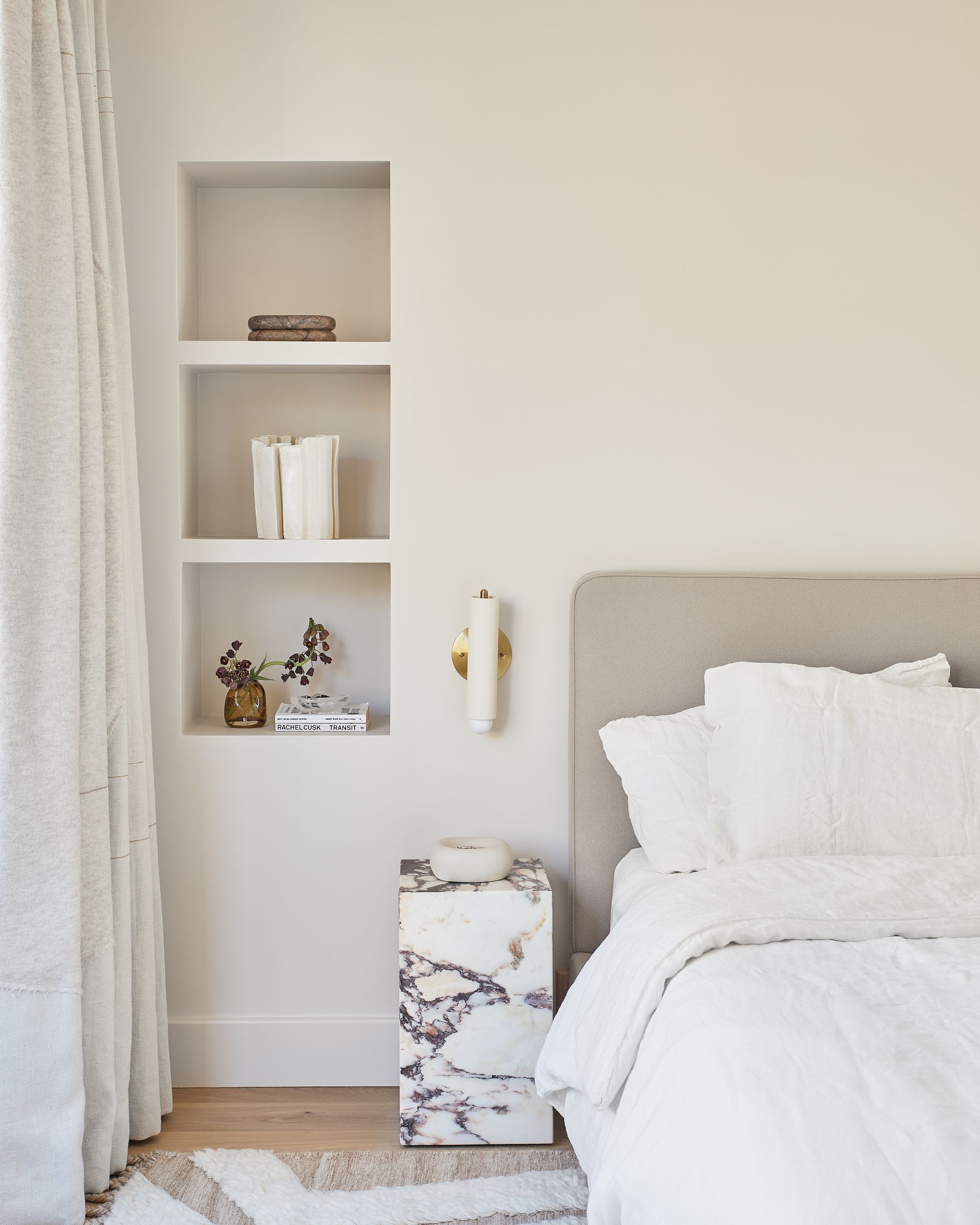 Sheena Murphy defines minimalism as 'comfort, function and calms without any fuss or overt opulence.' And this neutral bedroom represents that perfectly. We've talked a lot about layering textures in minimalist spaces, and while you can do that with soft furnishing like rugs, bedding curtains, etc, bringing in different finishes with furniture adds another layer of interest. Marble is a great material for a minimalist space because it's neutral and natural but still adds a pop of subtle pattern. It gives this room a bit of a focal point and is a lovely contrast to all the slubby textures going on in the rest of the room.
'This primary bedroom is located in London in a 1950s build house which is largely unappealing and very dark from the outside. The broad concept for the home was to create a light-filled home with a restrained palette but tons of visual and physical interest that invites you to rest and restore. This room is a good example of how working with limited tones and contrast but upping textural elements like stone and low-high pile rugs creates a visually and physically comfortable and aesthetically pleasing space that creates a feeling of quiet and calm from the business just outside the window.' adds Sheena.
10. Play with scale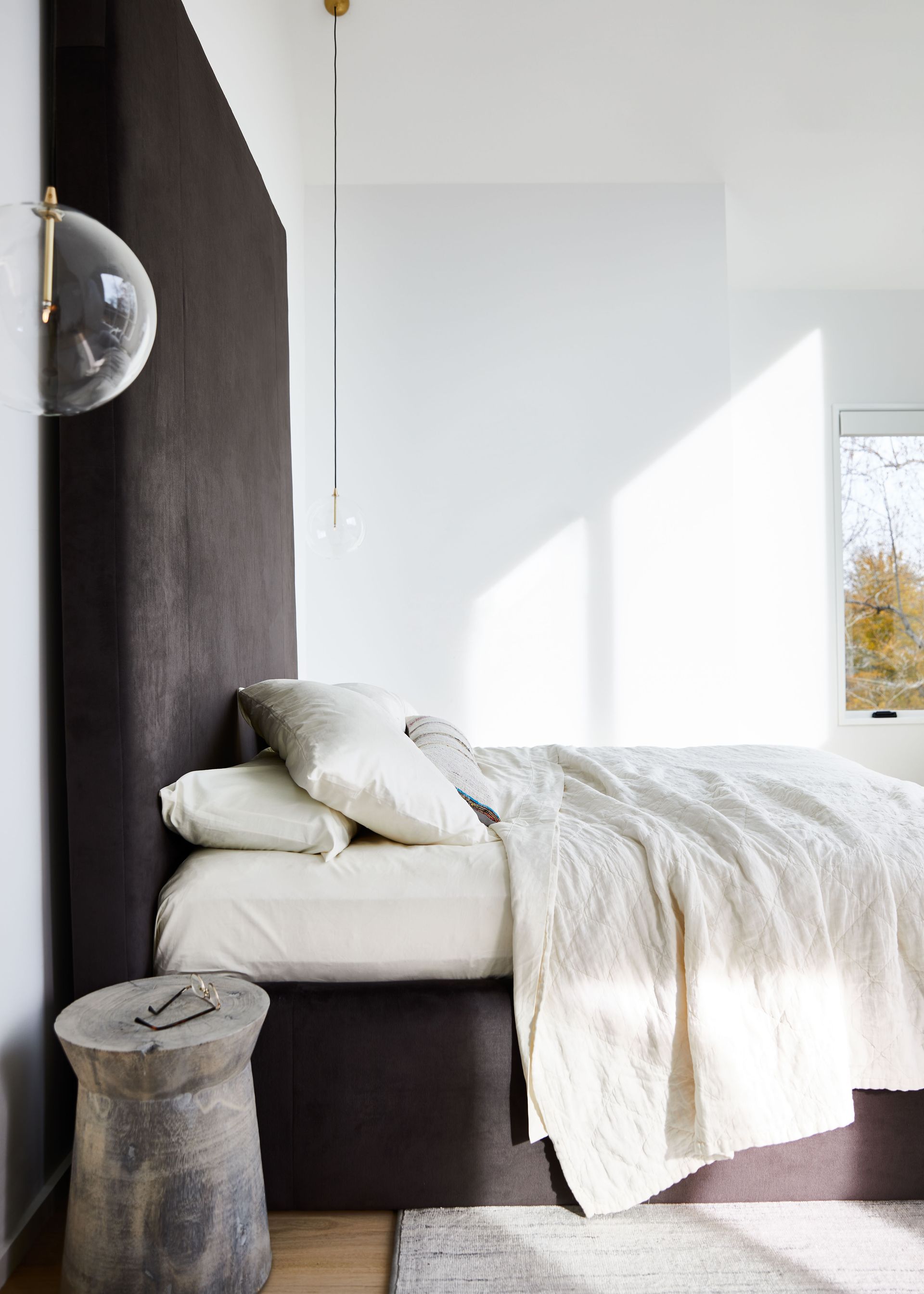 Creating a minimalist bedroom doesn't mean you can't make a statement. And an easy way to make that statement in a way that still aligns with minimalist style is to play with scale. Bring in oversized pieces with simple silhouettes that will add a focal point to the room, without interrupting the aesthetic.
'Minimalism does not mean "small thinking" in any way. Don't be afraid to play with scale and proportion. As an example, in this space I placed a diminutive concrete bedside table next to a soaring headboard. It works.' says designer Lisa Sherry.
'And I think texture is the new color. I'll always choose a neutral color palette over rainbows of color. It's sort of my signature. I always add texture – layer by layer – to engage the sense and elevate the space. It's subtle, absolutely. So often, we see and feel more when the "volume" is turned down. And in a minimalist bedroom you need to choose every item with care. I believe everything in a room should have purpose and intent. This means choosing fewer items but with great attention to detail.'
Sign up to the Homes & Gardens newsletter
Decor Ideas. Project Inspiration. Expert Advice. Delivered to your inbox.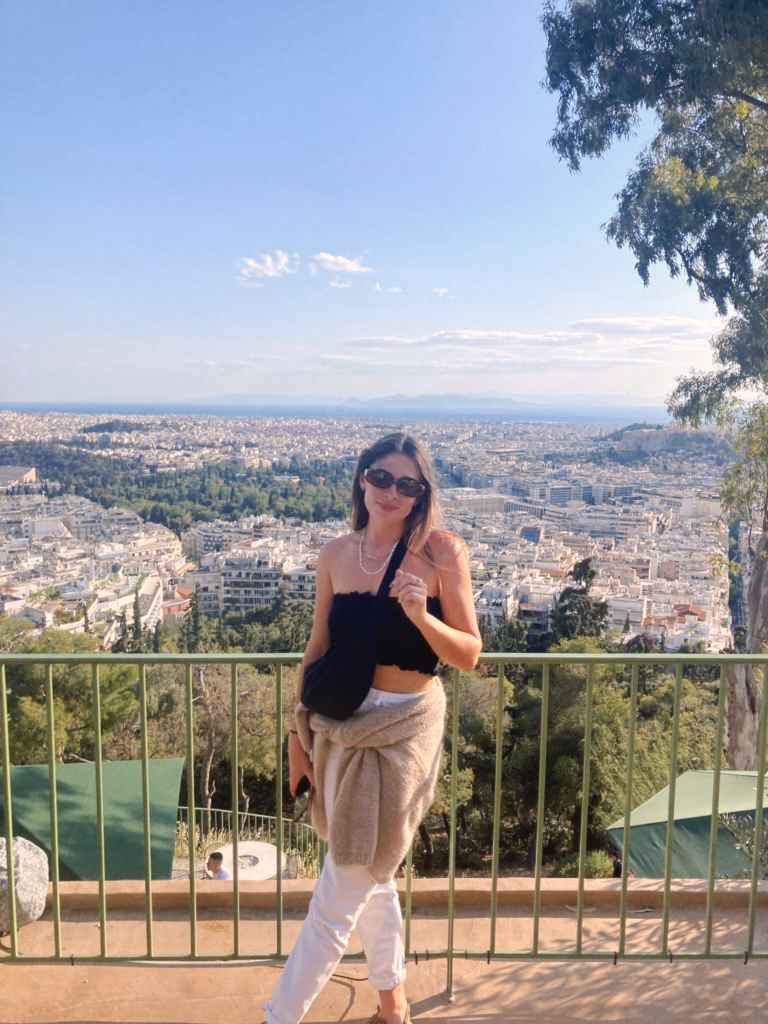 I am the Head of Interiors at Homes & Gardens. I started off in the world of journalism in fashion and luxury travel and then landed my first interiors role at Real Homes and have been in the world of interior design ever since. Prior to my role at H&G I was the digital editor at Livingetc, from which I took a sabbatical to travel in my self-converted van (not as glamorous as decorating a home, but very satisfying). A year later, and with lots of technical DIY lessons learnt I am back to writing and editing, sometimes even from the comfort of my home on wheels.