Bedroom TV ideas – 10 tips for styling a television in your sleep space
Get smart with your bedroom TV ideas to either cleverly conceal your tech, or turn it into a modern decor feature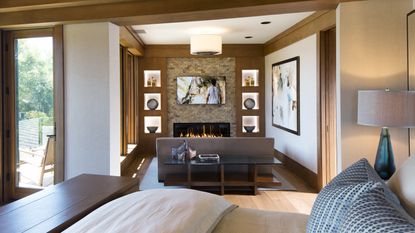 (Image credit: Purple Cherry Architects)
Grab the popcorn and your pyjamas, because these bedroom TV ideas are ready to tuck you in for the ultimate movie night.
Aside from all the fun and games, incorporating a television into your bedroom ideas requires a deft touch. While settling into the most comfortable room of the house to watch your favorite shows before bed is hugely tempting, you need to remember that the bedroom needs to act as a calming space to aid sleep.
This means many people prefer to have a way to conceal a television when not in use, or at least keep its presence fairly discreet. Alternatively, a television can become an integral part of more modern wall decor ideas – having taken time to find the best TV for your room, then why not show it off? Either way, you'll just need to ensure you get the balance right.
Bedroom TV ideas
From clever ways to conceal your technology, to methods for turning a television into a contemporary design feature, we asked the experts for their top tips and found some bedroom TV ideas inspiration that will make you want to settle down for a midnight movie marathon.
1. Make your TV part of a dedicated seating area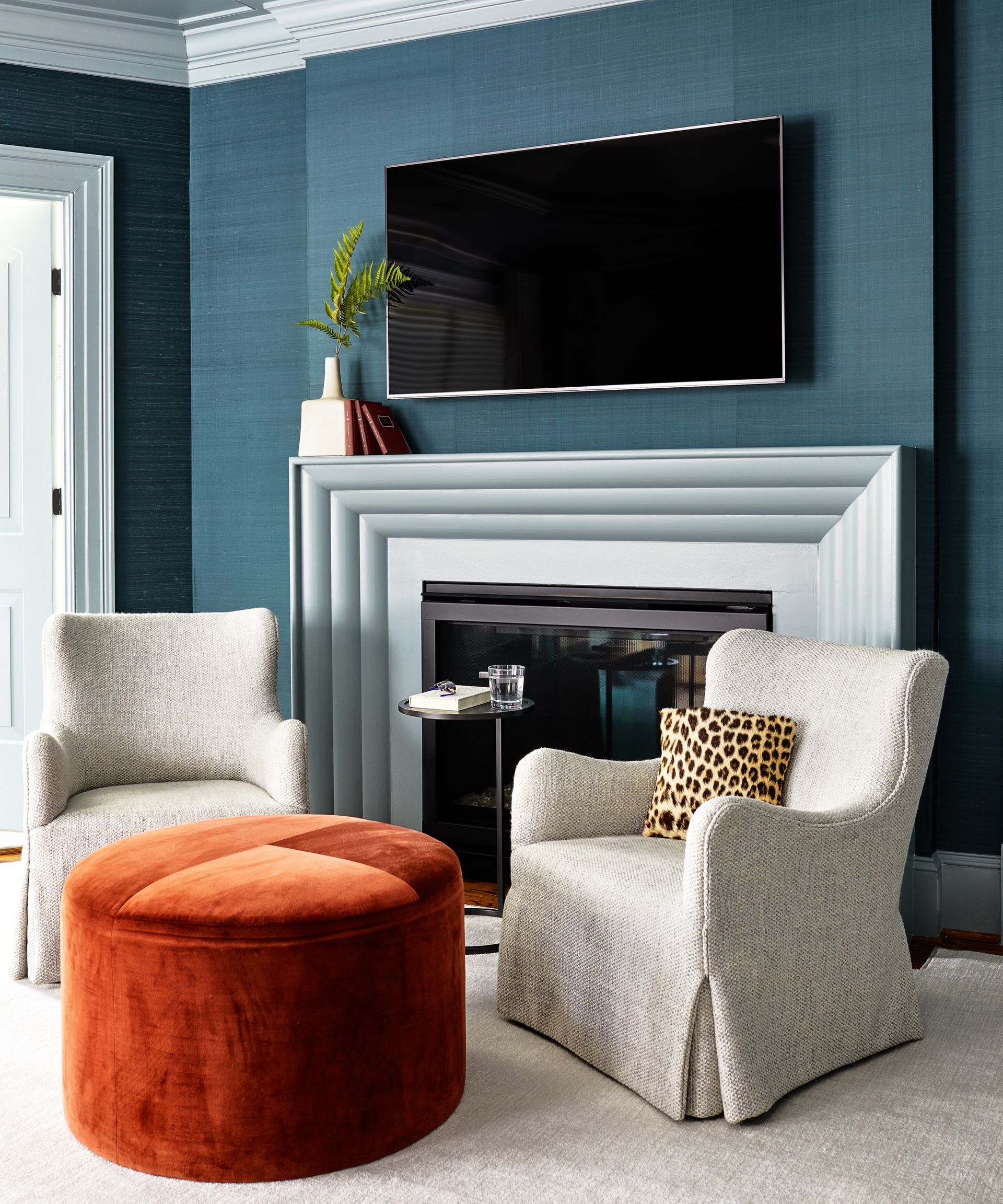 If you're looking to live the suite life, boosting your master bedroom ideas with a comfortable seating nook is a great way for large rooms to channel five-star luxury. Place your television at the heart of this and not only does it add an extra function to the enclave, but it creates a dedicated TV-watching area, adding a little distance between the screen and bedtime. In this room by interior designer Zoe Feldman, a large wall-mounted TV is flanked by cozy armchairs and a fiery orange ottoman.
2. Retract the TV into a bed end unit
Whether it's for aesthetic or relaxation purposes, many people will want the option to conceal a bedroom television. If that's the case for you, consider incorporating this system directly into your bed ideas. 'TVs can be discreetly hidden under the bed on a motorised arm, or within a bed end unit,' explains Danielle Carter, Associate Interior Designer at Millier.
In this bedroom by interior designer Alexis Hughes, the TV is installed into the bed end unit, and can be extracted vertically or hidden at will. The unit's function is disguised by a contemporary sculpture on its lid – an idea that can also be employed for wall-mounted tech. 'TVs can be concealed within shelving or storage unit opposite the bed, with a moving panel of artwork to conceal and reveal when needed,' says Carter.
3. Pair with a fireplace to create a cozy nook
Rather than hiding a TV, go all out and make it a feature of your bedroom wall decor ideas. This is easiest to pull off with a modern aesthetic, and works best if you can create a slightly separate nook to house it in. In this bedroom by architect Cathy Purple Cherry, an L-shaped bedroom features a TV area, made extra cozy with a contemporary fireplace.
'An inbuilt electric fire offers a design-led choice for the discerning homeowner, who wants to combine modern looks with the latest technology,' says Jon Butterworth, Director at Arada Stoves. 'Pair with a high tech flat screen TV to complete the feature wall and achieve perfect balance within the room.'
4. Balance modern technology with antique furniture
Although they might be a little more awkward to pair, modern technology and traditional bedroom furniture ideas are not mutually exclusive. In this room, a wall-mounted TV works well with the distressed antique sideboard because the pairing is intentional and unabashed, with the ornate pillars deliberately framing the screen.
A visible TV will instantly give the game away that this is a contemporary bedroom, so be sure to pepper the room with other modern elements – like this bedroom's crisp white walls and tropical pot plant – to ensure it doesn't stick out like a sore thumb.
5. Conceal a TV behind sliding panels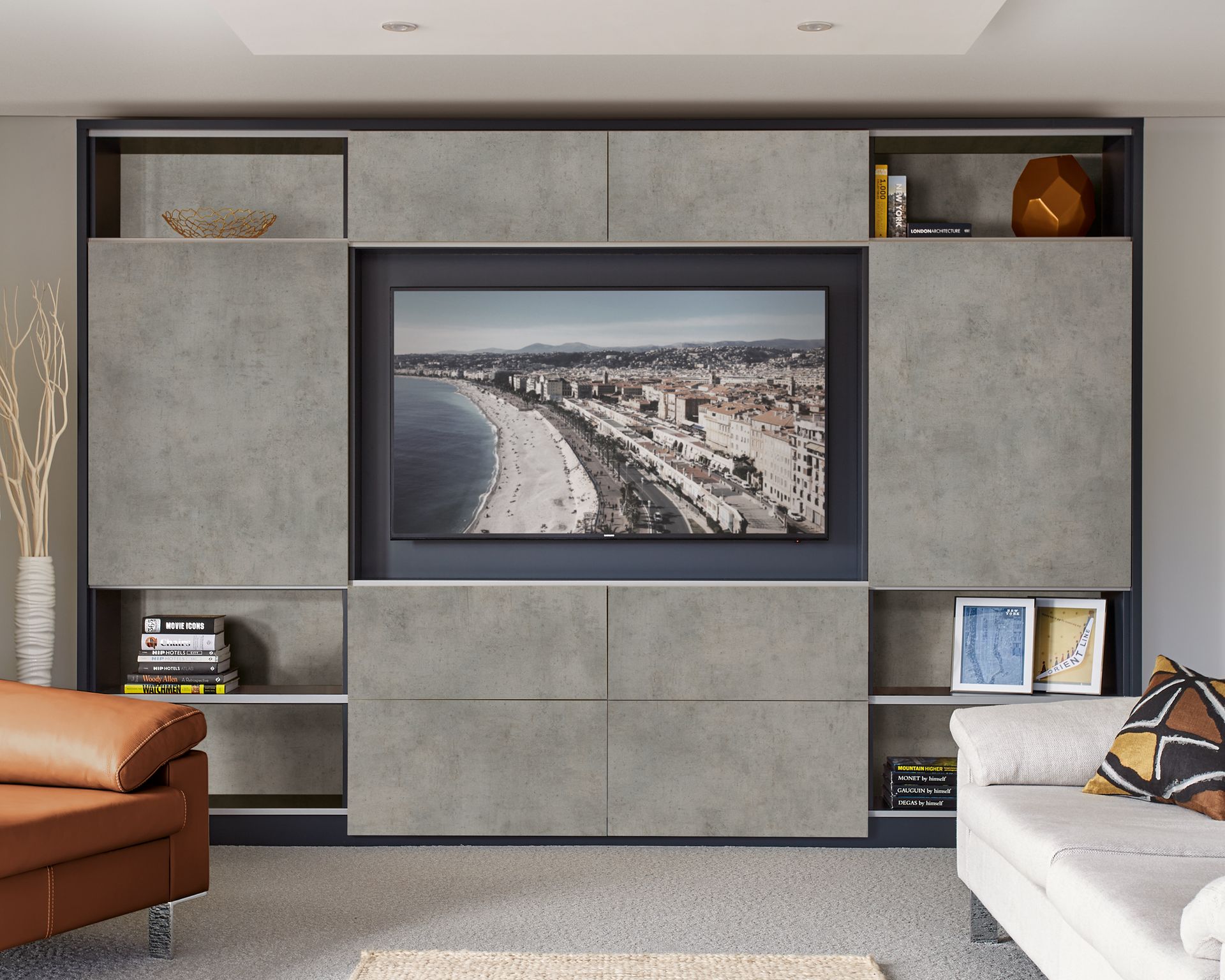 Thinking of incorporating a TV cabinet into your bedroom storage ideas? Then think carefully about your choice of doors. Choosing traditional hinged doors will mean you'll need to keep them swung open the whole time you're watching the screen, so consider less awkward alternatives.
'Sliding door systems are a great way to conceal technology in the bedroom or any room of the home,' says Simon Tcherniak, Senior Designer at Neville Johnson. 'Depending on where you position them, they can reveal different ornaments or books and create a completely different look to your furniture. They can also be used to conceal a large TV so your bedroom can be transformed into a cinema room in seconds.'
6. Tuck it into the en suite bathroom
If you're desperate for a little private TV time, but really are averse to screens in the bedroom, think about what's around the corner. Incorporating a television into your en suite bathroom ideas means the screen is only accessible to inhabitants of the bedroom, but you won't be tempted to binge watch late into the night. Instead, it's there ready and waiting for when you want to fully unwind while enjoying a long, relaxing soak.
7. Keep it flush with built-in furniture
When considering how to design a bedroom, incorporating built-in furniture is the most space efficient way to store and display your possessions – and that includes your TV. In this room by interior design firm Pembrooke & Ives, the television is fitted neatly into a bespoke, built-in wardrobe system, the screen flush with the doors to make its inclusion seamless.
'Whether you are looking for discreet storage or a stylish solution for your home, fitted furniture has the advantage of being built to suit the particular need of your room,' adds Rachal Hutcheson, National Retail Manager at Sharps. 'If you have invested a significant sum of money sourcing the best TV for your budget, the most prudent way to get the most from it is by taking the same care and attention in housing it.'
8. Combine it with your home office
With working from home set to become an ongoing way of life, many of us have had to reconfigure rooms to incorporate home office ideas. If a bedroom in your home is now fitted with a tech-laden desk, consider how you can double up this space as a TV area. Many of us will need a large monitor to work comfortably from home, so check out how you can convert this into a TV screen at the end of the work day. This way you won't need to have two screens in a bedroom, and your television set-up will stay as part of a dedicated audio-visual zone.
9. Tuck the TV into an alcove
Whether you're tech-comfortable or not, you're unlikely to want a TV to take over your bedroom design. Tucking it into an alcove is a great way to keep its presence discreet, particularly when incorporating it within small bedroom ideas. In this compact apartment bedroom by interior designer Stephanie Brown, the TV is fitted into a recess between the wardrobe and the en suite, ensuring it doesn't compete with the stunning view from the full-height windows.
10. Make it modern with a minimalist aesthetic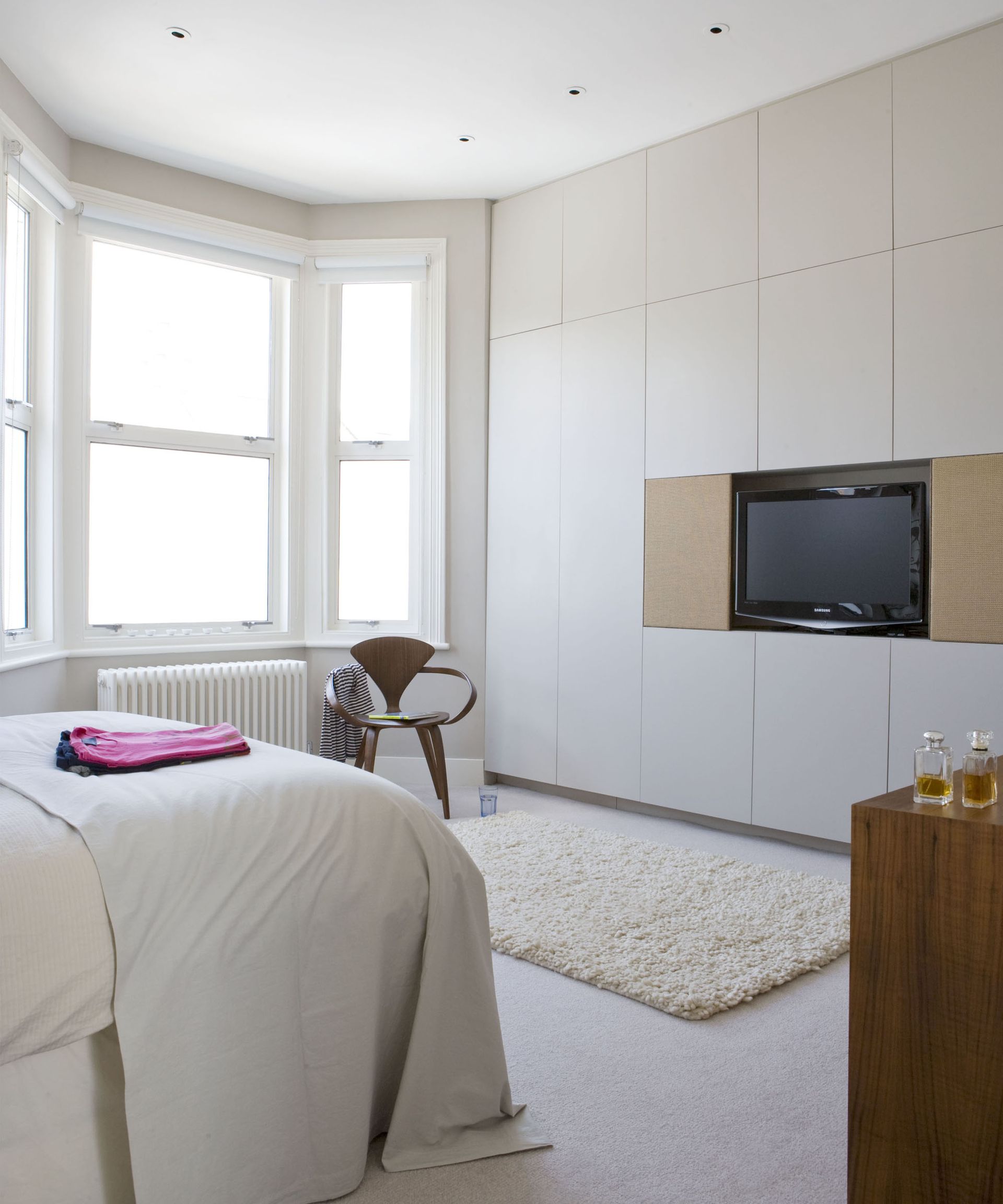 If you're looking to fully embrace the modernity of the bedroom television, pair it with simple bedroom ideas. Framing a TV with a minimalist aesthetic will fit with its clean cut lines, and also mean the room doesn't feel too busy once the television is switched on. In this room, the black television actually contributes to the choice of a pared-back, almost monochrome color scheme.
How can I make my TV look good in the bedroom?
The first step of making a bedroom TV look good is working out whether you want to see it all the time or not. If you want to be able to conceal it when not in use, consider putting it inside a TV cabinet or fitted storage unit with dedicated sliding doors for its section, or incorporating it into a specially designed bed or bed end unit.
For very visible wall-mounted TVs, the best way to make it look good is to combine it very deliberately with the other furniture in your room. Create a dedicated seating area around it if you have a larger bedroom, or center it with a feature sideboard.
Where is the best place to put a TV in your bedroom?
In terms of choosing a position for your TV, it really depends on what you want to get out of it. If you want to be able to watch the screen while tucked up in bed, then it's best to place it on the wall opposite the bed, or invest in a bed end unit (either incorporated into your bed or separate) that can allow the TV to pop out of the top, and then retract.
You may not, however, want to keep the sleeping area and the TV area of your bedroom separate. In this case, consider putting it to the side of the room, ideally in a separate nook with its own seating area. Alternatively, take it to the en suite bathroom, and enjoy an episode or two while enjoying a bubble bath.
Sign up to the Homes & Gardens newsletter
Decor Ideas. Project Inspiration. Expert Advice. Delivered to your inbox.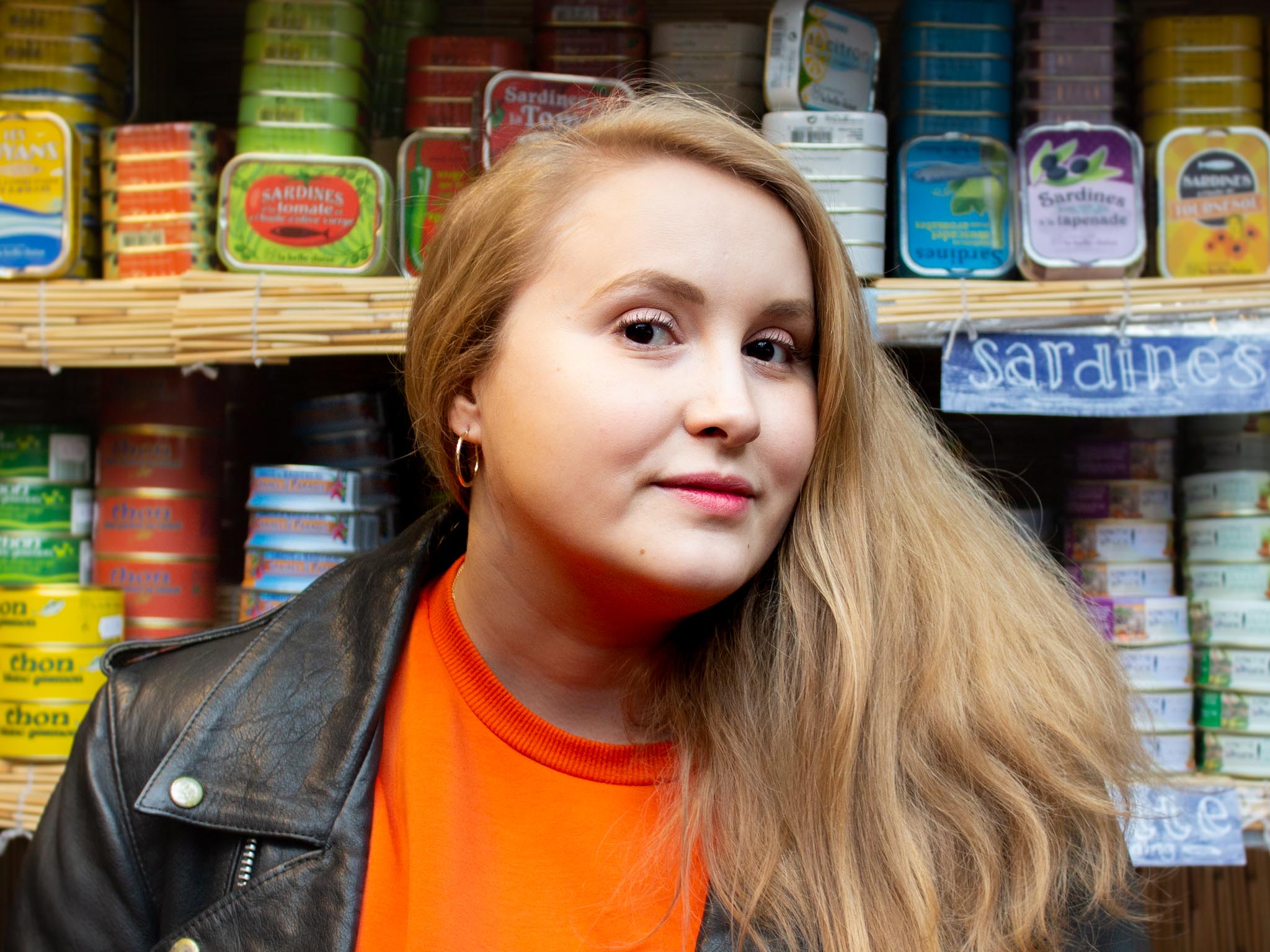 Ailis started out at British GQ, where a month of work experience turned into 18 months of working on all sorts of projects, writing about everything from motorsport to interiors, and helping to put together the GQ Food & Drink Awards. She then spent three years at the London Evening Standard, covering restaurants and bars. After a period of freelancing, writing about food, drink and homes for publications including Conde Nast Traveller, Luxury London and Departures, she started at Homes & Gardens as a Digital Writer, allowing her to fully indulge her love of good interior design. She is now a fully fledged food PR but still writes for Homes & Gardens as a contributing editor.