Best entryway Halloween decorations – our experts have shared their favorites and how they are styling them
Welcome guests into your haunted home with these Halloween decoration ideas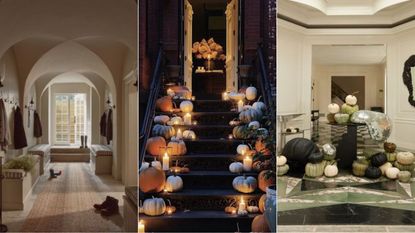 (Image credit: Albion Nord / Josh Yöung / Photo by Joyce Park / Courtesy of Kelly Wearstler)
Sign up to the Homes & Gardens newsletter
Decor Ideas. Project Inspiration. Expert Advice. Delivered to your inbox.
Thank you for signing up to Homes & Gardens. You will receive a verification email shortly.
There was a problem. Please refresh the page and try again.
For those who want to get into the festive mood, finding Halloween decorations to adorn your entryway may be just the trick – or treat. But with so many options and a few obvious classic decorations, you may be wishing to avoid it can be tricky finding the best decorations. Well fear not, we're here to help.
Designing an eerie entryway for Halloween can anchor the ambiance for the rest of your household's Halloween decorations, making it an important space to get looking its best this season.
Our experts have provided their favorite decorations and styling tips for your Halloween entryway ideas.
The best entryway Halloween decorations
As the central point of your home and the first thing guests see, your entryway must capture the essence of the rest of your home, while still being spooky and fun.
If you are wondering what looks good in an entryway when it comes to Halloween decor, we've selected some of our top buys to inspire you.
1. Lantern Lane
Ambient lighting always dramatically sets the tone for a haunted evening, and to create an entryway flow to usher in your guests a line of Halloween-themed lanterns can be a beautiful way to add some mood lighting to your space. Alternatively, you can select a few lanterns of different heights to make an intentional corner display with.
Old-fashioned and ornate lanterns with flickering LED candles can cast creepy shadows and are a safe option. You can also choose lanterns that match the existing aesthetic in your entryway, for example by finding modern designs for modern entryways.
Have fun with your lantern choice and think outside the box, some are more decorative than others, such as these thematic pumpkin lanterns below.
$89
Whether they are used in or outdoors, these lit wire pumpkins can be an easy way to light up a space, perfect for string lights or candles.
Way To Celebrate Metal Pumpkin
$15.98
Bring a Halloween glow into your home or to your Halloween outdoor decor with this 11in black metal tea light holder. This bold and elegant design can elevate most spaces with a stylish yet spooky theme.
Metal Slat Black Halloween Decorative Lantern
$20.00
Illuminate a corner or a table, or integrate this lantern into your Halloween porch decor. This 13.5" light up lantern can bring a spooky glow to your Halloween set up.
2. Haunted Chandelier
If you have a chandelier or overhead light fixture in your entryway this can be the perfect item to decorate to transform it into a subtle but intriguing Halloween display.
Jonathan Faccone, founder of Halo Homebuyers says, 'This decoration adds a unique and gothic vibe that's both stylish and eerie. I would recommend this concept if you want to create a captivating focal point.
'By adorning a chandelier with faux spider webs, plastic spiders, and black ravens, you're setting the stage for a mysterious atmosphere. This decoration plays with shadows and light, making it perfect for creating a chilling ambiance during evening gatherings. You can even add flickering LED candles for an extra layer of enchantment.'
3. Floating decoations
As one of our favorite Halloween trends of 2023, floating candles are a creative and exciting Halloween display to add an air of mystery to your entryway. You can make them yourself by purchasing some LED candles such as these LED battery-operated flameless taper candles on Amazon.
To hang them up, we recommend this Gutermann invisible thread, also from Amazon to be stuck to the candles and the ceiling. You could also just invest in these Harry Potter™ floating candle string lights (above, $149) to save you the hassle of making them.
You can create depth by hanging the candles at varying heights, spread tastefully across your entryway ceiling.
Another fun floating decoration which is also a Halloween craft idea is creating floating spirits by using white fabric over floating balloons, with some ghostly eye holes cut out. This idea, perfect for getting the kids involved, is also the perfect Halloween party decoration.
They won't last long, so it may be easier to hang them up with an invisible thread. You can also attach bat-shaped cutouts to the exterior walls or hang them from the ceiling to create a whole community of flying Halloween ghouls.
4. Ghoulish doormat
Welcome your guests with a Halloween-themed welcome mat. A simple 'enter if you dare' can set the mood.
Devin Shaffer, lead interior designer at Decorilla says, 'Entry mats are one of my favorites for seasonal decor, mostly because they're the first thing you see when entering a home which allows them to set the tone and create a festive mood. Believe it or not, by having a Halloween rug in your entry or porch, you'll be able to use fewer Halloween decor pieces in other rooms because of the initial impact the rug has.

'If you're planning to spend over $50 on a mat/rug, I advise going with a rug that can be used through the fall season versus one that is trendy. If you plan to spend less than $50 go all in with jack-o-lantern, spider web, black cat, or skull motifs, and don't be afraid to go bold and moody as it's meant to make a statement.'
$9.99
Welcome trick or treaters with this spooky black door mat design. The mat measures 1ft 4in x 2ft 4in.
$48.00
Welcome trick or treaters with this fun and tasteful multi-colored pumpkin doormat. This is perfect for your Halloween porch decor.
5. Sinister signs
If you're looking for some Halloween entryway wall decor ideas, signs offer the opportunity to find or personalize custom signs to warn or welcome guests into your haunted house. You can achieve an authentic Halloween aesthetic by intentionally distressing and weathering the appearance of a sign.
Welcome Goblins Halloween Wall Sign
$10.00
Welcome all the Halloween ghouls to your home with this monochrome 'Welcome Goblins' sign, that can easily integrate into most spaces and styles.
6. Doorway decorations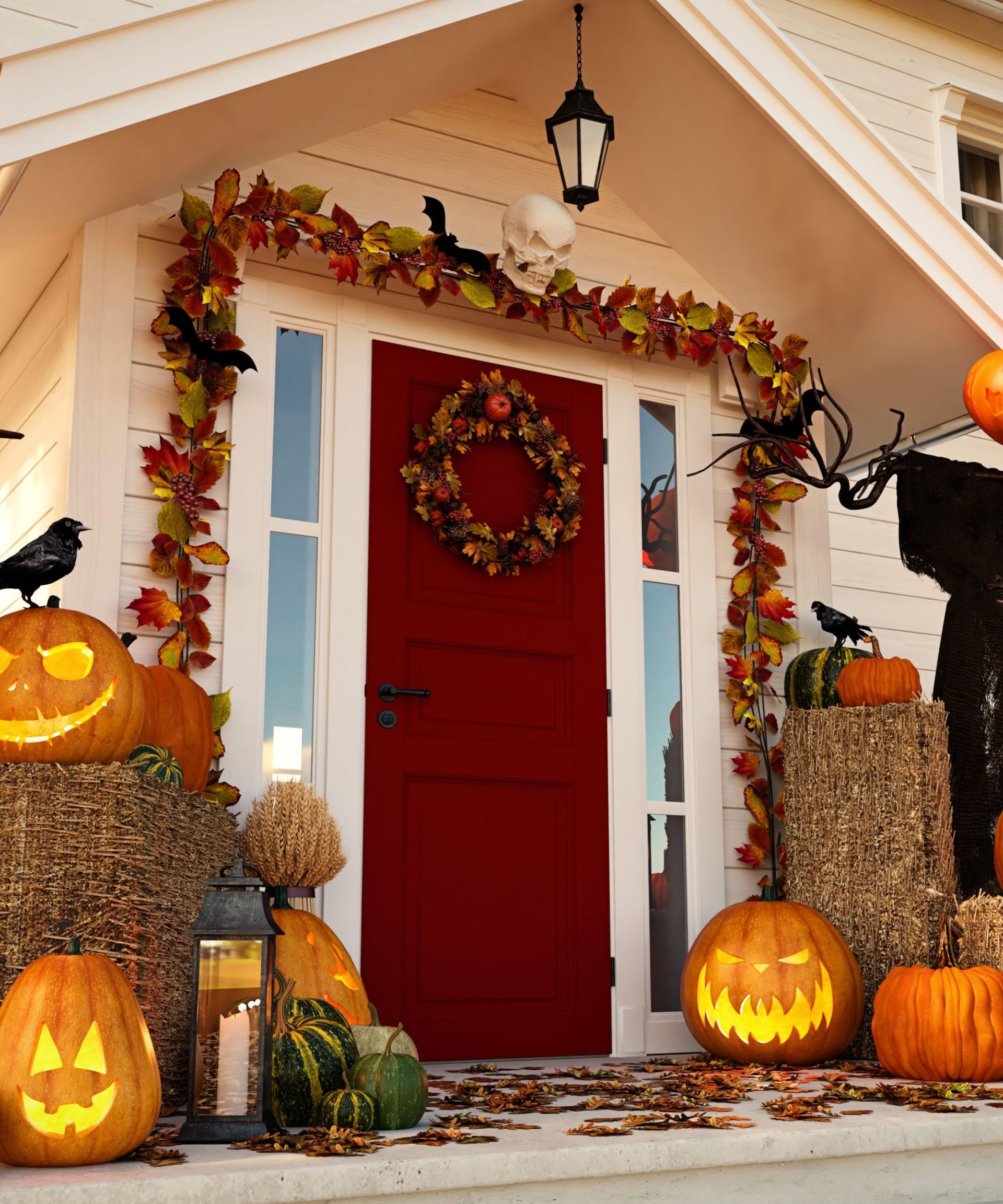 There are many different Halloween decorations to adorn your door that would elevate your entryway, whether this is a Halloween garland, lights, creepy figurine decorations, or cobwebs.
Interior designer Henry Brooksays, 'In my opinion, this decoration embodies the spirit of the season while welcoming guests with warmth. By arranging a row of pumpkins or pumpkin-shaped decorations in an arch-like formation, you're creating a magical pathway that draws attention in the best way possible. Adding fairy lights to the archway not only casts a warm and welcoming glow but also extends that Halloween magic into the night.'
Cam Dowski at We Buy Houses Chicago adds, 'Use sheer black or lace curtains to produce an atmosphere of suspense and mystery. These can be hung above windows or doorways.'
We've listed some great Halloween door decor for your entryway, below.
Wuffmeow Artificial Black Rose Vine
$11.69
This gothic rose garland can be the perfect and easy decoration to wrap around a banister, hang over a door or mirror frame to add a captivating Halloween element to your home.
$99
This beautiful light up crystal spider web is an original Halloween wall display that can bring a sparkle to any space.
7. Seasonal table decor
For those with a table in your entryway this can be the perfect opportunity to construct a balanced display with your favorite smaller Halloween decorations.
Cam Dowski says, 'Place an eye-catching centerpiece at the entrance, such as a
sizable pumpkin with intricate carvings, a wreath with fake black branches and
spooky accents or candelabras.'
8. Halloween wreath
Finding a good wreath with Halloween accents will be a guarenteed success in your entryway decor, and can look great hung not only on the inside of your front door, but also as a wall display or hanging from the ceiling.
Opt for a gothic wreath made from bare branches and twigs, with dark flowers, or make a Halloween wreath with fall colors, pumpkins and gourds to add some color to your entryway.
Jason Farr, CEO of Cozy Wreaths says 'You can also decorate their front door with fall inspired wreaths made out of colorful leaves, berries, pinecones, and small pumpkins. This would look absolutely beautiful on your front door while creating a Halloween vibe.'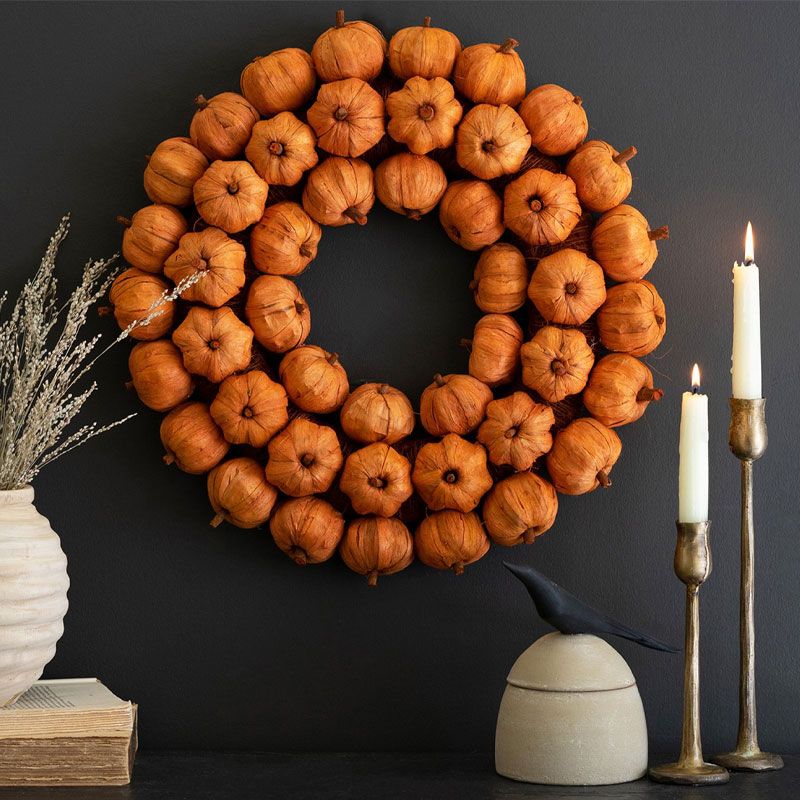 $89
Celebrate the changing leaves and autumn's bounty with this festive pumpkin wreath. It's a charming addition, whether you're refreshing your front door or decorating your fall mantel.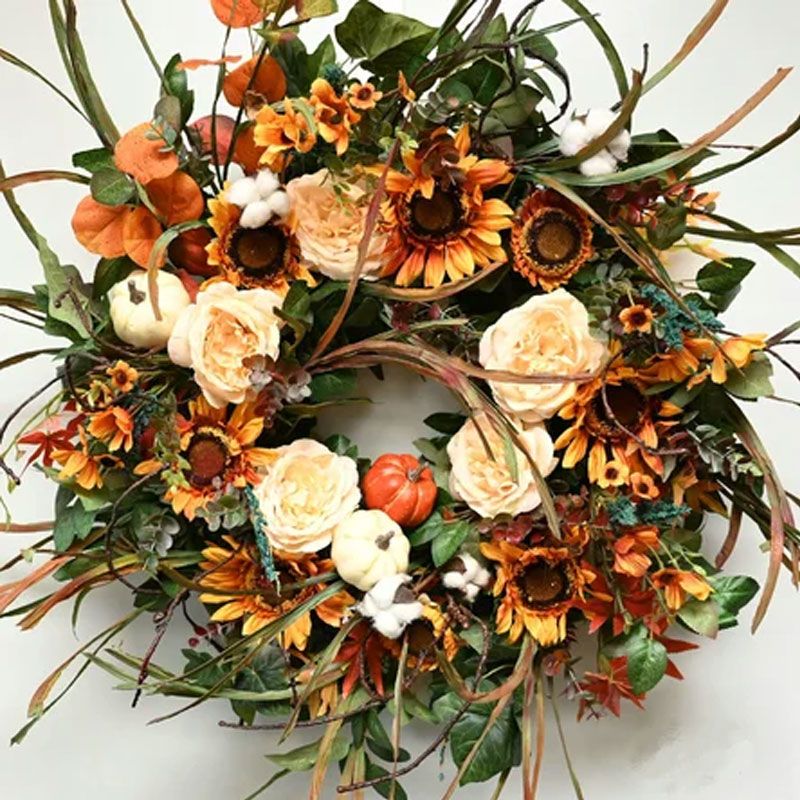 Faux Sunflower Floral Wreath by The Holiday Aisle
Was $95.99, now $70.99
This colorful wreath will bring in the beautiful colors of fall into your home, perfect for hanging on a door, on a wall or above a fireplace.
FAQs
How can I display pumpkins in an entryway for Halloween?
Nothing screams Halloween like pumpkins, but think beyond the classic Jack-o'-lantern. Instead, arrange your pumpkins in a purposeful display by layering pumpkins of different heights amongst candles and gourds.
---
Remember not to block your entryway with your Halloween decorations, since functionality is always key to creating a tasteful display.
For one last idea, you can also use a cauldron to keep Halloween treats in your entryway for visitors. With these decoration ideas, you can craft a memorable and exciting Halloween entryway that impresses your guests and trick-or-treaters alike.
Sign up to the Homes & Gardens newsletter
Decor Ideas. Project Inspiration. Expert Advice. Delivered to your inbox.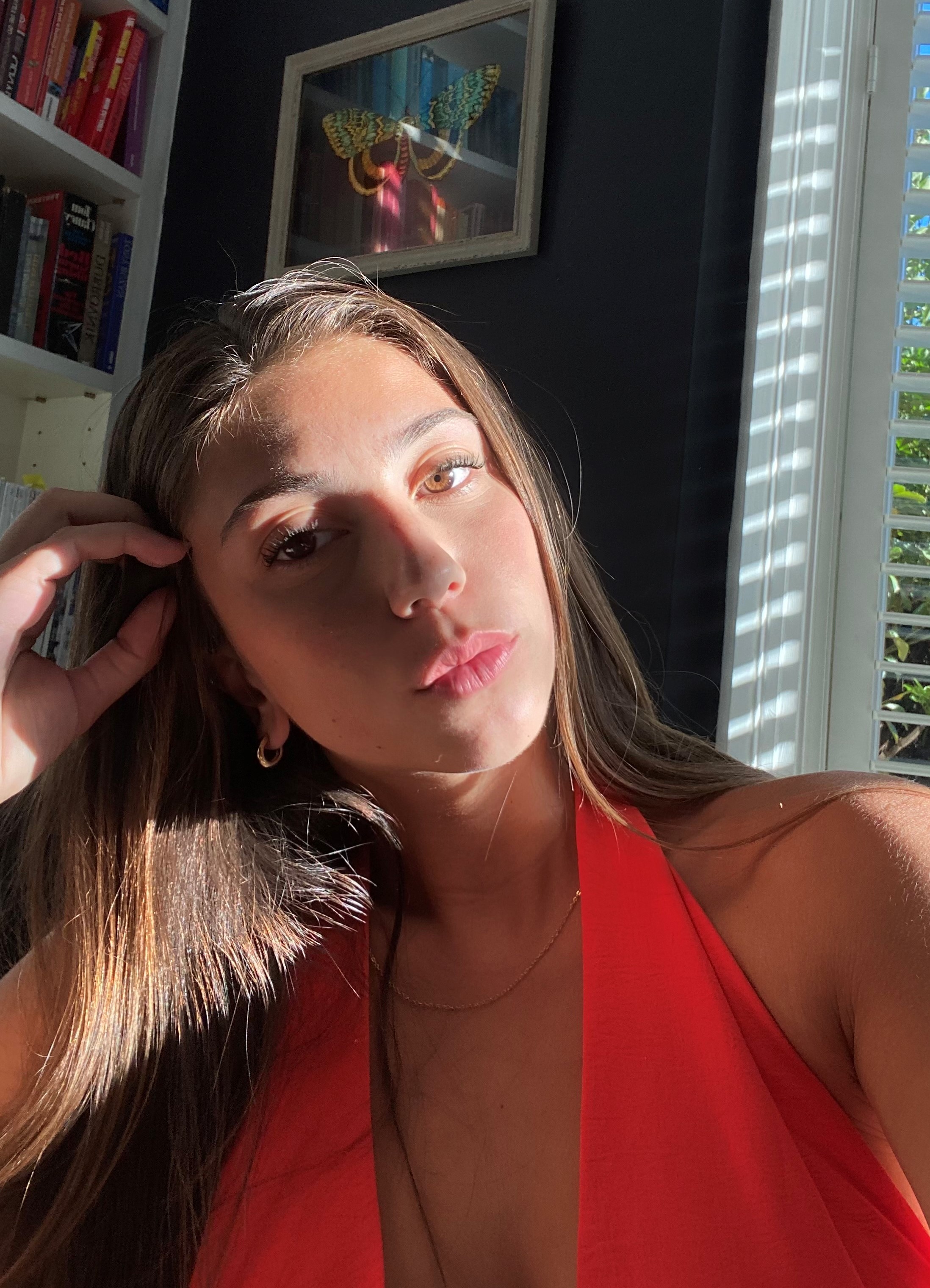 Lola Houlton is a news writer for Homes & Gardens. She has been writing content for Future PLC for the past five years, in particular Homes & Gardens, Real Homes and GardeningEtc. She writes on a broad range of subjects, including recipe articles, reviewing products, writing 'how to' and 'when to' articles. Lola now writes about everything from organization through to house plants. Lola is a graduate student, who completed her degree in Psychology at the University of Sussex. She has also spent some time working at the BBC.