Games room ideas – 10 ways to turn a spare room into an interactive space
Create a games hub for the whole family that exudes style as well as practicality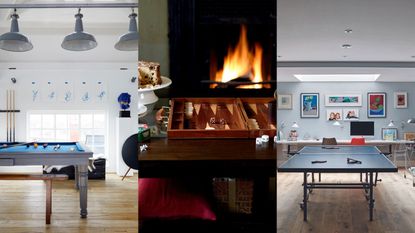 (Image credit: Future)
The best games room ideas cater to the whole family. A multifunctional room that has a variety of uses, the media room is often the place friends and family members come together to relax, play games and watch TV. Ensuring that your media room and games room incorporate a TV, games consoles, and an entertainment center will prevent these items from being left behind and awkwardly placed in an area that doesn't coordinate with your existing family or living room design scheme.
Game room ideas
Similarly to your living room TV ideas and movie room, you want to create a family room that reflects your personal style and personality, whilst thoughtfully planning the area to ensure the TV stand ideas fit perfectly in with the design of the space.
We have gathered our favorite games room ideas to help you make the most out of this versatile family space in the home.
1. Install a wall or mirrors to visually double the size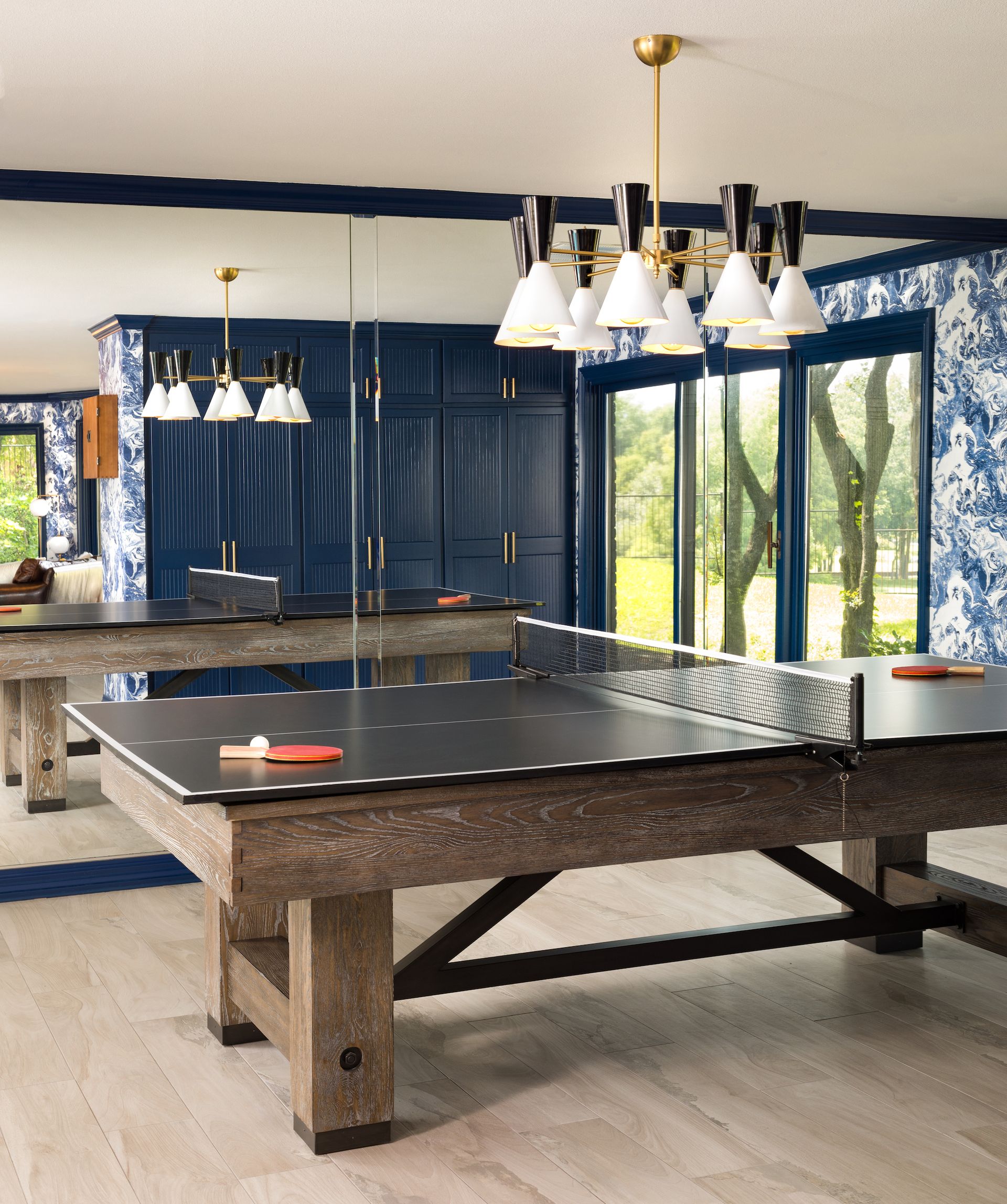 One of the easiest ways to make a room look bigger, decorating with mirrors in a games room can have a significant impact on the appearance of the space.
'In terms of functionality, a mirror can be used to spread natural light and to create the illusion of space. If you have a small games room, consider installing a mirror on the ceiling, or style leaning against a focal wall,' says Anna Franklin, interior designer and founder of Stone House Collective. 'To maximize light, position mirrors in areas where natural light shines to reflect the light to more dimly lit areas – making the overall space feel brighter throughout the day.'
2. Zone a games area with a rug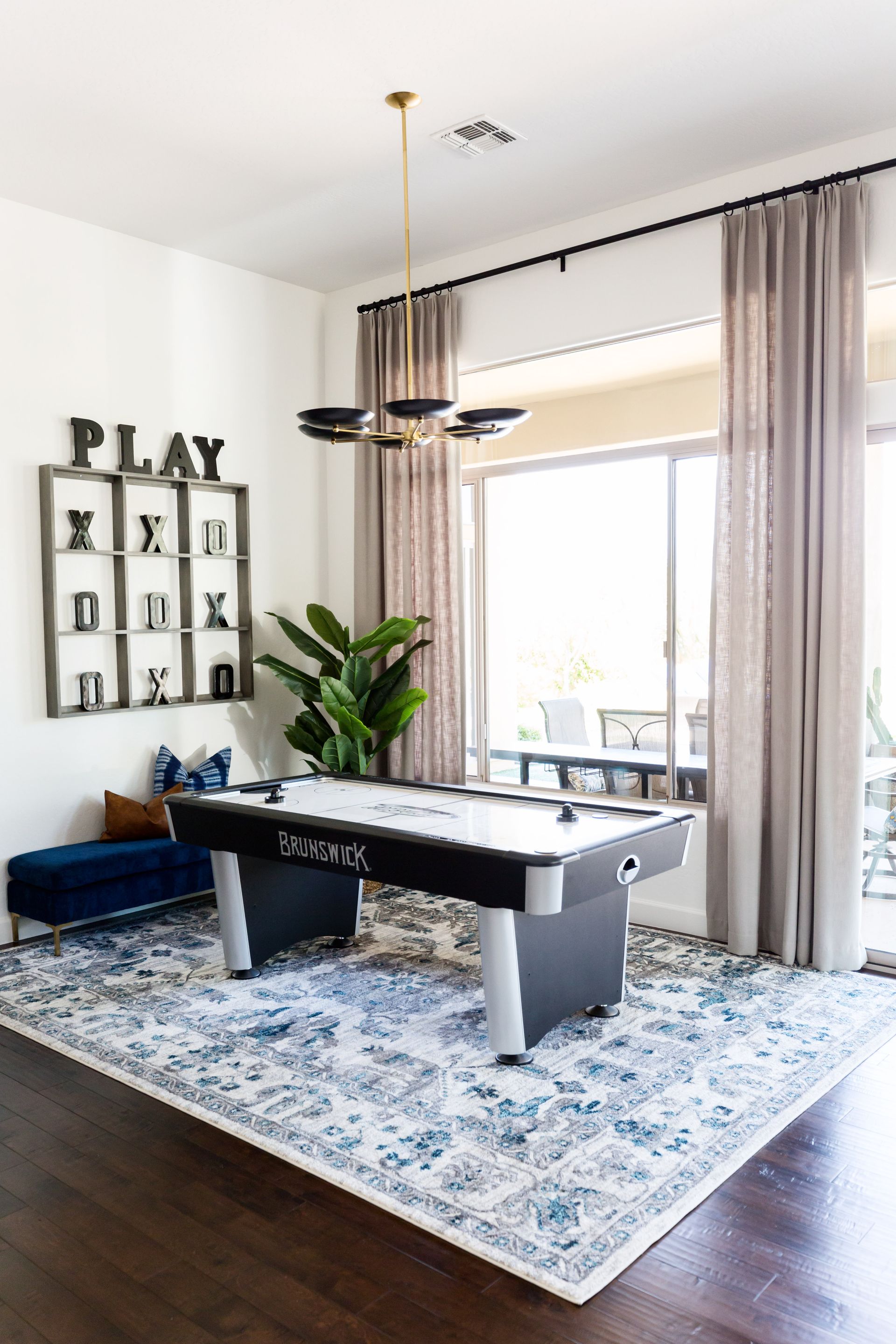 Rugs are an interior design tour de force; they can do wonders for just about any room in the home. Along with natural flooring and carpet, rugs boast many useful practical attributes. It's an excellent insulator, cutting down on draughts and thus reducing heating bills.
'What's more, you can use it to help unify a scheme by running the same rug throughout an entire floor, or introduce changes to help draw boundaries and define zones, and a soft rug will add a splash of color, comfort, and pattern to any games room, as shown here,' says Lauren Lerner, founder and principal designer of Living with Lolo.
3. Add texture with wood cladding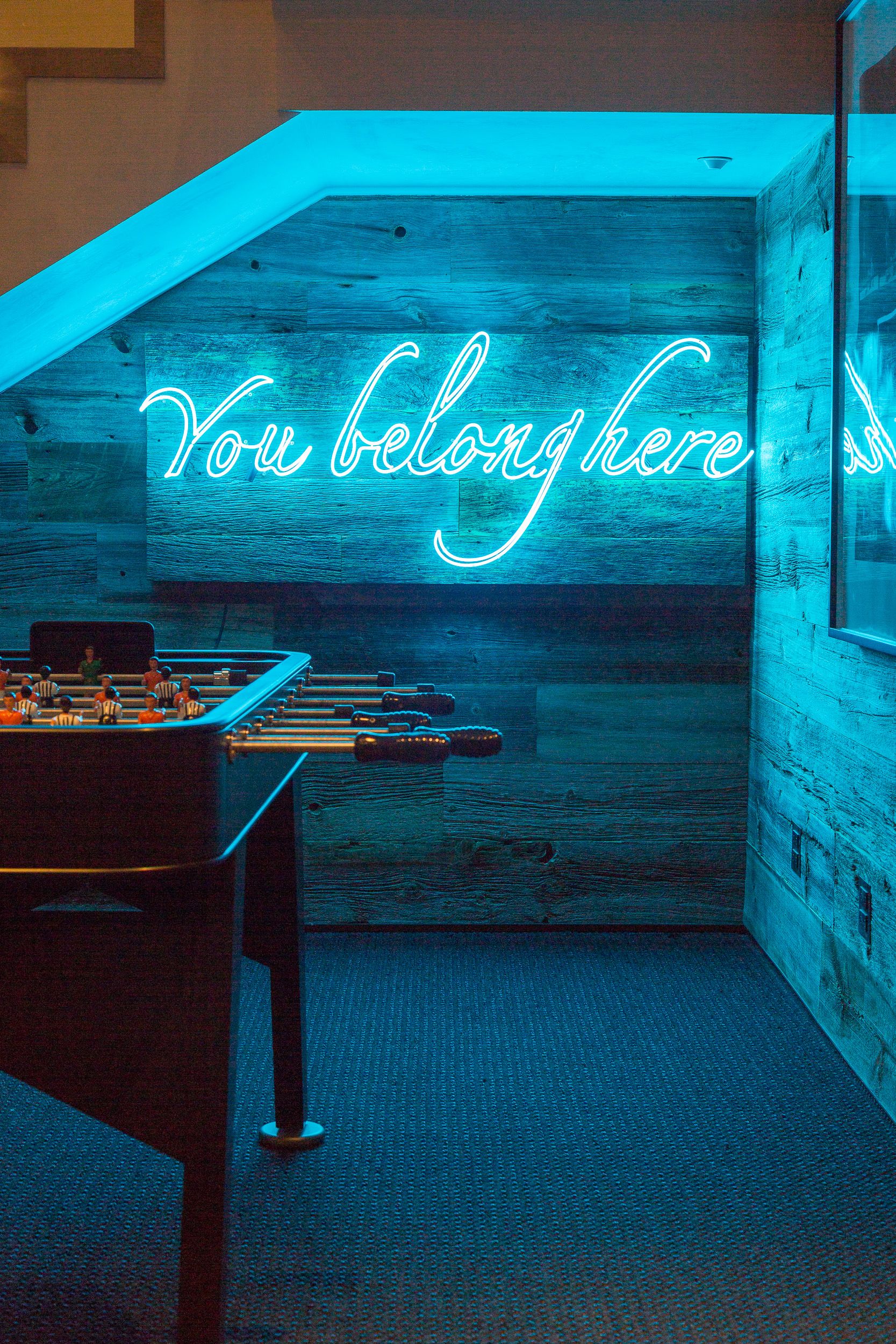 While wall paneling ideas are often associated with period homes or traditional interiors, they are actually a really useful decor element for layering and adding texture to contemporary games rooms too. 'One of our favorite ways to make a home look expensive, wall paneling instantly elevates and can be used in every room of the home, adding depth and interest to the space,' says Samantha Todhunter, founder of Samantha Todhunter Design.
4. Work with existing architectural details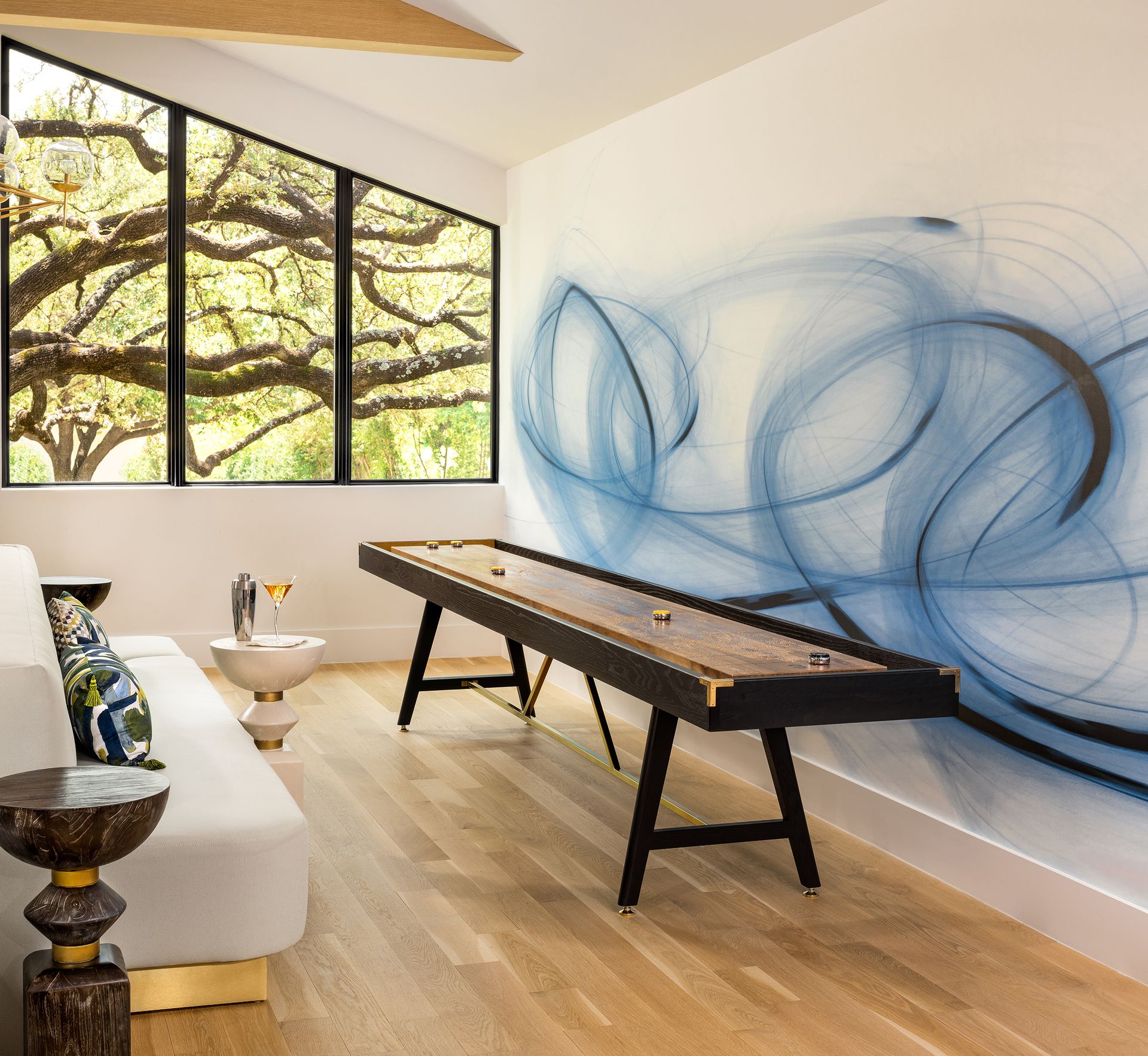 Work within the proportions of your room to create a games room that won't cramp on the style of the home or its residents. Here, a shuffleboard, with its narrow and slimline design fits nearly under the eaves in this contemporary loft room. The rest of the space has been decorated using a neutral color scheme and minimalist furniture choices to make the most of the impressive vista beyond.
5. Curate a contemporary space that has entertainment at its core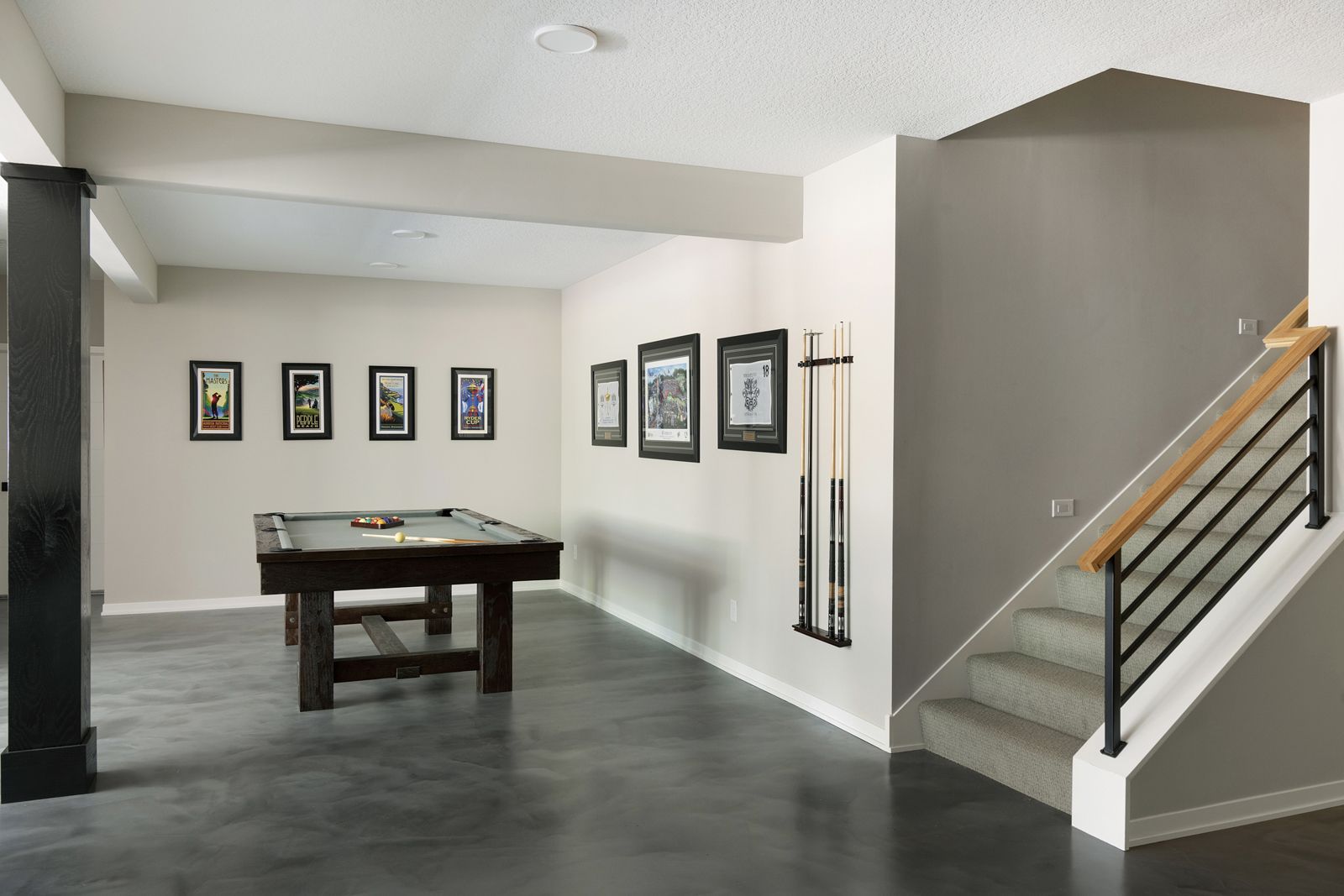 'Not all game rooms should be reminiscent of old gentlemen's clubs, in fact, a modern and simple design will ensure that clutter and chaos are distant thoughts,' says Amy Leferink, owner and principal designer at Interior Impressions. Here, the pool table takes center stage will the empty space means you can move the party down to the basement at a moment's notice.
6. Create a cozy gaming nook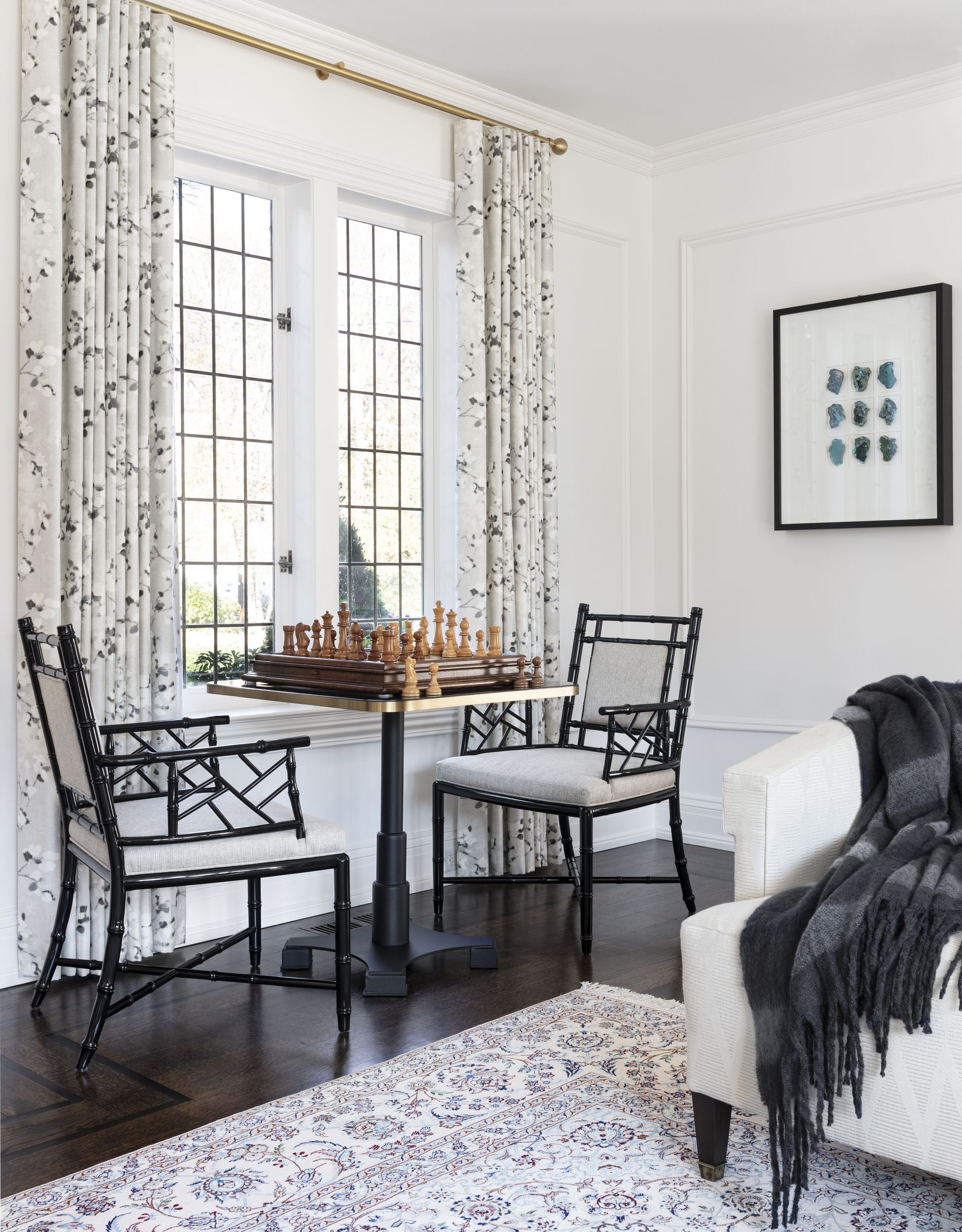 'Elevate your game with a luxury chess set and a cozy vignette for two,' says Malka Helft, founder of Think Chic Interiors. 'This space takes advantage of the bright light from the window while mixing pattern and texture to get your brain sharp and engaged for a riveting game of chess.'
7. Combine a home bar with an entertainment space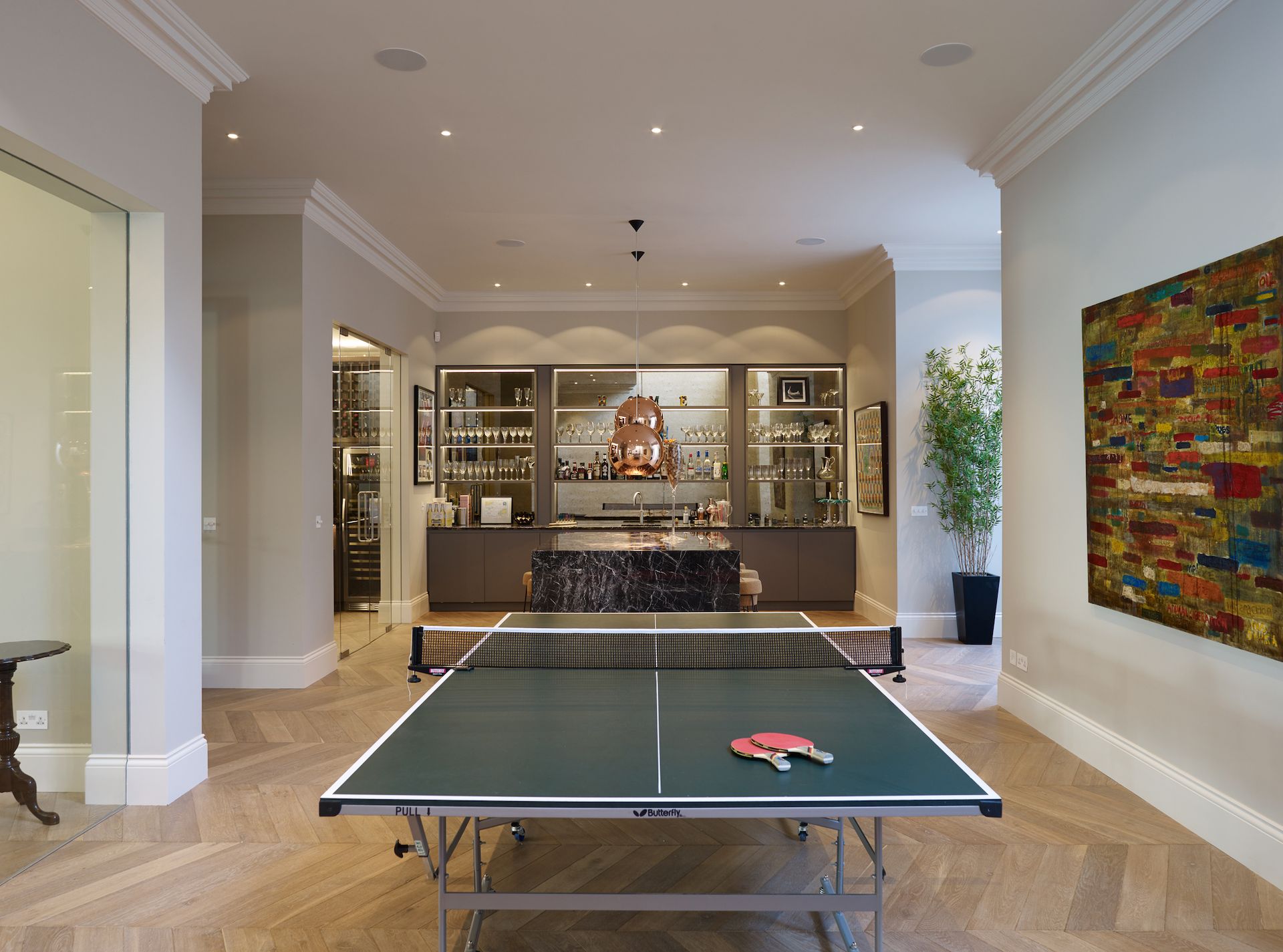 'A games room with a bar is the ultimate adult play space with something for everyone,' says Mark Sylvester, Icon Architects.
A dedicated drinks area complete with a cocktail bar-inspired island is the last word in luxury when entertaining. It gives you the opportunity to have fun with it and be a little whimsical, contrasting the sharp sophistication of the bar with the simple joy of the ping-pong table.
8. Source vintage finds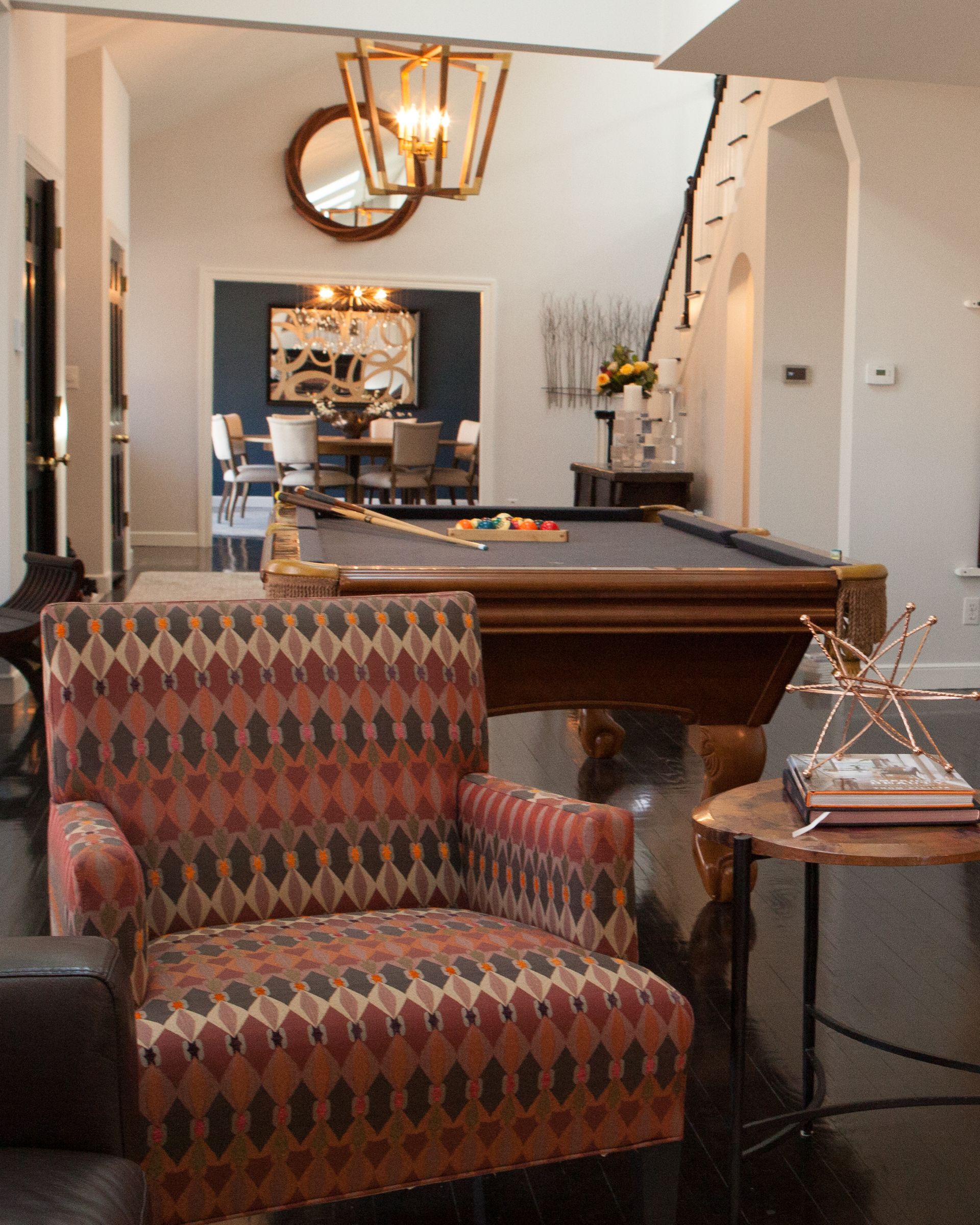 'Designed around a wooden Victorian-style billiards table and a custom, vintage wooden bench repurposed from an old train station, the design firm reinvented the notion of a traditional seating area,' says Susan Hayward, principal at Susan Hayward Design.
The open room with high, beamed ceilings is the perfect setting for entertaining or enjoying time together as a family unit. Their pool table is the centerpiece of the room and is flanked by two custom-upholstered armchairs for guests to occupy in between turns.'
9. Invest in a simulator for the ultimate experience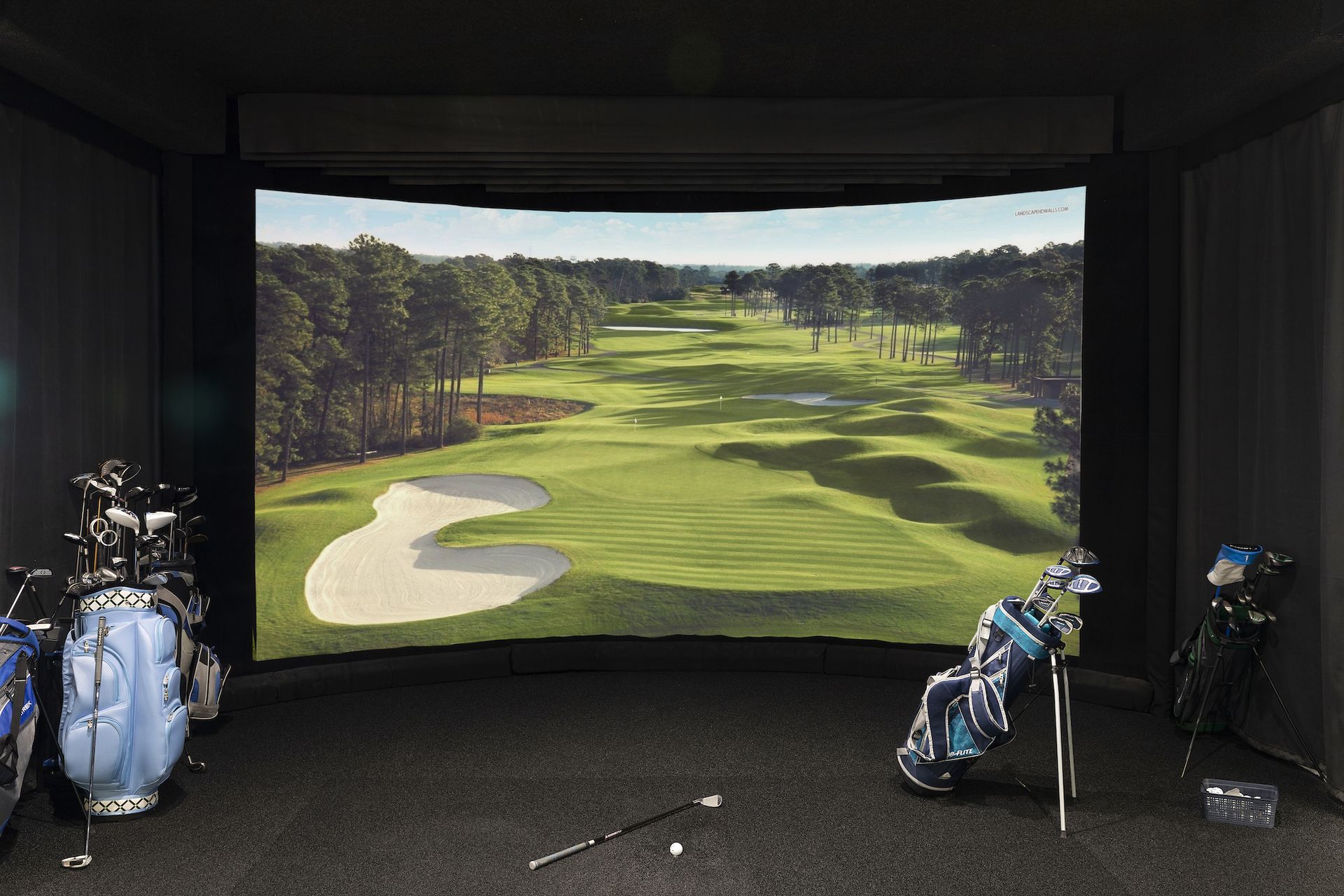 'A golf simulator is a must-add to today's game rooms, especially for the avid athlete,' says Julie Ann Witt, owner and principal designer at Julian Design. 'We love how engaging a room like this can be for teens and adults alike and it doesn't require a ton of extra room knowing that the screen is flat. It's a great addition to a smaller game room space,'
10. Give the pool table pride of place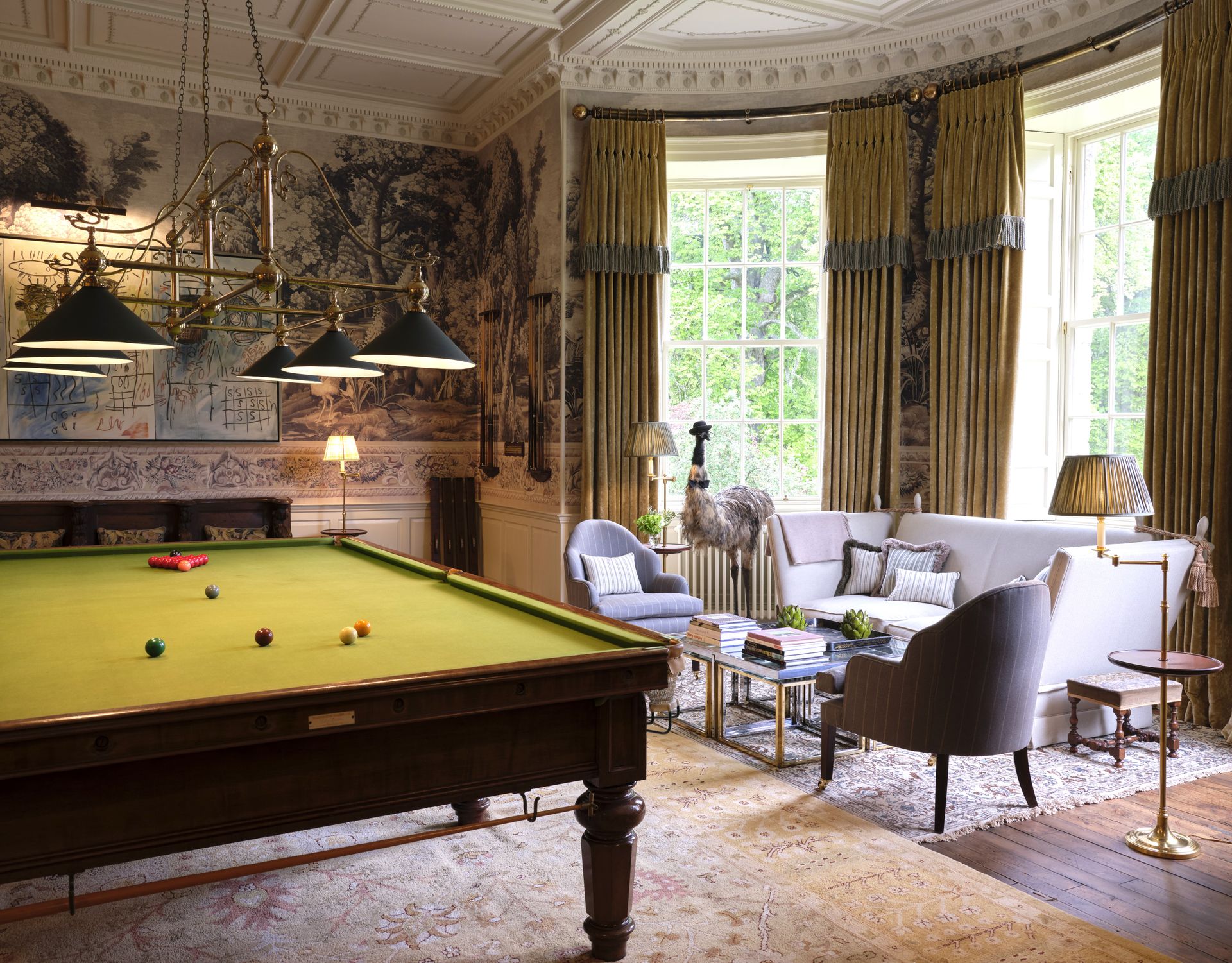 'If the pool table is the family favorite it can be combined successfully with an existing scheme. Here, although it gets the center space, there's ample room by the bay window for a cozy living room area. Lighting is key, make a feature of it by choosing a multiple-armed light that covers the whole pool table.
What should be in a games room?
The best games room ideas will not only feature your favorite games, whether they are gaming areas, pool rooms, or music rooms, but also a well-thought-out interior design scheme.
When you have decided what the main games, instruments, and electronics are going to be housed in your games room, start getting creative with accessorizing and styling. Plants, ornaments, picture frames, and books are just some of the items you can use to add personality and style to your entertainment center.
Sign up to the Homes & Gardens newsletter
Decor Ideas. Project Inspiration. Expert Advice. Delivered to your inbox.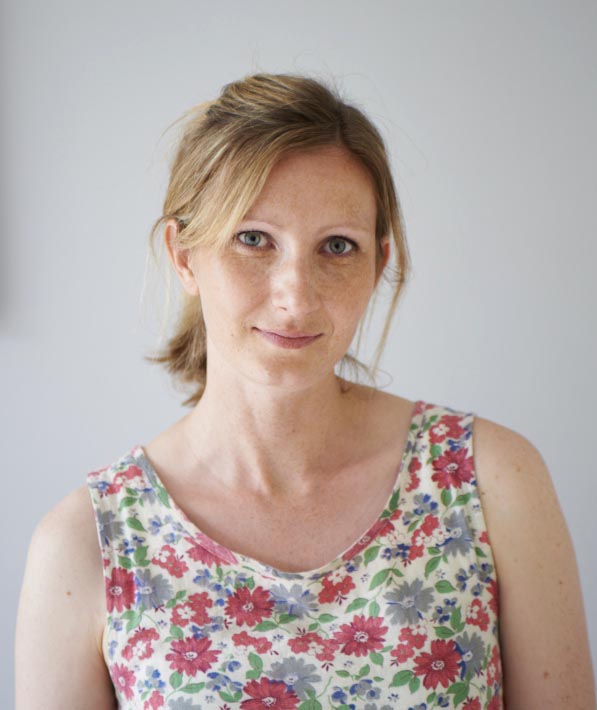 Sophie has been an interior stylist and journalist for over 20 years and has worked for many of the main interior magazines during that time, both in-house and as a freelancer. On the side, as well as being the News Editor for indie magazine, 91, she trained to be a florist in 2019 and launched The Prettiest Posy where she curates beautiful flowers for modern weddings and events. For H&G, she writes features about interior design – and is known for having an eye for a beautiful room.