6 cleaning methods you should never use on a fabric couch – and 5 simple ones that work
A cleaning expert reveals what you should and shouldn't be doing to clean your fabric couch effectively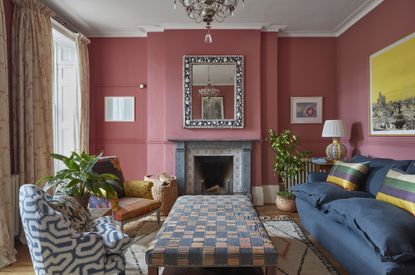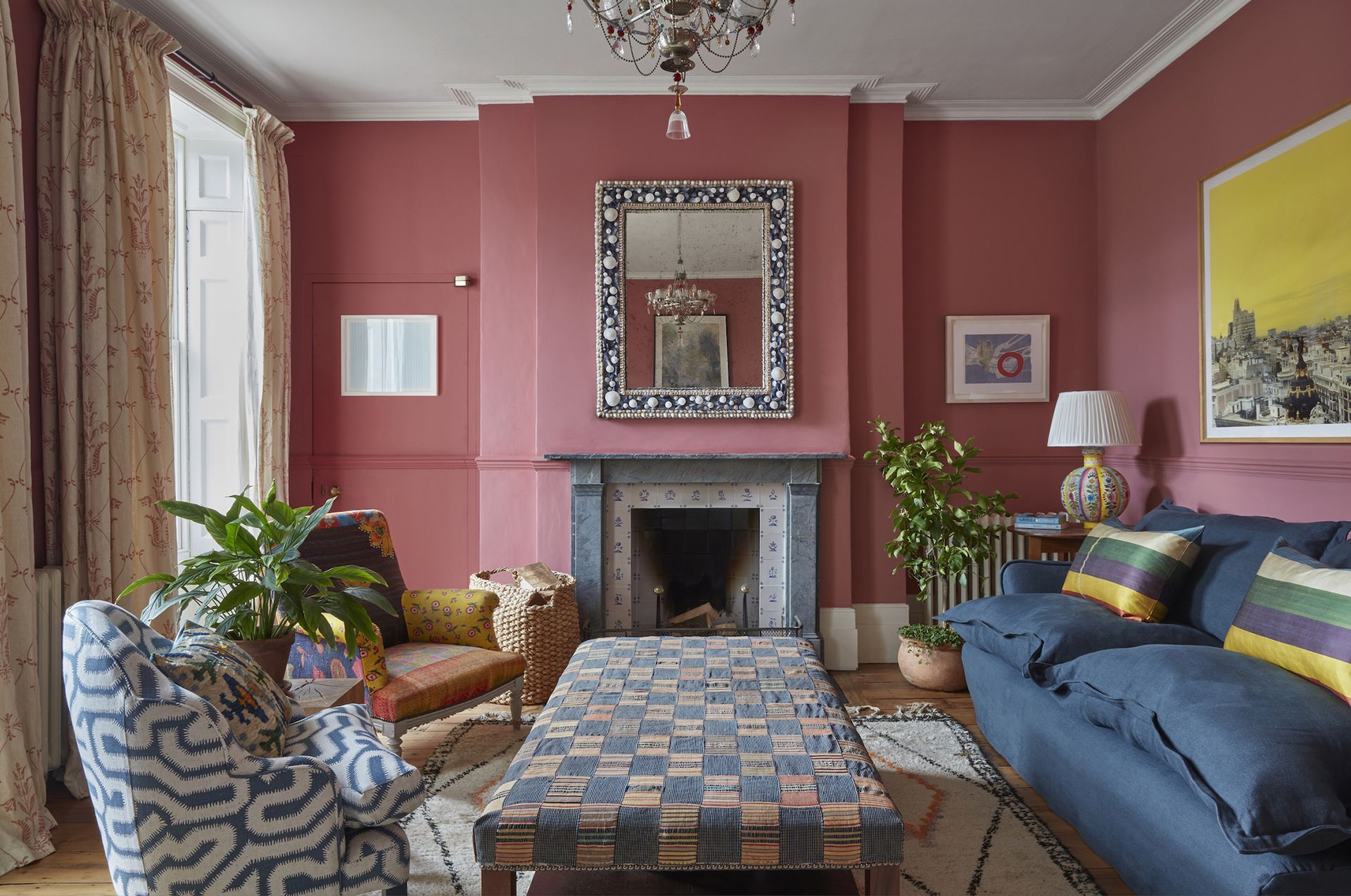 (Image credit: Interior by Kate Guinness / photograph James McDonald)
Fabric couches are cozy, warm and inviting. But one issue that often rears its head is knowing how to clean a fabric sofa effectively, and without damaging it.
Whether it's movie night popcorn kernels, sticky chocolate fingers, or accidental red wine spills, the couch has a lot to live with. And, while vacuuming is great for cleaning a couch of loose debris and the odd cluster of pet hair, set-in stains will need a deeper clean.
Unlike when cleaning a leather sofa, most fabric sofas are not wipe clean, and safe and successful results take a little more planning. This is what our cleaning expert suggests.
What to do before you clean a fabric couch
Before you attempt any type of cleaning, always check the manufacturer's instructions first; you can usually find cleaning guidance on the label. Common cleaning codes on the label are:
W - Use a water-based cleaner.
W/S - Use water-based or solvent-based cleaners.
S - Use a solvent-based cleaner only.
X - Vacuum or brush clean only.
If you don't follow the manufacturer's guidelines, you run the risk of damaging the fabric and voiding any warranty you may have on the sofa.
Once you've checked the guidelines, the expert tips below will show you how to – and how not to – clean your favorite couch.
Cleaning methods you should never use on a fabric couch
Whether you're giving your living room sofa a freshen up as part of a full living room cleaning process, or need to do an emergency stain clean up, here's what not to do below.
1. Never rub, always blot
'Always blot, blot, blot with paper towels or clean absorbent rags,' says Sabrina Fierman, of luxury residential cleaning firm NY Little Elves.
Rubbing sofa fabric can leave unsightly bobbling, especially on natural fibers like linen. It can also cause a stain to spread further into the couch, rather than having the desired effect of removing it.
2. Never use Oxyclean
Oxyclean bleaches and can leave your lovely fabric couch discolored and looking worse than it did before.
3. Never use laundry detergent or dish soap
Both laundry detergent and dish soap commonly pop up as effective solutions for cleaning fabric couches. However, Sabrina Fierman suggests this is not the case as 'you can never get all the residue out'.
4. Never use Windex
Windex should never be used like an all-purpose cleaner. The reason? It contains ammonia, which can damage your couch fabric and cause discoloration.
Any product that contains ammonia should be avoided when cleaning your fabric sofa.
6. Never use white wine on red wine
The age-old white wine removes red wine stains hack? It's only half true we're afraid.
Cleaning expert Sabrina Fierman says it's actually not a good idea to use white wine as a means to get rid of a red wine stain. Why? 'White wine will dilute the red wine, however this does not remove the stain, it will only spread it out giving you a lighter but larger stain to deal with.'
How to clean your fabric sofa the right way
Got some pesky stains to deal with? Always blot the offending couch invader before applying a cleaning solution.
'Blot as much of the wet stain as possible with paper towels or rags,' says Sabrina Fierman. 'In a pinch, you can also use newspaper. The more liquid you soak up by blotting, the less you have to remove.
'When you cannot get any more of the culprit up with blotting, apply one of the following depending on the substance.'
1. General stains (juice/soda)
Firstly, vacuum your sofa with the brush attachment to get rid of any debris.
Then, you can use talc, baby powder, baking soda, corn starch, or flour (in that order of effectiveness).
Sabrina says: 'Sprinkle over the stain completely, and let sit for 10-30 minutes, then vacuum up thoroughly.'
2. Red wine
The method for cleaning with baking soda above should work on a fresh red wine stain, but if it's been left a while or is old, you may need to reach for the hydrogen peroxide.
Spray hydrogen peroxide over the stain so that it is all covered, then sprinkle baking soda over the top. Leave for around 20 minutes before blotting with cold water.
Note: never rub a red wine stain as this can spread the wine deeper through the fabric.
If opting for a commercial cleaning product, Sabrina recommends Wine Away Red Wine Stain Remover.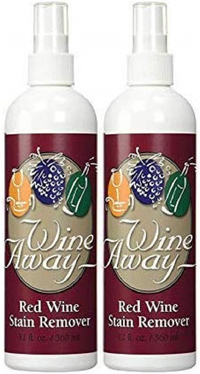 Wine Away Red Wine Stain Remover, $16.99 for 1 12oz bottle and one 2oz bottle
Works on fresh and dried stains without bleach or phosphates. Use it to remove wine but also coffee, blood, ink, fruit punch, sauces, red medicine stains, and even pet accidents. Safe for clothing, carpet and upholstery. Has a fresh citrus scent and is safe to use around children or pets.
3. Chocolate
Chocolate and fabric couches are not best friends, but it's highly likely you'll find some melted into the couch at some point. But, don't worry, it's relatively easy to remove.
'Use warm water to loosen, blot well and then vacuum,' says Sabrina.
4. Gum
If you've got kids who are prone to wiping dirty fingers on the sofa, then the dreaded chewing gum could make an unwelcome appearance on your sofa at any time.
All you need? Ice.
Sabrina Fierman says: 'Simply place an ice cube or ice pack on the gum and freeze for 15 minutes. Then pick the gum off.'
An effective, if not pleasant, process.
5. Blood
Scraped knees can often cause a mess on your beautiful couch. As with red wine stains, hydrogen peroxide is your friend it comes to removing blood from your fabric couch.
Simply apply a small amount of hyrodgen peroxide to the stain and the blood should start to disappear. When the stain is gone, blot the area with cold water. Repeat the process if necessary.
How to get odors out of your couch?
Baking soda is a rather nifty product when it comes to removing smells as well as stains.
'This miracle substance immediately gets to work capturing odors and loosening stains after it is applied to your couch's fabric,' say the experts at Merry Maids. 'Apply baking soda to your cushions, arms, backrest, and even crevices.
'Let the baking soda sit for 20 minutes if you are eliminating minor odors. Feel free to leave it for a full hour if you have some serious odors to deal with. Now break out the vacuum and hose everything up.'
Sign up to the Homes & Gardens newsletter
Decor Ideas. Project Inspiration. Expert Advice. Delivered to your inbox.
Ruth Doherty is an experienced digital writer and editor specializing in interiors, travel and lifestyle. With 20 years of writing for national sites under her belt, she's worked for the likes of Livingetc.com, Standard, Ideal Home, Stylist and Marie Claire as well as Homes & Gardens.