Small games room ideas – 10 ways to making gaming stylish
Even the most awkward of spaces can be turned into small games rooms. Tiny... but terrific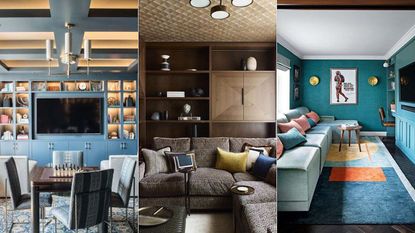 (Image credit: Geddes Ulinskas Architects / Cabellero / Paul Raeside)
If the kids – and kidults – are driving you nuts by gaming in your main family space or, perhaps worse, shut away alone in their rooms, perhaps you can make way for a small games room that's out of your way, but not out of the way?
You don't need a ton of space and, good news, it's the perfect use for that difficult to furnish, awkward-shaped or unused room many homes have. It could be in that chilly dining room you use but once a year, in a rarely-occupied guest room, the dingy basement or even the clutter-filled garage.
Wherever you put it, we're here to help you make it versatile if it is multi-purpose – and to come up with small games room ideas that are stylish and elegant, just in case the room is ever used for anything else.
Small games room ideas
Some small games room can be dedicated spaces, in which case you can go all-out on creating the perfect setup. Other games rooms might need to flex, in which case it will be more about working out ways to disguise the gaming as best you can.
1. Plan storage and lighting to perfection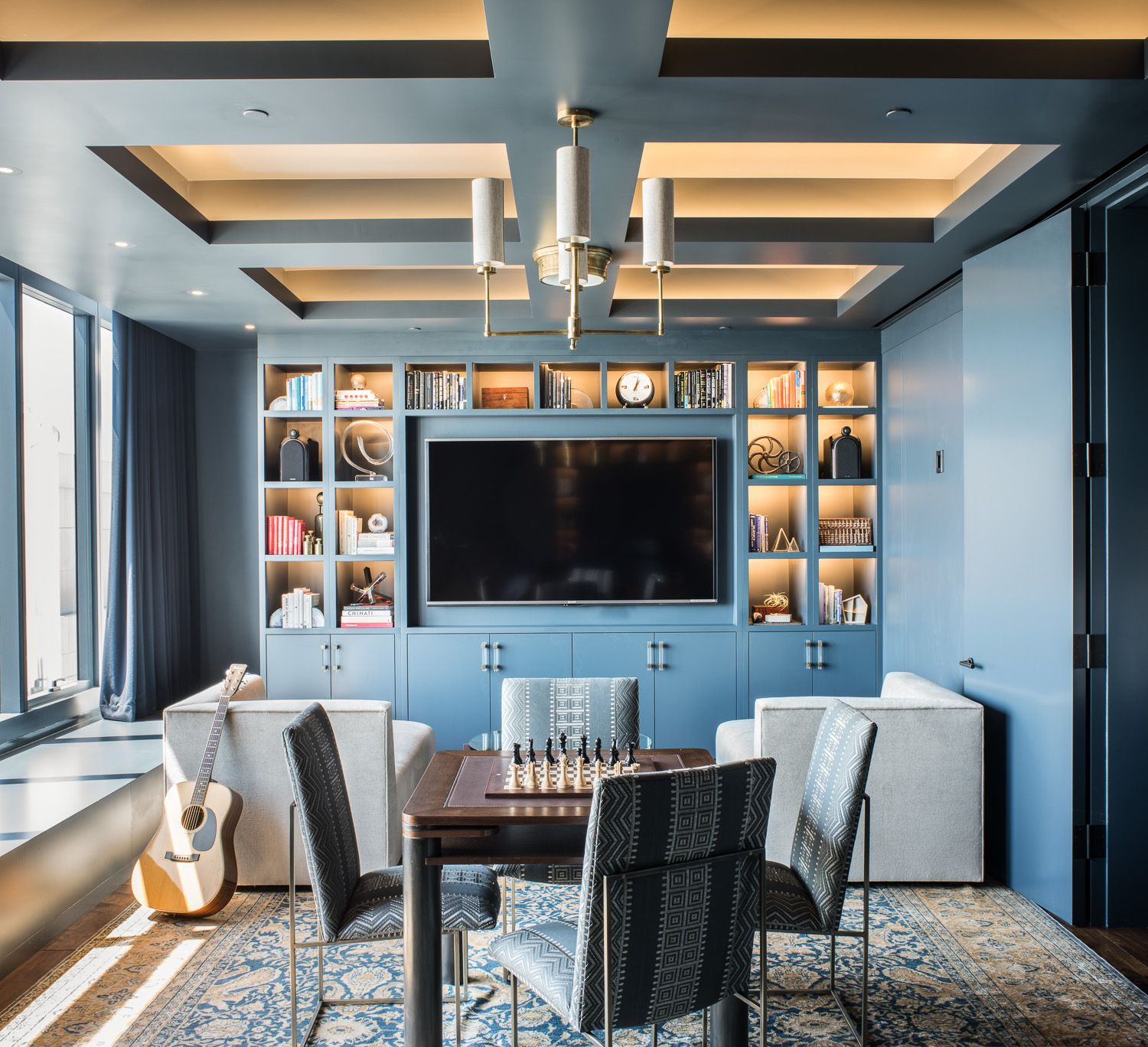 This is a small games room done to perfection. The half-sofas are equally ideal for gaming, guitar playing and lounging; the storage is a fine balance of display and hidden stash space, and the lighting makes the space feel warm and inviting. The color scheme is elegant, with deep blue being a restful, calming shade, too.
'This homeowner is a great innovator in tech and a brilliant coder. A cozy video game room was a must, as solving puzzles is in his nature, and exploring different outcomes with many different types of games is something he loves to do,' says the project's designer, Geddes Ulinskas, founder of Geddes Ulinskas Architects.
2. Hide the screen behind decorative doors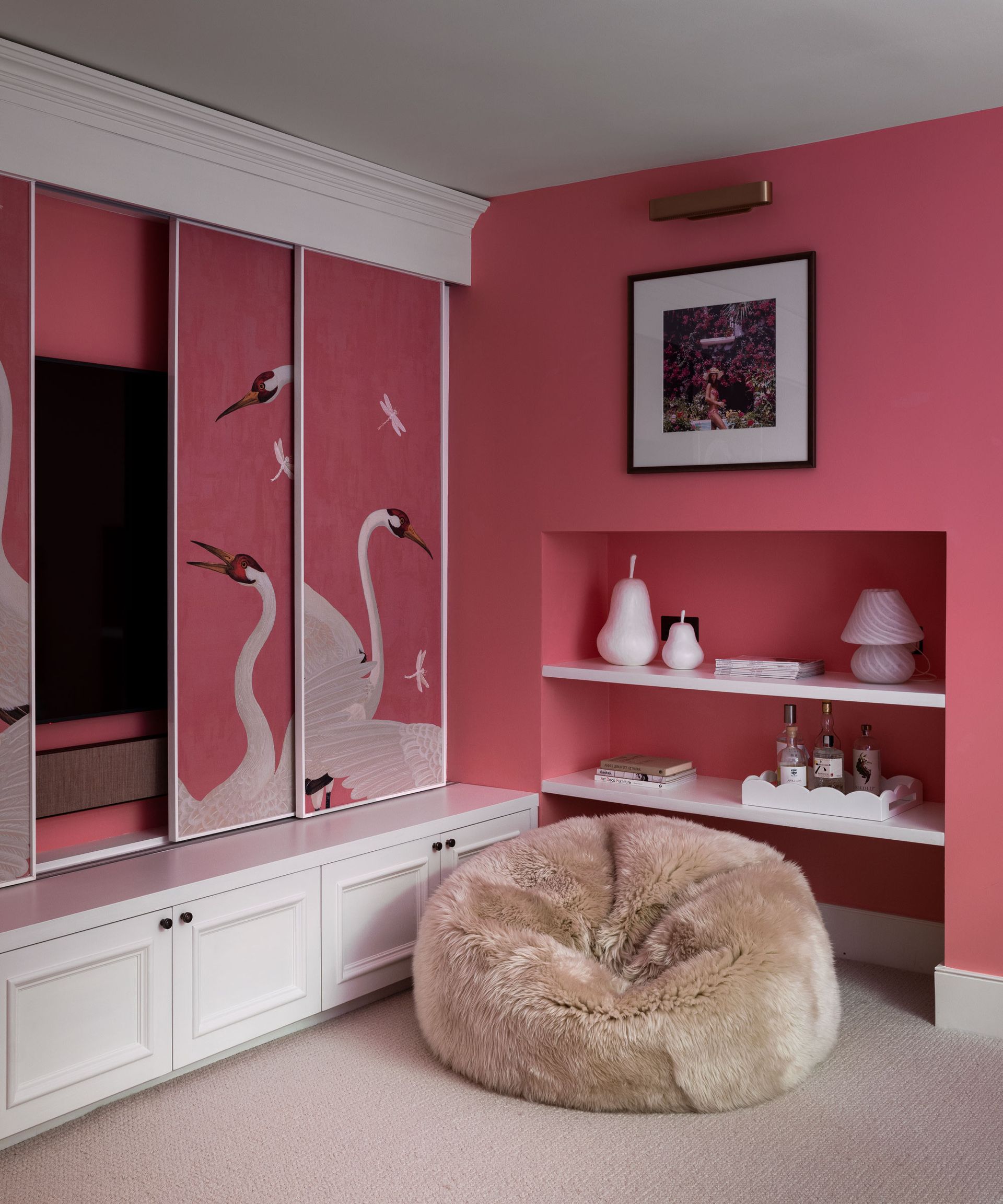 Whether your small games room is in a family room, guest bedroom, or you're looking for gaming bedroom ideas that can be hidden away when it's time for them to just stop gaming, having doors that can cover the screen will be a gift. If the wall has enough width, sliding doors are the most space efficient, and you can use bold wallpaper to create a pretty effect.
3. Make a small games room multi-purpose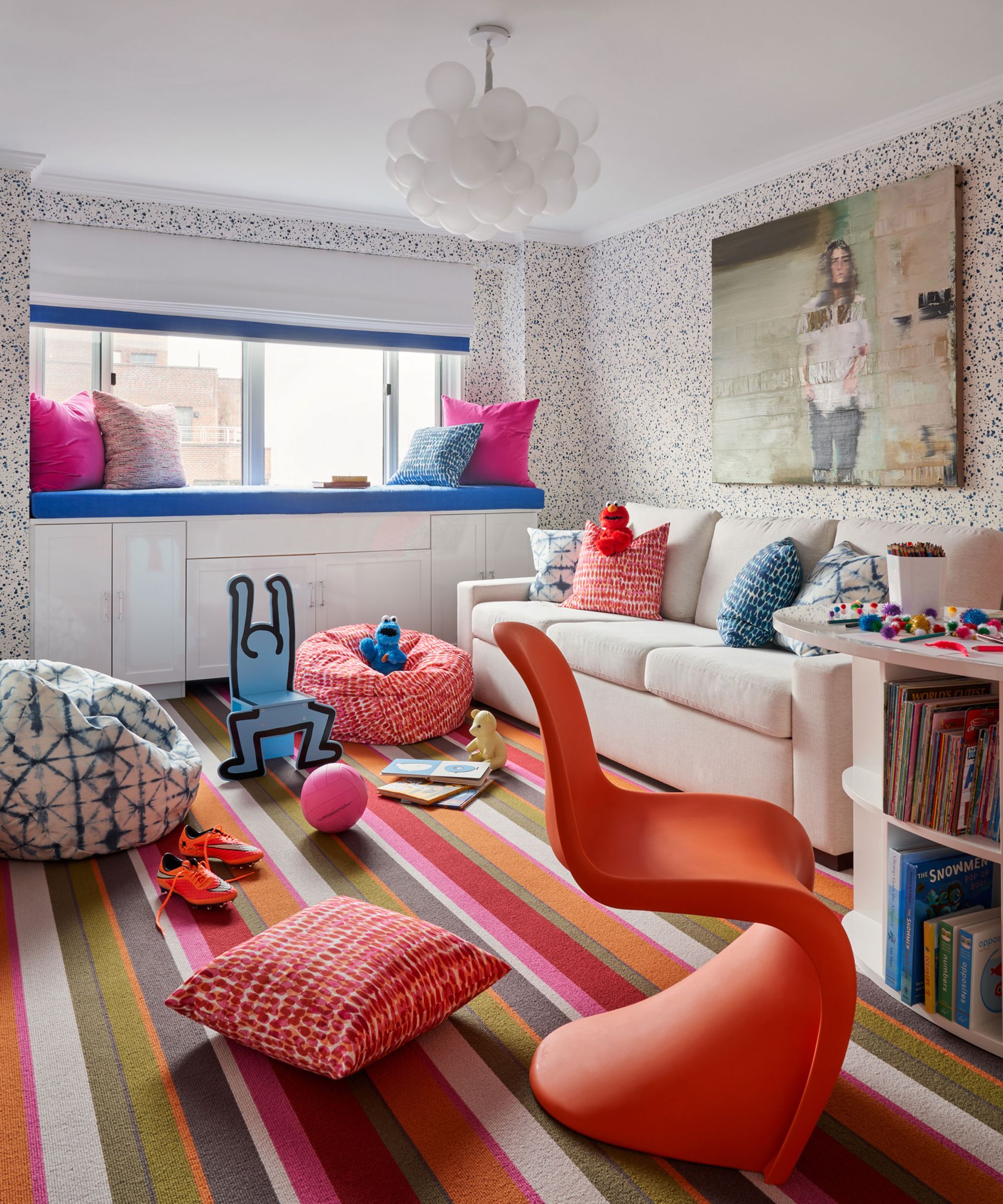 'If, like me, you have children of very different ages, any small games room is going to have to work for different approaches to gaming. So, while my older child might have been happy to sit on that couch and game without moving for hours, my younger one needed a different type of stimulation in between, from drawing to, seemingly, emptying toy baskets all over the floor,' says Lucy Searle, global editor in chief, Homes & Gardens.
'So, our small gaming room needed to be multi-functional, which meant prioritizing the slouch couch and screen alongside storage – built in under a window seat is an excellent space-saving idea – and desk space. Get your small games room right and it can double up as a schoolwork space, though you do have to work hard at ensuring they stick to their schedule without distraction.'
4. Use a mirrored wall to double your space visually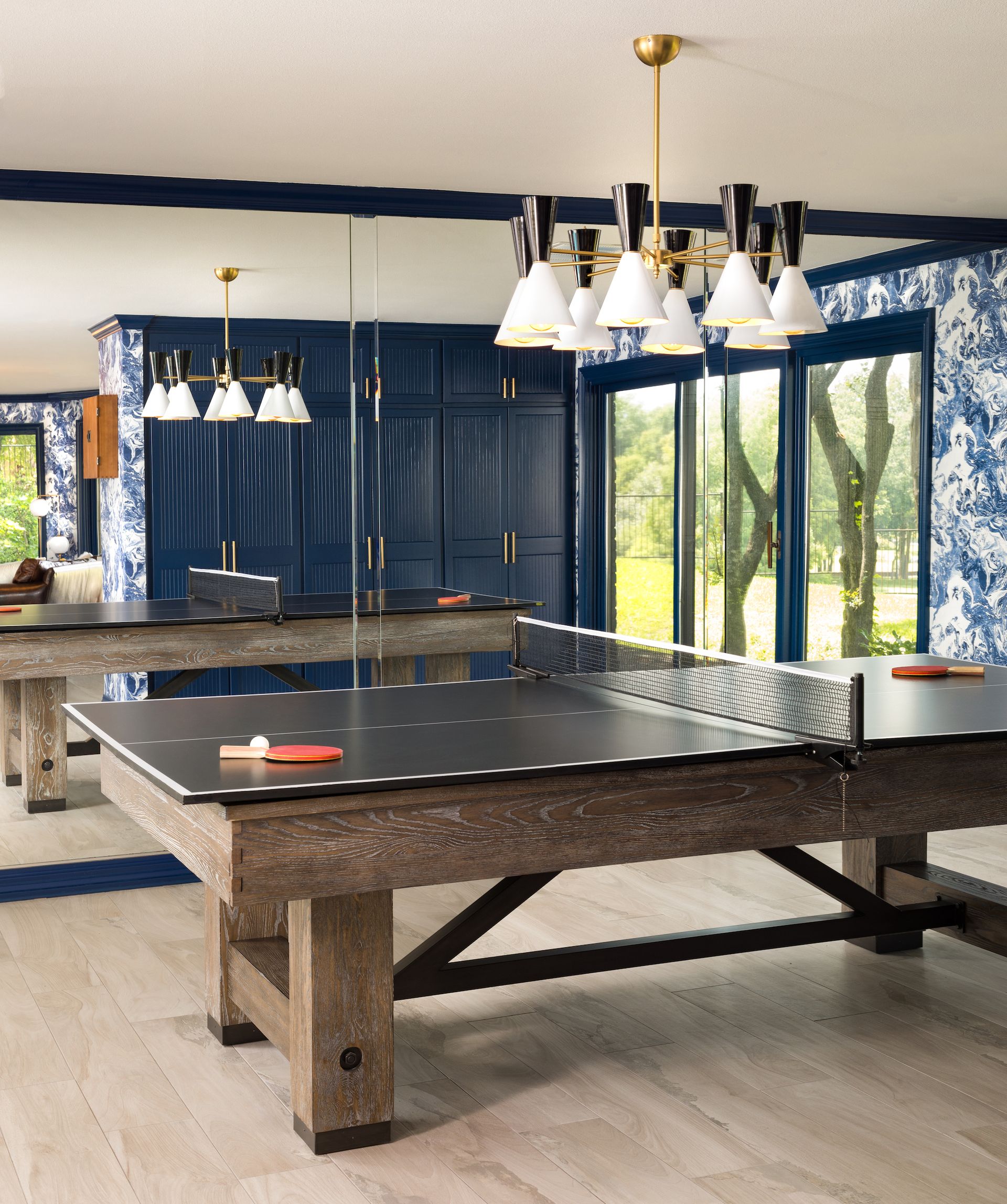 'Decorating with mirrors is a classic interior design trick for making small or dark spaces look larger, and no more so than in a small games room. It's a great use of wall space in a basement games room, too.
'I would advise doubling the effect of the mirror with well thought out lighting: a stylish central pendant will look wonderful, but will need supplementing with downlights and wall lights (both of which are more space-smart than floor or table lamps, which you may not have room for),' says Jennifer Ebert, digital editor, Homes & Gardens.
'Flooring, too, is important in a games room of any size. In our experience, it's the room where most drinks seem to be spilt, so make sure it's either a wipeable wood or easy to clean softer surface.'
5. Dedicate an unused space to gaming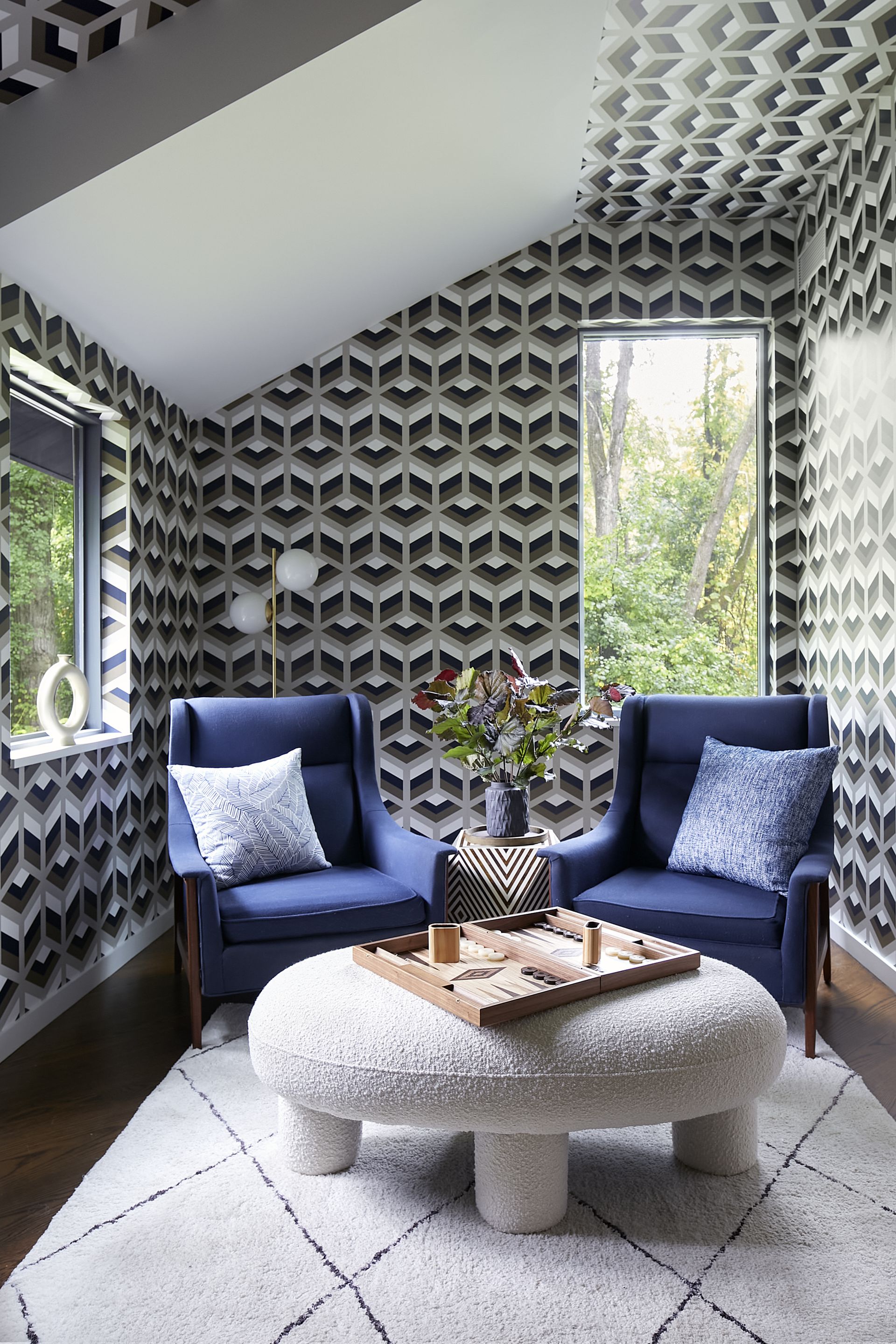 An enclosed porch, an unused, tiny addition and even an outhouse can be transformed into bright and bold, though small, games rooms. However, as with small TV rooms, these spaces should be beautifully decorated, and can be boldly decorated.
'Game rooms should be fun, comfortable places to retire to. I love to play with bold patterns on walls and ceilings in rooms; if you're mindful of architectural features and balance the conversation of the pattern in the space, it can make the room feel larger rather than claustrophobic. It's also an essential distraction if you're a terrible cheat,' says Michael Gilbride, founder of Michael Gilbride Design.
6. Choose a U-shaped sectional for gaming heaven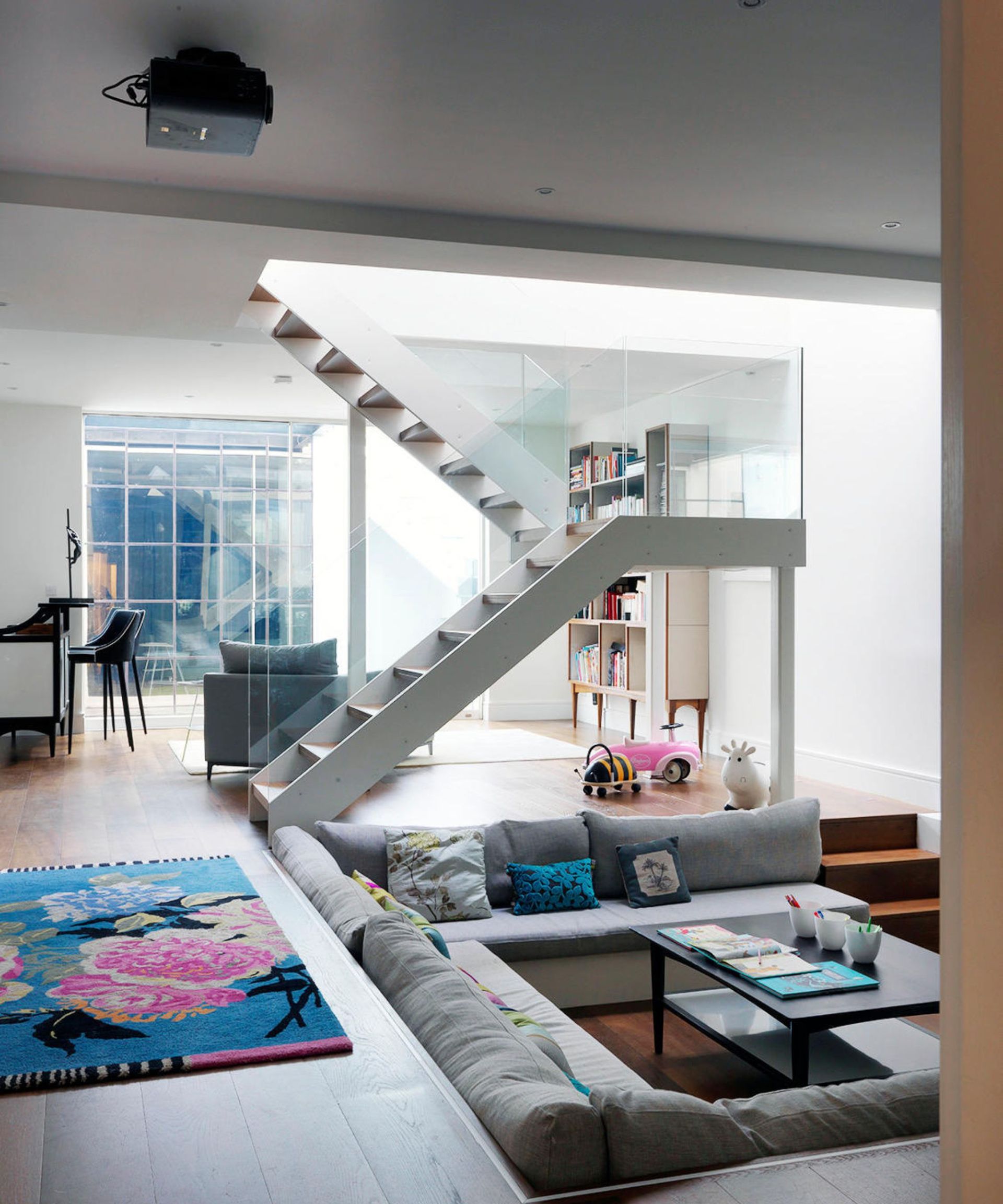 'If you're looking to combine small media room ideas with a small tv area or any combined living space (sometimes it's inevitable), forget gaming chairs (yes, we know they're comfortable for committed gamers but the aesthetics just aren't there for us).
'Instead, be inspired by sectional living room ideas which provide a ton of seating for group gaming but also family TV nights. If the room's configuration allows, a modular U-shaped couch provides the most seating, and you can put a central coffee table with storage hidden beneath for controls. This setup should ensure kids' drinks and snacks stay on the table and not on the floor or sofa, too,' says Jennifer Ebert, digital editor, Homes & Gardens.
7. Choose a monochromatic scheme for a calming feel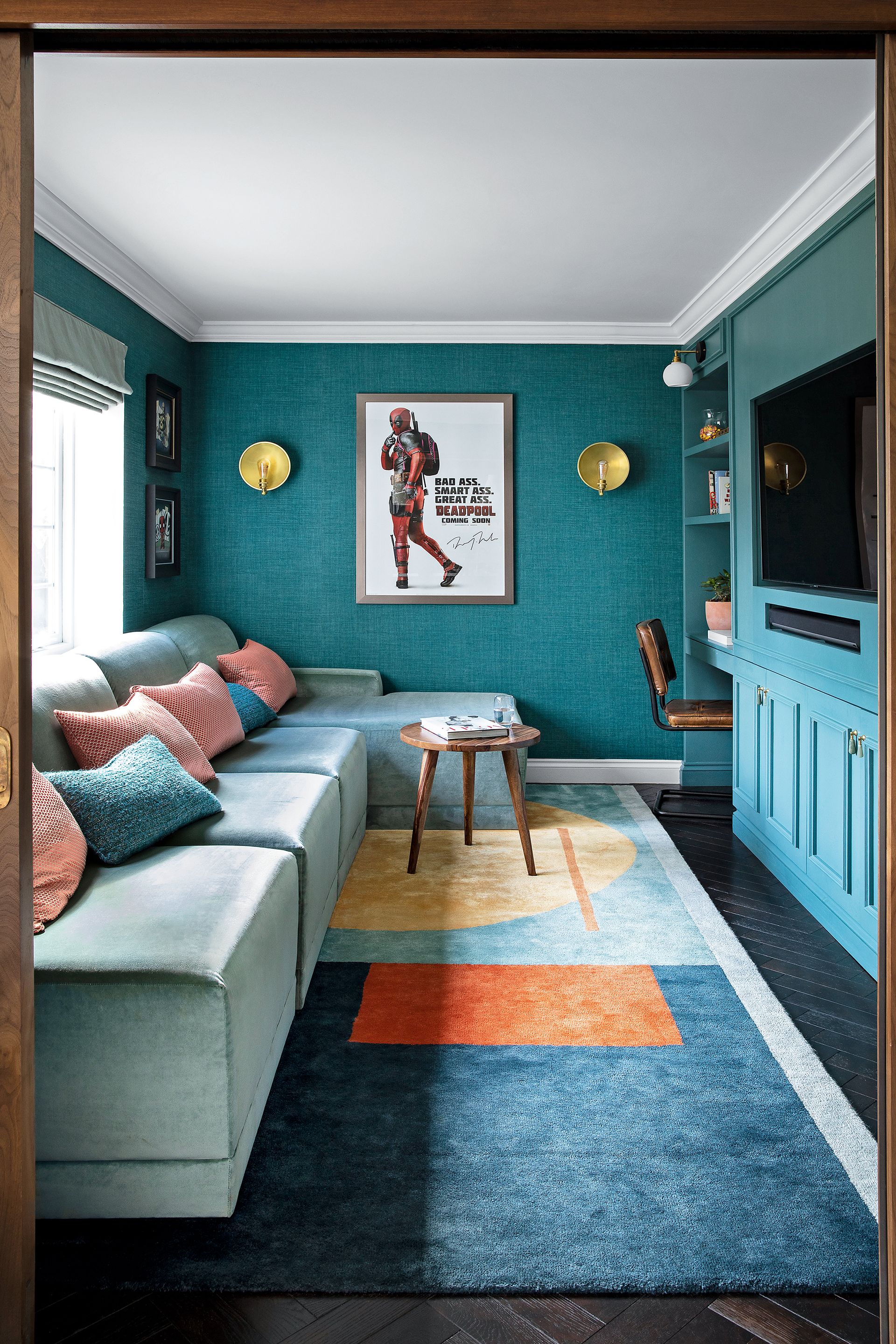 'The most successful small media room ideas I've seen have a clever, cohesive color scheme,' says Lucy Searle, global editor in chief, Homes & Gardens. 'This monochromatic color scheme approach above is perfect for making a small space feel larger, though I'd say it could go a step further by having the trim and ceiling painted in a muted blue, too. After all, the window is large enough to throw light into the room when needed, and gaming is often done in the dark.
'If, as in this room, the screen faces a window, A black-out window treatment is a must. A blind like the one above is the most space-efficient for a small games room, and can be easily lined to stop sunlight hitting the screen.'
8. Use design tricks to minimize the screen's dominance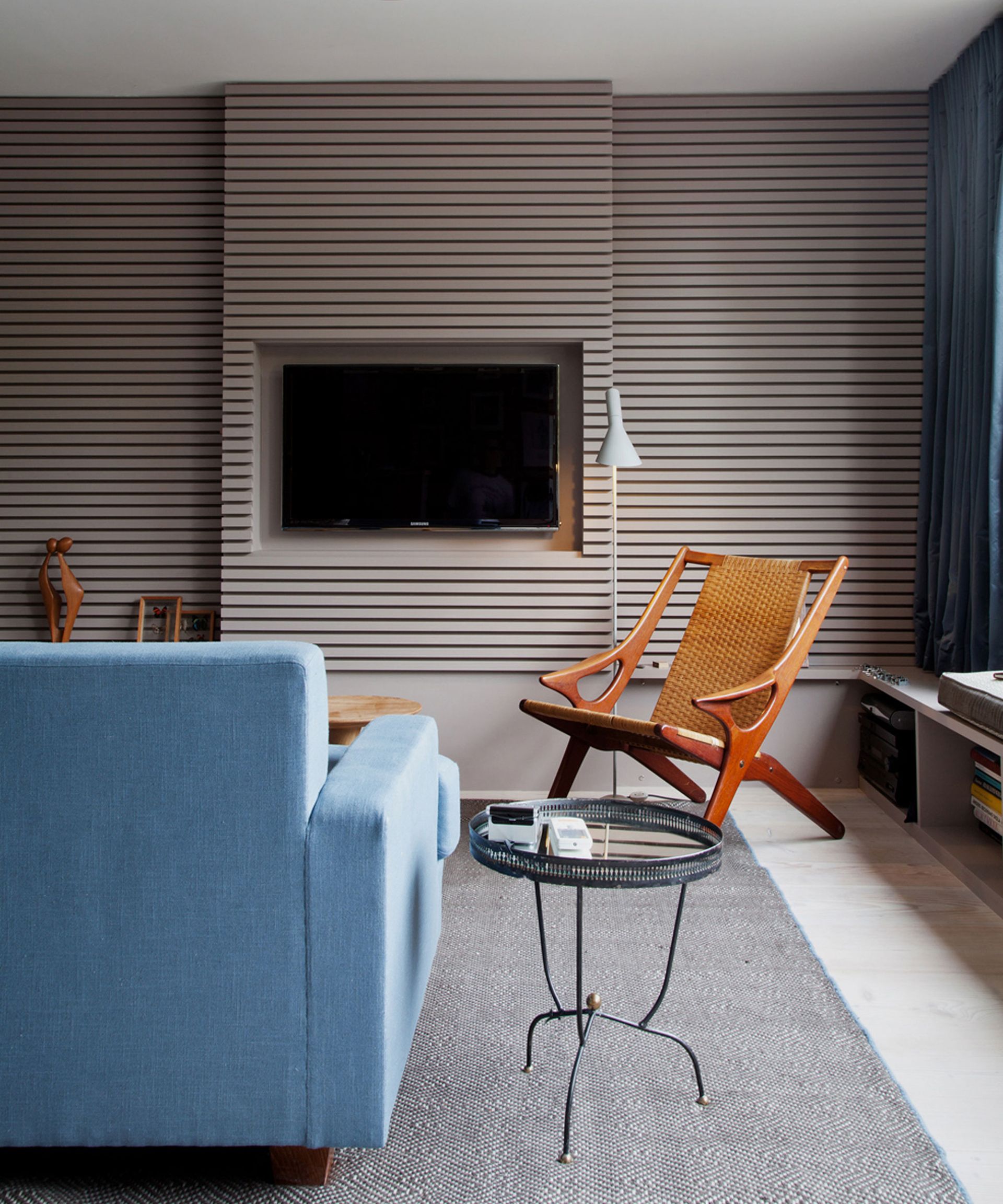 'While many will game off a computer screen, more and more of us are accessing gaming through TV screens. For the neatest, most streamlined approach in a small games room, wall-mounting the TV is the best option,' says Lucy Searle, Editor in Chief, Homes & Gardens.
'However a TV screen sat alone on a wall doesn't look pleasing, and it will likely have the fixings and wires visible. So, consider building out the wall a little with wall paneling. Doing so not only minimizes the visual impact of the TV – especially if the wall is painted a deep color – it also provides ample opportunity to hide the wall fixings and wires.
'I love the approach above, and the useful storage under the window to the right. That space could have been overlooked but it has been cleverly employed.'
9. Choose swivel chairs to change the focus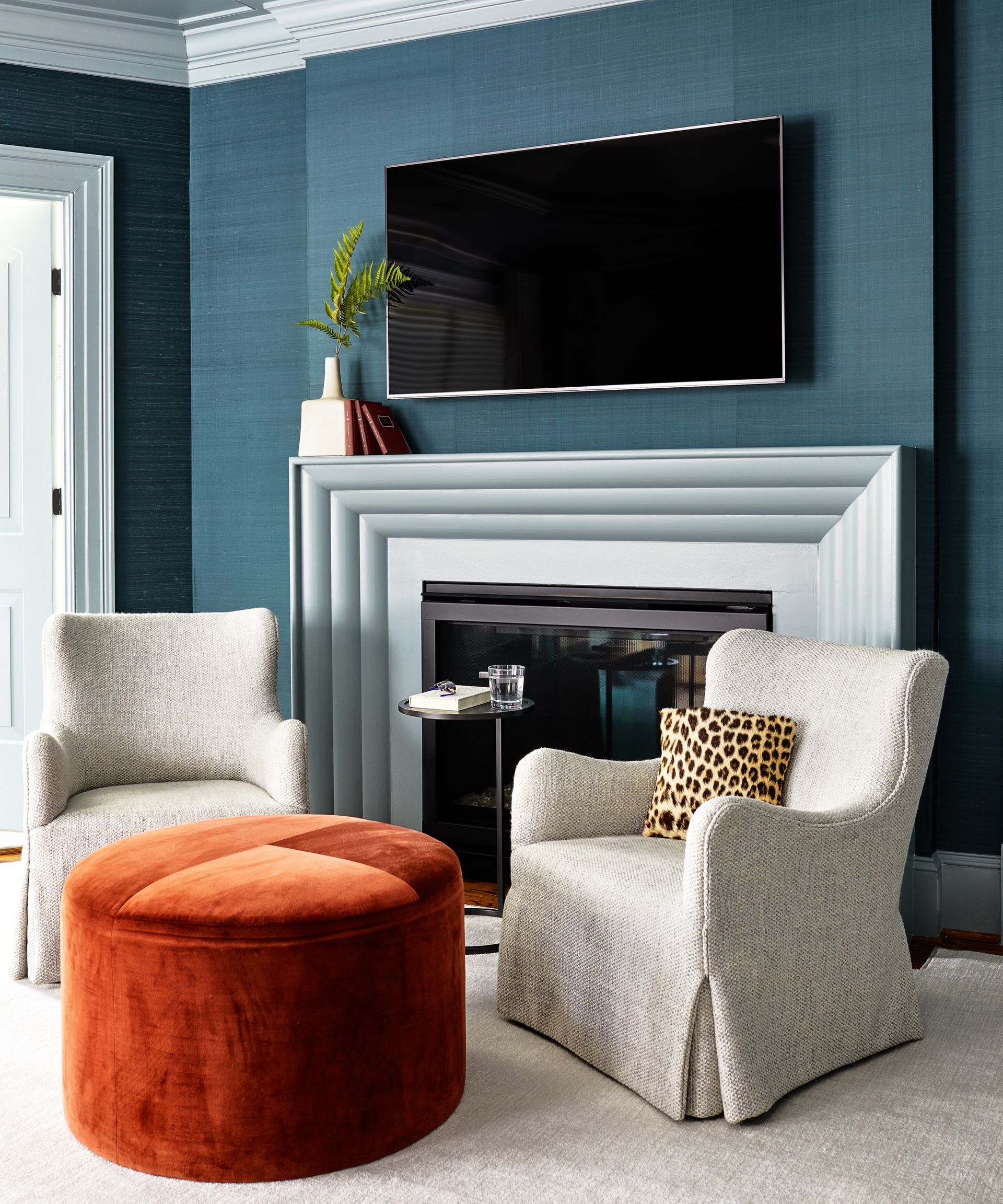 If your small games room is in a family space or a bedroom, or if you simply use it for other activities, picking good looking swivel chairs that can be turned away from the screen is a fantastically simple way to switch the room up quickly.
Note, again, how the wall behind the TV is in a dark color, helping the appliance blend away a little.
10. Build storage up, over and around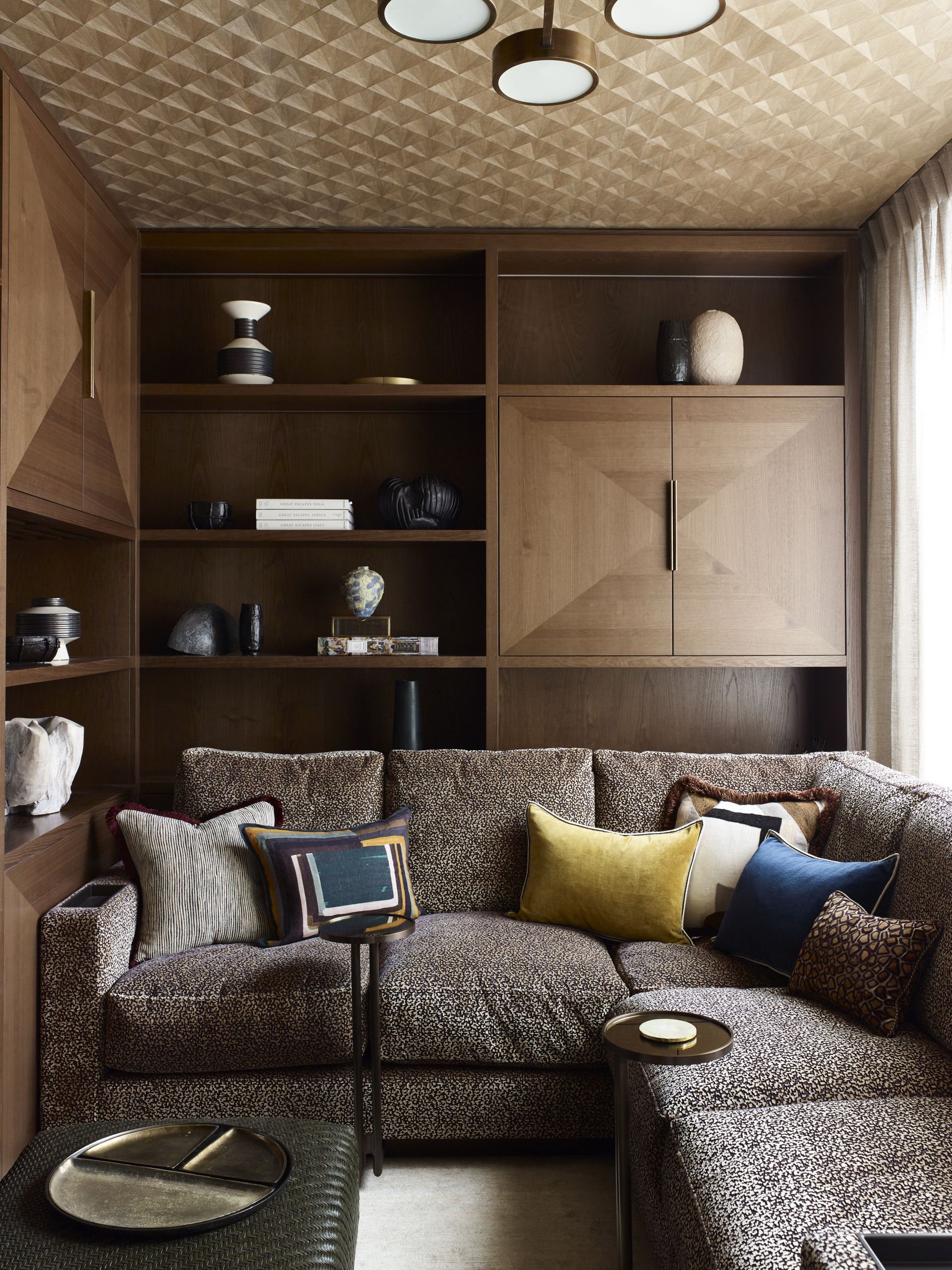 If space is incredibly tight in your small games room, it's time to get clever with the footprint. Taking storage to the ceiling that can be reached from the sofa is clever, but be sure to copy this room's mix of open and closed storage so that it doesn't loom into the room.
'Note the mini side tables, too,' says Lucy Searle. 'They are a clever addition we're seeing more and more in living spaces where people don't have space for, or don't want, coffee tables.
'I love the ceiling in this room, too. It really complements the other textures in the room and makes the ceiling seem a little lower, correcting the proportions of what would otherwise feel like a very tall, thin space.'
How do you make a game room in a small space?
The ingredients of a successful small games room are: a wall-mounted TV; multi-use storage and surfaces so that you can swap from screens to board games seamlessly; furniture that is multi-purpose, which we think means saying no to gaming chairs and yes to small sectionals; the correct lighting, from artificial lighting installed to maximize the space and blinds fitted to control the light from outdoors. Decor-wise, we would advise going for dark colors for all surfaces, including floors, adding in texture and pattern through seating fabrics, rugs and even ceiling finishes.
What should every small game room have?
A wall-mounted TV is perfect for a small games room, as is a designated drop space for controls and storage for batteries, so that gamers can always find what they need when they need it. Headsets and extra screens are a must for very keen gamers (or for families who don't want to listen to the gaming from other rooms; failing that, a good sound system will be a priority. Lighting controls that can be smart-operated are a great tech inclusion, and if you have the floor space, a mini refrigerator to keep those snacks and drinks cool.
Sophie has been an interior stylist and journalist for over 20 years and has worked for many of the main interior magazines during that time, both in-house and as a freelancer. On the side, as well as being the News Editor for indie magazine, 91, she trained to be a florist in 2019 and launched The Prettiest Posy where she curates beautiful flowers for modern weddings and events. For H&G, she writes features about interior design – and is known for having an eye for a beautiful room.