What is the low-key luxe trend? The new look that celebrities and designers are championing for 2024
Move over quiet luxury, low-key luxe is the new effortless trend we are embracing for fall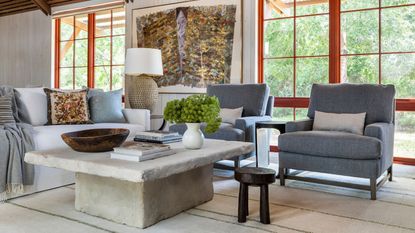 (Image credit: Julie Soefer/Marie Flanigan)
The term 'luxury' seems to be part of every trend in the design world right now. Both in fashion and interiors, we all want to look like and live in homes that are luxurious. But the key to this classic look is of course for it to appear effortless - luxury can quickly go from timeless to tacky if you actually make it overtly lavish.
So the key to embracing the style is the 'low key' approach. 'Low-key luxury' is a term we are seeing crop up more and more in the wake of the quiet luxury phenomenon. Like any long-lived trend, it needs a rebrand and a tweak every few seasons and that's what 'low-key luxury' is. It's even more subtle, more nuanced, even more quieter.
But how can you achieve this seemingly effortless but high-end vibe in your home? We asked designers to talk us through this emerging interior design trend and some simple switches you can make to embrace low-key luxe.
What is 'low key luxe'?
Low-key luxury is exactly as it sounds, creating a chic and sophisticated space that feels like it was effortless to pull together.
'At the heart of the low-key luxe trend is the idea that timeless home furnishing pieces that are designed to last are almost always the best choice. I love this mindset because it's so much more sustainable and it's just overall better for design to invest in items that are beautifully made and crafted from high-quality materials.' explains designer Kathy Kuo.
'Aesthetically, low-key luxe is all about prioritizing craftsmanship premium materials and rich textures to ensure that a space looks and feels effortlessly elegant. Think classic linen, velvet in muted tones, and natural stone decorative elements.' she adds.
However, as with any seemingly effortless style, it's not always so effortless to create. So we asked designers how they create this even more low-key version the of quiet luxury trend.
Kathy Kuo is a celebrated interior designer and international guru within the home and lifestyle space. She has 20+ years of experience in the design industry.
How can you bring the 'low key luxe' style into your home?
1. Keep furniture simple but mix materials for interest
'In the world of interior design, the 'low-key luxury' trend celebrates the art of restraint, while embracing unique textures and refined details to make a space feel extraordinary. The marriage of sumptuous materials and understated elegance creates an ambiance that's truly timeless while remaining authentically opulent.' explains Marie Flanigan.
'When looking to incorporate low-key luxury, start with pieces that make the biggest impact like furniture, draperies, and rugs. To achieve this elegantly understated look, I incorporate different textiles throughout the space. For example. I love a beautiful velvet couch mixed with a woven leather ottoman, flanked by armchairs in a textured linen, sheers on the window, and a natural fiber rug. If you are looking for low-key luxury styling pieces, I think beautifully framed artwork and handmade ceramics offer an understated wow factor and are easiest to incorporate in a space.'
2. Decorate with warm neutrals
Decorating with neutrals is key to the low-key luxe style. But avoid using crisp whites and cooler greys, this look takes mostly from the warmer side of the color wheel - creams, beige, brown, and terracotta. And layer them together to add interest and create a really soft, tonal space.
'An emerging trend in the "low key luxe" style is the use of "warm neutral" color palettes, with cool accents. Creams mixed with blues and subtle pastels are used as a base, allowing the high-quality materials and design elements to truly shine. Rather than relying on bold colors for impact, this style lets textures and shapes take the spotlight, resulting in a serene, elegant atmosphere.' explains Kati Curtis.
Kati Curtis is the founder of Kati Curtis Design, an design firm based in New York City specializing in classic design with a global influence. Kati founded the studio in 2005 after 12 years of working with international architecture and engineering firms.
3. Create depth with plenty of textures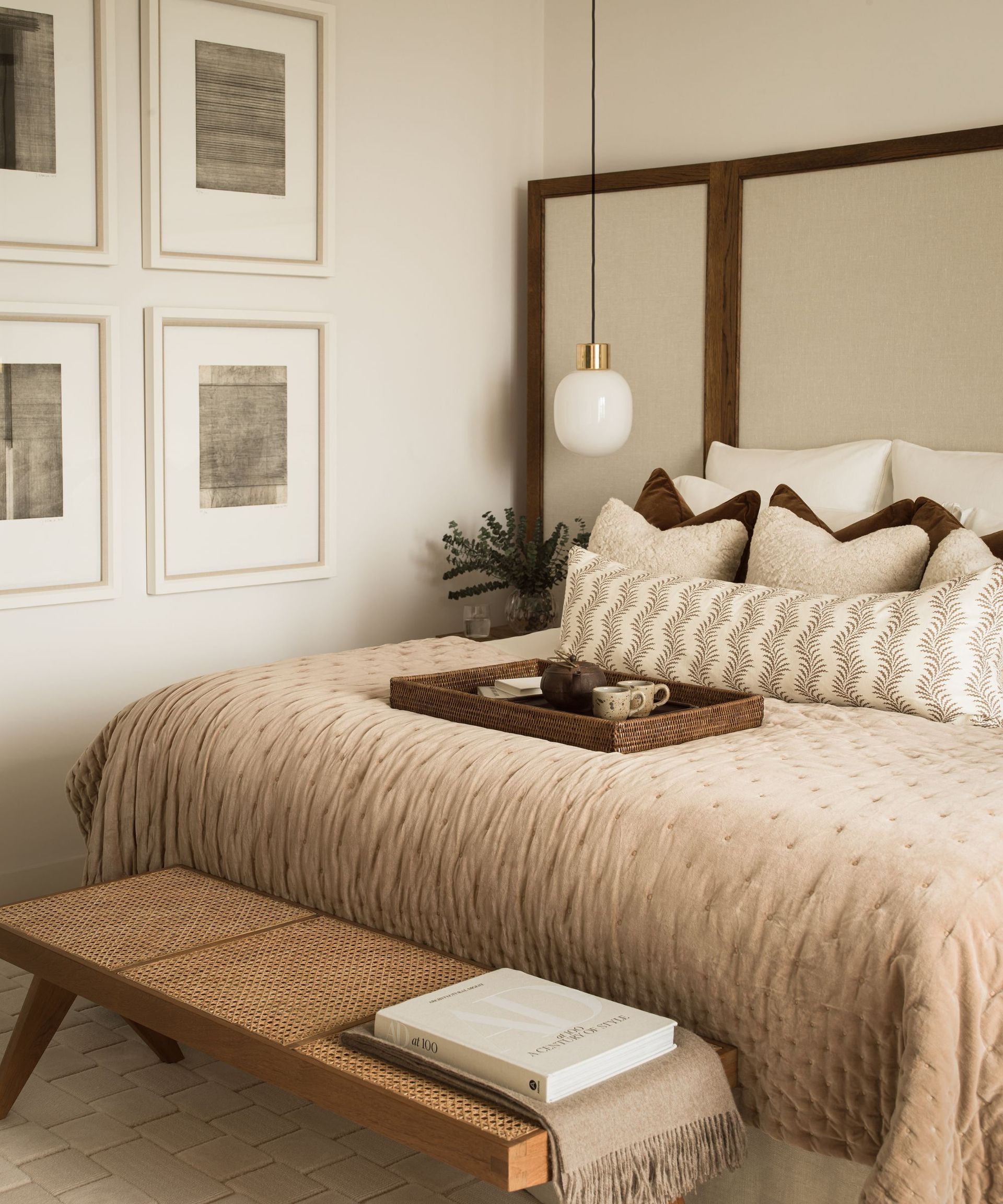 Noticing something about the low-key luxe trend? It's all about the layering - layering colors, layering lighting, and layering textures. Since it is a pretty minimal style it's this layering that will give rooms depth and interest and tick off that cozy, inviting side of the trend.
'Low key luxury in design emphasizes understatement, allowing the materials and textures to take center stage. The approach is restrained and deeply authentic, yet it avoids creating a sense of emptiness or incompleteness in a room. It's possible to layer elements and create a visually rich space, but the crucial aspect is the intentional execution and a focus on incredible quality,' explains Ginger Curtis, founder of Urbanology.
Furniture designer Dara Huang agrees, 'Embracing the low-key luxe trend is a celebration of understated opulence. It's about elevating spaces with rich texture fabrics and carefully curated design elements. I've always believed that true luxury lies in the details and I love crafting furniture with sumptuous materials like boucle, velvet, and other tactile fabrics is a testament to this trend.'
4. Layer lighting for a soft all over glow
The low-key luxe style is all about the tinier details, things your guests won't necessarily notice but will have a big effect on the space. Getting your lighting scheme right, especially in softer spaces, such as your living room lighting, is part of this - creating spaces that feel warm, welcoming, chic, and sophisticated. And as with most things with the low-key luxe trend, it's all about the layering.
'Luxury in the home is about having small details that make you feel looked after, one of which is a well-considered layered lighting design. This allows you to combine task and ambient lighting according to the activity or mood you want to create in each room,' explains Irene Gunter.
Designer Tom Rutt agrees, 'It's important to consider your lighting when creating a low-key luxe interior scheme. You want to maximize natural light and strategically layer artificial light sources. Keep windows simple with sheers or curtains made from high-quality natural materials. Natural light creates an airy and inviting ambiance that complements the idea of low-key luxe. A mix of wall, table, and floor lights with cast a soft illumination will also wash areas with a warm, luxurious ambiance.'
Tom Rutt has worked in the offices of Norman Foster and Michaelis Boyd before founding TR Studios in 2015.
5. Take a considered approach but make it personal
Minimalism is definitely a jumping-off point for low-key luxe, since it is a very considered and curated look that does take that less is more approach, but it also has an element to it that's more homely and approachable than minimalism.
Essentially, it's considered but with plenty of personality in there too. Designer Artem Kropovinsky summarizes it well when he describes the trend as 'Curated, not crowded. Each piece should hold its own significance, contributing to the room's narrative. Minimalism meets luxury when quality takes precedence over quantity. Investing in fewer, high-quality items leads to a richer experience.'
'In line with this seemingly minimalistic, but highly detailed approach, another trend is the thoughtful use of accessories. Instead of cluttering the space with knick-knacks, designers curate a small collection of meaningful, high-quality, collectible design pieces. These pieces aren't just visually appealing, but serve a functional purpose as well, such as handmade pottery or sculptural bookends,' explains Kati.
'In the "low key luxe" trend, there's also an emphasis on quality over quantity. This means investing in fewer, but better-quality pieces that will stand the test of time, both in terms of style and durability. This approach not only creates a more refined aesthetic but is also more sustainable, reflecting a growing consciousness about reducing waste and being kinder to the environment.' she adds.
---
Low-key luxe, no matter what new name it may take on in the future, is a classic look and once you have the basic rules and approaches down it can be easy to implement and even easier to keep switching up as your tastes and design trends change.
Sign up to the Homes & Gardens newsletter
Decor Ideas. Project Inspiration. Expert Advice. Delivered to your inbox.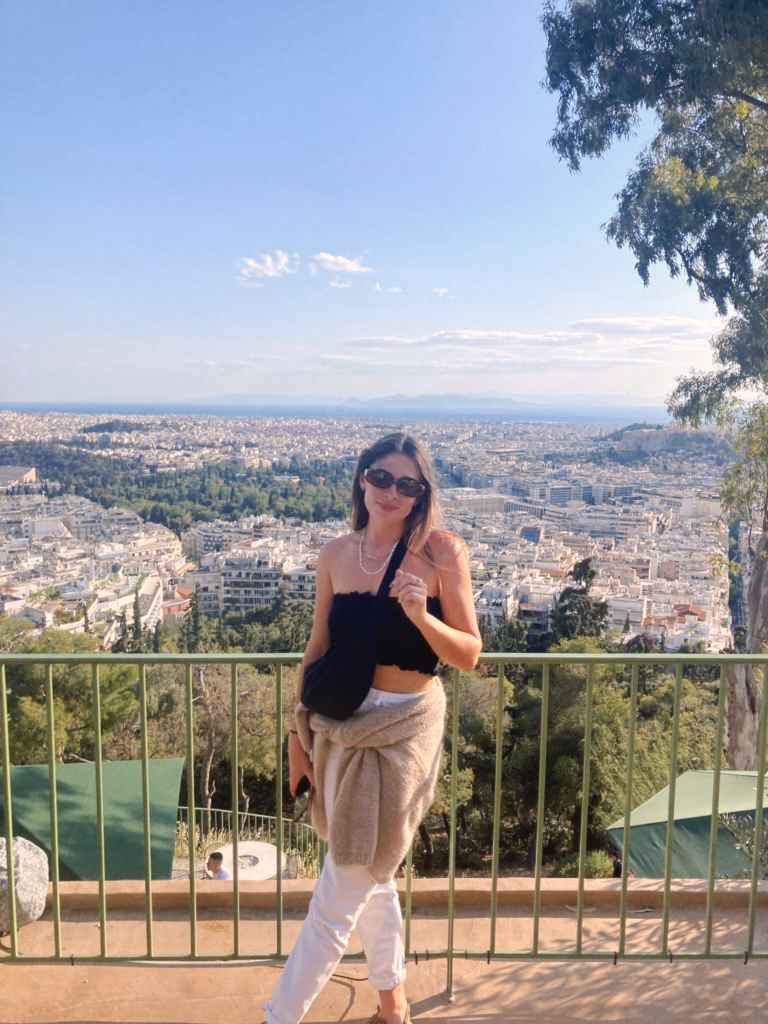 I am the Head of Interiors at Homes & Gardens. I started off in the world of journalism in fashion and luxury travel and then landed my first interiors role at Real Homes and have been in the world of interior design ever since. Prior to my role at H&G I was the digital editor at Livingetc, from which I took a sabbatical to travel in my self-converted van (not as glamorous as decorating a home, but very satisfying). A year later, and with lots of technical DIY lessons learnt I am back to writing and editing, sometimes even from the comfort of my home on wheels.