Should you ever replace doors with curtains? I say yes, and asked designers when to make the switch
It looks gorgeous, but is replacing your doors with curtains actually a good idea?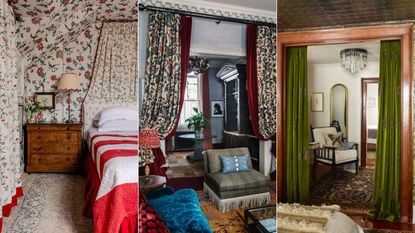 (Image credit: Joanna Plant/Kati Curtis)
Sign up to the Homes & Gardens newsletter
Decor Ideas. Project Inspiration. Expert Advice. Delivered to your inbox.
Thank you for signing up to Homes & Gardens. You will receive a verification email shortly.
There was a problem. Please refresh the page and try again.
Replacing curtains with doors has been something I have always done. Living in a one-bedroom apartment I know the drawback of doors. When you really want that open, light, airy effect doors can just feel so solid. The first thing I do whenever I move into a new place is to remove any doors that don't serve the purpose of providing necessary privacy or quiet – I keep the bathroom door, keep the bedroom door and the rest are gone. I am anti-door.
However, it is nice to have the option to cut off an area should you need to and that's where the trend for replacing curtains with doors comes in. You still get the option to open up the space, but curtains are softer and more flexible.
But it's a look that divides the interior design world, some see it as the perfect door alternative, a way to zone an open plan space without the solid break of a door or wall, and some see this curtain idea as an impractical, purely aesthetical solution.
We spoke with designers to get their opinions on the look (no surprise here, I am absolutely sold), where replacing curtains with doors will work best, and if there are any drawbacks to making the switch.
Should you replace doors with curtains?
As with any interior design trend, whether you should embrace the look or not comes down to your personal style and the space you are working with. Replacing a door with a curtain has some practical considerations, but talking purely aesthetics it can be a simple switch that can really soften your entrances and still allow for a 'door' when needed.
'Curtains can be a beautiful alternative to traditional doors in certain situations,' says designer Kati Curtis, who ditched doors between this bedroom and dressing room.
'They are a great choice if you're looking to create an illusion of space in smaller rooms, as they avoid the physical footprint of a door. Additionally, they can add a touch of softness and warmth to a room, and are easier to replace than a physical door. However, curtains lack the soundproofing and privacy of solid doors. Therefore, they are best used in areas where these factors are not a concern, such as between a kitchen and dining room, or for a wardrobe or pantry.'
Sophie Clemson, founder of The Living House, says 'It really depends where and how you're planning to use a curtain to replace a door. Curtains can be a great way to add color, pattern, and texture to a room when used correctly. One thing you need to consider if you're thinking of using a curtain to replace a door is how the heat from the room could easily escape, especially in the wintertime. If you want to create a warm and cozy space, perhaps a door would be a better option, and use floor-length curtains at windows to add texture.'
Kati Curtis is the founder of Kati Curtis Design, an design firm based in New York City specializing in classic design with a global influence. Kati founded the studio in 2005 after 12 years of working with international architecture and engineering firms.
Designer Joanna Plant uses curtains as doors in lots of her projects. 'I use curtains instead of doors quite a lot, especially in my own house. They take up so much less room than doors and add more pattern which I am all for.' she explains.
'This is my bedroom where the curtain on the left goes through to the bathroom. The curtains are made up in Bennison's Chinese Paper fabric which works in a slightly mad way with the vintage bedroom wallpaper. I decided on curtains in this instance as there wasn't room to squeeze in a door and in any case, because it is an attic bedroom and the windows are sloping, there wasn't a great deal of opportunity for regular curtains so I came up with other excuses!'
So really the decision whether to replace doors with curtains depends on the look you want to achieve, and if it would potentially be a better, more flexible, option for your space. 'The choice to replace doors with curtains involves striking a balance between creating an open, airy vibe while maintaining privacy and practicality. Doors obviously offer better privacy, noise control, and are more energy efficient.' says Jennifer Davis.
'The decision hinges on achieving the right blend of aesthetics and functionality to suit the specific needs of the space. When doors aren't possible or a budget-friendly DIY choice is needed, curtains come in handy. They work well for covering a closet, plus, they add visual interest while being practical.'
Joanna Plant is a London based interior designer who works across residential and commercial projects in both the UK and abroad. Her spaces have a effortlessly elegant feel, and a key part of her style is creating rooms that appear timeless, with her use of antiques, colour and fabrics. The result are home that are sophisticated but comfortable.
Where should curtains replace doors?
The consensus seems to be if it works in your space and you like the look that it gives, curtains make the perfectly good alternatives to doors. But there are areas that they will work better in and different ways you can use them.
1. As a divider in an open plan space
Curtains make so much more sense than a door in this case. They are ideal for keeping two connected spaces open plan while allowing for the option to separate them if needed. Curtains add far more interest too, giving the opportunity to bring in more color, pattern, and texture to the room. You also have the option of switching them out with the seasons – going lighter (or not at all) in the summer and then bringing in some heavier in the fall.
'The curtains in the living room of this 19th-century house bring drama, pattern, and something that is often overlooked, a greater sense of verticality,' explains Joanna Plant. 'They have a contrast lining on the other side and velvet borders for additional sumptuousness and allow the two parts of the room to be separate and together at the same time.'
2. To soften an entrance between adjoining rooms
Curtains as doors also work well in spaces that are open-plan, but you want to create the effect that they are more connected. This works particularly well in kitchens and their adjoining rooms, like dining spaces or sunrooms, so there's a seamless flow between the cooking space and the social spaces.
A curtain used instead of kitchen door can also be a nice way to add some softness to this usually very practical space. It's a nice contrast with the clean lines and hard surfaces you usually find in these spaces.
'Whether replacing doors with curtains is a feasible idea really depends on the door in question! I think in cases where a doorway separates a kitchen and a dining area, or a dining room and a living room, a well-chosen curtain can be a nice alternative to a door and is a fun way to add some whimsy and a pop of color.' says Kathy Kuo.
Interior design expert Kathy Kuo founded her eponymous home store in 2012 – and it has since gone on to be an e-commerce destination for luxury furniture and decor essentials from a variety of beloved home vendors. Kathy and her store specialize in styles like French Country, Coastal Beach, and Modern Classic while offering interior design services to their clients.
3. To replace a cabinet doors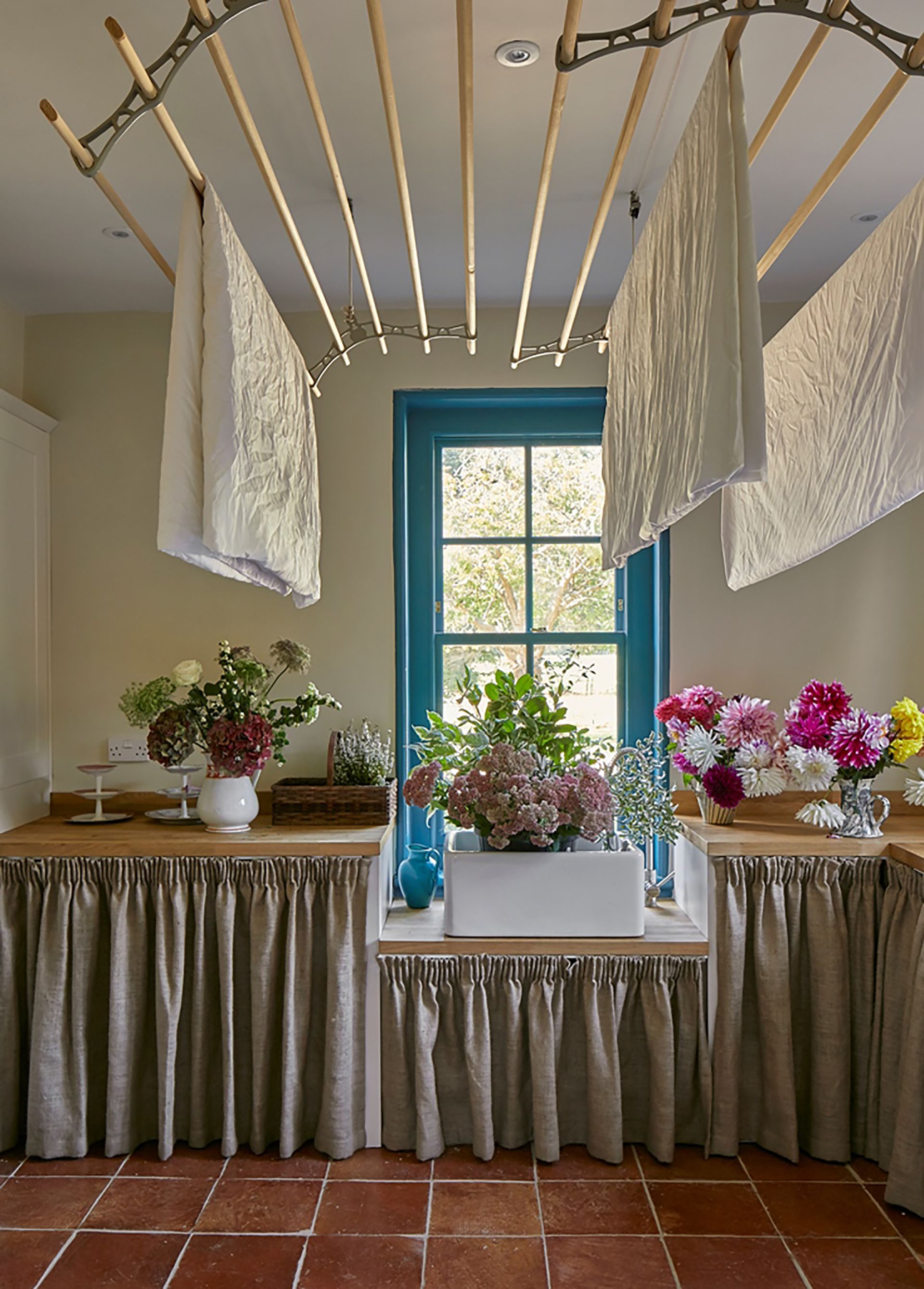 Switching your kitchen cabinet doors for curtains, is very much in line with the kitchen trends that are all about designing kitchens that feel less kitchen-like. There's been a real shift towards creating kitchens that feel as soft and welcoming as bedrooms and living rooms, and adding soft furnishings is a simple way to do that. You can adapt the look to suit all styles too. Here the look works perfectly in a country kitchen, but you could also just switch out the cabinet under the sink, or your pantry door, for just a slightly rustic look.
'Curtains can make a great replacement for a kitchen cabinet or pantry door. If you have a traditional style kitchen or perhaps you live in a quaint cottage, a curtain can be a really interesting choice to break up your lower cupboards and be an opportunity to add color and pattern to the room,' explains Sophie Clemson. 'It could even hide your pantry items or it may be a place you keep your pots and pans which you would rather not have out on display.
FAQs
What are the disadvantages to curtains as doors?
So are there any downsides to be aware of if you want to replace your doors with curtains? In terms of practicality, yes there are a few to consider.
'I'm not a huge fan of using curtains as doors except when it's absolutely necessary because it's a privacy issue,' says Robin Gannon. 'Sound will travel right through a drape versus a door. We use a lot of pocket doors instead of drapery for that reason, and you get the benefit of added privacy. Sometimes, we'll drape interior doors to add some softness to spaces but never replace the actual door.'
'Curtains may not be the best option for everyone as they don't separate the rooms in the same way that a door would. For us it's all about practicalities - you may want to keep your cat or dog out of a room at certain times of the day and find this is impossible with a curtain.' says Sophie Clemson.
'And due to the flowy nature of curtains, you may also find sound travels significantly more than if there was a door at the entryway. Try to carefully consider how you want to use the rooms and the practicalities of introducing a curtain before taking out all your doors.
---
As with all upgrades or changes you make to your interiors, whether one looks better than the other is largely down to the finish and quality of materials that you use. Curtain closets, for example, can look somewhat unappealing if you can see the fixings and the curtains themselves are too light to hang beautifully; choose subtler fixings and better quality fabric, however, and you'll find that curtains can replace doors, stylishly.
Sign up to the Homes & Gardens newsletter
Decor Ideas. Project Inspiration. Expert Advice. Delivered to your inbox.