Designer profile: Tess Twiehaus
We spoke with Cali-based designer Tess Twiehaus on the importance of creating homes that reflect personal style rather than the ever-changing trends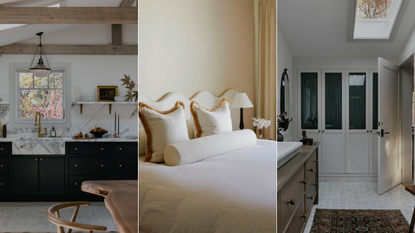 (Image credit: Tess Interiors)
Sign up to the Homes & Gardens newsletter
Decor Ideas. Project Inspiration. Expert Advice. Delivered to your inbox.
Thank you for signing up to Homes & Gardens. You will receive a verification email shortly.
There was a problem. Please refresh the page and try again.
The term 'homey' is not one we use all that often in the world of interior design. Maybe it sounds a bit fussy or traditional. But as we see this continuous shift away from stark, pared-back, minimalist interiors that have dominated interior design trends for decades, it's a word we are finding we use more and more when trying to summarize the spaces we are lusting after right now.
Homes that are filled with character and depth and interest, and you can see that there is a person behind the rooms, rather than being overly led by interior design trends. It's these quietly curated but characterful spaces that are taking the forefront right now, and, Tess Twiehaus, founder of Tess Interiors is a designer that's creating these more personal, meaningful spaces.
We caught up with her to find out more about her approach, and why it's important to her to design spaces that reflect a personal style rather than any short-lived trends.
What is your style aesthetic? Any particular specialisms?
'Caring, elevated, inspired, attentive, delightful is how I would describe it.' says Tess.
'I believe you should always have a mirror of one's self in one's home. It's no novel idea that one's home can say something about its inhabitants. Oddities, interests, hopes, and habits are revealed through the accumulation and arrangement of objects.'
'What's beautiful about this, and what Tess Interiors intimately understands, is that the elements that encompass an interior space are referential to the rich interior lives of the people they are meant to reflect. This reverence for people is truly the pulse of what I do and influences the way in which my brand behaves.' she adds.
Who inspired you went you started out? And who inspires you now?
'One of my former bosses, Nicole Hollis was and still is a huge inspiration to me. She always treated interior design as a form of artistry. I admired her process and ability to foster a team. I have an endless list of designers whose work I adore, but the real ones who inspire me are the ones who are notoriously kind, empathetic, and head over heels in love with their craft.'
Dream clients?
'My ultimate dream is to design a boutique hotel someday. Next to that, I'd love to create something special for any of my favorite musicians.'
What's next for you? Any side projects going on?
'We've just begun year three, which means many of our bigger construction projects are about to cross the finish line. We're looking forward to photographing more of our work and sharing it!'
'We are currently developing the Tess Interiors furniture line, which is intended to be a collection of modern heirlooms. Also, I'm trying to wrap my head around what goes into the creation of a storefront. I'd love to curate all of my findings in one place where people can shop, celebrate lesser-known artisans, and generally be inspired by something new.'
Sign up to the Homes & Gardens newsletter
Decor Ideas. Project Inspiration. Expert Advice. Delivered to your inbox.