10 wallpapering tips from the experts – the secrets of success
Learn how to wallpaper like a professional with these top wallpapering tips from the experts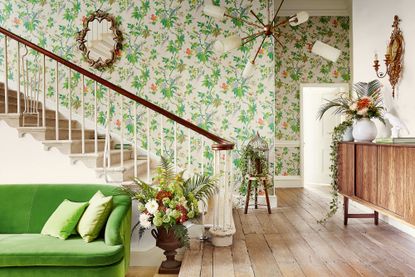 (Image credit: Little Greene )
Looking for wallpapering tips from the experts? We've gathered insider advice from those who know best to help you achieve a professional finish in your home.
If you've decided wallpapering a room is a task you want to take on, profit from the advice of industry experts who have shared their top wallpapering tips to make your project a success.
Knowing how to remove wallpaper will provide the blank canvas needed for a room remodel and with so many bold and beautiful wallpaper ideas out there, hanging a new design can be a tempting prospect. These wallpapering tips will help you get a professional finish.
Wallpapering tips from the experts
'Wallpaper makes focal points of forgotten alcoves, adds character to small home study rooms, and a sense of homeliness to hallways. When hung effectively, it can add texture to a scheme, maximizing your space whilst incorporating patterns,' says Ruth Mottershead, creative director at Little Greene. And don't forget that wallpapering a ceiling can also pack a great decorative punch.
Use this expert advice for professional results.
1. Try before you buy
Don't rely on digital images when it comes to making your wallpaper pattern and color choice. Colors can shift and change in different lighting, so it's important to source samples before you invest in multiple rolls.
'Stick them to the walls you're planning on wallpapering. Keep looking at them over a few days; check what they look like during different times of the day and in different lights to make sure you've got your choice just right,' says Rebecca Drury, co-founder of wallpaper designers MissPrint.
2. Think practically
We tend to choose wallpapers primarily based on their pattern and color, but it's important to factor in practicality, too. Think about where you're hanging your wallpaper and what challenges it might face day to day. For example, if you're hanging it in a kitchen or bathroom, vinyl wallpaper is a good choice as it can withstand humidity and moisture well.
Wipeable wallpaper is an option, too. Most come with a washability rating, which varies from 'spongeable' to 'scrubbable'. If you're exploring hallway wallpaper ideas or designs for other high traffic areas or for a kid's room, you might want to veer towards the latter end of the scale.
If you've got your heart set on a standard wallpaper design, consider applying a protective varnish – consult your wallpaper supplier for advice.
3. Check batch numbers
Every roll of wallpaper will have a batch number on the label. These work like a registration system, indicating which rolls have been printed at the same time.
'There can be very slight variations of color between wallpaper batches, so it's best to check your rolls all carry the same reference if you want a uniform finish,' advises James Watson, wallpaper expert at 1838 Wallcoverings .
4. Buy more wallpaper than you need
Accurately measuring for wallpaper is important, but bear in mind that you should err on the side of over rather than under-purchasing rolls. 'If you're in doubt about how much paper to buy, it's best to order more rolls than you may need as unopened rolls can normally be returned,' says James.
As a general guide, you can normally expect to get three drops of wallpaper from one roll (based on a roll width of 21in (52cm in the UK) and length 33ft (10m in the UK)) assuming the walls in your room are around 6.5 to 10ft (2 to 3m) high. However, rolls can be sized differently or may have large pattern repeats, so be sure to check the label before you buy. Most brands will usually have a wallpaper calculator available on their website to help you estimate, too.
5. Double check your measurements before cutting
'People underestimate when cutting around light switches or where the baseboard is and tend to end up cutting too short – always double check your measurements and don't get too carried away with the scissors,' say Whinnie Williams and Kierra Campbell, co-founders of Poodle & Blonde .
James agrees, and adds, 'When wallpapering a corner, always add a few inches to any measurements before cutting. It's better to have some extra wiggle room than to cut the paper too short.'
6. Don't paper over the cracks
Preparing the wall is essential if you want to ensure a smooth finish. Don't be tempted to just cover up problem areas – it'll only result in issues further down the line and potentially costly repairs.
Check for cracks, screw holes, seams and imperfections and use filler where needed. Where there have been repairs, use sandpaper to ensure a smooth surface. 'If your wall is in really bad shape, you may need to have it plastered before applying any wallpaper,' says Ruth.
7. Use lining paper
It may feel like extra work, but experts advise lining the walls before wallpapering to ensure you get smooth results.
'For the best possible finish we recommend that walls are horizontally cross lined with a good quality, medium to heavyweight lining paper and allowed to dry for a minimum of 12 hours,' says Charlotte Cosby, head of creative at Farrow & Ball.
It's worth noting that lining paper is considered a less costly alternative to replastering, so if your walls are new, you can usually afford to skip this step.
8. Paint woodwork first
'It may sound obvious, but we'd recommend painting woodwork (baseboards, door frames, window sills etc) first before hanging wallpaper to avoid paint splashes,' says James.
9. Save time with 'paste-the-wall' wallpaper
The traditional wallpaper application method requires you to apply paste to the back of the paper using a pasting table, which can be time-consuming, plus it's tricky to do if you're working in a tight space. 'Paste-the-wall' uses a special backing paper which doesn't need to be soaked, meaning the paste can simply be applied directly to the wall. A relatively new innovation, it's become a favorite amongst experts because it's so easy and quick to apply.
'It's simpler because there's no need to apply the paste to the wallpaper,' say the experts at B&Q. 'Fold it and let it soak in before hanging it. There's no need for a pasting table either. You could save up to 30 per cent of your time compared to traditional wallpaper hanging methods.'
Applying peel and stick wallpaper is also easier than pasting the paper, if you're looking for a shorter term decor option in a rental, for example.
10. Go bold in small spaces
In some instances, bold color and pattern can make a room feel smaller – that's true. However, according to the experts, if done correctly, it can actually enhance the space, not to mention makes a great statement. According to wallpaper designer Elizabeth Ockford, the key is to choose a design with a large repeat pattern.
'Once you've committed to your chosen wallpaper, it's best to avoid breaking up the space by painting some walls or using other patterns, as this can emphasize tight quarters and make the space feel even smaller,' she advises.
How do I decide where to start wallpapering?
When choosing where to start wallpapering, Victoria Ceraudo, co-founder at Ceraudo wallpaper, suggests starting in an area that is relatively well hidden, for example behind a door or piece of furniture.
'As this will be your first drop, it will also be the line of paper that your last drop will have to meet,' explains Victoria. 'There is no guarantee they will match up perfectly, so it is best for it to be somewhere relatively inconspicuous if possible.'
How you proceed to hang your wallpaper on the wall depends on the type of pattern you're working with. For plains or small repeats, experts suggest starting at the left-hand corner and moving from left to right, however, James recommends a different approach when it comes to larger patterns or murals.
'In this case, you'll want to ensure the design is centralized, so start level with the middle of the focal point – a fireplace or window for example – and work your way outwards from both sides,' he says.
How do you get perfect edges when wallpapering?
As any experienced wallpaper hanger will tell you, corners in your home are rarely ever perfectly square. You likely wouldn't be able to tell just from looking, but they can be different from the top to the bottom, which can result in gaps when wallpapering a corner.
'To make these tiny mistakes less noticeable, make sure you properly prep your walls before wallpapering; this includes painting the edges the same color as the wallpaper. That way, any tiny gaps will be seamlessly hidden,' says James.
For 10 years, Tara King worked as a Content Editor in the magazine industry, before leaving to become freelance, covering interior design, wellbeing, craft and homemaking. As well as writing for Ideal Home, Style at Home, Country Homes & Interiors, Tara's keen eye for styling combined with a passion for creating a happy – and functional – family home has led to a series of organization and cleaning features for H&G.