What are grommet curtains – and the reasons to fall for them
What are grommet curtains? Get in the know and introduce their modern lines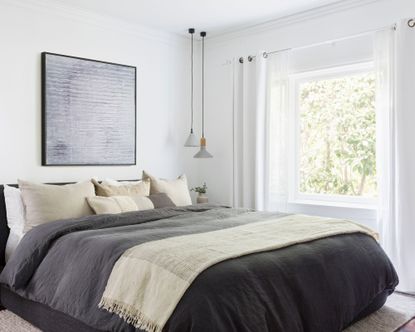 (Image credit: Genna Margolis, photography by Amy Bartlam)
Want to give your window treatment a contemporary look? Then grommet curtains are worth your attention. But what are grommet curtains?
The answer is that instead of hanging from rings, the fabric panels have grommets – or eyelets – inserted along the top of the curtain, so that the curtain hangs directly on the rod.
But grommet curtains don't just look different – there are a host of benefits that might make them your preferred pick of window treatment ideas when you're dressing them. This is the answer to the question what are grommet curtains.
What are grommet curtains?
Grommet curtains have metal rings that are punched into the fabric at the top of each curtain panel. They don't need any other accessories in order to hang them, but simply install onto the curtain rod, making fitting quick.
The curtains can be bought readymade, which can lower your spend if your windows are a standard size, but custom draperies with a grommet heading are an option for a window treatment to your exact specification.
Grommets come in different metals so if your window covering is a custom one you can refine the design with a metal that complements the drapery fabric and rod. And while the grommets are often matched to the rod, they can look stylish in a different metal as an alternative.
How do grommets compare to other heading styles?
Along with deciding on fabric, color, pattern or plain, one of the elements that will influence the final appearance of curtain ideas is the heading style you opt for. The heading will determine how curtains drape, how easy they are to open and close, and whether the appearance of your window treatment is more formal or more casual.
For a more relaxed interior, you might choose a rod pocket heading, for example, while pinch pleats would create a more elegant finish. As for grommet curtains? 'Thanks to their clean simple lines, eyelet (grommet) curtains are an ideal choice for those who prefer a modern design aesthetic,' says Debbie Leigh, design manager at interior textiles specialist ILIV. 'They are a great modern alternative to traditional pleated curtains and offer a neat stack back once drawn open – perfect for a contemporary-style interior.'
Why choose grommet curtains?
One of the biggest plus points of grommet curtains is how effortless it is to move them. 'They are very easy to operate, making them an ideal choice for curtains you'd like to open and close regularly,' says Kelly Simpson, senior director of design & innovation at Budget Blinds, experts in blinds, shades, shutters, and drapes.
This is also particularly worth bearing in mind if you're dressing large windows or sliders when the substantial amount of drape fabric needed – especially if you've picked a heavier weight material – makes them more awkward to draw.
How do grommet curtains drape?
Grommet curtains drape in a very regular way, giving them an appearance that differs from other curtain types.
'One of the big advantages of eyelet or grommet curtains is that they will make a dramatic feature of your window thanks to the deep folds of fabric, which run in uniform lines from top to bottom,' explains Yvonne Keal, senior product manager at Hillarys.
'These clean lines can make small rooms appear bigger and also look neat when fully open, ideal if you've got limited amount of wall space either side of your windows.' It's also a benefit if you'd rather spend a minimum of time on training drapes for maximum style.
What fabric fullness do grommet curtains require?
Different styles of curtain heading need different fabric fullness to achieve the look –something which is important when commissioning bespoke drapes and may influence your fabric choice if you're working to a budget.
'Curtain fullness is the amount of fabric that is used to cover the width of your curtain track or pole,' explains Debbie Leigh. 'How much flat fabric you have covering your curtain rod will determine how much fullness or pleats you have when it is gathered up.
'For eyelet curtains, we recommend doubling the width of the rod to give you two times fullness. To do this, measure the approximate window width, then double this figure to determine the total curtain width you need for your window. For really full curtains you can triple the width.'
What other advantages do grommet curtains have?
While grommet curtains look chic made from plain fabrics, they're beautifully suited to patterned materials.
'Patterns can add personality and flair to your space,' says Yvonne Keal. 'Eyelet curtains suit elaborate designs as when closed, they are almost flat and therefore do not require as much fabric as other headings, so bold prints look dramatic.'
Do grommet curtains have any disadvantages?
Grommet curtains have plenty of pros, but there are some aspects of their design about which you should be mindful.
The first is the contemporary look we've already mentioned. If your decor is more traditional, other heading styles would prove a more sympathetic option when selecting a window treatment.
Secondly, if you don't want a curtain rod as a feature of the curtain heading rather than hung above it (or even largely concealed when the curtains are closed), grommet curtains aren't the best choice. It's entirely a personal preference, of course, but the finished look won't be as soft in appearance as a heading like pinch pleats, for instance, would produce, and some people reject them for this reason.
Can you put grommet curtains on a regular curtain rod?
Grommet curtains should be hung on a decorative rod that's meant to be seen as it will be a feature of the window treatment you won't miss. It also needs to be the right diameter for the grommets.
Your drapery specialist may supply a specification; as a rule of thumb measure the diameter of a grommet opening (don't include the metal circumference) and subtract half an inch for the rod diameter needed.
What's a grommet panel?
A grommet panel is a grommet curtain panel. You might also find it referred to as an eyelet curtain, or a ringed panel. It's a design that has rings embedded in the curtain heading and is an alternative to opting for drapes that use heading tape – think pinch pleat, for example – or fold-over rod pockets.
One of the biggest plus points of grommet curtains is how easy they are to open and close, especially compared to rod pocket or tab tops. 'The grommets allow the curtain to glide almost effortlessly along the rod, making opening and closing the curtains quick and easy,' says Debbie Leigh, design manager at interior textiles specialist ILIV.
Sarah is a freelance journalist and editor. Previously executive editor of Ideal Home, she's specialized in interiors, property and gardens for over 20 years, and covers interior design, house design, gardens, and cleaning and organizing a home for H&G. She's written for websites, including Houzz, Channel 4's flagship website, 4Homes, and Future's T3; national newspapers, including The Guardian; and magazines including Future's Country Homes & Interiors, Homebuilding & Renovating, Period Living, and Style at Home, as well as House Beautiful, Good Homes, Grand Designs, Homes & Antiques, LandLove and The English Home among others. It's no big surprise that she likes to put what she writes about into practice, and is a serial house renovator.