'Transform the pain point': the 5-step kitchen drawer organizing rule professionals urge you to try
Organizing professionals recommend their favorite buys to help you reach drawer perfection, too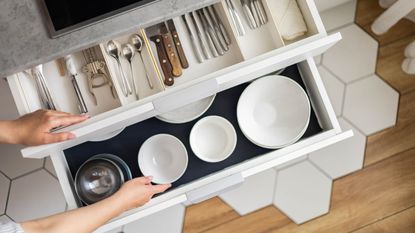 (Image credit: Getty Images)
If you suffer from overcrowded, unmanageable and, frankly, downright chaotic kitchen drawers, you may be looking for a permanent fix.
Happily, there are plenty of techniques to be found to help you organize your kitchen drawers.
We turned to professional organizing experts to discover they are pretty unanimous in their approach and the products they buy to help them get on top of their kitchen drawer disasters. Here's what they had to say.
1. Make a plan and declutter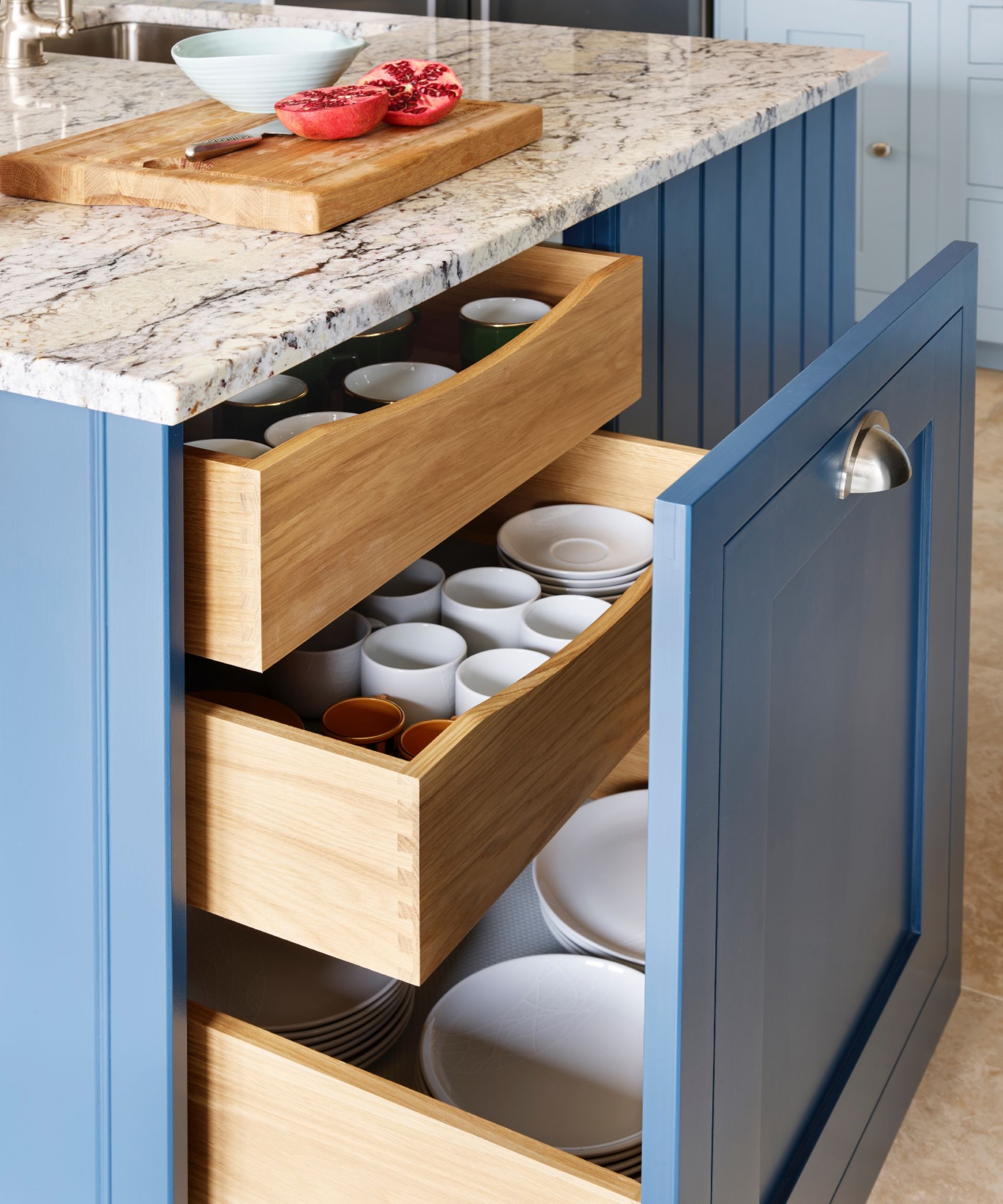 'My number one recommendation is intentionally mapping out what you are putting in each space before customizing the drawers accordingly,' says Meredith Goforth, founder of House of Prim. 'One common mistake I see clients make is purchasing a collection of organizers and then later deciding how to fill them. The cost of this mistake can look like the wasted space of an oversized container for a small item, or the mess of overflowing containers.'
Approaching things this way doesn't just save time and money. It also saves your space from looking poorly styled or designed. 'When the size of drawer organizers perfectly matches the items they house, it gives the entire drawer a custom high-end aesthetic,' says Goforth.
After you strategize, Catherine McCord, the founder of Weelicious and author of Meal-Prep Magic, says the next thing to do is a major declutter.
'[Go] through everything you keep in your drawers,' says McCord. 'If you haven't used something in the last year or have doubles, it may be time to toss.'
'Having too many of the same item drives me crazy,' agrees Janelle Cohen, author of The Folding Book. 'How many of the same thing do you really need? Drawers get cluttered because of too much inventory. Check to see if you have two can openers I promise – you only need one! When you clear out the duplicates, you gain back important kitchen drawer real estate.'
Curious to know what other items are often duplicated in your kitchen? Marissa Hagmeyer, co-founder of NEAT Method gave us her insight: 'Pizza cutters, vegetable peelers, and ice cream scoops,' are common culprits, says Hagmeyer. 'Ask yourself if you are using those multiples simultaneously. If not, keep your favorite and set aside the others for donation.'
Meredith Goforth has a passion for stylish organizing. Before founding House of Prim, Meredith was a Bookings Editor for magazines, where she planned, produced, and executed cover shoots and fashion stories, making sure every detail was picture perfect. A former New Yorker, she now lives in Westport, CT with her family. With three boys being born within three years of each other, and having moved house six times in five years, Meredith says the only way to stay sane was to become truly organized.
Catherine McCord is a mom of three, an entrepreneur, and a cookbook author. Catherine graduated from culinary school before working in high end restaurants. When she had her first child in 2007, she discovered there was no comprehensive guide that offered new parents simple, nutritious, flavorful recipes and guidance on how to feed their new eaters. So, she created Weelicious, which now addresses not just baby's mealtime but the whole family's. In 2015 she launched One Potato, a meal delivery service focused specifically on the dinnertime needs of families.
2. Group by category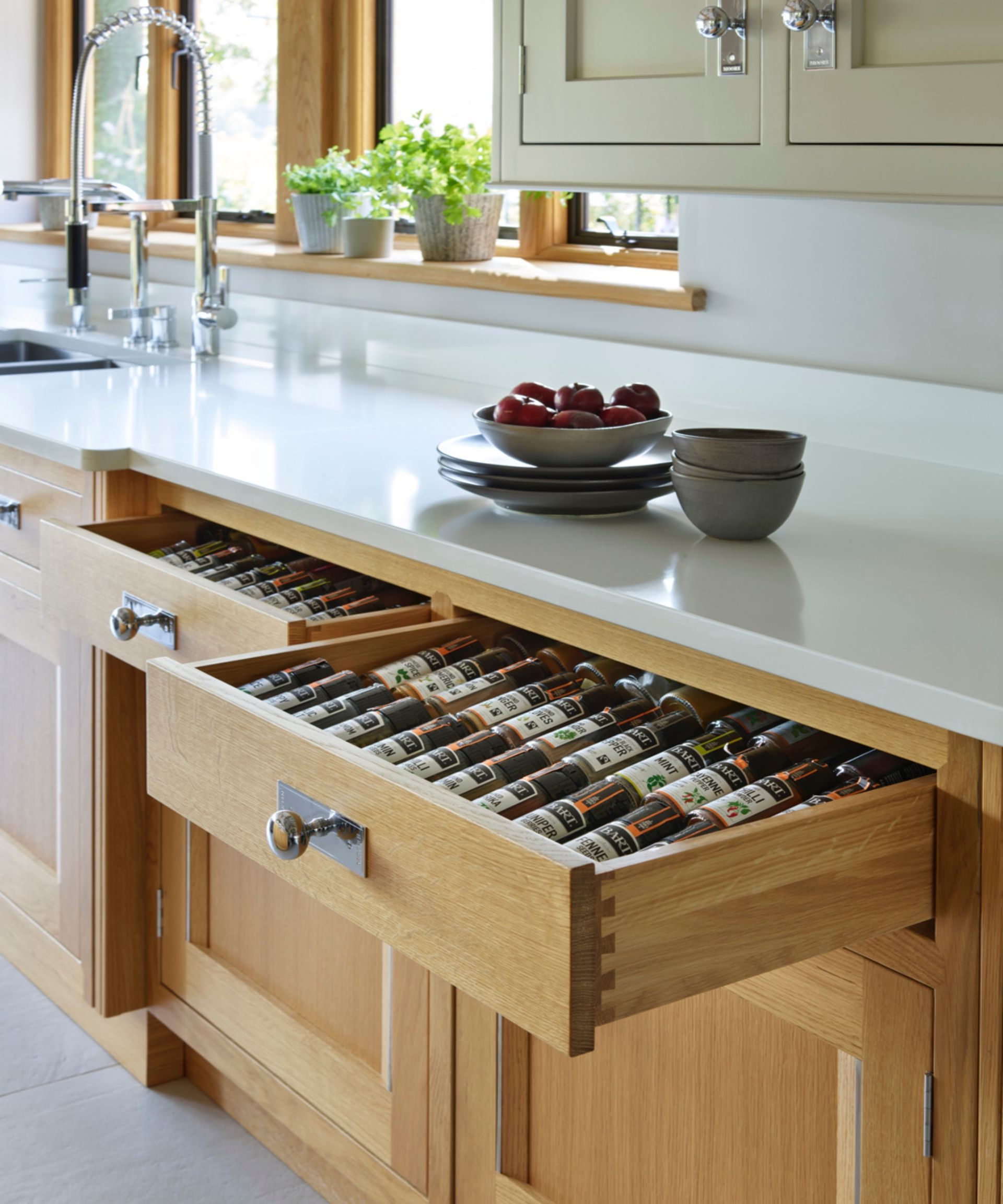 Once you've figured out what can go, McCord suggests organizing the rest by category.
'Drawer clutter gives me endless anxiety,' says McCord. Even if it's out of sight, your kitchen drawers aren't out of mind, and the visual clutter can cause mental disarray, too.
'I've seen people store canned foods in the same drawer as kitchen scissors, cutlery, and doggie bags,' she says. 'My rule of thumb is to try to group items by their use. Measuring spoons and cups plus ice cream scoopers in one drawer, stirring spoons, tongs, spatulas, and graters in another. If you have huge drawers you can use dividers and even velcro ties (from Amazon) (see below, left) to keep items closed, offering even more drawer space.'
Best of all, these days, there are storage solutions for literally everything. 'I have never gotten so many messages asking about a product I've posted about than these plastic bag organizers (from Amazon) (see below, center), and now I use them religiously in every kitchen project,; says Cohen. 'These are trendy right now, but also more practical than you may think. They completely transform a pain point we all have in our kitchens and elevate it to a space that is both chic and satisfying.'
If you're trying to declutter countertops, look to organize spices into drawers, too.
'I keep all of my spices in a drawer in these easy-to-open and easy-to-use spice containers (see below, right),' McCord tells us. 'You can barely fit a teaspoon in most spice containers, but these can fit a tablespoon measure with no problem.'
Ashley Murphy, also of NEAT Method, agrees, noting that there are plenty of things that can be stored in drawers but often aren't. Most specifically, your larger drawers should be used in a way that maximizes their vertical space.
'Utilize your deepest drawers for large items like mixing bowls and pots and pans,' says Murphy. 'If you have the room, don't be afraid to store items like water bottles upright. We also encourage nesting items like food storage containers to save space.'
100 PCS Reusable Cable Ties with Hook and Loop
These cable ties can be used again and again in kitchen drawers but also all around the house to keep things neat.
Wilfox Ziplock Bag Organizer for Drawer
Perfect size to fit all kinds of quart bags, sandwich bags, snack bags, gallon bags, and slider bags.
3. Think like a chef
As you re-home your items, McCord tells us to think strategically about where everything should go. 'Keep cooking spoons, spatulas, tongs, and other most-used items close to your stove to cook starter and faster,' she suggests.
'Think about the placement of your categories, making sure to locate each where they will be used the most,' agrees Hagmeyer. Along with having your cooking utensils close to the stove, Hagmeyer also advises placing 'dish towels near the sink and flatware near the dishes. We also suggest reserving top drawers for those most frequently accessed.'
4. Use drawer dividers
One of the biggest culprits of kitchen drawer clutter is how quick we all are to just toss things in without any order. This doesn't just create a headache – it can also cause wear and tear on your kitchenware.
'Drawer dividers may seem like they take up extra space; however, they help to avoid clutter by grouping items and keeping drawers more visually appealing," McCord explains. 'I live for my in-drawer knife organizer from Williams Sonoma (see below, left) to keep my knives organized, sharp, and most of all, safe,' says McCord.
While drawer dividers are an agreed-upon necessity, it's important to know which ones to get. 'Expandable dividers like this bamboo drawer divider from The Container Store (see below, center) are a great way to group items by their uses and cut down on drawer clutter," says McCord.
Cohen agrees. 'Kitchen utensils can be weird shapes (think lemon squeezer or potato masher) so I prefer to use expandable dividers like this one from Amazon (see below, right). This way, you can easily adjust to your exact needs and inventory.'
Hagmeyer also suggests using your dividers creatively – who says they're just for utensils? 'As more and more kitchen designs abandon lower cupboards in lieu of drawers, nothing seems off-limits anymore,' she says 'We have utilized drawer inserts to store anything from dishes to drinking glasses. The key is using the right organizers to prevent items from shifting.'
In-Drawer 15-Slot Knife Organizer
Designed to sit flat inside a kitchen drawer, the rack safely holds 15 knives in a compact arrangement.
Expandable Acacia Utensil Tray
With three large fixed compartments and two slide-out compartments, there's room for everything.
5. Embrace the junk drawer
We all have one: that kitchen drawer that ends up storing all the random stuff you need on hand but can't quite categorize. And, despite what some pros might tell you, our experts agree that a junk drawer is okay! You should just do your best to add order to the chaos.
'We all need one junk drawer for those items that just can't seem to find a proper home, but it needs to be manageable,' says McCord. 'Since many people keep pens and markers in theirs, I prefer plastic dividers or bins (from Amazon, below) that are easy to rinse or wipe out. It can be a place for loose change, rubber bands, paper, scissors, and anything else you need to be close at hand as long as it has a use and you clean it out regularly.'
'Everyone has a kitchen junk drawer!' agrees Cohen. 'I say you should just embrace it. Add drawer dividers so it doesn't get to be too much stuff, and have a reset every few months and see what's accumulated. In reality, it's helpful to have items like pens, Post-Its, scissors, a tape measure, etc. on hand in the kitchen. So create a home for them and give it organization like you would any other drawer!'
If you're still unsure, Hagmeyer says you could try rebranding this space to something more optimistic. 'We prefer not to use the term "junk drawer" but love the idea of creating a utility drawer for go-to items like keys, a pair of scissors, a lighter, etc,' she says. 'As long as the categories within it are defined and you are careful not to let "junk" collect, it can be really useful.'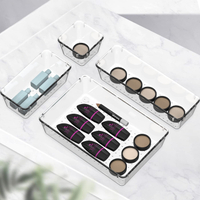 Sign up to the Homes & Gardens newsletter
Decor Ideas. Project Inspiration. Expert Advice. Delivered to your inbox.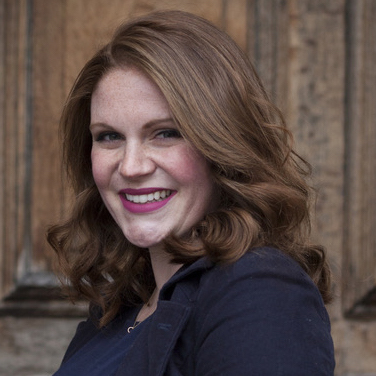 Ashley Chalmers is a freelance writer for Homes & Gardens with over 10 years' experience as a digital writer and content creator. Ashley started her career in entertainment and fashion PR in New York, before moving to the French countryside and taking up travel blogging. Now, Ashley lives in London. Her passion for travelling is only matched by her love of making her house feel like a home, and she loves to include her finds from around the world in her decor.