Emily Henderson shares a surprisingly aesthetic vitamin storage hack
Brightly colored bottles scattered across your countertops? Not any more.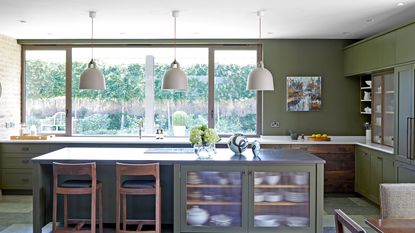 (Image credit: Future PLC)
This year, winter coughs and colds are everywhere. And we're willing to bet your kitchen counter has taken on a few new pharmacy-chic accessories lately in the form of vitamins.
Emily Henderson, interior designer and author from Oregon, recommends a magnetic kitchen rack ideal for organizing kitchen countertops spilling over with vitamins. Whether you take regular medication or are fending off the flu with vitamin C, this simple kitchen storage solution will restore order.
Because no one wants their kitchen to look like the health aisle at Duane Reade.
Emily Henderson's vitamin storage hack
'Vitamins and supplements... HOW CAN THEY LOOK GOOD ON THE COUNTER??' writes Emily on Instagram. On her blog, Style By Emily Henderson, the interior designer gives lots of ways to tame unruly plastic containers and bottles, including the magnetic kitchen rack below, which is currently reduced at Wayfair. The matte black storage solution attaches to the side or the front of your refrigerator, providing handy storage space for corralling your vitamins and supplements that don't currently have a home.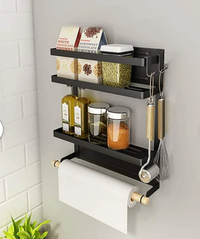 Fridge Magnetic Shelf, Paper Towel Holder Fridge Spice Rack Kitchen Refrigerator Organizer Rack With 2 Removable Hooks (Black) | was $84.99 $69.90 at Wayfair
This magnetic kitchen rack helps to keep your kitchen organized by storing food supplies on the refrigerator door. It also has two moveable hooks for utensils or dishtowels.
You could, of course, use it for other things like condiments, sauces, and spices you use every day, or even cleaning and laundry products. It attaches to any metal surface because it has a magnet on the back, meaning there's no DIY involved.
We think it's great because if you have to take certain medications every day, it means that they're in a really visible spot. As they say, out of sight, out of mind, and as long as your refrigerator is well stocked with snacks, you're highly unlikely to forget to take them if they're right there on the refrigerator door.
For parents of young kids, it's important to make sure they're out of arm's reach, so you might prefer to keep them in a linen closet where children are unlikely to go, using a caddy to keep them organized. You could also decant vitamins into small Mason jars, at Amazon and label them à la Clea and Joanna, as long as they're in a cool dry place out of direct sunlight, as light and humidity can degrade them and make them less effective.
The key thing is to build a routine so that taking any vitamins you need becomes something you just do like brushing your teeth. So think about how you can weave it into your daily habits. Placing vitamins in the cupboard with your coffee mugs or keeping them in a plastic 7-day planner pill box, at Amazon in your cutlery drawer will mean you are reminded to take them.
'I used to store my vitamins in the bathroom but keeping them in the kitchen makes the most sense as the sound of the kettle boiling reminds me to actually take them,' says Jo Bailey, Homes & Gardens Deputy Editor and Stylist. 'I have open shelving in my kitchen, which makes things tricky to hide away, so I like to store my vitamins in a wooden condiments carrier – minus the ketchup!' This wooden storage box, at Zara Home, is a lovely option.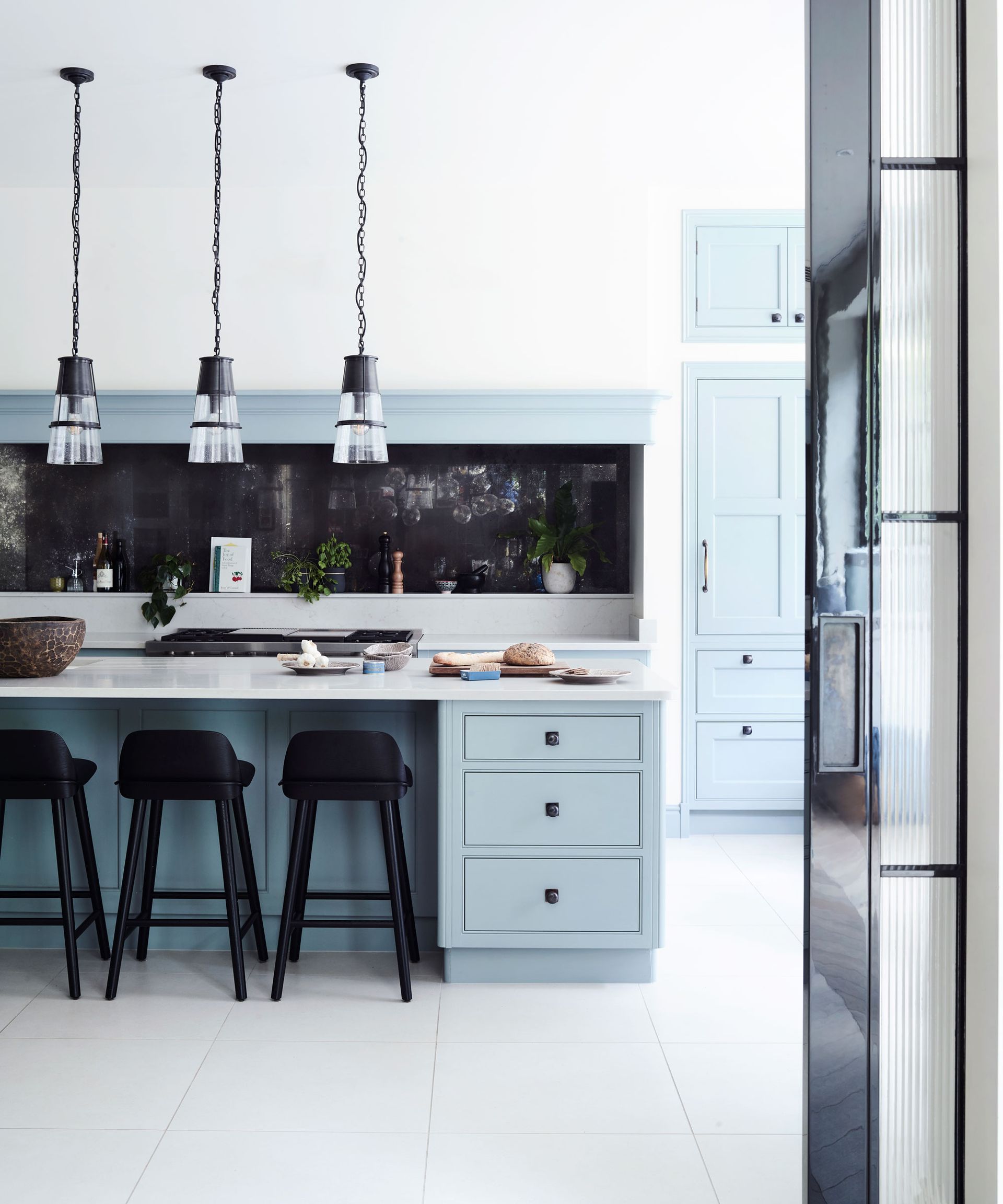 Or you could take them out of the kitchen entirely. 'The best spot to store vitamins may be in your bedroom because there aren't many humidity changes there and the space is often cool and dry,' comments Dean Lee from vitamin and supplement store Sealions. 'They should not be exposed to sunshine or open windows, as doing so will lessen their effectiveness. Keep them away from radiators and other heat sources. Even if they are in a childproof container, always keep them safe, secure, and away from children and pets.'
So if you've been feeling festive for a while and the January organization mode is kicking in early, why not start small with some kitchen countertop decluttering? Check everything is still in date and if you have one, look at ways of organizing your medicine cabinet.
Purchasing smart little storage solutions, from the magnetic rack to Mason jars, makes life easier as it quietens the visual noise that jars of vitamins create. It also means countertops are easier to clean, and a cleaner, zen kitchen makes for a space you'll actually enjoy cooking and hosting in, and everyone will remember to take their vitamins.
Millie Hurst is Section Editor at Homes & Gardens, overseeing the Solved section, which provides readers with practical advice for their homes. She has been in the world of digital journalism for six years, having previously worked as Senior SEO Editor at News UK both in London and New York. She joined the Future team two years ago, working across a range of homes brands. Millie formerly worked as Senior Content Editor at Ideal Home, taking care of evergreen articles that help and inspire people to make the most of their homes and outdoor spaces. Millie has a degree in French and Italian and lives in North London.