This pan organizer is a game-changer for chaotic pan drawers – it's only $22 at Williams Sonoma
And it is fully customizable too!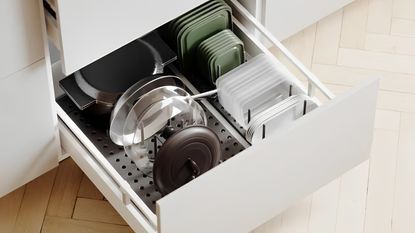 (Image credit: Umbra)
Tired of stacks of pans clattering whenever you open your kitchen drawers? Us too. We are always on the lookout for clever kitchen organizing products that will transform the way we use our space – and this pegboard drawer organizer from Williams Sonoma may be one of the most practical yet.
Organizing pots and pans can be a logistical nightmare, even in a fully bespoke kitchen. Their bulk and awkward shapes mean that stacking and finding space for them in kitchen drawers usually means compromising – leading to a frustration, noise as you wedge them in and pull them out, and even scratched non-stick coatings.
If you are looking to organize a kitchen and get even the most troublesome of corners in order, then this $22 Umbra Pegboard customizable system may be the very thing you need.
The Umbra Pegboard System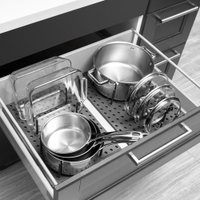 Umbra Charcoal Peggy Drawer Organizers | $22 at Williams Sonoma
What makes Peggy unique is the adjustable tray and removable pegs that can be repositioned at any time. You choose where to place them based on your needs which means you can create the perfect fit to accommodate your plastic food storage containers and lids, your cookware including pots, pans, and lids, your mixing bowls, your cooking utensils and just about anything else you want to keep organized and in its place.
Kitchen storage is one of the many things I personally struggle with. Whether it is in my own small kitchen, or when I am sorting my parents' much larger space, there never seems to be quite enough room for the abundance of appliances and cookware we have collected over the years – especially considering that stacking pans slowly ruins the protective coatings.
When a hanging pot rack is not an option, this fully-customizable pegboard is the perfect product to protect pans while also maintaining organized kitchen drawers and uncluttered countertops.
What's more, organizers such as these even have professional home organizers' seals of approval.
'While I personally don't encourage the use of plate or pan corner stackers for kitchen storage as they take up so much more room than nesting and stacking, it can be worth investing in brackets that you sit pans and lids in,' recommends Gillian Gudgeon, APDO member and Founder of Restore the Calm. 'These can be fixed to the inside of cupboards and drawers for ease too.'
Pegboard organizers are nothing new. From use in shed organizing hacks to organizing small spaces, these handy multi-functional boards are one of the many storage products professional organizers can't live without.
The idea is that the modular pins can be repositioned to fit any pot or pan and hold it in one place, minimizing the grating clattering sound of metal scraping against itself whenever you need a pan from the bottom of a stack or open your kitchen drawers. The best thing? Whenever you treat yourself to new cookware, you can adjust the system to fit it in perfectly so there is no post-purchase guilt when it forms clutter on your kitchen countertops.
The tray (measuring 21.5 x 6 x 4in) comes with 16 pegs in total and has a matrix of 108 holes, making the customization options almost endless. It even has non-slip feet and extendable sides to help it fit into any kitchen storage space.
Where to find alternatives online
Need a slightly different size? Or are you looking for a different color to match your kitchen's aesthetic? These alternative pegboard solutions could be for you:
DANCELF Kitchen Drawer Organizer
This extendable white pegboard organizer is a great alternative if grey is not your style
UPPDATERA Pegboard drawer organiser
IKEA is a go-to for home storage, and their black pegboard is a sleek larger option
FAQs
Can you hang pots and pans on a pegboard?
If you want to have your pots and pans on display then using a vertical, wall mounted pegboard could be a great alternative to a pot rack. Make sure the pegboard is sturdy and properly mounted to a wall with screws and anchors before using strong hooks to hang your pans.
What is the best way to store cookware items?
As many cookware items have delicate patinas to help make them non-stick, or correctly conduct heat, the best way to store them is to prevent stacking them directly on top of one another. This can be achieved by using drawer organizers such as peg boards, stickers, or hanging pot rails to prevent them from wearing down over time.
If this is not an option for your kitchen space, then using a buffer such as a pan stacking pad, or other thick pieces of clean material, will help to protect the patina while preserving space.
How do you declutter pots and pans?
One of the best ways to declutter pots and pans is to start by getting rid of pans you do not use anymore. This may be because they are old or worn down and do not work as well as they used to, or fad-pans that you bought on a whim that you do not enjoy the experience of cooking with. Make sure to also sort any matching lids to these pans at the same time to prevent unnecessary clutter caused by unmatched pairs.
Sign up to the Homes & Gardens newsletter
Decor Ideas. Project Inspiration. Expert Advice. Delivered to your inbox.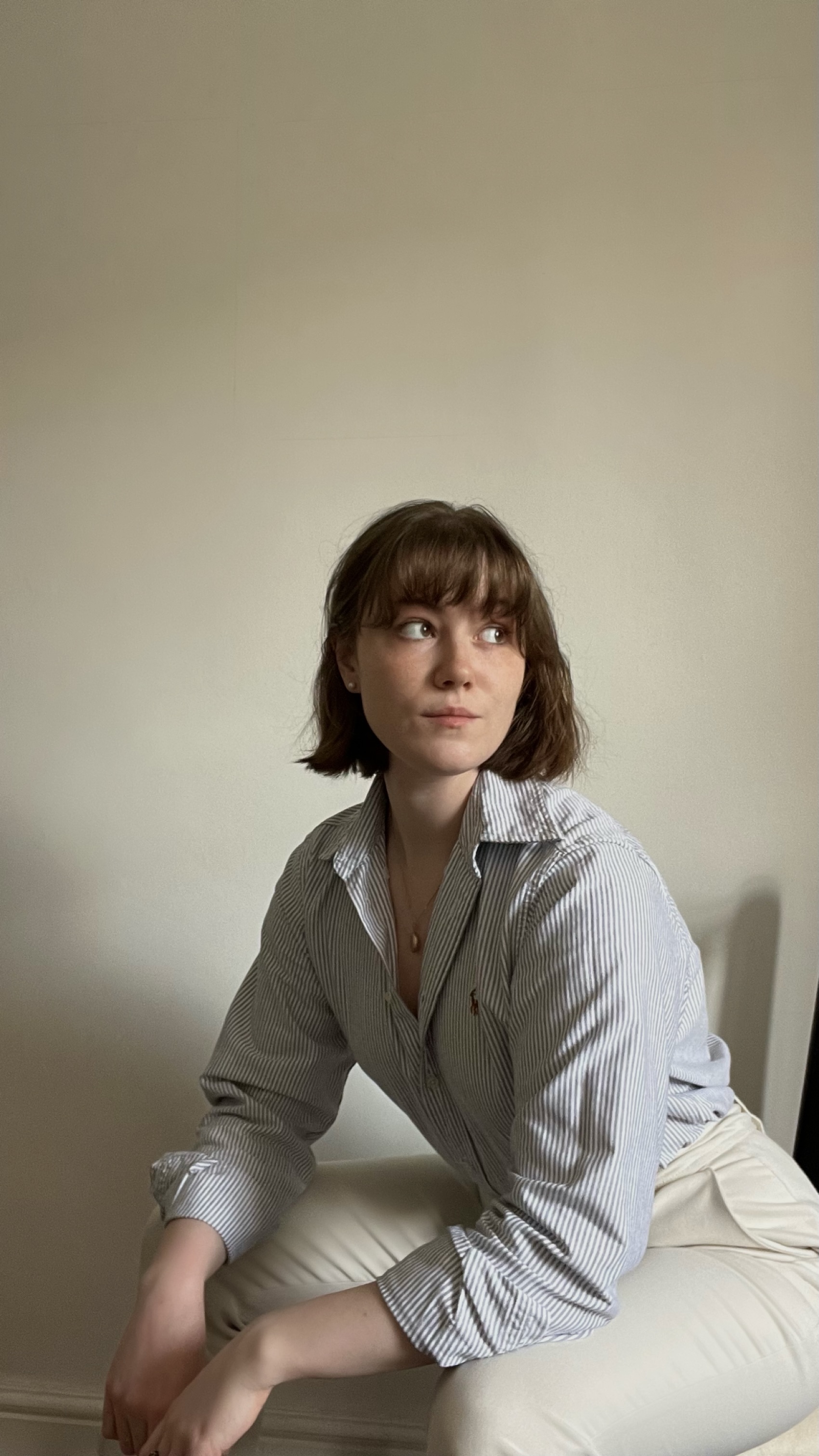 Chiana has been at Homes & Gardens for a year, having started her journey in interior journalism as part of the graduate program. She spends most of her time producing content for the Solved section of the website, helping readers get the most out of their homes through clever decluttering, cleaning, and tidying tips – many of which she tests and reviews herself in her home in Lancaster to ensure they will consistently deliver for her readers and dabbles in the latest design trends. She also has a first-class degree in Literature from Lancaster University.