10 ways British coastal decor meets Christmas in this interior designer's cute cottage
Renowned designer Katharine Pooley shows us how to bring Christmas alive in a coastal cottage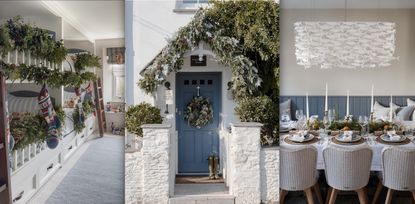 (Image credit: Katharine Pooley)
Katharine Pooley designs and furnishes homes for clients all over the world but her own coastal cottage in Devon, in the Southwest of England, is her personal favorite project, and it's where she likes to spend Christmas with her family.
The old house has views of the sea and is decorated in a cottage-meets-coastal style that mixes a touch of Hamptons chic with cozy rustic styling – overlaid, for Christmas, with foliage garlands and festive trimmings enhanced with cute seaside accessories.
'I had to go to New York for a business trip and I popped down to the Hamptons for the day, where I worked my way round the most amazing shops full of beautiful coastal things. I bought everything I needed for the house and arranged to have it shipped over,' says Katharine. This is how coastal decor meets Christmas in Katharine's cottage.
British interior designer Katharine Pooley is renowned for her refined, sumptuous interiors. The subject of Journey By Design: Katharine Pooley (book cover pictured), she has embraced rustic country interior design for Forter Castle in the Scottish Highlands to contemporary design for a beach villa on the Palm Islands in Dubai. Pooley's expert attention to detail shines in any setting.
The house had previously been divided up by a property developer and the result was a disjointed space in the main house with an annex that was too small to be useful. There were only three bedrooms and two bathrooms, not enough to accommodate the family of four and their extended family who often join them for holidays.
Katharine realized that she could make space for another two bathrooms and an additional bedroom by creating a third floor. Builders set about knocking down the wall in the main room to open up the space, building up the walls at the top of the house, and raising the height of the roof to create space for a fourth bedroom and ensuite in the attic.
With the proportions now more yacht-sized than skiff, Katharine was then able to apply her personal take on coastal cottage style to the space.
1. The door is painted a nautical blue
Wanting to really mark the difference between this and her London home, Katharine decided to go all out on the coastal theme. The cottage's small front porch is framed with an archway of foliage sourced from the grounds of her home in Oxfordshire, while the front door is festooned with a simple loose foliage wreath. The whitewashed house and garden walls provide a classic coastal look, teamed with the deep blue color of the door.
Katharine also kept practicalities in mind. 'I wanted to make it easy for everyone. So when the boys come in from the beach there's a wet tank outside where they can take their wetsuits off and go straight to the outside shower and on into the utility, where there's a washing machine and tumble dryer. It's all designed so they don't traipse sand through the house with their wet feet and sandy toes!'
It's the small details that take coastal style through the property, from front door to rafters. On the front door, a simple loose foliage Christmas wreath is hung from an anchor-shaped door knocker.
2. Hurricane lamps decorate the hallway
Characterful accessories are a textbook lesson on how to make the entryway inviting.
The chunky hurricane lamps came from the Hamptons, where Katharine spotted them on a trip to meet one of her interior design clients. Setting the candles on a bed of pebbles enhances the coastal look.
A vintage sled has been repurposed as a boot stand, while mistletoe and foliage hang from each wall light.
3. There are chunky coastal textures in the entryway
Coastal style is defined by the raw and natural textures you'd find on boats and in harbors, and the homes nearby – think rope and sisal, weathered wood, sailcloth and sacking. Katharine's entryway ideas elevate these materials in the raw wood side table, the cloth upholstery and natural floorcovering.
Some of the Christmas decorations and garlands came from the Hamptons too, but Katharine adds to them with local, natural foraged ferns, dried leaves, and sprigs of fresh holly, rosemary, and fir branches, which she says give the house a deliciously seasonal scent.
Go big, and go early is her personal mantra for Christmas decorations, which are all up by 19th November. 'I love Christmas and take it very seriously,' says Katharine. 'And this house is the perfect place to celebrate the festive season. The entryway lends itself to Christmas stair decor with lush garlands of greenery.'
4. Starfish, not stars, decorate the Christmas tree
Ornaments new and old combine with the soft patina of natural starfish (a recurring theme in the decorations throughout). 'In honor of its seaside setting, we've added in fun Christmas tree decorations on a seaside theme, including starfish, crabs, and lobsters, and seagulls picking up chips,' Katharine says.
The light blue interior is warmed by a Christmas mantel festooned with candles, the roaring fire, and soft lights on the Christmas tree. Early Paper White daffodils add their fresh white blooms and delicate fragrance.
5. A statement shoal of fish light hangs in the dining room
A statement pendant light above the table is a favored tool of designers for zoning a dining area and making an impact in the space. As befits her coastal theme, Katharine chose the Lozenge Shoal 388 light by Scabetti to do the job here.
Before the building work had even begun, Katharine was formulating ideas for the interior finishes. 'That's my favorite part,' she says. 'Ideas come from either a piece of fabric I've seen, or a picture, or carpet design that I love. Here it was the greeny grey textured rug from Sinclair Till under the dining room table that was the starting point.'
Christmas lunch by the sea is a cozy and informal affair. The dining table is dressed with an heirloom tablecloth and decorated with foliage, oranges, and hand-made tapered candles in Katharine's antique brass candlesticks.
Linen napkins with a raw edge detail are perfectly partnered with the rough natural beauty of the oyster shells Katharine uses to hold salt and pepper. Cockleshells collected by her boys are scattered across the ivory linen tablecloth. Name places are marked with simple initials in ink on brown paper held in place on each napkin with a bright white starfish.
6. There's a shipshape galley kitchen
The small galley kitchen is kept shipshape and super-organized. Not wishing to compromise on practicality and finish, Katharine designed a high-spec workspace for cooking and preparation, and incorporated several personal touches to keep things tidy as she hates cluttered work surfaces. For extra convenience, she added a pot-filler tap above the oven.
7. The main suite has a Hamptons vibe
Fittingly for an interior designer who does so much work across the US, Katharine was inspired by her love of Hamptons style when it came to designing the main bedroom.
The restful space has a calming seaside color scheme of sand and white water shades.
8. Cabin beds cater for the kids' crew
There's space in this nautical kids' room for Katharine's two sons and friends to stay over. Katharine created a magical Christmas grotto effect by working foliage between the rails of the bunk beds. A miniature tree on the windowsill is decorated with tiny Victorian glass miniature baubles from Katharine's collection, with toy soldiers and paper stars adding to the fun. Hanging from the beds are the boys' special hand-knitted stockings.
9. A coral headboard adds color to the guest room
Lucky visitors get to stay in this attic room, which was created by building up the cottage walls and raising the roof line. It's the only room in the house that has a pink coral scheme, instead of the coastal blues and greys, and it gives the new loft space an extra warmth that's welcome at Christmas. The seascape above the bed is an heirloom.
10. A boat bath sets sail in the bathroom
The main bathroom is a calming retreat and place of recovery after freezing cold swims in the sea. The traditional cast-iron boat bath, painted a bright sea blue, brings the nautical theme into the space.
A loose arrangement of branches and leaves is reflected in the porthole-shaped mirror.
Karen is the houses editor for homesandgardens.com and homes editor for the brand's sister titles, Period Living and Country Homes & Interiors, and an experienced writer on interiors and gardens. She loves visiting historic houses for Period Living and writing about rural properties for Country Homes & Interiors, and working with photographers to capture all shapes and sizes of properties. Karen began her career as a sub editor at Hi-Fi News and Record Review magazine. Her move to women's magazines came soon after, in the shape of Living magazine, which covered cookery, fashion, beauty, homes and gardening. From Living Karen moved to Ideal Home magazine, where as deputy chief sub, then chief sub, she started to really take an interest in properties, architecture, interior design and gardening.
With contributions from