How to clean a glass table – and the crucial mistakes to avoid if you want a gleaming finish
Get coffee and dining tables gleaming with these simple methods that banish dust for good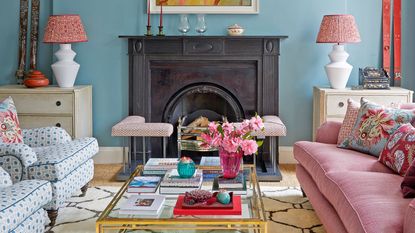 (Image credit: Future PLC)
Glass tables are a great option for small spaces, adding a sense of luxury and sophistication. They can, however, be a real headache to clean.
Glass coffee tables, desks, dining tables, and TV stands offer a modern and minimalist aesthetic while enhancing the sense of space, with many favoring curved forms such as the classic Noguchi table.
There's no getting away from it though, these stunning pieces attract dust and fingerprints like nothing else. So it's well worth giving them some attention when cleaning the living room or they can end up looking grubby and cloudy.
How to clean a glass table
It doesn't have to be a daunting task. Experts have shared their top cleaning tips for getting a glass table gleaming – and how to keep it that way.
Mistakes to avoid
Let's start with the don'ts. Dominic Ponniah, CEO and co-founder of Cleanology say we should avoid applying too much pressure when cleaning a glass table, as this could cause cracks.
Don't use anything abrasive, either – the rough side of a dish sponge, for example, can leave behind scratches.
Removing dust
Dusty surfaces are often our biggest complaint when it comes to glass tables. Remove dust and any loose debris with a dry cloth, feather duster, or a soft-bristled brush. If you have a black glass table that always seems to be covered in a thin layer of dust, try using a damp cloth as your first port of call, as this picks up and traps the dust and stops it from moving around and resettling on the surface.
We haven't used these ourselves, but you could try these highly-rated tack cloths, at Amazon, which are used by painters and decorators to remove dust from surfaces after sanding.
General cleaning
The best option is to wipe the table with a damp microfiber cloth, at Amazon, which will clean the surface and kill bacteria without the need for cleaning sprays. As these are washable, you can keep using them for years to come (just avoid washing with fabric softener as this makes them less absorbent).
Dominic Ponniah of Cleanology agrees: 'One of the best methods we have found for cleaning a glass table is undoubtedly using a microfiber cloth! Microfiber cloths are really great for eliminating dirt and filth without leaving behind streaks.
'Microfiber cloths work even better when they are combined with a glass cleaner!' Dominic Ponniah adds. He suggests either making your own chemical-free glass cleaner at home, mixing equal parts water and white vinegar, at Walmart, or buying a professional glass cleaning solution. 'This combination is a great method to leave your glass table looking streak-free and with a shiny finish.'
Dominic Ponniah is CEO and co-founder of Cleanology a multi-award-winning commercial cleaning and facilities company. With over 1,200 staff, the business counts embassies, blue-chip corporations, luxury retail and even royalty among its clients.
For cloudy glass
It can be really disappointing to see clouded areas on a glass table, but it could just be hard water build-up. Clean with filtered water if you live in a hard water area to avoid a build-up of calcium and magnesium deposits, and ensure that spills are wiped up quickly so that the table isn't exposed to moisture for extended periods.
As with cleaning glass shower doors, white vinegar will help shift watermarks from your table.
For the edges
'The edges of a glass table can be tricky to clean,' says Becky Decker from the home and garden design blog Gardeninghood. 'To ensure that you don't miss any spots, take a cotton swab and dip it in your cleaning solution. Gently run the cotton swab along the edges of the table to remove any grime or dirt.'
What causes a glass table to go cloudy?
According to Dominic at Cleanology, the main cause of cloudy marks on a glass table is using hard water as it contains high amounts of magnesium and calcium, which can leave behind deposits on the glass causing it to appear cloudy. Moisture damage could also be the culprit – too much moisture, such as from spills or condensation, can cause the glass to become cloudy over time.
Improper cleaning can also cause cloudiness. Josh Boesch at Gatsby Glass says to avoid abrasive or ammonia-based cleaners to prevent scratches or damage to the glass surface.
---
A final tip for a streak-free finish is to use a squeegee to soak up any moisture – they're not just for cleaning windows, but will also help to get the surface squeaky clean.
Millie Hurst is Section Editor at Homes & Gardens, overseeing the Solved section, which provides readers with practical advice for their homes. She has been in the world of digital journalism for six years, having previously worked as Senior SEO Editor at News UK both in London and New York. She joined the Future team two years ago, working across a range of homes brands. Millie formerly worked as Senior Content Editor at Ideal Home, taking care of evergreen articles that help and inspire people to make the most of their homes and outdoor spaces. Millie has a degree in French and Italian and lives in North London.