'Mailbox decluttering' – how it works and why pro organizers prefer more old-school methods
This simple mailbox decluttering technique is genius for serial online shoppers, but professionals have their reservations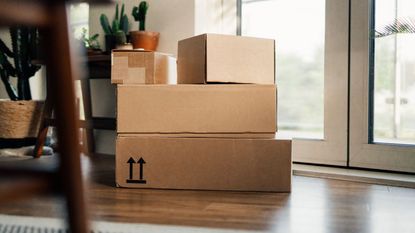 (Image credit: Getty Images)
It is easy to feel guilty when adding more and more to your home when you already deal with clutter – especially when you never quite get around to tidying it away.
A clever TikTok hack we are dubbing 'mailbox decluttering' seems to be the perfect solution for this bad habit. The quick 'house law' as the creator called it, involves filling a parcel box up with things to get rid of whenever you get a parcel. It is a perfectly practical way to follow the one-in-one-out method.
Here, we explain how you can use the mailbox decluttering tip in your own home, and professional organizers share their thoughts on the method.
Mailbox decluttering hack
Originally posted by Mayz of JustMayzThings, the hack is great for those of us that love online shopping and receive plenty of box packages in the mail. The idea is to fill the empty box up with things you need to declutter, whether it be items to donate such as in Mayz's video where she got rid of some clothes and drinking glasses, or things to go to the trash – so long as something leaves the house as you bring something new in, to work through your decluttering checklist.
One major benefit of this simple method is the visual 'trigger' point that can help you to get started on clearing out your home and prevent you from decluttering when overwhelmed.
An incoming parcel will instantly remind us to tidy and streamline, making it so that we don't have to actively think about decluttering or plan it into our routine. Once you have an empty box in hand, you have to refill it, helping you to build steady and recurring habits.
What's more, there is a defined endpoint to mailbox decluttering too – once the box is full you can stop tidying, making it perfect for short bursts of decluttering to prevent fatigue, similar to the one bag a day method.
This is not to say that this decluttering technique is without its weak points, however, as Darla DeMorrow, professional organizer and founder of HeartWork Organizing shares. 'This tip is good as far as it goes. However, the real magic is getting that box out to your car and off to a donation center,' she points out.
'For people who don't have a car or live in a large city, filling the box is only half the battle. Even putting the box in the car doesn't get you all the way to the finish line.'
Although it is simple to declutter trash using this method as you can simply throw it all out, for boxes of items that can still be used, Darla suggests finding some good resources, such as GiveBackBox.com to 'turn a donation box from a doorstop into something with legs,' and have someone collect your good-quality, useful clutter.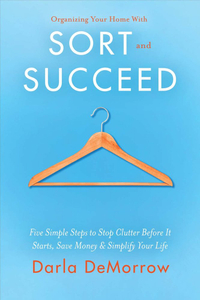 Organizing Your Home with SORT and SUCCEED | $15 at Amazon
Written by Certified Home Organizer Darla DeMorrow, Sort and Succeed helps to coach people through the process of decluttering and stopping cutter before it starts for a consistently organized home.
Darla DeMorrow is a certified professional organizer, productivity expert, home stager, and author. Her company, HeartWork Organizing, based in Wayne, PA, offers seminars and training as well as hands-on work with residential and business clients.
Another caveat to keep in mind is that the size of boxes, and the size of your household items, will often change, with larger household items taking up the most space and difficult to find a box large enough for, making mailbox decluttering a good way of keeping on top of your clutter but not completely gutting your home, says Brenda Scott, professional home organizer and founder of Tidy My Space.
A large box may also simply be too impossible to fill, adds Melissa Gugni, professional organizer and owner of Melissa Gugni Organizing. The trick to avoiding decluttering mistakes is to find a good balance, using these 'trendy fads' to keep on top of your belongings and 'sticking to old-school organizing rules' for long-term success, she suggests.
Brenda is passionate about home organizing, decluttering and creating a safe home. At Tidy My Space, she helps people to keep their homes tidy when life gets busy. Brenda shares useful tips and gives practical help with sorting and editing her clients' spaces, leading them to feel less stressed and bringing the luxury of time to be spent with family, friends, or on themselves.
Melissa Gugni is the owner and lead organizer of Melissa Gugni Organizing, based in the San Francisco Bay Area. She is also co-owner of Union Larder, an award-winning wine bar and Little Vine, a wine and cheese shop also in San Francisco.
FAQs
What is the one in one out rule for decluttering?
The one in one out rule for decluttering works on the idea that for every item you introduce into your home, you have to get rid of something. It is most commonly used in spaces like closets, where you may buy a new top and have to get rid of a piece of clothing in return. The concept is designed to help you from adding to clutter leading to overwhelm. It doesn't have to be from the same category, however, the idea is to keep the same amount of belonging consistently to help fit everything into your space.
What should you not throw out when decluttering?
When decluttering, especially when decluttering quickly, it is important to not throw out anything with deep sentimental value that you cannot replace, including essential documents or heirlooms. Besides the delicate things, it is also important to avoid throwing out any duplicates of items that make your life easier. Although it is a common decluttering tip to remove anything you have more than one of, if having more than one item makes your everyday routine a little more streamlined, it is worth dedicating more space to it in your home, from pairs of scissors to backup toiletries.
---
This mailbox decluttering technique is great if you are looking for a quick freshen-up of your space and can be altered to suit your needs. Whether you fill the box as Mayz does, or opt to get rid of the same amount of things as you bought and leave it at that, it is a fun cleaning tip to stay organized before clutter builds up. Just make sure to pair it with some traditional home organizing ideas to really keep your home in shape.
Sign up to the Homes & Gardens newsletter
Decor Ideas. Project Inspiration. Expert Advice. Delivered to your inbox.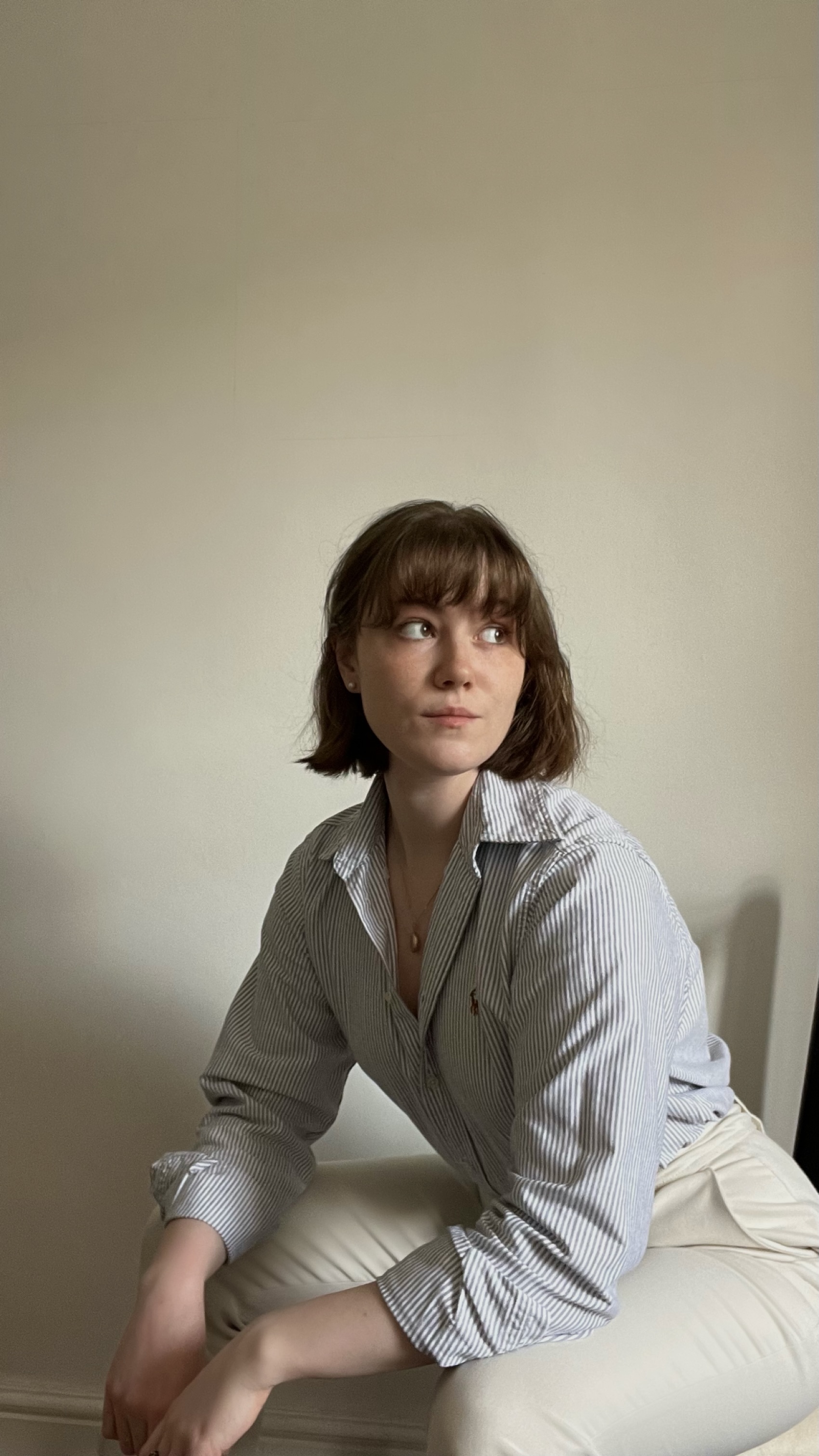 Chiana has been at Homes & Gardens for a year, having started her journey in interior journalism as part of the graduate program. She spends most of her time producing content for the Solved section of the website, helping readers get the most out of their homes through clever decluttering, cleaning, and tidying tips – many of which she tests and reviews herself in her home in Lancaster to ensure they will consistently deliver for her readers and dabbles in the latest design trends. She also has a first-class degree in Literature from Lancaster University.