Decluttering checklist – 26 things you can clear out right now
Tackle these clutter hotspots and you'll notice the difference straightaway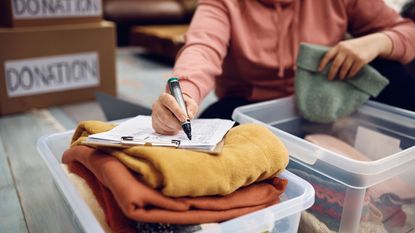 (Image credit: Getty images / Drazen Zigic)
There's no doubt about it, decluttering can be daunting, especially if you don't know where to start. Rest assured, there are steps you can take to make the whole process easier, starting with a decluttering checklist.
While every home is different, there are some hotspots in almost all of them that are particularly prone to clutter. Knowing what these are – and employing effective decluttering tips – can make a huge difference. Not just to how neat and tidy your home looks, but to your motivation levels, too.
With the help of the experts, we've created the ultimate decluttering checklist to make the job easier. Stick with it, and you'll see just how much decluttering can change your life for the better.
Decluttering checklist – 25 things you can clear out right now
So you're prepped and ready… but still finding it tough to get going. Don't worry. That's not uncommon. Knowing how to declutter your home when you're feeling overwhelmed can be useful in this case. Along with your decluttering checklist, you might want to jot down a few reasons why you want to do it. How do you want your home to look, feel and function? Having some set goals can really help to spur you on.
Kitchen
1. 'College-helpers'
From egg slicers and bagel cutters to novelty cookie cutters, we're all guilty of hoarding single purpose kitchen 'tools' in the hope they might one day be helpful. In reality, they're used once or twice, then wind up as clutter. Don't fall subject to strong marketing – multi-tasking tools, such as this OXO multipurpose scraper and chopper, at Amazon are the way forward if you want to keep kitchen clutter at bay.
2. Duplicates
Most homes are overrun with duplicate items, particularly in the kitchen. While some serve a purpose (mugs, storage containers, cutting boards, etc), others do not. How many spatulas do you use at one time? We're going to guess one. Veg peelers? Graters? Garlic presses? …we've made our point. Apply the 'no duplicates' rule, and you'll see progress fast.
3. Expired food
Search through your pantry staples and refrigerator for expired or unwanted items, and make decisions on what needs to go and what could be donated to free up space. Don't forget to tackle the chest freezer if you have one – avoid playing 'leftover roulette' and get rid of anything without a clear label.
4. Discolored plastic containers
Tupperware and plastic containers can be tricky to organize anyway, let alone if your container collection is out of control. As a rule of thumb, it can last around five years before it's past its peak, so start by getting rid of any that have been gathering dust for longer than that, as well as any that are starting to look cloudy and scratched. Recycle what you can, obviously.
'After setting aside those that can go straight away, ask yourself if you really use the remaining Tupperware. You might have used them previously, perhaps when children were younger, but if times have changed you may no longer need them. Consider reducing your stock and investing in earth-friendly glass food containers, at Amazon. going forwards,' says professional organizer Brenda Scott of Tidy My Space.
Brenda Scott is passionate about home organizing, decluttering, and creating a safe home. At Tidy My Space, she helps people to keep their homes tidy when life gets busy. Brenda shares useful tips and gives practical help with sorting and editing her clients' spaces, leading them to feel less stressed and bringing the luxury of time to be spent with family, friends, or on themselves.
5. Bulky appliances
When it comes to decluttering countertops, bulky appliances should be the first thing to go. Not only are they a bit of an eyesore, but they take up valuable countertop space. A good rule to go by is to only keep out the gadgets you use daily – the rest should be stored away.
6. Food packaging
'Removing packaging from food where possible not only frees up space but opens up new, more practical, possibilities for your kitchen storage. Items like coffee pods or tea bags can sit directly in a drawer organizer, while other items like cereal, can go into airtight containers, at Walmart. This has the added benefit of allowing you to see when items are running low,' says Catherine Davin, co-founder and interior designer of Clairrow.
Bedroom
7. Unloved clothes
Cutting back on the contents of your closet is job number one when decluttering your bedroom. Getting rid of clothing can be emotional, so it's important to be strict with yourself. Does it still fit? Is it in good condition? Have you worn it in the last year?
'If you're wanting to declutter your clothes fast, but struggling to make decisions, Chicago-based organization expert Jessica Litman advises trying items on. 'How does it make you feel? There's nothing worse than wearing clothes you don't feel good in, so if that's the case, remove it from your closet straightaway', she says. Be sure to invest in our favorite velvet clothes hangers, available at Amazon – camisoles will never slip off again, you'll save time trying to wrap the tiny little straps around the extra hooks, and the hangers won't leave your clothes out of shape.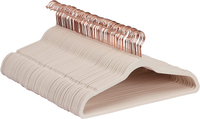 Amazon Basics Slim, Velvet | $37.23 for pack of 100 at Amazon
These hangers are designed to be non-slip and having all the same color reduces the visual clutter in your closet, too.
8. Mismatched socks
If you're not a fan of the mismatched look, decluttering and organizing your sock drawer is always good, and can be done really quickly, too. Discard any that don't have a mate, those can go straight away, then have a think about how many pairs you really need. Rather than throw them away, think about ways you could reuse them around the house – cleaning rags, polishing cloths, perhaps a sock puppet or two…!
9. Unworn underwear
Don't get your knickers in a knot when organizing your underwear drawer – go through each item and discard anything that no longer fits, you never wear, or isn't in the best condition. Retain only the pieces you feel comfortable and confident in. When it comes to everyday undies, experts recommend leaving enough to last you two weeks, to avoid getting caught short with your laundry schedule!
Living room
10. Paper clutter
Going paperless is one of the best things you can do to maintain a clutter-free home going forwards, not to mention it's great for the planet. Take the time to gather all your paperwork together and work your way through piece by piece. Part with documents you no longer need (be sure to double check you don't need to retain hard copies before you shred anything) and scan the ones you do, then 'opt-in' for digital versions going forwards.
11. Toys
It can be tricky to get little ones on board, but decluttering toys can actually be beneficial to their play (too much choice often leads to overwhelm) and makes tidying up easier on everyone, too. Keep it simple to start with; focus on broken toys, full coloring pads, used sticker books, and anything that no longer has a use. Next, tackle outgrown or unloved toys.
'If you're donating items, explain the importance of sharing and giving; donate toys to charity shops, nurseries or family centers so your kids know they're going to make other children happy,' says professional organizer Vicky Silverthorn of You Need a Vicky. Having cut down the collection, now is a great time to invest in storage solutions, such as baskets with lids, at Walmart or a storage ottoman.
12. Junk drawer
Designating a 'junk' drawer is just an excuse to hold onto clutter – it's still clutter, regardless of where it is! Allow yourself a few items with purpose: emergency contact list, spare keys, a (working) pen, spare change, for example. Anything else that doesn't have a 'natural' home elsewhere, toss.
13. Gift wrap
We're all for reducing paper waste, but be considerate with what you save. You're unlikely to wrap presents in tatty, torn or crumpled wrapping paper. If it's not up to scratch, recycle it.
Bathroom
14. Medication
When you're feeling unwell, there's nothing worse than rummaging through your medicine cabinet only to find expired painkillers or empty packets of cough drops. Set aside any unneeded or unused medications, then rid yourself of anything past its expiration date; chances are they won't be as effective anymore anyway. Be sure to dispose of any drugs and medical paraphernalia safely and responsibly.
15. Old towels and linens
Go through your linen closet shelf by shelf, removing worn-out towels, blankets and sheets – your local animal shelter will be happy to take these off your hands. If you're alternating between just a few favorite bed sets, designate the rest as 'guest linens', and store them elsewhere so they're not taking up prime storage space.
16. Toiletries
What with gift sets, free samples and general day-to-day products, skincare items can quickly build up. Cutting the clutter from your getting-ready routine can make for a much smoother start to the day, and will make you feel better in general, too.
It's empowering to know and use what you like and what makes you feel good. We're all guilty of hanging onto products just because we spent money on them, but if you don't like the way they make your skin feel, don't feel obliged to hold onto them', says professional organizer Sarah Dunn of Ready Set Organize.
A few years ago, Sarah Dunn started helping friends declutter and organize their own spaces. Realizing that transforming one's environment leads to much greater and more consequential transformation, she founded Ready Set Organize, helping clients make positive changes to their physical environment.
17. Cleaning products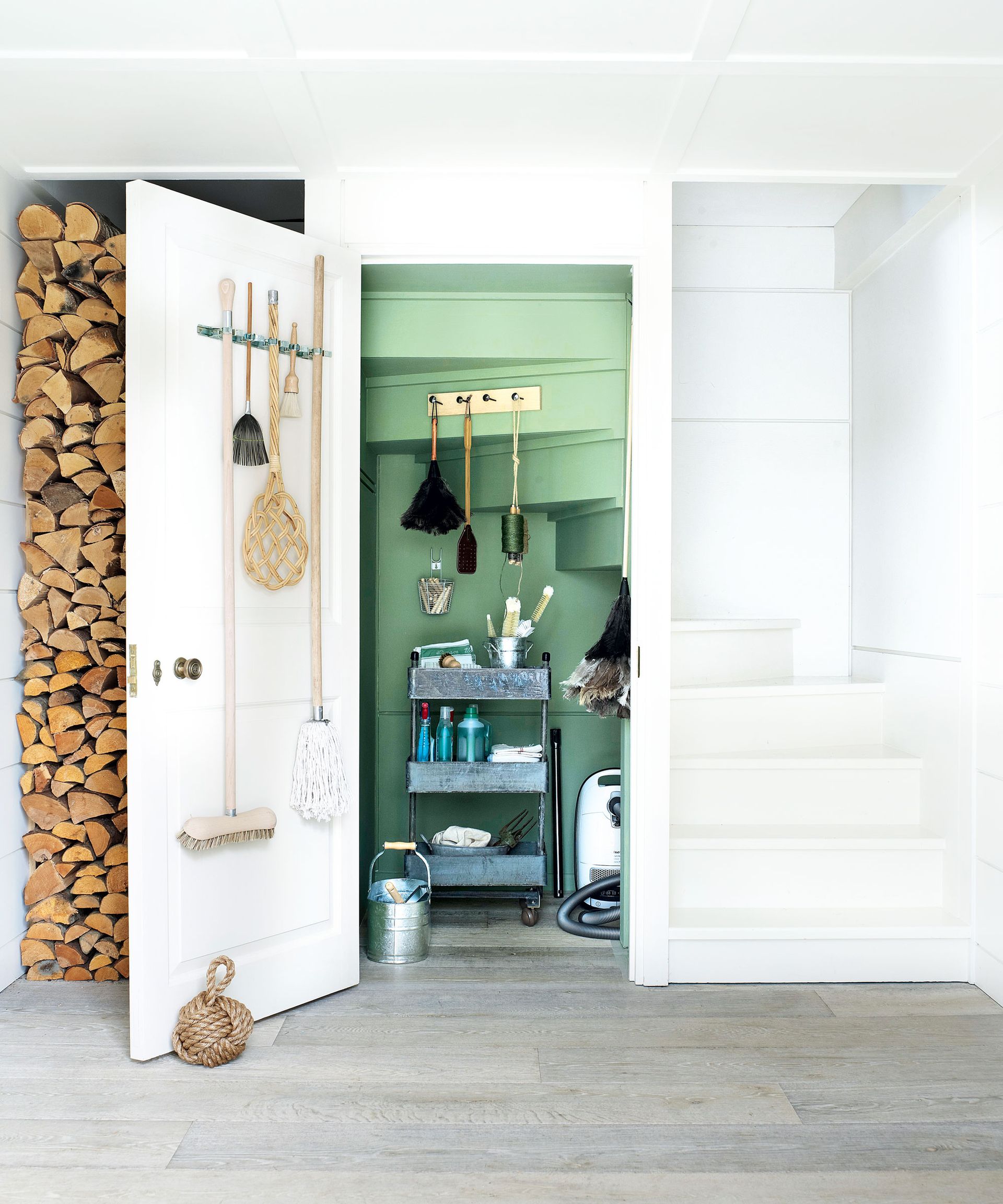 Tackle under-sink cabinets in the kitchen and bathroom, as well as in the laundry room. Toss empty containers, those past their expiry date, and any that aren't eco-friendly, particularly if you have children and pets. Replace cleaning cloths and dusters with reusable microfiber cloths, at Amazon. If you've accumulated multiple hoovers, mops, brooms etc, apply the no duplicates rule and just keep one of each.
18. Sun block
Did you know sun block becomes less effective over time? If you're not sure how long your bottles have been sitting there, get rid, even if they're full – it's not worth the pain!
Other
19. Digital clutter
Your desk might be clear, but if your digital desktop isn't, stress levels will remain high. Remove as much as you can so it's as clear as possible, then create named folders for what's left, just like you would if you were organizing a home office.
20. Coat closet
Not every single item of outerwear needs to live in your entryway at all times. Declutter by season; swap out winter coats, boots, hats, scarves and gloves, anything you don't need during the sunnier months (and vice versa), and stash them elsewhere. Take the opportunity to get rid of items you no longer want each time, too.
21. Outdated tech
Whether it's the remote control to a TV you no longer own, an ancient cell phone or broken speakers, there's some things you're just never going to need again, so ditch them, pronto. However, when organizing cords and cables, perhaps take a more reserved approach. If you're not sure what they're for, stash them in a box for a year or so; if you haven't used them in that time, you're safe to get rid.
22. Make-up
If you can't remember when you last used it, or in fact you never have, it might be time to admit it's just not your color… don't be too quick to throw cosmetics away though.
When it comes to getting rid of cosmetics, or any product with a use-by date, resigning everything straight to the garbage is one of the biggest decluttering mistakes you can make. Take the time to assess whether they can be recycled or (if they're within date) reused by somebody else, first. While most charity shops won't accept them, there are plenty of places that can make use if they're sealed and within date.
23. Magazines, catalogs and junk mail
'Place magazines where you will read them, such as on a bedside table, and commit to recycling immediately after reading them. If there's any information you want to save, take a picture of it first,' advises professional organizer Amy Bloomer of Let Your Space Bloom.
If you're prone to piles, consider online subscriptions instead – It's better for the planet, and you can read them anywhere. Whilst you're at it, go through your emails and unsubscribe from mailing lists that you no longer want to receive paper mail from.
Amy Bloomer owns Let Your Space Bloom, a home organizing company. She's been in thousands of homes, helping families, professionals and retirees to transform their space, and in turn, their lives.
24. Old greetings cards
While it's ok to hold onto a few, most cards lose their significance pretty quickly after the event. 'Unless there's anything about a card that makes it so special it needs to go into a memory box, let it go – it has done its job, which was to convey a meaningful message', says Kate Ibbotson, APDO member and founder of A Tidy Mind.
25. Craft supplies
Unless you're a regular crafter, you're likely to have dried-up glue sticks, ribbon off-cuts, paper strips and other miscellaneous items left over from various projects that you'll probably never need again. Streamline your stash and donate anything usable to your local school, church or any non-profit organization that could make use of it.
26. Manuals
When it comes to instructions, guides, and manuals, bear in mind that most can now be found online, so get rid of paper versions where you can. This is what the pros recommend if you're decluttering to move – chances are you'll have all-new appliances, anyway.
FAQs
How can I be more ruthless when decluttering?
Indecision is usually what holds us back from effective decluttering. What if I need it again? What if I miss it? I might wear it again one day… Having these thoughts whizzing around your head can make letting go of things very difficult, not to mention time-consuming.
The trick to becoming more ruthless is to take the decision out of the decision-making process. Set yourself some rules in advance; is it broken? Does it still fit? Will you use it again? If the answer is no, get rid – no exceptions. Employing the 20/20 decluttering rule can also be highly effective, and setting a timer usually helps, too.
Should you keep clothes that are too small?
Starting with the closet is one of the best bedroom decluttering rules we can offer, and clothes that are too small should be one of the first things that you remove. As well as creating visual clutter, seeing them hanging there unworn day after day can bring about negative feelings.
'If you have unworn clothes in your closet reserved for when you go up or down a size, consider how expensive they are and how hard they'd be to replace. Consider donating them to someone who could make use of them right now. If there are items you absolutely love and you're adamant you'll one day wear again, box them up and store them out of sight so they're not taking up valuable storage space', says professional organizer Ben Soreff of House to Home Organizing.
If you're really struggling to let go, try and remember that having less clothes isn't a bad thing; it allows you to fully enjoy those items you do love to wear, and makes it a lot quicker to find a feel-good outfit in the morning, too!
Sign up to the Homes & Gardens newsletter
Decor Ideas. Project Inspiration. Expert Advice. Delivered to your inbox.
For 10 years, Tara King worked as a Content Editor in the magazine industry, before leaving to become freelance, covering interior design, wellbeing, craft and homemaking. As well as writing for Ideal Home, Style at Home, Country Homes & Interiors, Tara's keen eye for styling combined with a passion for creating a happy – and functional – family home has led to a series of organization and cleaning features for H&G.