How to organize cleaning supplies – 12 tips to clean up your cleaning cabinet
Even cleaning supplies themselves need a good tidying every once in a while, here's how to organize them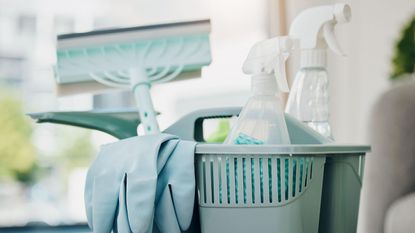 (Image credit: Alamy)
Sign up to the Homes & Gardens newsletter
Decor Ideas. Project Inspiration. Expert Advice. Delivered to your inbox.
Thank you for signing up to Homes & Gardens. You will receive a verification email shortly.
There was a problem. Please refresh the page and try again.
Cleaning supplies are often big and bulky, especially when we have a product for every problem in our homes – from degreasers to polishes. So how do you organize cleaning products so that they don't become a mess themselves?
One of the top cleaning tips any professional cleaner will give you is to create a good organizational system for your products. Not only does it allow you to see what you have but it makes them easier to access, meaning you are more likely to keep your home clean and orderly.
Here are 12 ways you can organize cleaning supplies, as recommended by experts.
How to organize cleaning supplies
Whether you love cleaning or loathe it, decluttering and organizing your cleaning supplies should be at the top of your spring cleaning checklist when preparing for spring cleaning.
This is how the professionals get it done.
1. Start by decluttering
As with any home organizing, starting with some decluttering tips makes the process easier overall by reducing how much you have to fit into often small storage spaces. When starting to get rid of something as essential as cleaning supplies, there are a few places to start to help narrow down what you need to get rid of, explains professional cleaner Benjamin Ottis, founder of Full Color Cleaners.
'Get rid of supplies that are expired, empty, or haven't been used in a long time,' he suggests. 'Make sure to properly dispose of them when you do,' he adds.
'From there, we can categorize the cleaning products we have left by type, such as glass cleaners, surface cleaners, and floor cleaners to help us find things easier,' making sure to label supplies with names and expiration to make decluttering easier in the future.
Benjamin Ottis co-founded Full Color Cleaners with his brother with just some cleaning supplies and their Mom's car. Now, the business is a cleaning dojo serving the Austin, TX area.
2. Use a caddy
A great way to spring clean without getting overwhelmed is to ensure all of your products are in one spot and easy to access to make starting cleaning easier. The solution? A portable cleaning caddy, says Laura Avila, cleaning expert and founder of Cleaning Fan.
'I suggest using a caddy with different compartments for different types of cleaning products, making it easier to find what you need quickly,' she recommends.
Laura Avila, the cleaning enthusiast, has years of cleaning experience, and now provides practical tips to her clients on how to maintain a clean and organized home.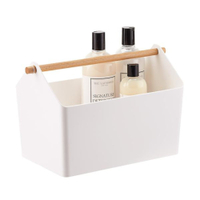 Favori Storage Caddy | $36.99 at The Container Store
This cleaning caddy makes it easy to move your supplies around the house with you, making cleaning smoother and more efficient.
3. Consider a shoe holder
If you have the luxury of a full cleaning closet or utility room, then a shoe organizer, like this over-door organizer from The Container Store is perfect for keeping bottles and cloths out of the way and in easy reach while also making use of vertical space for organizing cleaning supplies.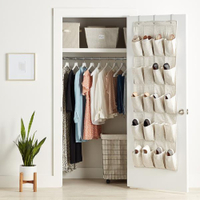 Over-door organizer | $29.99 from The Container Store
This Farmhouse shoe organizer is a fresh way to make the most of your space. Three top hooks slide over almost any closet door, instantly creating storage.
4. Add hooks to the inside of doors
A handy kitchen organizer professionals always buy, small hooks like command hooks from Amazon are perfect for using vertical space for storing smaller supplies like cloths, towels, and gloves.
'You can also use command strips for adding baskets inside cabinet doors,' says Andrea Brame, professional declutterer and founder of This Modern Mess. These are great for lighter cleaning supplies, trash bags, handled dusters, and brushes that are a little more awkward to store in containers.
Andrea Brame started This Modern Mess to help other busy moms simplify their lives, declutter and organize their living spaces, bring back a sense of calm to their homes, and enjoy less stressful family time.
5. Add a cleaning schedule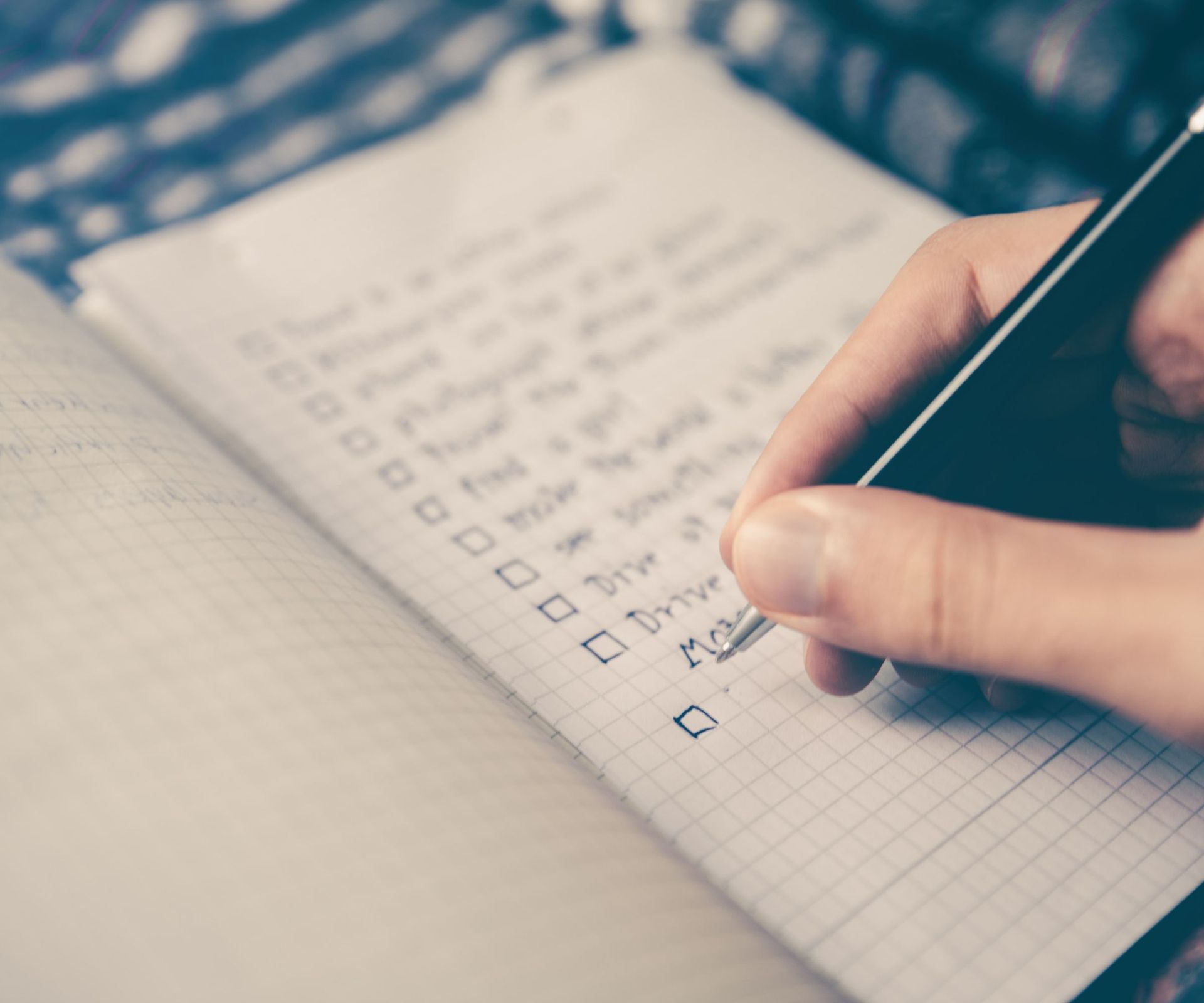 There is a multitude of cleaning schedule templates, such as the 'different day, different room' housekeeping schedule, that can help you stay on track when cleaning your home, but experts suggest adding a checklist to your cleaning supply organization so you don't have to rewrite the list every time you come to tidy.
'This can help you stay organized and ensure that you always have the right cleaning supplies on hand,' explains Laura Avila, a cleaning expert. 'You can use a planner or calendar to create your cleaning schedule and keep it visible in a central location in your home.'
6. Give purpose to the space under your sink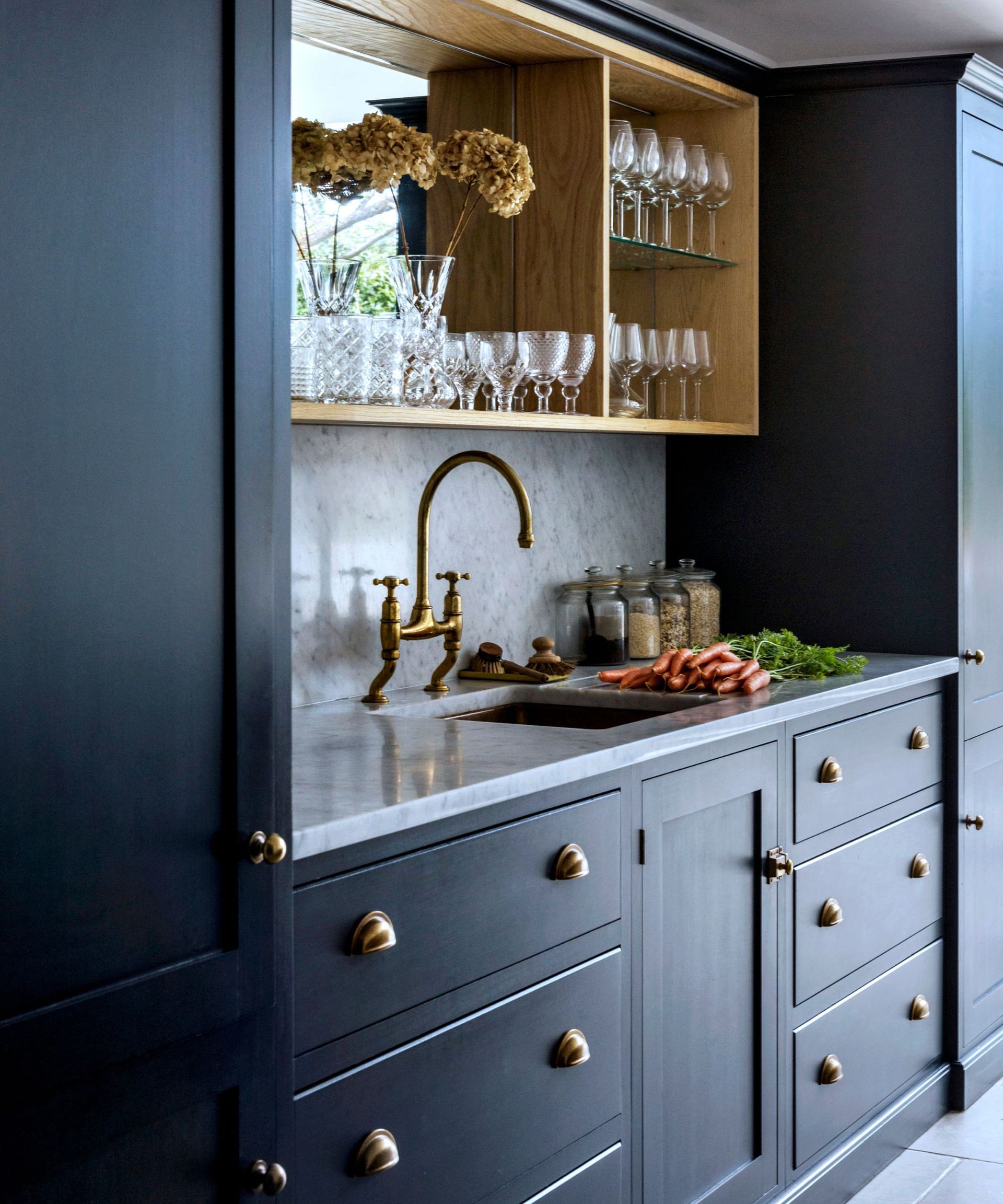 Organizing under the sink can be awkward due to pipework and the moist, cool environment. It often means that there are many things you should not store under your sink to keep it in good condition. However, this spot is perfect to organize cleaning supplies and keep them all together – so long as you have the right products to make the most of the space, that is.
'I suggest you use bins and stackable drawers to "Tetris storage" around the pipes and disposal,' Andrea Brame, professional declutterer says. 'This way you can pull out specific bins or drawers and access what you need, and you use all the available storage space.'
We love this expandable under-sink organizer from The Container Store for its moveable shelf panels that makes working around sink pipes super easy and faff-free.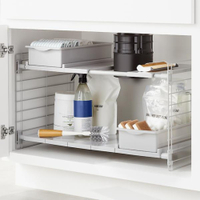 Expandable under-sink organizer | $43.99 at The Container Store
This expandable Under Sink Organizer easily adjusts to fit around pipes under your sink. It expands from side to side and you can change the height of the shelves. You can even remove a shelf or two in order to accommodate a garbage disposal or low-hanging pipe.
7. Use an expanding rail to hang sprays in cabinets
If you have a deep, taller cabinet, then adding an extendable pole can offer good storage for spray bottles and gloves. 'I like to use an extendable pole to hang cleaning supplies in the corner or on a wall, freeing up space in your closet or cupboard,' shares Lauren Doss, cleaning guru and owner of Nashville Maids. 'You can also use it to hang smaller items like brooms and dustpans.'
Alternatively, you could add a smaller extendable pole inside cleaning cabinets to help lift bottles off of the base of the cupboard and store things beneath too.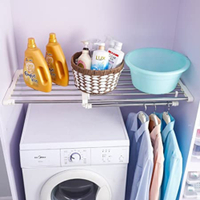 Telescopic shelf organizer | $34.99 at Amazon
This adjustable organizer is perfect for hanging bottles from and placing cleaning containers on top both in small nooks and in cleaning cabinets.
8. Make baskets for each room
A good storage basket has many uses around the home. But one of the smartest is organizing cleaning products by room to help make cleaning simpler throughout the week. 'Keeping your cleaning products organized by type can also help you save time when looking for a specific item,' says Laura Avila, a cleaning professional. Make up one basket for the bathroom, the kitchen, the living room and bedrooms, and so on to make grabbing a basket to go a mindless task.
9. Add a lazy susan to rotate your supplies
A lazy susan has become one of those storage products professional organizers can't live without – and for good reason! They are the perfect organizer for deep cabinets whether you are organizing cleaning supplies or trying to ace your food storage.
'If you have the space (and your items aren't so tall they hit the disposal when spun), use a giant turntable/Lazy Susan for deep storage spaces,' Andrea Brame, professional declutterer recommends. 'Simply spin the turntable around to grab your preferred product and go.'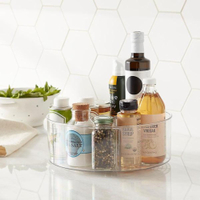 Linus 9" Divided Turntable Clear | $21.99 at The Container Store
The durable and sectioned design is perfect for keeping bottles, packets, or spice jars neat, orderly, and easily accessible.
10. Use a container for cloths and sponges
If you like to use reusable cloths for cleaning your home then you will understand the struggle of trying to keep it organized. One way to do this is to use a designated container to help stack clothes and sponges in one space so they are easy to grab and go and prevent them from getting dirty before use, says cleaning professional Laura Avila. 'You can use a mesh or wire basket to store them and hang them in a convenient location in your kitchen or bathroom while also allowing them to stay dry.'
You can use narrower containers like these from The Container Store to 'file fold' your cloths and stack them vertically for a neat cloth drawer, too.
11. Invest in dedicated organizers
If you love the look of cleaning influencers' perfectly managed cleaning collections on Instagram, then invest in some uniform, purpose-made cleaning supply organizers from stores like The Container Store or Amazon. The benefit of this is the variety of organizers you will find for your perfect storage solution, says Lauren Doss, cleaning guru.
'You can find a variety of different types, from adjustable shelves to baskets and drawers. This can help ensure that you always know where your items are and don't have to search through a cluttered cupboard.' Often, some of the best kitchen organizers work well for cleaning cabinets, too.
12. – Or repurpose old containers
If you are looking for ways to save money or be more sustainable at home, then repurposing old containers and boxes is also a good option when organizing cleaning supplies. These things are often not on display, meaning that non-uniform crates are not as important.
'Containers like shoe boxes or plastic tubs are ideal for this,' Lauren Doss, cleaning guru continues. 'You can label each container so that you know exactly what is inside and it will make finding the right item much easier.'
FAQs
How do you store cleaning supplies in a small space?
When storing cleaning supplies in a small space, it is important to start by decluttering. Get rid of any products that you do not like using, don't like the smell of, or have expired (especially in the case of expired anti-bacterials). Next, get rid of cloths and sponges that have been overused.
Now, you have cut back on your collection, use a multi-level organizer to make use of height in a small space, hang or stack products with your most commonly used in the most accessible spots, and those you use less often placed a little further back.
How do you stock a cleaning caddy?
When stocking up a cleaning caddy, start by adding the essential products that can be used for multiple tasks. Sponges, cloths, and a towel are ideal for tools, while multi-surface sprays, anti-bacterial, and a degreaser are perfect for tackling the majority of household tasks in each room.
If you want to go green, consider adding a container of baking soda and a bottle of white vinegar too for a true hard-working multi-purpose mix.
---
These 12 ways of organizing cleaning supplies are sure to get your cleaning cabinet in order no matter its shape or size. With cleaning products that look this good, cleaning up your home won't feel like a chore at all!
Sign up to the Homes & Gardens newsletter
Decor Ideas. Project Inspiration. Expert Advice. Delivered to your inbox.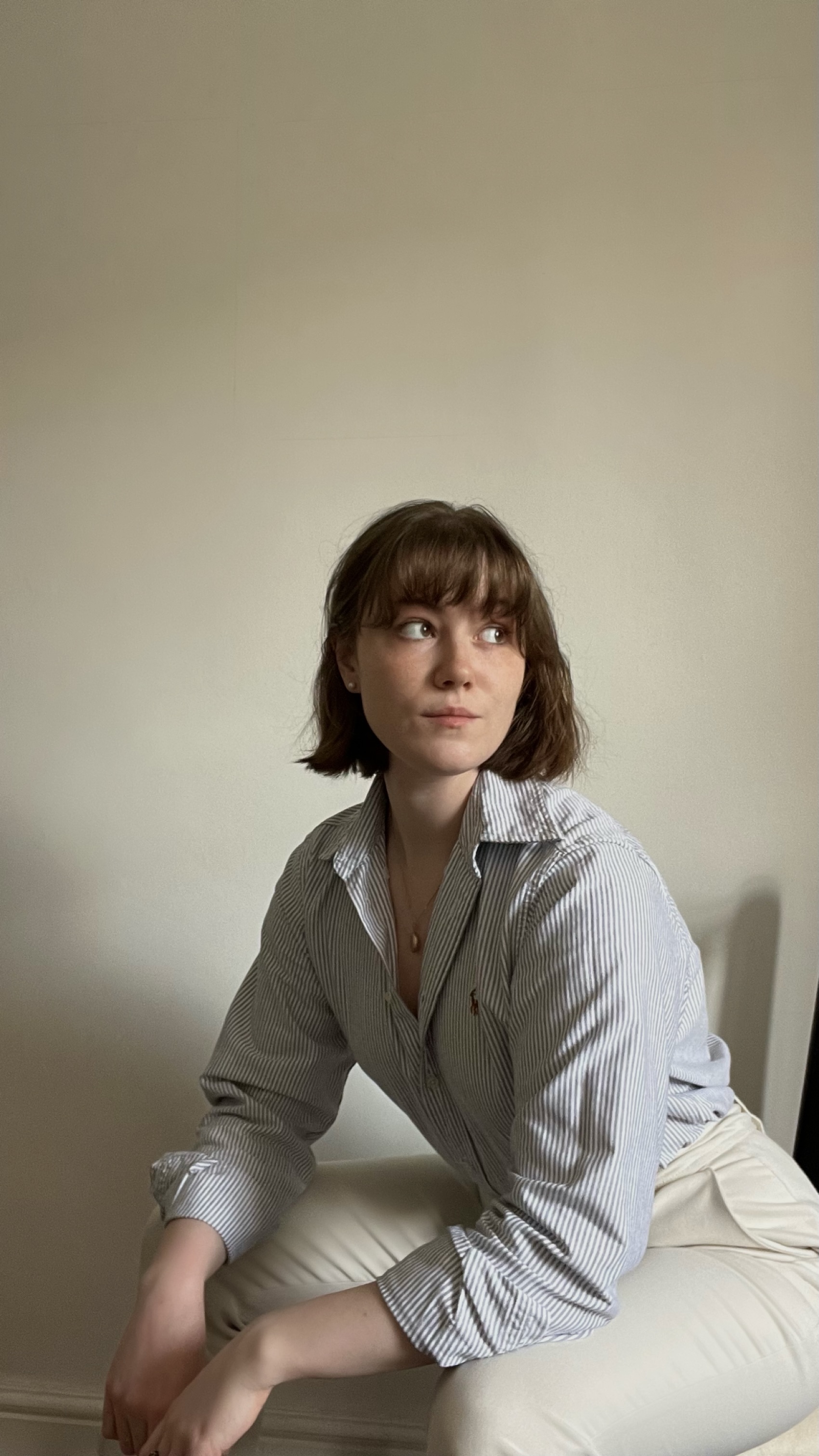 Chiana has been at Homes & Gardens for a year, having started her journey in interior journalism as part of the graduate program. She spends most of her time producing content for the Solved section of the website, helping readers get the most out of their homes through clever decluttering, cleaning, and tidying tips – many of which she tests and reviews herself in her home in Lancaster to ensure they will consistently deliver for her readers and dabbles in the latest design trends. She also has a first-class degree in Literature from Lancaster University.