9 kitchen organizers that professionals always buy – and here's why you should too
Professional home organizers never leave a kitchen without these essential products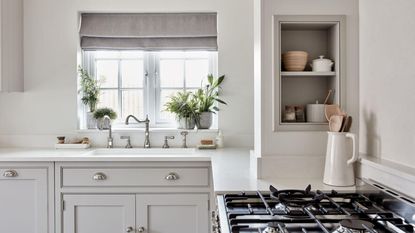 (Image credit: Tom Howley)
If you, like us, have been inspired by internet videos of organized kitchens, then you may be wondering which organizational pieces are worth buying to achieve the practical space of your dreams.
Organizing a kitchen can be a big task, and with so many organizing products and solutions out there, it can be hard to know where to start, and what will work best for your space. Luckily, professional home organizers have been making kitchens practically perfect for years before it was trendy and know what works, and what you should avoid.
Here are the nine items professionals always buy for a kitchen that they think are worth the investment.
The kitchen organizers professionals always buy
When picking out kitchen organizers, experts suggest thinking about the layout of your kitchen items first to ensure you select the right products for the right areas of your space. Use your kitchen logically, begins Amanda Biggs, APDO member and founder of Professionally Organized. 'Store your cups, tea, and coffee near the kettle and pans near the cooker. If it is arranged badly it will be more difficult to use and you are less likely to tidy things away.'
Once you have worked out your kitchen layout, be sure to avoid the kitchen storage buys professionals hate and invest in the best kitchen organizers with these expert tips.
1. Drawer bins for deep cabinets
Arguably, organizing kitchen cabinets is the hardest part of kitchen organization, especially if you have deep shelves. 'Deep drawer bins really help to make sure you're utilizing the depth of your cabinet fully,' says Ryen Toft, professional organizer and founder of Simply Luxe.
'I always swear by these transparent drawer containers from The Container Store for organizing pantries,' adds Lucy Wahl, founder of LMW edits. 'They ensure you can see everything so that you don't waste food.'
Reyn Toft is the founder of professional home organizers, Simply Luxe. Based in San Diego, she has over 20 years of experience in hands-on home organization.
2-Drawer Cabinet Organizer
Two clear slide-out drawers include removable dividers so you can organize contents for quick access.
Joseph Joseph Under Shelf Drawer
This catchall drawer attaches to the edge of a kitchen shelf, turning unused space into functional storage.
2. Clear bins and containers for pantries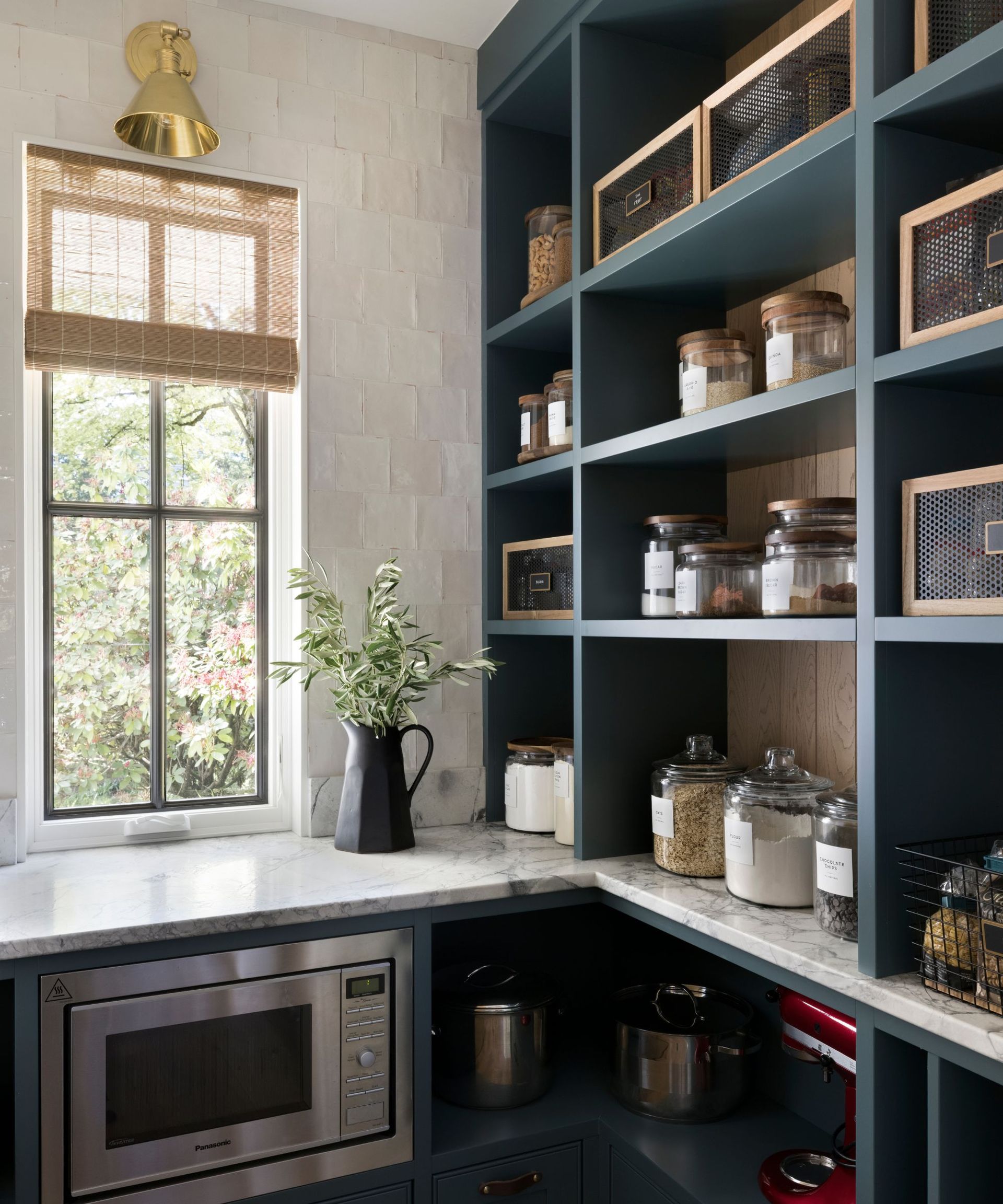 By far one of the most popular home organizers, clear bins such as those available on The Container Store or Amazon are a firm favorite in the kitchen according to professional organizers.
'Decanting dry foods into see-through containers helps you to write the shopping list as you can see what you've used up easily,' explains Kathryn Lord, founder of More to Organizing. 'This also helps to prevent food waste.'
You don't have to just opt for practical vacuum-sealed containers either, with a range of beautiful glass storage options becoming more widely available with the rise in organizing trends on social media, making your kitchen as pretty as it is practical.
Katherine helps busy parents organize their homes and routines with their children in mind. Not only an organizational expert, but Katherine is also a childcare expert too and has published a book, More To Organizing [available on Amazon], on organizing with children too.
Brilliance 4 Container Food Storage Set
These highly-rated containers from Rubbermaid are an extremely functional pick with airtight seals.
This large glass jar has an airtight wooden lid, making it a stylish storage alrerniture for dried food goods.
3. Over-the-door organizers for cabinets
Over-the-door organizers are not just for organizing a hall closet or closet organization, says Raquel Kehler, or home blog Room Crush. 'I also like to use over-the-door organizers to put inside the cabinets under the kitchen sink to store cleaning items like sponges or steel wool pads.'
Organizers with air holes can help these items dry properly too, preventing bad kitchen smells.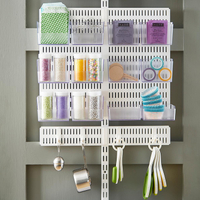 Large White Mesh Pantry Over The Door Rack | $149 at The Container Store
Carve out new space in your pantry with this fantastically spacious over-the-door rack. There are bins and baskets attached in an array of sizes, so you can store spices, condiments, and more, as well as a partly mesh design so that you can still have an excellent view of the set-up.
4. Turntable organizers for cabinets
'Turntables are a go-to item, especially in corners, to always maximize that space,' advises Juliana Meidl founder of Detroit home organizers, Serenity at Home. 'They are perfect for keeping all the condiments and bottles organized.'
Turntables are not just perfect pantry organizers but work wonders in larger refrigerators too to help store jars when your door shelves may be full or cluttered.
'Bamboo turntables can help you organize your kitchen and stay sustainable while doing so,' adds Ryen Toft of Simply Luxe.
Juliana Meidl has been a professional home organizer for many years, having found that they key to a serene home was perfect organization that works for the family.
Implementing a rotating section to your pantry cabinet will change the way you can view your foodstuffs.
Linus 9" Divided Turntable Clear
The durable and sectioned design is perfect for keeping bottles, packets or spice jars neat, orderly and easily accessible
5. Baskets for containing smaller items out of view
'Baskets and opaque containers are great for keeping like items together,' says Juliana Meidl of Serenity at Home. 'We also use baskets for snack bags and those items you don't want to necessarily see on display.'
Stackable or hangable baskets and containers are also good options for organizing a small kitchen where storage space is limited. They can contain a multitude of items neatly and prevent visual or surface clutter.
We have rounded up some of the best luxury storage baskets to invest in to make tidying a work of art.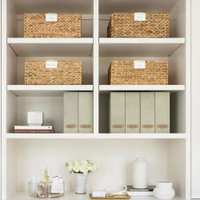 Water Hyacinth Bin Natural | From $11.99 at The Container Store
Beautifully constructed, these Water Hyacinth Bins offer an attractive option for storage of a variety of items around your home.
6. A label maker
Decanting foods into new containers and baskets is all well and good so long as you can remember exactly what is in them and when they expire. Given this is difficult for anyone, a label maker has become one of the storage products professional organizers can't live without.
'Labels on containers clearly identify ingredients that would otherwise be confused like flour, corn starch, and baking powder,' recommends Susan Santoro, founder of Organized 31. 'Labels encourage other family members to put things back where they belong because the labels make it clear where things belong.'
A veteran, parent educator, and mother of three, Susan is also a certified organizational specialist helping people to declutter and downsize, and organize homes in tough times.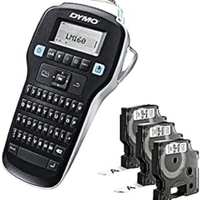 DYMO Label Maker | $48.31 at Amazon
Compact and lightweight for portability, making it easy to label just about anything, anywhere.
7. Expandable utensil trays for drawers