10 items not to store under the kitchen sink, according to experts
This space can become a cluttered catch-all for things without a home – experts advise against keeping these common objects under the sink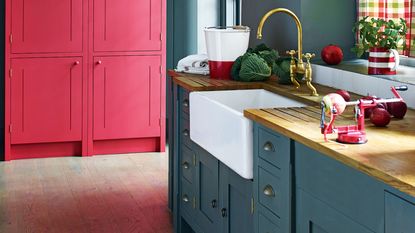 (Image credit: Future PLC )
While the cabinet under the sink offers seriously valuable storage space, it's not the best home for some everyday household items. If you're currently organizing under the sink, bear in mind that potential leaks can cause mold and mildew.
Plus, it's a low-level area little ones can easily reach, so when organizing a kitchen it's important to store any laundry or cleaning products up and out of the way.
We spoke to home organizing professionals to find out what not to store under the kitchen sink for a well-organized and, most importantly, safe heart of the home.
What items should you never store under your sink?
Maximize the space under your kitchen sink by storing these items in a different cabinet.
1. Anything flammable
Ben Kuhl, Home Remodeler & CEO of Shelf Expression says any flammable items should be kept somewhere else. Rubbing alcohol, aerosols and cooking oils are all flammable.
'The under-sink cupboard in the kitchen can be a source of frustration,' he comments. 'While it may seem like a convenient place to stash things, there are certain items that just shouldn't be stored there like anything that is flammable or hazardous, such as cleaning chemicals or supplies, which we're all guilty of doing.
'As long as the items you're storing under the kitchen sink are not hazardous or flammable, or won't spoil, it should be okay to store them there. One thing to keep in mind, though, is that sinks can sometimes spring a leak, which can ruin any items stored under it.'
Ben Kuhl is a Home Remodeler & CEO of Shelf Expression. His team has been remodeling homes, as well as building beautiful custom floating shelves and home decor items in the Charlotte, NC area for the past 5 years.
2. Plastic containers
Brenda Scott, a professional organizer from Tidy My Space says many people store plastic containers and Tupperware under their kitchen sink but she would recommend rind another cabinet for that purpose. Plastic lunch boxes are much better stored somewhere away from potential leaks and moisture.
3. Food
Lauren Saltman, a professional organizer and owner of Living. Simplified. says any type of food shouldn't be stored under the sink. 'Food items, especially fresh food like onions and potatoes, should be stored in a dry, dark, and cool area in your kitchen. Consider putting these in your pantry,' she suggests.
4. Chemical cleaners
'It's best to avoid storing chemical cleaners under the kitchen sink,' says Olivia Parks from Professional Organizers Baton Rouge. 'These items can pose a hazard if they come into contact with pipes or leaks.'
Instead, she recommends keeping them in a separate area, such as in utility room storage space or at the bottom of the pantry.
Chi Ip, the owner of Tidy Here cleaning service in Boston echoes Olivia's concerns about storing strong household cleaning products under the sink. 'One of the common mistakes we spot is keeping strong cleaning products like bleach,' says Chi. 'This is because even if it is quite convenient to store them there, it could be potentially harmful to the family, especially if you have kids or pets.
'We advise you to store them somewhere secured and out of reach like in cabinets or shelves away from food items.'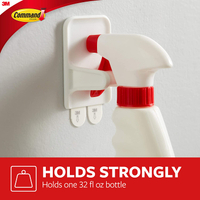 Command hooks for spray bottles | $10.99 for 2 at Amazon
Save space in your kitchen cabinets with hooks for hanging cleaning products. If you have kids, it's best to store them out of reach. We have tried and tested these particular hooks and find them useful for keeping a standard surface cleaner to hand, without cluttering up the cabinet itself.
5. Any kitchen items, such as pots and pans
'I never recommend clients keep anything under the kitchen sink outside of cleaning supplies and related dry items, like garbage bags, rags, the inevitable bag of plastic grocery bags,' comments professional organizer Amy Trager.
She says that ideally, there's enough room to store kitchen items like pots and small appliances in the rest of the cabinets. If not, hopefully, there's space for a baker's rack or a similar shelf to provide enough kitchen storage in which to organize pots and pans.
'The main concern with under-sink storage is the plumbing. If there's a leak, then whatever has been washed down the drain may get on anything under the sink,' Amy adds.
If there's really no other option than to store kitchen specific items than under the sink, be mindful of these concerns.
6. Electricals
Anything electrical should absolutely not be stored under the sink where it could get wet. Small kitchen appliances should be given another home.
'Typically you'll want to keep any electronic appliances, or even battery-operated ones away from areas at risk of water leaks or excessive moisture. As this could quickly destroy the essential components of the devices,' says Kerry Sherin at Ownerly. Kerry recommends keeping small appliances close to their outlets, either in a cupboard, a drawer, or on a shelf next to the countertop. This will make them easily accessible, safe from moisture, and will also help maintain an orderly kitchen.
7. Pet food
'Pet food is another item that I've seen under the kitchen sink,' says pro organizer Brenda Scott. She says it's not the ideal spot but it's okay as long as it's in a sealed container, for odors and sanitary reasons.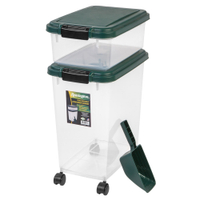 Remington 3-Piece Airtight Pet Food Container Combo, Green | $27.94 at Walmart
This plastic container for pet food is airtight and has wheels for easy transportation around the home. It comes with a two-cup scoop.
8. Paper towels
'Under the kitchen sink can be a cluttered catch-all for a range of items
that are better off stored in other places. For example, you should avoid
storing paper towels under the kitchen sink,' comments Jen Stark from Happy DIY Home.
9. Dishwasher pods
'If your sink is next to the dishwasher, it's logical to store your pods under it because it makes them easily accessible. However, it's not safe for pets and children,' says Tatyana Dimitrova from Fantastic Services. 'The best place for them is your laundry room storage space or on a shelf that's high and out of reach.'
10. Light bulbs
Tatyana Dimitrova adds that if you use the area under your sink a lot because your trash can is there, keeping things that are made of delicate materials, like glass isn't a good idea. 'They can get damaged and pose a safety hazard when tossed around. Light bulbs are very fragile and it's best to keep them in a spot where they're less likely to be crushed,' she says.
FAQs
Is it safe to store items under the kitchen sink?
It is possible to store items safely under the kitchen sink, but you must take some precautions, warns Kerry Sherin from Ownerly. 'Never store chemicals or toxic materials in this area. Keep the area dry and free of moisture, or use a dehumidifier. Check for any leaks or holes and fill them with caulk. Storage bins and labels can also help keep the area organized and items dry.'
What is best stored under the sink?
Amy Trager says it's best to store items that are easy to clean under the sink, like plastic or glass cleaning bottles. She suggests using this space to store any items that you wouldn't mind throwing away, such as grocery bags. Make them easy to remove for repair by keeping them in a tray or caddy.
A small trash can and recycling bin, a brush and dustpan, extra sponges, dish gloves and cloths can also be stored here.
Can potatoes and onions be stored under the sink?
'Potatoes and onions under the sink? That's a big no-no,' says Ben Kuhl, Home Remodeler & CEO of Shelf Expression. 'They need to be stored in a cool, dry place. The exact opposite of the cabinet under the sink.
'Excess moisture can build up under the sink, and the warm water running through your pipes can elevate the temp a bit more than the ambient air in your kitchen. This'll lead to faster spoilage of those items.'
Instead, store them in a storage crate attached to the wall, a basket on open shelving or in a bowl on your kitchen countertop.
Sign up to the Homes & Gardens newsletter
Decor Ideas. Project Inspiration. Expert Advice. Delivered to your inbox.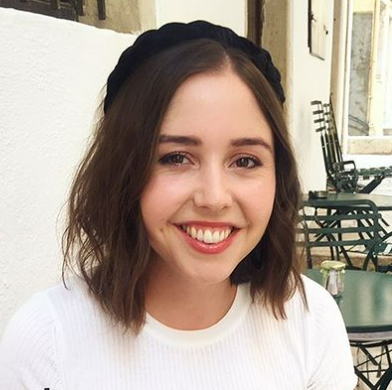 Millie Hurst is the Solved Section Editor at Homes & Gardens. She has six years of experience in digital journalism, having previously worked as Senior SEO Editor at News UK in London and New York. She then gained experience writing for women's magazines before joining Future PLC in January 2021. Millie has written for an array of homes brands including Livingetc and Real Homes and was formerly Senior Content Editor at Ideal Home before taking on the position of Section Editor with Homes & Gardens. She has written and edited countless features on home organization, decluttering and interior design and always hopes to inspire readers with new ways to enjoy their homes. She lives in Sheffield, South Yorkshire and loves to weave nature-inspired decor and nods to time spent in Italy into her own home.