My 'different day, different room' housekeeping schedule taught my kids to clean – and my home is more organized
I clean a different room each day of the week – and here's why it can make your home look more clean and tidy, too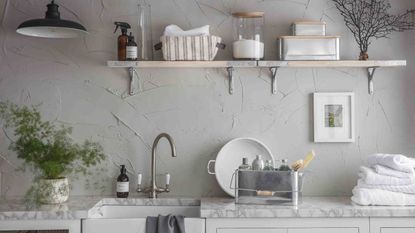 (Image credit: Garden Trading)
Sign up to the Homes & Gardens newsletter
Decor Ideas. Project Inspiration. Expert Advice. Delivered to your inbox.
Thank you for signing up to Homes & Gardens. You will receive a verification email shortly.
There was a problem. Please refresh the page and try again.
I used to tackle the household cleaning in one mega tidying blitz a week, usually on a Saturday morning when the rest of the family was off playing sports. The payoff: a few hours of hard work in an empty house resulted in a spotless, sweet-smelling home that made me feel super houseproud. The downside: I was exhausted the rest of the day, and would get exasperated as my kids came home and jumped in the clean shower, or my husband left breadcrumbs in the kitchen after making sandwiches for lunch.
It wasn't like I didn't clean during the rest of the week – and my job editing Country Homes & Interiors magazine means I know every single one of the cleaning tips ever dispensed by experts. So I decided to try a new approach to our household cleaning schedule, getting all the family involved and spreading out the chores throughout the week.
Key to our new housekeeping plan was deciding which cleaning and organizing jobs to do on which day of the week, although what you do will obviously depend on your responsibilities, and practical issues, such as when your refuse is collected. Here's how we made our decision – and how it could help you get on top of your domestic to-do list.
Monday: the kitchen
Cleaning the kitchen is done every day as we wipe down surfaces after cooking, load and unload the dishwasher, clean the sink, and sweep the floor. But as Monday is the day our meal plan delivery box arrives, I take the opportunity to clean the refrigerator and wipe down the insides of drawers and kitchen cabinets before the ingredients for the week's meals are put away.
My 15-year-old unpacks the food box, I cook dinner and my husband sweeps and mops the floor.
I love doing this job at the start of the week, as it helps to keep us on top of our kitchen organization, including organizing kitchen cabinets and kitchen countertops (so much quicker when you do it weekly, rather than an infrequent clear out). It also means I can keep a check of which groceries we need to replenish the next time we go to the store.
Tuesday: the entryway and stairs
I work from home some days, and other days I commute to the office. Tuesday is an in-office day, and it's also a day that my husband is out at work, so this is when our kids step up to do their chores.
We have two sets of stairs in our house, so they vacuum one each. One will then vacuum the living room and entryway, while the other vacuums the landing and family bathroom – we looked for the best vacuum to deal with carpets and hard floors. They will also each vacuum their own bedroom.
We've also designed the space to make organizing the entryway easier, so we have shoe boxes and coat hooks for outerwear, plus a shelf with dishes for keys, sunglasses and other small items. Plus, a scent diffuser, a houseplant (ours is a peace lily) and artworks to make the entryway inviting.
Wednesday: the bathrooms
There are two bathrooms in our house – a family bathroom and an en suite bathroom for me and my husband. We all wipe down the basins and rinse the shower throughout the week but Wednesday is when they get a deep clean.
We've decided that I'll focus on the en suite, while my husband is responsible for the family bathroom – mainly because I use the en suite more, while he showers in the family bathroom. Why Wednesday? Partly because it fits with what else is going on that day – I like a clean bathroom for when I have a soak in the tub after my Wednesday evening yoga class. Also, cleaning the bathroom isn't the most fun chore, so I'd rather do it in the messy middle of the week than do it at the weekend, when I want to relax more.
Incidentally, my colleague, Megan, has some genius tips for how to clean glass shower doors so they are streak-free.
Thursday: the trash and recycling
Our refuse and recycling are collected on a Friday morning, so Thursday is when we make sure all the waste baskets in the house are emptied, and the recycling is sorted and put in the appropriate bin. I also take the opportunity to clean and disinfect the kitchen trash cans, and to check if I need to do any restocking and organizing under the sink (which is where the trash cans are).
We don't have a guest room or dining room but as Thursday is a light day for chores, this would be when I would dust, clean, vacuum and tidy these spaces. It's also really important to air rooms that may be used less frequently, so a weekly clean and check-in is ideal for these areas.
Friday: the living room and home office
It's the end of the week and I want to switch out of work mode and get ready for the weekend ahead. To do that, I start in my home office – there's something very satisfying about closing down my laptop and dusting and tidying my desk. It ends the work week but also sets me up for Monday's work at Country Homes & Interiors magazine.
When I was deciding on my desk set-up and home office ideas, I wanted to create a space that felt and looked more like a traditional study or home library, so I have floor-to-ceiling bookshelves on one side of the room. I give these a dust and sometimes think of new ways to tweak my bookshelf ideas, by rearranging the books, artworks and accessories displayed there.
Next, it's cleaning the living room. We may have friends over at the weekend, so I clean and dust the surfaces, make sure the mirror above the mantel is sparkling, plump the sofa and throw cushions, and vacuum the rug. I might use this laundry pearl trick on my rug so the room smells fresh and inviting. I light a scented candle and will bring back fresh flowers, or I will buy some on Saturday morning, as I love the freshness and color they bring to the room.
Finally, I'll put any school clothes in the wash, so they can be laundered and ready for the following week.
Saturday: the bedrooms and laundry
We have a rule in our house that each member of the family should strip their bed and put the bedding in the laundry on a Saturday morning, ready for washing. My husband and I take it in turns, especially since we have separate comforters on our double bed to fix our broken sleep.
We let the beds air, then we each make our own beds with fresh bedding – I taught my kids how to wash bed sheets, so that they could learn the skills to keep a hygienic house when they leave home.
I'll put the bed linen in the wash and do any other laundry before lunchtime on Saturday, so it has plenty of time to dry over the weekend. Between loads, we'll tidy and dust our bedroom, and get the kids to do the same once their sports clubs are over for the day. That way, they can have friends over and enjoy time in a fresh and clean room.
Sunday: rest and plan
Sunday is a rest day, so only basic chores get done, such as loading the dishwasher after dinner. But we do take a few minutes together as a family to write on the calendar what everyone is doing the following week, so we can plan meals, organize lifts, book travel tickets, and switch up our housekeeping plan if necessary.
It's a routine that works for us, and it many not suit everyone, but keeping on top of the household chores each day definitely makes our home feel cleaner, fresher and a more welcoming place to spend our time together.
Sign up to the Homes & Gardens newsletter
Decor Ideas. Project Inspiration. Expert Advice. Delivered to your inbox.
Andrea has been immersed in the world of homes, interiors and lifestyle since her first job in journalism, on Ideal Home. She went from women's magazine Options to Frank. From there it was on to the launch of Red magazine, where she stayed for 10 years and became Assistant Editor. She then shifted into freelancing, and spent 14 years writing for everyone from The Telegraph to The Sunday Times, Livingetc, Stylist and Woman & Home. She was then offered the job as Editor on Country Homes & Interiors, and now combines that role with writing for sister title homesandgardens.com.