How to declutter a pantry – 3 steps for a sleek and organized food storage space
The simple steps to declutter a pantry to keep it efficient and easy to navigate, helping you to prevent waste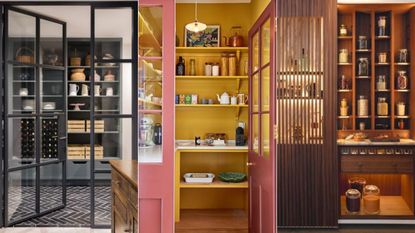 (Image credit: l)
Sign up to the Homes & Gardens newsletter
Decor Ideas. Project Inspiration. Expert Advice. Delivered to your inbox.
Thank you for signing up to Homes & Gardens. You will receive a verification email shortly.
There was a problem. Please refresh the page and try again.
Pantries can easily get overcrowded and disorganized if you don't monitor their in and outtake, often featuring overfilled containers, too many items, and not enough shelf space. By taking the time to organize your pantry properly, you can avoid ending up with a space that looks messy and cluttered.
A pantry that is full to the brim is not only unappealing aesthetically but will also make navigating your pantry items more difficult than it need be, which can mean it quickly becomes a source of stress.
Having a deep kitchen decluttering session and reassessing what you need and where it should be placed can save you a lot of space and money.
How to declutter a pantry
Enhance the functionality and aesthetic appeal of your pantry with these decluttering tips from our experts.
1. Assess and declutter
Phase one is the actual decluttering. It may take some time to clear and sort out what you need in your pantry, but in the long term, it will save you time by helping you maintain a space that shouldn't easily become overwhelmed and overcrowded.
Sort by categories
'As an interior designer, I understand the transformative power of an organized pantry – it not only elevates functionality but also adds a touch of elegance to your kitchen space,' says Elizabeth Grace, interior designer and founder of the Dream Homemaking blog.
'Embark on your decluttering journey by taking stock of the items residing in your pantry. Remove everything from the shelves and group similar items together. This inventory will provide valuable insights into what you have, what you need, and what may have overstayed its welcome.'
It's most efficient to completely empty your pantry when deciding what to declutter in order to help you isolate which items you are not going to use and are simply taking up space.
Artem Kropovinsky, interior designer and founder of Arsight suggests, 'Instead of emptying one shelf at a time, pull out everything and categorize: grains, snacks, spices, etc. It allows for a fresh perspective, breaking the habitual placements we often fall into.'
This will allow you to assess what you might be overbuying and what you may not need. I can also highlight whether you need to find more storage options, kitchen organizers, and space for certain items.
Elizabeth Grace is an Interior Designer, Furniture and Home Expert. She received her degree in Interior Designing from the University of Notre Dame. Elizabeth landed her first job as an intern with a leading firm in New York City, learning from some of the city's top designers. She currently works as an interior designer for both residential and commercial clients.
Based in New York, Artem Kropovinsky, founder of Arsight, has a decade of extensive and considerable global design experience. Prioritizing minimalism, sustainability, and authenticity, Artem, alongside his team of professionals, works on projects in the US and worldwide.
Clear out unwanted products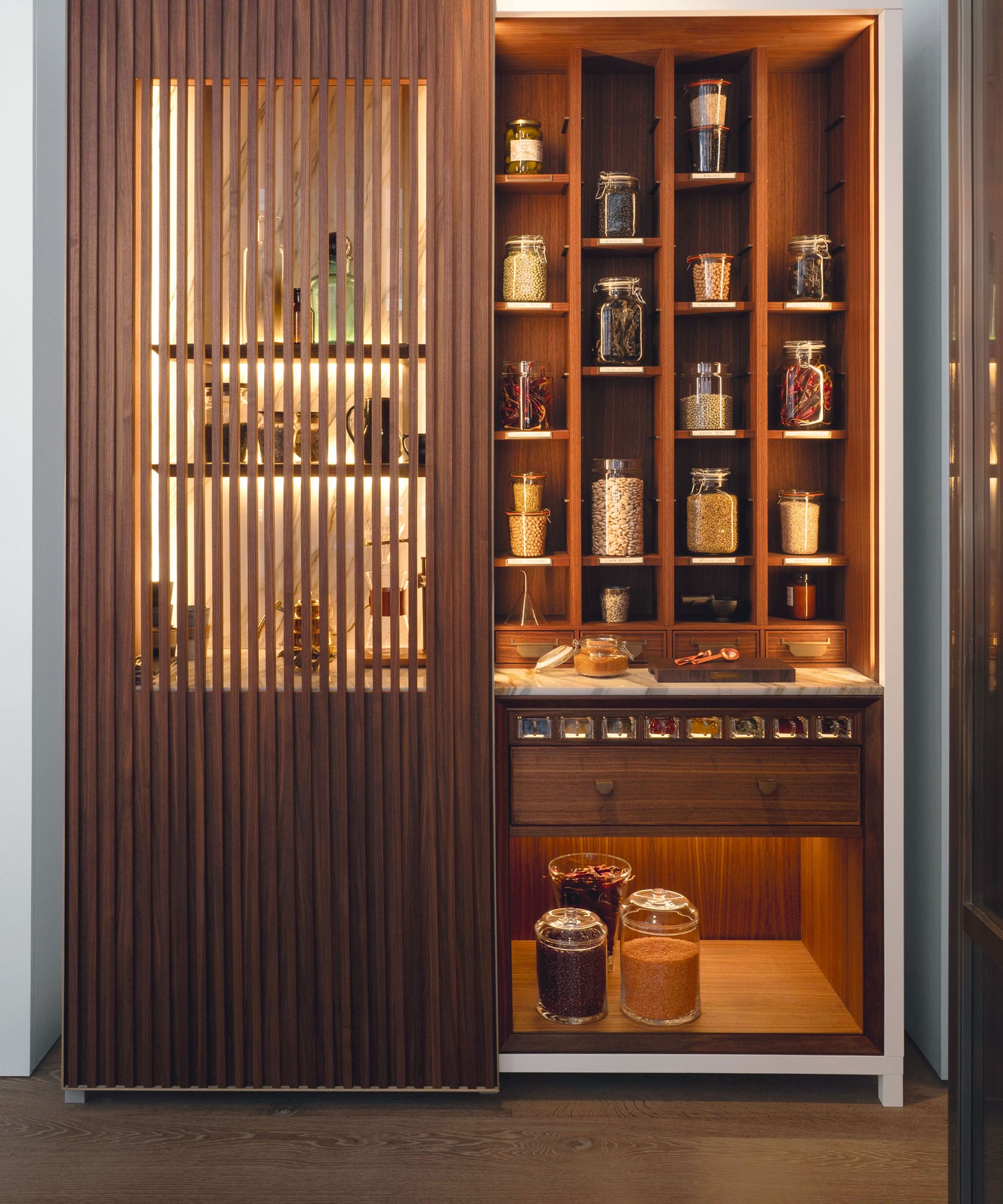 Go through all your pantry staples and check for expiration dates. Along with finding which items are past their best and need to be thrown out, this will require you to carefully assess which products you actually do and will use, and which ones are just sitting around collecting dust.
'Anything expired, or that you know you won't use, needs to go. It's not just about making space but ensuring your pantry reflects your current tastes and lifestyle,' suggests Artem Kropovinsky.
See if any food items can be donated – as long as they are non-perishable items that are well within their shelf life. This way your decluttering mission also benefits others. 'Dispose of expired products responsibly, and recycle the packaging where possible. This step clears the path for a more streamlined and efficient pantry,' Elizabeth Grace adds.
2. Reorganize
Decluttering a pantry doesn't just involve clearing out unnecessary items, but reorganizing it once it has been decluttered to maintain this cleared state.
The key is to 'recognize the relationship between aesthetic appeal and practicality, fostering an environment that nurtures both culinary creativity and efficiency,' comments Ben Gold, interior designer and founder of Recommended Home Buyers.
Ben Gold is the founder of Recommended Home Buyers. He is a design expert with a passion for transforming spaces. Ben has over 5 years of experience in the home industry. His background in remodeling homes and experience as a real estate investor allows him to approach kitchen design with both creativity and practicality, resulting in stunning and functional spaces.

Create zones
One great way to reorganize your pantry shelving is by creating zones. This will make planning grocery lists and weekly menus an easier task since you will be able to spot which areas are lacking ingredients, as well as make meal prepping more seamless as you can find what you need more quickly.
Categorize items based on functionality and meal groups. Dedicate zones for baking supplies, canned goods, snacks, and spices. You can also designate areas for breakfast, lunch and dinner supplies where it makes sense to do so. Alternatively, sort your pantry based on the frequency of use, keeping daily used items close to hand.
Invest in dividers for any drawers so all your products don't get lumped together without a clear order. You may want to consider installing a whiteboard or chalkboard in your pantry to write down which items you need to restock.
Embrace vertical space
Using vertical space in your pantry is a great pantry storage idea for those with limited floor space. Elizabeth Grace advises, 'Install adjustable shelves or invest in stackable storage containers to optimize the area above eye level, turning it into prime real estate for infrequently used items.'
You can also install hanging racks or clever pull-down spice racks, at Amazon, for storing spices and other smaller items.
Cleaning expert, Muffetta Krueger suggests using hooks on the back of the door if you are organizing a smaller pantry, providing space for aprons, oven mitts, or even lightweight baskets.'
Consider creating visual interest by storing items in order of size, for example, on higher shelves, you can display larger items like containers of pasta or cereal, and on lower shelves, have smaller items you need to hand like spices.
Use clear containers
'Incorporate elegance and practicality with transparent storage containers. These aesthetically pleasing vessels allow you to identify contents effortlessly, reducing the chances of overlooking items and encouraging you to maintain the pantry's orderliness,' suggests Elizabeth Grace.
These will create a sleek, uniform look and will make noticing when items are running low a task that can be completed at a glance. Investing in these long-lasting, eco-friendly storage solutions rather than buying single-use plastic bags is a great way to reduce your carbon footprint.
Label items
'Labels are your best friend,' says Artem Kropovinsky. As well as looking neat, they make a busy pantry space much more organized. Keeping items labeled and organized creates a clear system that other members of the household can also help with. With containers dedicated to storing pasta, oats, pulses, and so on, you'll be more likely to unpack groceries in an orderly way. Kitchen jar chalkboard decals, at Wayfair, can be wiped and reused.
Muffetta Krueger is a driving force in the domestic service business, with over 15 years of operational management experience in the industry.
Better Homes & Gardens Bamboo Adjustable Drawer Dividers
These bamboo drawer dividers are an elegant storage solution for your kitchen items, and help to keep things in zones. They are adjustable which should mean they are perfect for most types of drawers and are easy to install.
VTOPMART Glass Food Storage Jar With Bamboo Lids
These seven glass jars with bamboo lids in different sizes are perfect for storing all types of food products and keeping them fresh. This is an easy way to stack products on shelves while maintaining a nice aesthetic.
3. Pantry maintainance
The final step is to ensure that all your decluttering efforts don't go to waste. By sticking to a regular reassessment and decluttering routine you will reduce the amount of time and effort you have to spend doing deep decluttering sessions in the future.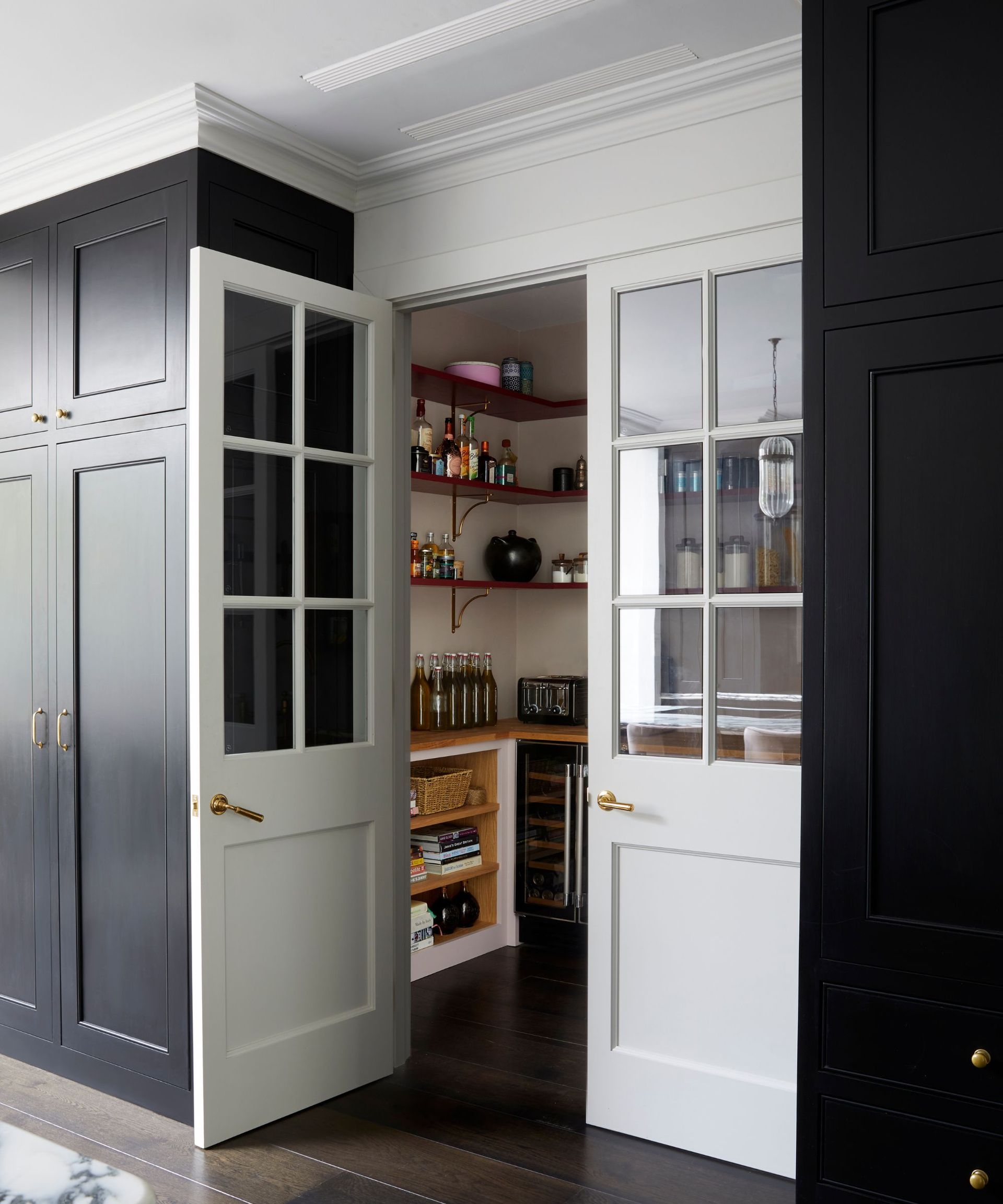 Create a routine
Once you have decluttered your pantry, make sure to maintain its tidy state by regularly assessing what you don't need and what can be thrown out. Regularly schedule pantry maintenance sessions to keep clutter at bay, rather than waiting for it to build up.
Review your pantry before you go shopping to avoid unnecessarily buying duplicates. This should be a quick task when your pantry is categorized.
Normalize putting newer items behind older ones to make sure you use older items before they expire to save you money and reduce waste. Artem Kropovinsky recommends using baskets or boxes to organize your items by date of expiry. 'That way, you can easily sort out or consume those nearing their expiry dates first,' he says.
Or you could simply stack them in an order where you will grab the ones with the closest use-by date first.
FAQs
Where can you put a pantry in a small kitchen?
There are a few small pantry ideas that you could consider putting a pantry if you don't have much room. These include repurposing a bookshelf or a coat closet or making the most of ancillary spaces such as a utility space or laundry room to designate sections for pantry items. This can be done by using a door pantry organizer.
Some other options include using shelving, including in awkward alcoves in your home, to make the most of any space.
---
You don't have to wait for spring cleaning time to get to work on your pantry, since a decluttered pantry will save you plenty of time, effort and even money in the long run, so what are you waiting for?
The goal of decluttering your pantry isn't to create a minimalistic environment but rather to maintain an organized space that caters to your needs, making meal prep and shopping much easier. You can continue to keep rearranging your pantry and increase efficiency in a way that suits you and your household.
Sign up to the Homes & Gardens newsletter
Decor Ideas. Project Inspiration. Expert Advice. Delivered to your inbox.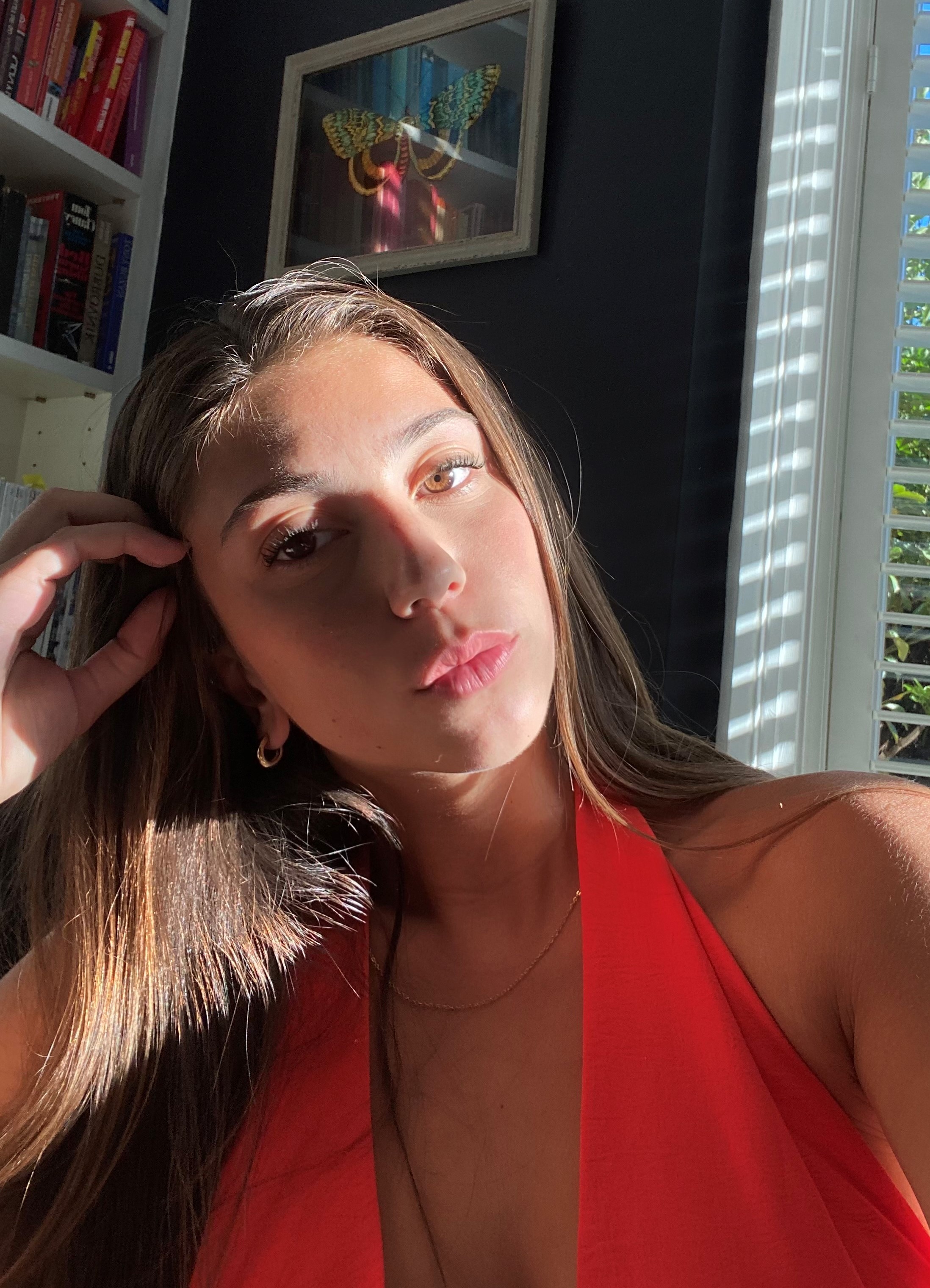 Lola Houlton is a news writer for Homes & Gardens. She has been writing content for Future PLC for the past five years, in particular Homes & Gardens, Real Homes and GardeningEtc. She writes on a broad range of subjects, including recipe articles, reviewing products, writing 'how to' and 'when to' articles. Lola now writes about everything from organization through to house plants. Lola is a graduate student, who completed her degree in Psychology at the University of Sussex. She has also spent some time working at the BBC.