How to organize a small pantry – professional organizers have these 6 vital tips
Small pantries need to do a lot of work on a small footprint; these organizing tips help to make the most of the limited real estate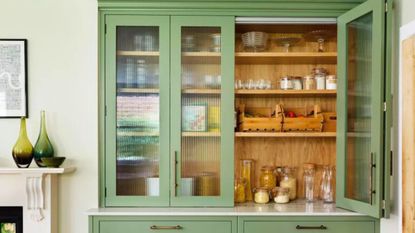 (Image credit: Davenport)
Keeping a small pantry organized can seem like an uphill battle if you are a keen home chef or have family members who like to help themselves, but are not so invested in keeping the space neat.
The secret to pantry organizing is good structure, regular maintenance and a range of clever buys that use every square inch wisely. This is never more important than in a small pantry.
Here, professional organizers share the six small pantry organizing ideas they use again and again to make this limited space both functional and pleasing.
How to organize a small pantry
If you are looking for small kitchen storage ideas to make your space neat and practical, you can't do better than a pantry – even if it's a small one. However, for it to function without frustration, you will need some solid home organizing ideas. This is what professional organizers recommend.
1. Categorize items
Organizing a small pantry by item categories is your first step.
Creating these 'zones' within the pantry makes finding things easy and helps you to evaluate how you cook, says Laura Price, professional organizer and founder of The Home Organization. You are 'creating the building blocks of the space which you can then adjust and move around to get the right combination for you,' she advises.
For example, if you love using spices when you cook but never bake, then the space given over to spices needs to be larger than your baking zone.
Remember, says Laura, that when 'one zone gets bigger, something else has to get smaller to keep the pantry from overflowing,' so play around with your pantry shelving and adjust it as needed.
Laura Price's goal is to help others experience the benefits of living an organized life after discovering that organized homes brought her peace when raising three children in a hectic home. Hence the birth of The Home Organisation, a dedicated team of professional organizers.
2. Regularly declutter your small pantry
Small pantry organizing requires regular decluttering and frequent stock checking to ensure you are using the space efficiently.
To declutter your small pantry, professional organizer and founder of The Inspired Home by B Barbara Oldham suggests removing everything from the pantry and discarding things you should never store in a pantry, anything out of date or that you do not like, and setting aside duplicates of items you do use into a separate pile.
While empty, it is a great time to clean your pantry from top to bottom to remove any sticky marks that may cause odors or bring in pests.
Then, start putting items back in this order: on the top shelves, those items you use infrequently, duplicates and refills; on the middle shelves (within easy reach), commonly used items; on the bottom shelves, larger, bulkier items.
Use this exercise as an opportunity to make a stock list (or mental note) of what you have, of duplicates, of soon-to-expire foods, too. If you are organizing a pantry with deep shelves, this is particularly useful to stop things getting lost at the back.
3. Bring soon-to-expire foods to the fore
Keeping foods with the short expiry dates near the front of a small pantry will ensure that they are used before they go off, says Dawn Falcone, professional organizer and founder of The Chaos Liberator.
When unpacking your weekly shopping, she suggests placing 'new canned and dry goods in the back of bins or on shelves. Move unfinished or single-item snacks to the top of the bin or shelves so you and use them before they expire.'
Regularly rotating items will help contribute towards a no-waste household and help you be more sustainable at home.
Dawn Falcone has been a professional home organizer for 15 years and founded The Chaos Liberator. She previously worked in the fashion and interior design industry and uses her background to organize with an eye towards design.
4. Use shelf risers to see items at the back of deep shelves
One of the many items kitchen organizers professionals always buy, shelf risers help you see what you have in a small pantry without having to riffle through stacks of items.
I swear by risers to organize my kitchen cabinets, particularly those with deep shelves. To make the best use of them, I make sure to put the smallest jars towards the front of the risers and the taller bottles on the back. This ensures that nothing is out of sight at the back and makes it easier to reach those at the very back.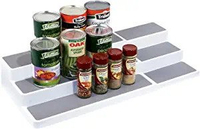 YCOCO 3-Tier Expandable Rack | $19.99 at Amazon
I use this tiered pantry organizer to help sort my deep cabinets. They fact the expand helps them to fit any space for optimal home organization.
5. Use vertical door space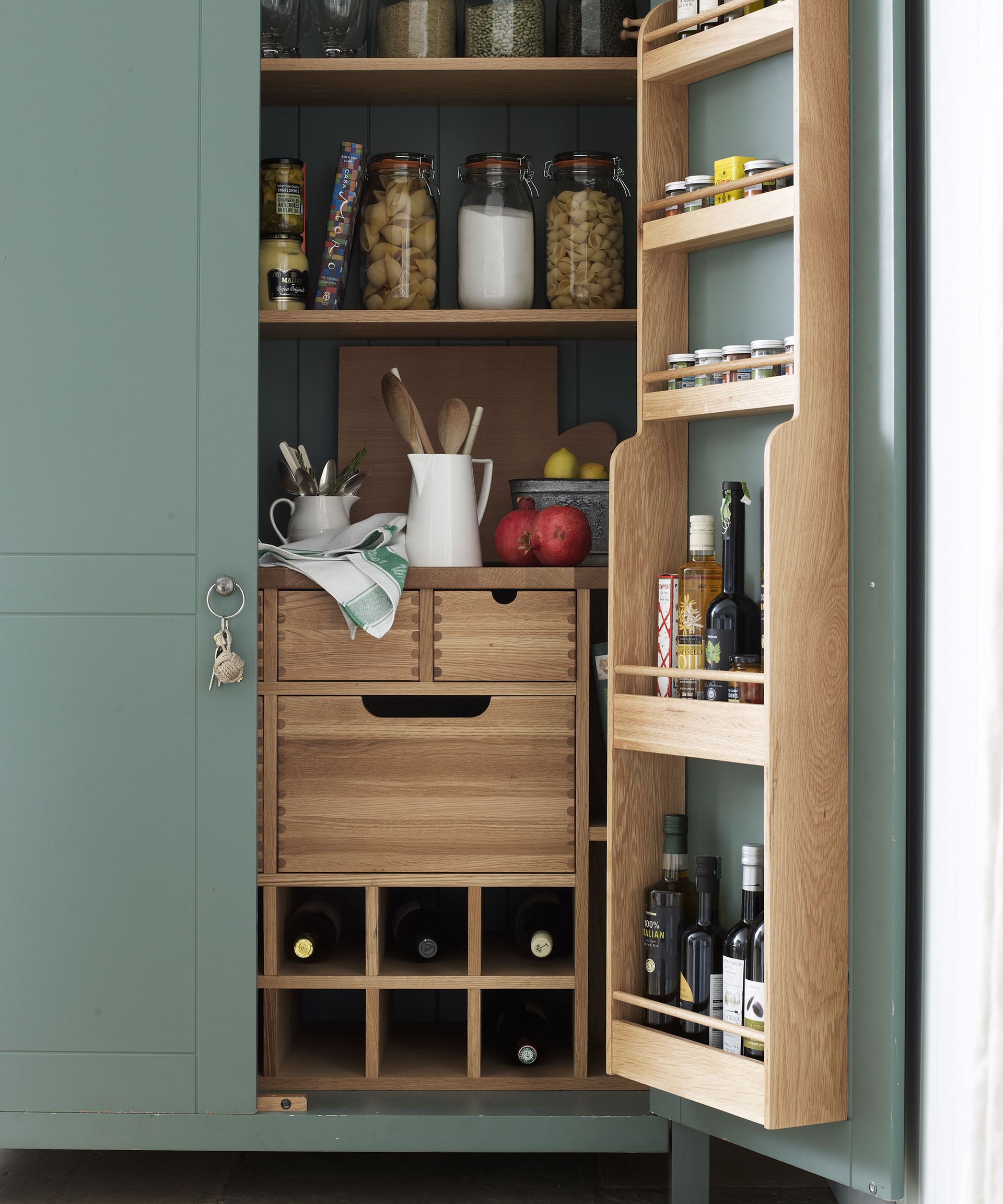 Using vertical space is essential when trying to organize a small pantry, says professional organizer Barbara Oldham. 'To do this, you can add an over-the-door organizer to hold small items like spices or snacks,' she says.
When picking out your overdoor system, opt for one like the door system below from The Container Store, which is customizable. This allows you to tailor the storage system to your exact needs and alter it if your space changes.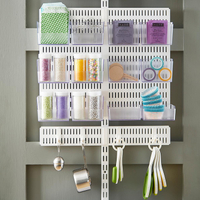 Elfa Utility White Mesh Pantry Over The Door Rack | $222 at The Container Store
Carve out new space in your small pantry with this fantastically spacious over-the-door rack. There are bins and baskets attached in an array of sizes, so you can store spices, condiments, and more.
6. Use containers that better fit the space
Decanting food can help keep your small storage space uniform, and ensure you always have boxes that best fit the pantry you have.
Make use of the full height of your shelves by investing in stackable canisters for pasta, flour, and so on, Laura Price, professional organizer recommends. It means you can see what you have, but also not waste any space or food.
'In a small kitchen, square-based canisters are ideal for making the most of every inch,' Laura adds. 'I love to use Brabantia's square jars, available at Amazon for maximum storage in a small space.'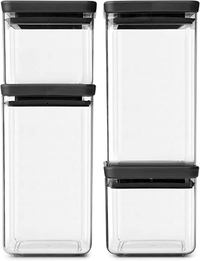 Brabantia Tasty+ Square Canister | Was $57, Now $39.27 at Amazon
Loved by professionals, these storage canisters are great for saving space and preventing food waste by keeping food contained and fresher for longer. They are also dishwasher-safe!
FAQs
In what order should a small pantry be organized?
When organizing a small pantry, it helps to organize the middle, easy-to-reach shelves first to make sure you have space for all the essentials that you need to be able to reach quickly for efficient cooking. From there, organize the lower shelves, placing larger or heavier items like large containers or kitchen appliances down low, before putting anything you use less such as odd ingredients or refills on high shelves that you can climb to with a step ladder when needed.
How do I group items in my small pantry?
There are a few ways you can group items in your small pantry depending on your lifestyle. You may wish to group pieces by product type such as dried foods, baking items, sauces, and so on. Alternatively, you may wish to group items by things you use for breakfasts, lunches, and dinners together to make them quick and easy to find and grab. Once you have decided on your groupings, put them all together on similar shelves in the pantry to keep them in their designated spots.
---
Organizing a small pantry may feel like a game of Tetris but it can be simple with the correct organizers and a good kitchen organizing system. It is important to realize that your organizing system isn't set in stone, and rearranging is a great way of creating an organized pantry that works for you and your routine.
Chiana has been at Homes & Gardens for six months, having started her journey in interior journalism as part of the graduate program. She spends most of her time producing content for the Solved section of the website, helping readers get the most out of their homes through clever decluttering, cleaning, and tidying tips – many of which she tests and reviews herself in her home in Lancaster to ensure they will consistently deliver for her readers and dabbles in the latest design trends. She also has a first-class degree in Literature from Lancaster University.