How to organize art supplies – 8 convenient storage solutions for craft desks and rooms
Take the chaos out of crafting with these art supply storage solutions for small craft desks and full craft rooms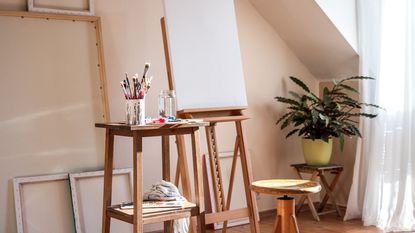 (Image credit: Getty Images)
Sign up to the Homes & Gardens newsletter
Decor Ideas. Project Inspiration. Expert Advice. Delivered to your inbox.
Thank you for signing up to Homes & Gardens. You will receive a verification email shortly.
There was a problem. Please refresh the page and try again.
If you are the arts and crafts type then you will understand the struggle of trying to keep them all organized and in one spot due to the sheer variety of things we need for our hobby.
The good news is that an increase in the popularity of craft rooms means there are now several solutions to keeping these unruly supplies neat and easy to use.
Here, professional home organizers explain how to organize art supplies for both small crafting corners and organizing craft rooms.
How to organize art supplies
From keeping paint brushes protected from damage to ribbon storage ideas, there are some important storage products professional organizers can't live without that are essential for art supplies – here is how they use them.
1. Go back to basics with a three-tier rolling cart
A home organizing staple, the three-their rolling cart, such as this cart from the Container Store, is essential for keeping draft supplies neat but mobile, so you can craft anywhere in your home, or move supplies around your craft room.
'One of our favorite products to use when organizing art supplies is the 3-tier rolling cart,' Juliana Meidl, professional home organizer and founder of Serenity at Home, Detroit, agrees. 'The benefit of the Container Store option is there are additional inserts that can be purchased to help separate the different supplies while keeping everything stored on the cart. It can be rolled out whenever it is needed. It also comes in multiple colors which is always a bonus.'
Juliana Meidl has been a professional home organizer for many years, having found that the key to a serene home was finding the perfect organization techniques that work for the family.
2. Get inventive with QR labeling
Setting up a smart home system in your craft room may not be the first thing that comes to mind, but Charlee Ostrander, carpenter and organizer and founder of Build & Create Home uses QR code stickers to help sort items in closed storage.
'With QR codes, you can easily take photos or make lists of the items in your bins,' she says. 'Then when you need to find the items later, you can search on your app to know exactly where you stored the item and what you have in stock. Very useful when you have an array of art supplies and need to know what colors/items you have on hand without sifting through every bin.'
3. Repurpose a lazy Susan
Typically a kitchen organizer professionals always buy, a lazy susan can be useful for organizing deep craft cabinets, suggests Juliana Meidl, professional organizer.
'A lazy susan can be placed on a table or shelf and is a perfect option to keep crayons, markers, pencils, and other smaller suppliers separated.'
4. Group like items together to make things simple to find
If you have a larger craft room, it can be easy to lose track of what you own and where it all is. Keeping things in designated categories is the easiest way around this, says Theresa Russell, international home organizer, therapist, and founder of Homegirl Space.
'If it is a larger area then you can sub-categorize,' she adds. 'For example, grouping paints together, a subcategory would be by color.' This is a great way to find use for storage products you already have to help organize your home without spending any money – so you have more to spend on art supplies.
Theresa Russell is an intentional home organizer with personal and professional experience. She started her intentional home organization business when she moved into a loft with no storage or closets and had to find innovative solutions to make the most out of her space.
5. Keep your paints visible with a stair-step shelving unit
Paints should ideally be organized so that you can see the contents or the front label so you don't have to dig through your collection to find the right color the first time, advises Mary Jo Contello, a professional home organizer and founder of Organized by MJ in Houston.
'In a recent project, I used a stair step paint holder on the large table that holds a color run of the base paints used. There is also a wall lined with nail polish holders that all the bottles of paint live in. The paints are organized by type - base, layers, specialty etc. Within the type, they are by brand for an extra sub-category to make finding the perfect paint simple.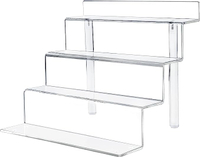 Staggered Desk Organizer | $11.99 at Amazon
This staggered shelf organizer comes in a range of sizes to help organize your smaller art supplies such as artistry paints and sprays.
6. Rely on a staple clear bin
Leaving art supplies on shelving can lead to clutter and items getting lost. This is where the stable clear acrylic bins, such as from QVC, come in handy, reminds Juliana Meidl, professional organizer.
'When there is shelf space for art supplies keeping items in clear labeled bins is key. Being able to always see what you have is important in not only keeping the space orderly but also preventing overbuying, something everyone who crafts is a little guilty of doing.'
7. Use a fold-up desk with storage for a craft corner in a home office
If you only have a small amount of space to dedicate to your craft, then a storage and desk combination could be the perfect solution to keeping all your supplies in one spot, recommends Theresa Russell, home organizer.
'I particularly like this stand-alone desk storage unit from IKEA, which comes in a wood finish that is easily paintable to customize your craft corner.'
8. Find a space to stow canvases
Canvases can be tricky to stow away due to their unavoidable size. To help keep them neat there are a few options, such as pulling a storage unit away from the wall to slot the canvases behind to keep them out of the way, or opt for a standing peg storage rack for canvases, such as this from Amazon, to keep them visible in a larger craft room.
FAQs
How do I set up an arts and crafts room?
If you have a spare room in your home for an art ad craft room, then it is a good idea to prioritize adding plenty of storage to help keep your chaotic supplies in order, a desk or two with good lighting above or on it to help you focus, and flooring that is easy to clean if you spill something – think wood over the carpet, for instance.
How do you make a craft room look nice?
When designing a craft room, picking out storage that also looks pretty is a great way to make the space look nice as well as have it be functional. You can then use the art you create to decorate the space, adding a personal touch and keeping the focus on the art and craft nature of the room.
---
No matter if you have a small corner or an expansive craft room, it always helps to follow a few decluttering tips before you get on with organizing your art supplies. Get rid of anything that has gone past its best, such as paints or sprays that may have thickened or congealed, or clays that have dried up. You should also consolidate products that you have a few half-opened packets and bottles of into one package to save space.
Sign up to the Homes & Gardens newsletter
Decor Ideas. Project Inspiration. Expert Advice. Delivered to your inbox.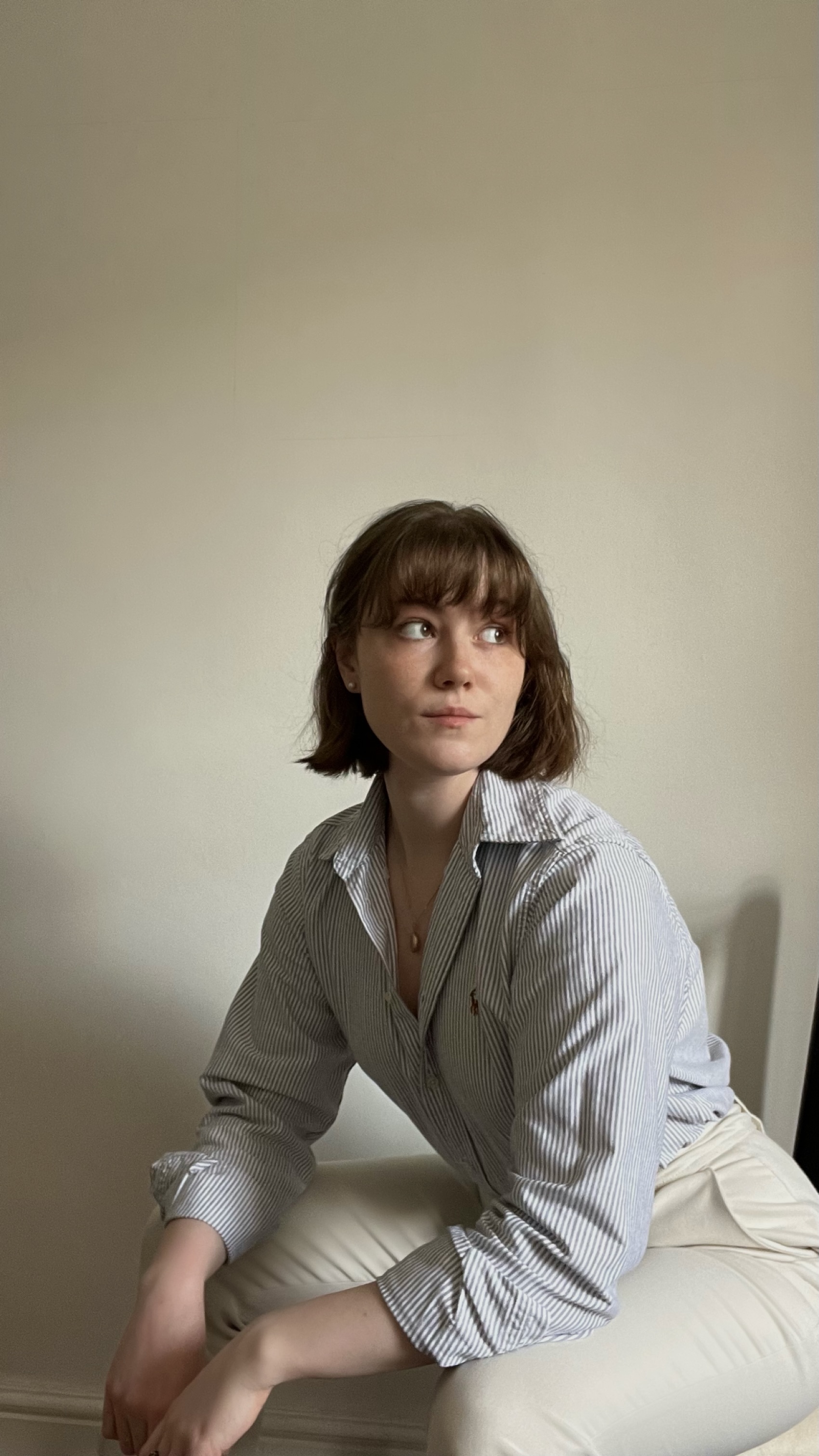 Chiana has been at Homes & Gardens for a year, having started her journey in interior journalism as part of the graduate program. She spends most of her time producing content for the Solved section of the website, helping readers get the most out of their homes through clever decluttering, cleaning, and tidying tips – many of which she tests and reviews herself in her home in Lancaster to ensure they will consistently deliver for her readers and dabbles in the latest design trends. She also has a first-class degree in Literature from Lancaster University.