7 things we didn't know you could clean with a Magic Eraser
From sprucing up sneakers to shining silverware, you'll be amazed at what this humble cleaning tool can do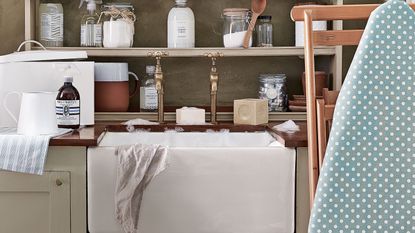 (Image credit: Future PLC / Mark Scott)
So unassuming in looks, you'd never think this little white sponge could prove so useful around the home, but it's amazing just how many things you can clean with a Magic Eraser. As well as the obvious (buffing away soap scum in the tub, crayon scribble on walls…), there's a whole host of surprising cleaning tips and tricks it can be used for, and with no extra chemicals required, either – bonus.
'Magic Erasers are made of melamine foam, which essentially acts like a very light sandpaper. This is what helps them take up those super tough stains on anything from white sneakers and cell phone screens to keyboards and clothing stains,' says Ryan Knoll, founder and CEO of Arizona-based home cleaning business, Tidy Casa.
'They're so easy to use, too; dampen slightly, use small circular motions until the stain fades, then wash the surface clean to remove any residue. Be sure to test it somewhere inconspicuous first, to ensure it isn't damaging the surface,' Ryan says.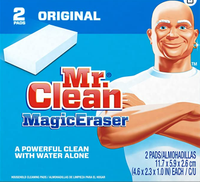 Mr Clean Erase and Renew Magic Eraser, Original | $6.30 for two, at Amazon
There are various brands you can buy, but the original version is a good option and at a fairly cheap price. If it's efficiency you're after, the extra durable version from Mr. Clean's Magic Eraser line might be better for you.
1. Eliminate sticky residue – especially off glassware
Removing price tags or labels off a newly-purchased item only to find that sticky 'goo' left behind means you may as well not have bothered is really frustrating, especially when it's on glassware, where it really shows up. But a quick wipe with a Magic Eraser will see it disappear with no damage.
2. Rid mugs of coffee stains
Mugs showing signs of your coffee-drinking habit? Don't worry, we're not going to tell you to cut back – those stubborn stains can be removed easily enough with a damp Magic Eraser. Just be sure to rinse thoroughly with soap and water before your next caffeine fix.
3. Remove soap scum from the bath
If you are cleaning the bathroom but finding it difficult to remove soap scum, you can use Magic Eraser Bath for an elbow-grease-free experience. Just wet the Magic Eraser, squeeze it and lightly scrub everything from bathtub fixtures to shower trays. It can also work to remove hard water stains.
And, of course, you can use it to clean glass shower doors so that they look like new.
While we're in the bathroom, probably one of the most feared spillages, along with getting red wine out of a carpet, is nail varnish, which can be almost impossible to remove from solid surfaces (and, sorry, impossible as a DIY task from carpets).
To remove nail varnish, let the paint dry, then use a damp eraser over the top. It may take a few attempts depending on how thick the spillage is, but it will come off. If you're using it to clean a wall, heed this advice from Chris Wootton, Managing Director of domestic cleaning brand, Poppies: 'Magic erasers are brilliant for getting marks of paintwork of most kinds, but be aware that they can affect the texture of the painted wall, particularly with flat paint, and leave 'ghost-like' marks behind. Test in an inconspicuous spot first to avoid having to repaint', he says.
4. Shine up your silverware
A damp Magic Eraser removes tarnish, bringing the sparkle back to your silverware – and your jewelry, too in fact. If you are cleaning silver, be sure to use the eraser gently to avoid any damage to the surface and rinse thoroughly.
5. Keep clothes looking fresh
Leaving a colored sock in with your white wash is the ultimate laundry faux pas, but a Magic Eraser could be your savior. According to Steven Ip, owner of Boston-based cleaning company, Cleanzen, a Magic Eraser is extremely effective at removing stains from clothes, even those that result from color transfers.
'Blot the stain, rather than scrubbing, then rinse clean. Just be sure to try it first on an inconspicuous area to ensure it doesn't damage the material', he advises.
Washing sneakers but still finding they are looking a little lackluster? Swiping away scuffs, stains and dried-on dirt with a Magic Eraser will see them return to their former pristine state. It's worth investing in a new set of laces, though.
6. Refresh paintwork
If you want to clean scuffs on paintwork, such as on wall paneling or staircases, you can. But if you are cleaning walls, do so with caution:
'Magic Erasers are brilliant for getting marks on paintwork of most kinds, but be aware that they can affect the texture of the painted wall, particularly with flat paint, and leave 'ghost-like' marks behind. Test in an inconspicuous spot first to avoid having to repaint', says Chris Wootton, Managing Director of domestic cleaning brand, Poppies.
7. Clear paw prints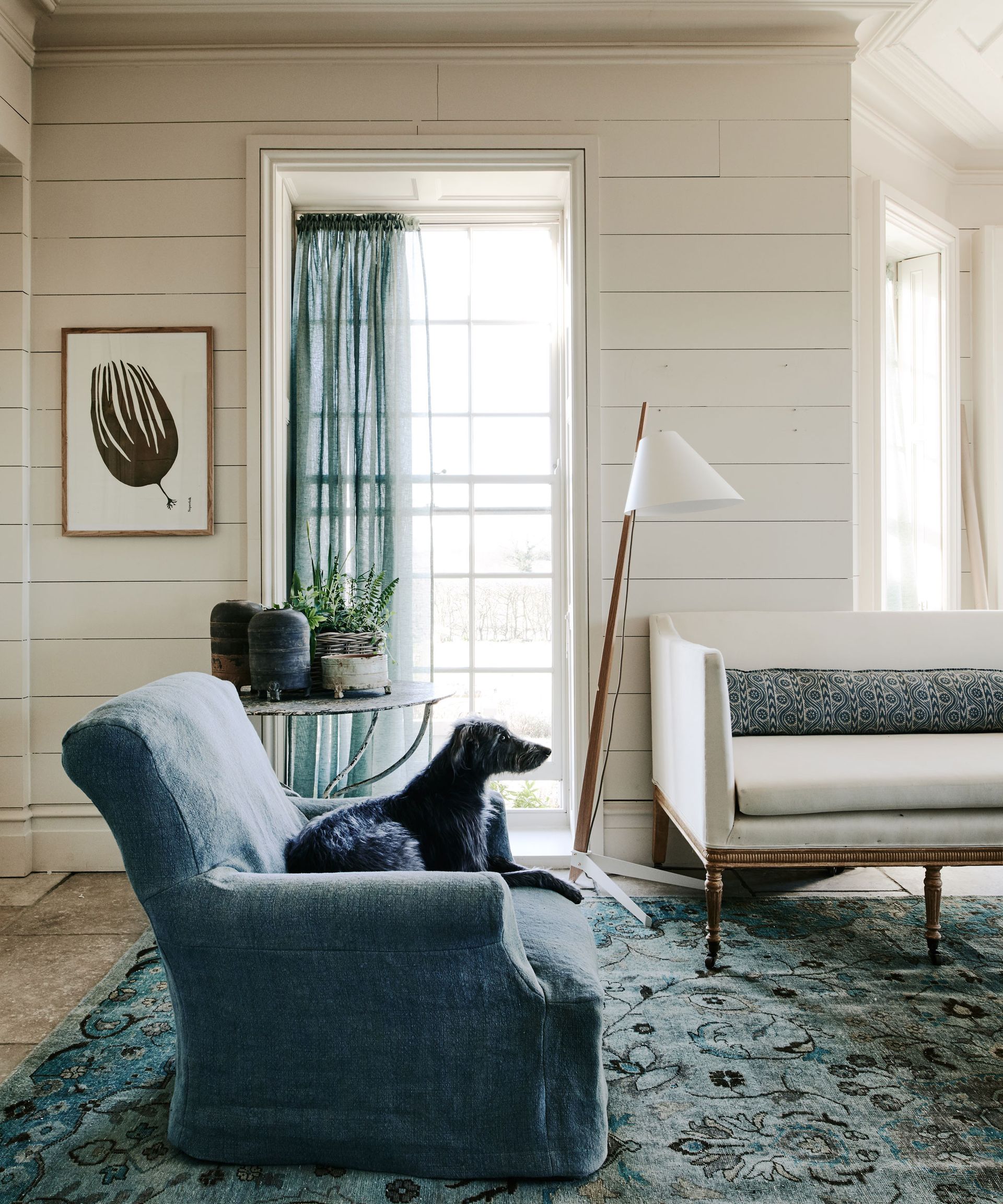 Of course we love our pets, but the paw marks, drool stains and wet nose smudges left on windows and walls? Not so much. Rather than use a chemical cleaner to clean windows (your furry friend won't thank you for that), opt for a Magic Eraser instead; non-toxic, it'll wipe the marks away in seconds. Which is good, because we guarantee they'll be reappearing in seconds, too.
What is in Magic Eraser that makes it work?
A Magic Eraser is made of melamine, which is strongly abrasive. And yes, you should wear gloves while using it, and wipe down areas you've cleaned with clean water afterwards.
How to make a Magic Eraser last longer
At just over $6 for two sponges, available on Amazon, they don't exactly break the bank, however, it soon adds up if you're using them regularly – which you will be after you've finished reading this article! Luckily, there are steps you can take to ensure you get the most out of them.
'To make your sponges go further, consider cutting them up into smaller portions rather than using the entire piece at once. Be sure to wring out and dry them after each use to help prolong their life and stop it from crumbling prematurely', advises Ryan Knoll, founder and CEO of Arizona-based home cleaning business, Tidy Casa.
What should you not use a Magic Eraser on?
They may look innocent enough, but these little sponges are surprisingly abrasive. Their 'sandpaper' texture is what makes them so great at cleaning hard-to-scrub surfaces, but can also result in them working a little 'too' well, in some cases.
As a general rule, if you wouldn't use sandpaper on a surface, don't use a Magic Eraser on it. This essentially rules out anything shiny or that can be easily scratched – think wood, stone, marble, and granite. Technically painted surfaces too, although you can get away with these as long as you exercise caution. Carry out a little patch test first to be on the safe side.
We'd hope it goes without saying, but we're going to say it anyway – buffing marks out of your car exterior with a Magic Eraser doesn't work. You'll end up with more damage than you started with, and a bigger repair cost overall. The same goes for any kind of screen, cell phones and laptops, primarily. Put up with the existing scratches and invest in a screen protector, instead.
You'll also want to avoid anything that has a particular 'coating' you don't want to interfere with, 'non-stick' cookware is the main one. Once scratched, the chemicals from the coating of your best non-stick frying pans can leak out into your food, which is not what you want! While we're on the subject of cookware, you might want to avoid stainless steel, too, unless you don't mind a few scratches.
While giving your hands a quick scrub with a Magic Eraser after all that cleaning might feel like a good idea, it's not. Don't do it. They're full of fibers, which can be extremely harsh on your skin. If you want something naturally abrasive, use a homemade sugar scrub instead.
Sign up to the Homes & Gardens newsletter
Decor Ideas. Project Inspiration. Expert Advice. Delivered to your inbox.
For 10 years, Tara King worked as a Content Editor in the magazine industry, before leaving to become freelance, covering interior design, wellbeing, craft and homemaking. As well as writing for Ideal Home, Style at Home, Country Homes & Interiors, Tara's keen eye for styling combined with a passion for creating a happy – and functional – family home has led to a series of organization and cleaning features for H&G.