Grain recipes – flavorful food that's good for you too
Bursting with healthy benefits, grains and seeds also offer a variety of delicious flavors and textures, as Alice Hart's irresistible recipes show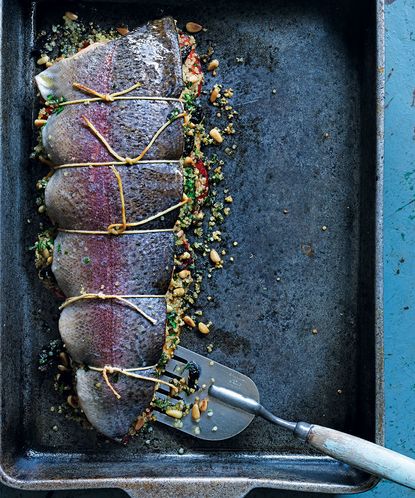 (Image credit: Jonathan Gregson)
Sign up to the Homes & Gardens newsletter
Decor Ideas. Project Inspiration. Expert Advice. Delivered to your inbox.
Thank you for signing up to Homes & Gardens. You will receive a verification email shortly.
There was a problem. Please refresh the page and try again.
For many, grains form the basis of our diets as bread, pasta or rice. In fact, they are so ubiquitous that it is easy to dismiss them as dull 'fillers'. But the grain and seed (and grass, in the case of quinoa) family is incredibly varied and, especially with wholegrains, boasts a wealth of beneficial trace minerals, vitamins, fibers and protein.
What's more, these ancient grains and grasses add abundant flavor, texture and depth to very simple dishes, everlasting them out of the ordinary. These recipes aim to demonstrate something of the grain family's versatility.
It's impossible not to love healthy food that's packed with flavor, and these amazing grain recipes work perfectly with roasted veg, such as pumpkin and squash recipes.
Toasted millet tabbouleh with heirloom tomatoes
Serves 4 as a side dish or light lunch
This bright and versatile salad goes very well with lamb, chicken or fish. Millet is best eaten warm and on the day of cooking.
Ingredients:
200g millet
4 tbsp extra virgin olive oil, plus extra to serve
Half a cucumber, peeled, deseeded and very finely diced
1 large bunch parsley, finely chopped
1 large bunch mint, finely chopped
Juice of 1 lemon
1 small red onion, finely chopped
4 tomatoes, deseeded and finely chopped
2 tbsp chopped pistachios
½ tsp ground allspice
500g mixed heirloom tomatoes, halved or quartered according to size, to serve
Method:
1. Put the millet in a large saucepan and toast for 4-5 minutes, stirring until the grains are golden.
2. Add 420ml water to the pan and bring to the boil.
3. Add 2 tablespoons of the olive oil and a large pinch of salt, reduce the heat to low and cover the pan.
4. Simmer gently for 15 minutes without disturbing then turn the heat off and leave for 10 minutes more before fluffing up with a fork.
5. Add the cucumber, herbs, onion, chopped tomatoes, pistachios, lemon juice, allspice and remaining olive oil to the warm millet.
6. Season generously with salt and pepper.
7. Serve with the heirloom tomatoes and a drizzle of olive oil.
Hearty faro, kale and borlotti bean soup
A thick, Tuscan-style soup, rich in vegetables, beans and faro (use spelt if you can't find faro. In fact, hey are often the same grain labeled differently, depending on variety). The soup is vegetarian as is, but you can add a few chopped rashers of smoked bacon with the onion mixture to deepen the flavor.
Serves 4-6
Ingredients:
250g dried borlotti beans
8 tomatoes, roughly chopped
5 sage leaves
4 garlic cloves, left whole
2 tbsp olive oil
1 large onion, chopped
1 large carrot, chopped
2 celery ribs, chopped
200g faro
500ml vegetable stock
150g kale, roughly shredded
Parmesan, extra virgin olive oil and rustic bread, to serve
Method:
1. Soak the beans in plenty of cold water for at least 8 hours. Drain and rinse the beans and put in a saucepan with just enough water to cover.
2. Add two of the tomatoes, the sage leaves and garlic and bring slowly to the boil. Cover and simmer for an hour or so, or until the beans are tender but still keep their shape.
3. Meanwhile, in another large pan, gently fry the onion, carrot and celery in the olive oil over a lowish heat, until very soft and just beginning to brown – about 15 minutes.
4. Add the remaining tomatoes, faro and stock and bring to the boil. Simmer gently for 20 minutes.
5. Use a potato masher to crush roughly half the borlotti beans in their pan (remove the sage and garlic first and throw away).
6. Add the crushed and whole beans and their liquid to the faro pan with the kale and simmer for a few minutes.
7. Taste and season (it will definitely need salt), adding a little water to thin the soup down if needed.
8. Serve with a drizzle of good olive oil on each bowl and some parmesan and crusty bread on the side.
Warm autumn salad of freekah, duck and figs
An opulent and substantial salad based on cracked freekah, otherwise known as green wheat. Freekah can be found in health food, Turkish, Persian and Iranian shops; substitute with spelt, faro, pearl barley or bulghar wheat if you can't find it. Swap crumbled feta for the crispy duck to make a vegetarian salad and by all means use leftover roast lamb or sliced, pan-fried duck breast instead of the Chinese-style duck.
Serves 6
Ingredients:
For the salad:
1 Chinese-style crispy duck
200g cracked freekah (green wheat)
6 plump figs, halved
15g butter, very soft
50g walnuts, toasted and roughly chopped
A small bunch of parsley, chopped
For the dressing:
200ml red wine
2 shallots, finely chopped
1 tbsp red wine vinegar
1 tsp Dijon mustard
2 tsp honey
6 tbsp olive oil
Method:
1. Preheat the oven to 220°C, 200°C fan, 425°F, gas mark 8.
2. Put the duck in a roasting tin and roast for about 45 minutes, until crisp and browned.
3. Before the duck is cooked, lay the figs out in a separate tin and dot with butter. Roast for 15 minutes and set aside.
4. Meanwhile, put the freekah in a saucepan with enough water to cover by 1cm. Add a generous pinch of salt, bring to the boil then add a lid, reduce the heat and simmer gently for about 15-20 minutes, until the grains are tender but slightly chewy.
5. Drain any excess water away and return the grains (in the pan) to the heat for a minute or two, fluffing them with a fork. Cover and set aside.
6. Make the dressing. Put the red wine and shallots in a frying pan and bring to the boil. Simmer down to half the original volume then remove from the heat and whisk in the remaining dressing ingredients. Season and pour half the dressing over the warm freekah.
7. Roughly shred the duck meat and crisp skin, adding it to a large serving bowl with the freekah, walnuts and parsley. Carefully fold the figs in and pour the remaining dressing over.
Wild rice salad with a miso dressing
This salad makes an excellent accompaniment to baked fish fillets or roast chicken if you'd like to add another component.
Serves 4
Ingredients:
For the dressing:
2 tbsp white miso paste
2 tbsp mild-flavored honey
4cm fresh ginger, peeled and finely grated
2 tbsp soy sauce
2 limes, juice only
For the salad:
400g pumpkin or squash, peeled and cut into 2cm cubes
2 tbsp olive oil
175g wild rice
100g edamame (soy) beans, defrosted
1 head red chicory, trimmed and leaves separated
4 spring onions, shredded
1 avocado, stoned and diced
2 tbsp pumpkin seeds
Method:
1. Whisk all the dressing ingredients together and keep in the fridge until needed (will keep for a week).
2. Preheat the oven to 190°C, 170°C fan, 375°F, gas mark 5.
3. Toss the pumpkin or squash with 2 tablespoons olive oil, season well and spread out on a baking sheet. Roast for about 30 minutes, until soft and turning brown. Set aside to cool.
4. Meanwhile, rinse the rice in a sieve, cover with 350ml of water in a pan, add a good pinch of salt and bring to the boil. Cover, reduce the heat and simmer for about 30 minutes, until the rice is plump and soft. Add a little extra water if the rice looks to be drying out at any point. Add the edamame beans and leave to cool.
5. Gently fold the rice, beans and remaining ingredients together with the dressing.
Roast trout stuffed with her quinoa and peppers
This is such a useful recipe for feeding a crowd as it can be prepped earlier in the day and popped into the oven when needed. Feel free to use two sides of salmon instead of trout; both work perfectly well. Just keep an eye on cooking times because salmon sides are often thicker and might need a few more minutes in the oven.
Serves 6
Ingredients:
4 red, yellow or orange peppers
125g quinoa
300ml vegetable stock
100g stoned olives, roughly chopped
2 large handfuls soft herbs, chopped (parsley, mint, basil, chives, coriander and a little tarragon are all good choices)
Zest of 1 lemon, finely grated zest and a squeeze of juice
3 tbsp pine nuts, toasted in a dry pan
2 x 500g sides trout or salmon, cleaned and pin-boned
Method:
1. Preheat the oven to 220°C, 200°C fan, 450°F, gas mark 8.
2. Slice the 'cheeks' from the peppers, leaving the seeds and pith behind and lay out on an oiled baking sheet, skin-sides up. Drizzle with oil and roast for 20 minutes or so, until charred at the edges. Put in a covered bowl or a plastic bag to steam. Once cool, peel the skin off.
3. Turn the oven down to 170°C, 150°C fan, 350°F, gas mark 3.
4. Meanwhile, rinse the quinoa in a sieve then put it in a pan with the vegetable stock, bring to the boil and simmer for 16-18 mins. Cool then stir in 2 tablespoons olive oil with all the remaining ingredients (except the trout or salmon).
5. Lay five 30cm lengths of kitchen string out across an oiled baking tray, each about 4cm apart. Put one trout or salmon side, skin-side down, onto the string, adjusting it so that it is evenly spaced down the length of the fish. Season the fish with salt and pepper and carefully spoon the stuffing mixture on top, pressing it down firmly.
6. Season the second fish side then lay it on top of the stuffing, skin-side up. Bring the ends of each length of string up and tie together. The fish can be prepared up to this stage a few hours in advance and kept in the fridge. Bring up to room temperature before cooking.
7. Bake the fish for 15-20 minutes, depending on thickness, until it just flakes when pressed.
8. Serve with a green salad.
Maple, sour cherry and almond granola
Rolled oats make a robust, free-flowing granola. If you prefer 'clusters' of oats in your breakfast, replace half the rolled oats with porridge oats, press together very firmly when combining the ingredients and go gently when you stir the mixture as it cooks so as not to break any clusters up.
Makes about 10 bowlfuls
Ingredients:
120ml maple syrup
80ml olive oil
Pinch salt
1 tsp vanilla extract
300g rolled oats
100g chopped almonds
50g sunflower seeds
100g dried sour cherries
Cold milk and/or yoghurt and fresh fruit, to serve
Method:
1. Preheat the oven to 170°C, 150°C fan, 350°F, gas mark 3.
2. Combine all the ingredients except the dried sour cherries with 150ml water in a large bowl, mixing very thoroughly with a wooden spoon.
3. Spread out on a large baking sheet and cook for about 35 minutes, stirring carefully every 10 minutes or so, until the mixture is crisp and uniformly golden.
4. Stir in the sour cherries and set aside to cool.
5. Store in sealed jars and keep in a cool, dark place for up to two months.
6. Serve with milk and or yoghurt and fresh fruit such as stoned cherries and pomegranate seeds.
Blackberry and rye waffles
Nutty and mild rye flour is the perfect choice for a waffle batter with a twist (incidentally, this batter can be used to make Scotch-style pancakes if you don't own a waffle iron). Blackberries, or any other seasonal berry, add pockets of extra sweetness and go perfectly with mild honeycomb.
Makes 6-8 waffles (depends on size of waffle iron)
Ingredients:
360ml milk
1 egg, lightly beaten
1 tsp vanilla extract
Half tsp salt
100g rye flour
100g spelt flour (white or wholemeal)
2 tsp baking powder
A squeeze of lemon juice
40g butter, melted
50g blackberries, roughly chopped, plus extra to serve
A mild honeycomb or honey, to serve
Greek yoghurt, to serve (optional)
Method:
1. Beat the milk, egg, vanilla and salt together in a bowl.
2. Measure the rye and spelt flours and baking powder into a jug and make a well in the centre. Gradually whisk the wet mixture into the dry to make a smooth batter.
3. Stir in the lemon juice and 30g melted butter, reserving the remaining 10g, and finally add the chopped blackberries.
4. Heat a waffle iron according to manufacturer's instructions. Wipe a little melted butter over and spoon in enough batter to make a 1cm thick layer, almost to the edge (the waffle will spread).
5. Close the iron and cook until the waffle is pale brown with a crisp shell. Keep the finished waffles warm in a low oven while you cook the rest.
6. Serve with spoonfuls of honeycomb, extra berries and Greek yoghurt, if liked.
Styling/ Tabitha Hawkins
Photography/ Jonathan Gregson
Sign up to the Homes & Gardens newsletter
Decor Ideas. Project Inspiration. Expert Advice. Delivered to your inbox.
Alice Hart is a food writer and recipe developer, working across a wide variety of media, from magazines to books. Alice's recipe books are based on wholesome produce and seasonal eating, and while she takes a balanced approach, using wholefoods and vegetables wherever possible, she also finds joy in an excellent cake. Alice is also invested in sports nutrition and is a Level 3 personal trainer, a seasoned endurance sports competitor and a trained chef.