Spring green recipes – seasonal meals that are healthy, too
Alice Hart sees in the season with her pick of wonderfully fresh and flavorful leafy recipes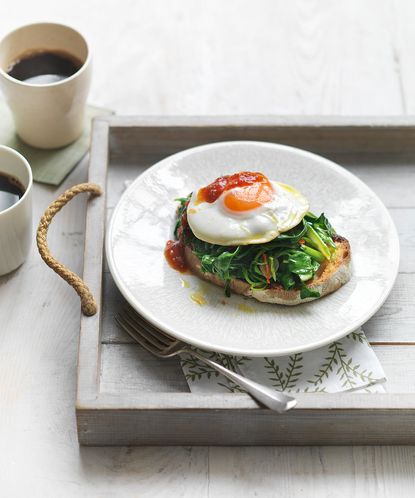 (Image credit: Jonathan Gregson)
Sign up to the Homes & Gardens newsletter
Decor Ideas. Project Inspiration. Expert Advice. Delivered to your inbox.
Thank you for signing up to Homes & Gardens. You will receive a verification email shortly.
There was a problem. Please refresh the page and try again.
Finally, spring is stirring properly and throwing up an abundance of fresh green shoots and leaves. Of course, leafy greens (chard, water-cress, spinach and pea shoots, to name a few) make fantastic side salads.
But it's far more interesting to think beyond their use as a humble accompaniment: stir-fry a tangle of greens with garlic and chilli to pile on toast, combine a mixture of Greek-style leaves with feta to stuff a leg of lamb, use homegrown mizuna and pak choy as a base for Southeast Asian salads.
These are amongst our favorite spring recipes – and were specially selected to showcase the brilliant variety and versatility of greens.
Escarole salad with spring onions, lardons and quail eggs
Serves 4
For this French classic, try to track down a head of escarole rather than a bag of leaves, as this slightly bitter lecture is best when very fresh.
Ingredients:
6 quail eggs
1 tbsp olive oil
200g smoked lardons
150g sourdough loaf, cut into 2cm cubes
Large head escarole, leaves separated, washed and dried
1 bunch spring onions, white parts sliced and green tops shredded
For the dressing:
2 tbsp red wine vinegar
3 tbsp walnut oil
1 tbsp olive oil
Pinch of sugar
1⁄2 garlic clove, crushed
1 tsp wholegrain mustard
Salt and freshly ground black pepper
Method:
1. Plunge the eggs into boiling water and simmer for exactly 2 minutes.
2. Drain and cover with iced water to cool as quickly as possible, then peel off the shells. Heat the olive oil in a frying pan.
3. Add the lardons and fry gently until they are golden and the fat has run, then remove to a plate with a slotted spoon.
4. Add the sourdough cubes to the pan and stir until golden and crisp. Return the lardons to the pan and keep warm.
5. Whisk the dressing ingredients together with a tablespoon of water and season to taste.
6. Toss the escarole leaves with half of the dressing, then add the lardons, croutons and sliced spring onion whites. Divide between four plates.
7. Halve the quail eggs and add 3 halves to each portion, then finish with the dressing and spring onion tops.
Chilli greens on sourdough toast with a fried egg and chilli jam
Serves 2
Use any combination of robust greens you like, from the first tender asparagus shoots to peppery watercress.
Ingredients:
2 garlic cloves
4 tbsp olive oil
1 mild red chilli, finely sliced
600g mixed green leaves and shoots, such as large spinach leaves, chard, sprue asparagus, hop shoots and watercress
2 eggs
2 large, thick slices sourdough bread
Chilli jam or chilli sauce, to serve
Method:
1. Finely slice one of the garlic cloves and halve the other.
2. Warm 2 tablespoons of olive oil in a large frying pan.
3. Add the sliced garlic and chilli and cook over a medium heat for 1 minute.
4. Add the greens and stir-fry for 3-4 minutes over a medium-high heat, tossing the pan often until the greens are wilted but retain a bit of bite. Season well with salt and black pepper.
5. In a separate pan, gently fry the eggs in 1 tablespoon of olive oil until the whites are set and the edges are golden.
6. Toast or grill the bread until slightly charred then rub one side of each slice with the cut sides of the halved garlic clove.
7. Divide the greens between the toast slices and top each with a fried egg, a few drops of olive oil and a spoonful of chilli jam or sauce.
Lamb leg stuffed with horta and feta
Serves 6-8
Horta (wild greens) fried with garlic is a spring treat in Greece. A good mix of greens and shoots makes a similarly flavourful stuffing for lamb.
Ingredients:
600g mixed green leaves, such as large spinach leaves, chard, beetroot tops and watercress
2 fat garlic cloves, crushed
200g feta, drained and crumbled
2 tbsp olive oil, plus extra for roasting
1 large leg of lamb, part-boned (ask your butcher to do this)
Method:
1. Pre-heat the oven to 190°C, Gas Mark 5. Blanch the mixed leaves in boiling water for 1 minute, then drain, refresh under cool water and drain thoroughly, squeezing out excess liquid using a clean tea towel.
2. Roughly chop the leaves and put in a bowl with the garlic, feta and olive oil. Add plenty of freshly ground black pepper and mix well.
3. Firmly stuff the greens mixture into the de-boned section of the lamb leg and tie the leg together tightly with string at regular intervals to keep the stuffing in place.
4. Place the lamb leg in a roasting tin and drizzle with a little olive oil.
5. Roast for about 1 hour 30 minutes for medium, covering loosely with foil if the skin is becoming too brown after the first hour. Rest for 15 minutes before carving into slices.
6. Serve with new potatoes, roughly chopped and sautéed in olive oil with lemon slices until golden.
Chard kibbeh with pine nut and mozzarella stuffing
Makes about 20 large kibbeh, to serve 4 with accompaniments
I've made these kibbeh slightly heftier than is traditional to allow for more of the delectable chard and mozzarella filling. Serve them as part of a mezzo-style spread with warmed flatbreads, a large salad and humous.
For the kibbeh:
600g floury potatoes, cut into chunks
200g bulghur wheat, soaked in cool water for 10 minutes
300g chard or cooking spinach
2 tbsp plain flour
1⁄2 tsp ground allspice
1⁄2 tsp ground cumin
1⁄2 tsp ground coriander
For the filling:
1⁄2 tsp ground allspice
2 tbsp pine nuts
150g ball buffalo mozzarella, drained and cut into 1cm cubes
To serve:
Greek yogurt, chopped dill and pomegranate seeds
Method:
1. To make the kibbeh shell, bring a large pan of salted water to the boil.
2. Add the potatoes and boil for 20 minutes or so, until completely tender. Drain thoroughly and season generously then put in a large mixing bowl and mash until smooth.
3. Drain the bulghur wheat and wring out in a clean tea towel to extract all the excess water. Tip into the bowl with the potatoes and stir together.
4. Blanch the chard in boiling water for 1 minute then refresh under cold water, wring out in another tea towel and chop half finely and half roughly. Add the finely chopped half to the potato mixture with the flour and the spices, season and knead until blended.
5. Chill for 30 minutes to firm. To make the filling, mix together the ground allspice, pine nuts and roughly chopped chard and season well.
6. To form the kibbeh, divide the potato mixture into about 20 large walnut-sized pieces and roll each into a ball.
7. Working with one ball at a time, stick a finger into the centre to form a large hollow, stuff a cube of mozzarella and a scant teaspoon of the chard mixture into the hollow, then mould the potato mixture around it to enclose completely, forming a torpedo shape at the same time. Repeat with the other balls to use all the filling ingredients. The shaped kibbeh may be chilled on trays for up to 48 hours.
8. Either bake the kibbeh for 20 minutes in an oven pre-heated to 190°C, Gas Mark 5 or shallow-fry in about 3cm groundnut oil, turning often, until golden brown all over; drain thoroughly on kitchen towel after frying.
9. Serve the hot kibbeh with spoonfuls of Greek yogurt and a scattering of chopped dill and pomegranate seeds.
10. Warm flatbreads and a green salad make ideal accompaniments.
Asian greens salad with mackerel
Serves 4
This is simple but extremely satisfying. You could also use prawns or crab.
For the dressing:
3cm piece ginger, peeled and grated
1 tsp honey
1 lime, juice only
Juice of 1⁄2 a small orange
1 tbsp rice wine vinegar
2 tbsp light soy sauce
3 tbsp sesame oil
1 tbsp groundnut oil
For the salad:
70g mizuna or mustard leaves
100g baby bok choy or pak choy, leaves separated
1 large avocado, peeled and chopped
3 radishes, very finely sliced
200g frozen edamame beans, defrosted
200g smoked mackerel, skinned and flaked
1 tbsp black or white sesame seeds, toasted
Method:
1. Whisk all the dressing ingredients together, adding more honey, vinegar or soy sauce to taste. The dressing will keep for a few days in a sealed jar in the fridge.
2. Just before eating, toss all the salad ingredients, except for the sesame seeds, with the dressing.
3. Divide between serving bowls and finish with a good sprinkle of the toasted sesame seeds.
Vietnamese charred beef and kohlrabi salad
Serves 4
An ideal balance of sweet, sour, salty and hot makes this truly irresistible.
For the dressing:
4 tbsp light brown sugar
6 tbsp rice wine vinegar
6 tbsp Vietnamese fish sauce (nuoc mam)
Juice of 2 limes
2 Thai chillies, finely chopped
3cm piece fresh ginger, peeled and finely chopped
2 stalks lemongrass, well trimmed and finely chopped (optional)
For the salad:
2 large sirloin steaks, about
300g each, trimmed
2 tsp groundnut oil
1 large head kohlrabi, peeled and finely sliced
100g watercress, tough stalks removed
3 carrots, peeled and finely shredded
Handful each of mint, coriander and Thai basil leaves
4 tbsp peanuts, toasted and crushed
Method:
1. For the dressing, set a small pan with the sugar, vinegar, fish sauce and 75ml water over a gentle heat until the sugar dissolves; do not boil. Let it cool then add the lime juice, chillies, ginger and lemongrass (if using).
2. Rub the steaks with oil, season and sear in a smoking-hot pan for about 2 minutes on each side until medium rare.
3. Leave to rest for 15 minutes then slice thinly.
4. Combine with the remaining salad ingredients, except for the peanuts, then pour over the dressing and shower with peanuts.
Pea shoot, pea and brown shrimp risotto
Serves 4
Use good-quality stock for this risotto, whether homemade or shop bought, as it will make all the difference to the results.
Ingredients:
900ml best-quality fresh chicken or vegetable stock
15g butter
1 tbsp olive oil
3 small shallots, finely chopped
280g vialone nano risotto rice
120ml dry white wine
300g peas, fresh or frozen
Finely grated zest of 1 lemon plus 2 tbsp juice
Large handful of pea shoots, plus extra to serve
150g brown shrimps
3 tbsp crème fraîche
Method:
1. Put the stock in a pan set over a medium heat and bring to a simmer. In a separate, medium-sized pan, heat the butter and the olive oil together over a low heat.
2. Add the shallots and cook gently for 5 minutes, until translucent but not coloured. Increase the heat slightly and stir in the rice, making sure each grain is coated in butter.
3. Add the wine and stir until it has nearly all evaporated. Add a ladleful of hot stock and stir until it has nearly evaporated before adding another ladle. Continue adding stock and stirring in this way for about 16 minutes, until the rice is almost cooked and all the stock has been used. Add a little water if the risotto looks dry; it should be creamy and loose.
4. Stir in the peas and cook for 2 minutes more, then remove from the heat and stir in the lemon zest and juice, pea shoots, shrimps and crème fraîche. Cover and leave for 5 minutes.
5. Divide between shallow serving bowls and top each with a small pile of fresh pea shoots.
Photography/Jonathan Gregson
Styling/ Tabitha Hawkins
Sign up to the Homes & Gardens newsletter
Decor Ideas. Project Inspiration. Expert Advice. Delivered to your inbox.
Alice Hart is a food writer and recipe developer, working across a wide variety of media, from magazines to books. Alice's recipe books are based on wholesome produce and seasonal eating, and while she takes a balanced approach, using wholefoods and vegetables wherever possible, she also finds joy in an excellent cake. Alice is also invested in sports nutrition and is a Level 3 personal trainer, a seasoned endurance sports competitor and a trained chef.