US demand for backyard greenhouses is growing – here's why
Backyard greenhouses are more popular than ever; not only do they look great, but they may also provide solutions for many problems US gardeners now face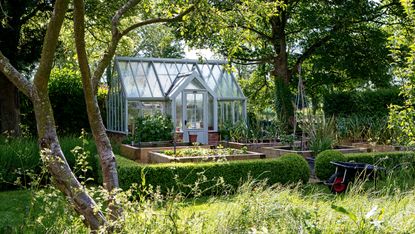 (Image credit: Future)
Backyard greenhouses are becoming more and more popular in the US. Although it originated in the Roman times, the greenhouse was popularized in Italy during the Renaissance, later becoming a popular feature of formal gardens in Victorian Britain and in 19th Century America. Until very recently, backyard greenhouses were still somewhat rare and typically associated with large estates.
There is plenty of evidence that this is changing. Searches for 'backyard greenhouse' have gone up 200% in the last year, and greenhouse manufacturers are reporting an increase in demand. What's driving the US greenhouse renaissance?
See: Backyard ideas – design ideas for your backyard, whatever its size or style
Growing fruit and vegetables rose sharply during lockdown
The coronavirus pandemic is transforming the way Americans think about food. Last year, the grow-your-own craze was triggered by anxiety about potential food shortages and a reluctance to travel to the supermarket.
But there was more to it than that. While professional growers reported a huge increase in demand for vegetable plants, there were also reports of people buying up plants like grape vines, strawberries, and even citrus fruits. One Wisconsin grower reported that a shipment of citrus trees was gone in four hours.
The plants Americans want to grow are not necessarily the plants most suited to their climate zone. While citrus trees and grapes will grow easily in California without the need for a greenhouse, this isn't the case in Wisconsin. The strong appetite for tender and exotic plants is partly driving the increased interest in greenhouse gardening.
Greenhouses act as 'insurance' against climate change
However, regardless of the state you live in, a greenhouse can work as an insurance of sorts against the increasingly common freak weather events. Greg Seaman, gardener and founder of Eartheasy, explains that 'a small greenhouse is our best assurance of a fruitful harvest in uncertain times'.
He continues: 'In our garden, we recently had a major ''November storm'' arrive two months early, breaking many of our tomato plants, knocking over the fall brassicas (cauliflower, kale, broccoli, Brussels sprouts and cabbage), soaking the winter squash which should have been curing in the early autumn sun, and throwing our fall fruit harvest off schedule.'
This year, much of the US experienced an extremely cold spring with unpredictable frosts way later into the warm season than is normal. A greenhouse can provide much-needed frost protection for tender crops and flowers.
An appetite for English garden style?
It seems, however, that at least one of the reasons backyard greenhouses are gaining in popularity is aesthetic rather than practicality. Greenhouses, particularly Victorian-style glasshouses, just add a very special look to a garden. There is some indication that Victorian-style greenhouses are experiencing a major resurgence in the US.
See: Cottage garden ideas – pretty ways to embrace rustic style outdoors
Hartley Botanic is experiencing a boom in demand for its handmade, English glasshouses and greenhouses overseas – particularly in the US which has incredibly now overtaken the UK as the company's biggest market.
Martin Toogood, Chairman of Hartley Botanic said, 'For many, glasshouses are intrinsically linked to a romantic, comforting notion of Englishness' In the last three years, demand increased exponentially for us in the US, so much so that it has now overtaken the UK as our main market. Famous TV shows broadcast in the States over the last five or so years such as The Crown, Downton Abbey, and now Bridgerton, have all contributed to increasing the appetite and interest for looks and styles that are classically English.'
It looks like Americans are finding comfort not just in growing their own veg, but doing so in style.
Sign up to the Homes & Gardens newsletter
Decor Ideas. Project Inspiration. Expert Advice. Delivered to your inbox.
Anna K. Cottrell is now a freelance writer, having previously been a Content Editor for Future's homes titles. She writes about interior design, property, and gardening. On H&G, she specialized in writing about property – buying, selling, renting – sustainability and eco issues.