The best places to buy a vacation home in Illinois
Enjoy scenic lake and river views in the midwestern jewel of a state – and make some rental income, too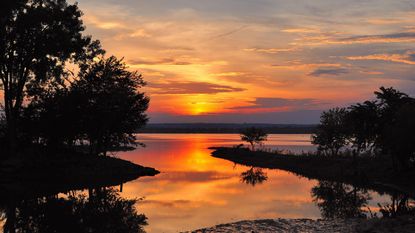 (Image credit: Bruce Leighty / Alamy Stock Photo)
If you are looking for the best places to buy a vacation home in Illinois, you'll be pleasantly surprised. Illinois has a wealth of beautiful spots popular with vacation makers, with Lake Michigan and the Illinois River offering endless opportunities to enjoy water sports, hiking, or just lazing on the beach (yes, there are very good beaches in Illinois).
The state is enviably located for visitors from many neighboring states, especially Indiana, Michigan, and Missouri, but Chicago residents will be especially delighted with these tranquil spots picked by experienced real estate experts.
Below, you can discover where and how to buy a house in the best Illinois vacations spots, plus our experts tell you how to make the best return on your investment.
1. Lake Michigan
Everyone knows Lake Michigan from iconic images of the Chicago waterfront, but if you leave Chicago, there are plenty of idyllic small towns west of the Windy City that offer incredible views, sandy beaches, and attractive investment opportunities.
Jeff Johnson, a real estate agent and owner of Simple Homebuyers, highly recommends Lake Michigan as a vacation home destination: 'Not only will you enjoy lakeside views, but you will also be able to participate in enjoyable activities such as fishing. It is a less polluted environment, so you can undoubtedly rest and enjoy your trip.'
In fact, he recommends moving out of Chicago altogether and renting out your permanent Lake Michigan home during the high season: 'If you opt to buy a home here, you will be able to avoid Chicago traffic while still commuting because it is such a short drive. The views at this location are immaculate, and the investment is well worth it.'
Aim for one of the towns near the Illinois Beach State Park – just renting out one room in a home near Waukegan can fetch well over $100 per night.
2. Lake Sara
Another great lake destination, Lake Sara is a kayaker's paradise, thanks to its smaller size and calm water.
Jeff gives it his seal of approval: 'Lake Sara, one of the smaller lakes, is particularly popular with vacation home buyers due to its quiet character and the high quality of properties. The lake is not as renowned as the other lakes, making it a reasonably peaceful area in the winter, spring, and fall. It is a hidden gem that not a lot of people are aware of.'
A three-bedroom home can be bought for around $375,000 in the area.
3. Ottawa, Illinois River
There are so many great vacation home destinations along the Illinois River that it's difficult to pick just one. However, Mitchell G. David a real estate agent and founder of Beach Life Ocean City especially recommends looking at Heritage Harbor in Ottawa – a new marina residential development that is very promising for vacation home investors.
'It's a master-planned resort community built around a beautiful marina on the Illinois Waterway in Ottawa. They have 40+ developed home lots and developable land for 400+ home units. It can be used for multi-family and commercial use. As the project is now in the beginning stage, you can buy property at a cheap price. You can use it as your vacation home or rent it as an investment property.'
Ottawa is within an easy drive of the scenic Starved Rock State Park and Nature Reserve, famous for river canyons and waterfalls and boat clubs.
To sum up: if you love water, you can't ignore vacation home opportunities in Illinois.
Anna K. Cottrell is now a freelance writer, having previously been a Content Editor for Future's homes titles. She writes about interior design, property, and gardening. On H&G, she specialized in writing about property – buying, selling, renting – sustainability and eco issues.