The best places to buy a vacation home in the Hamptons
The best places to buy a vacation home in the Hamptons will deliver unforgettable summers – and substantial extra rental income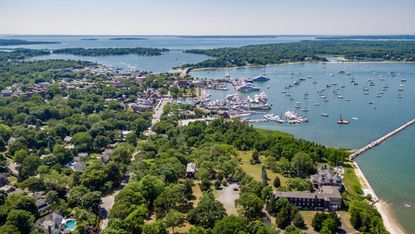 (Image credit: Gavin Zeigler / Alamy Stock Photo)
The best places to buy a vacation home in the Hamptons will appeal to savvy investor buyers who want to maximize the rental potential of their second homes. And that's to say nothing of the world-famous, stunning beauty of this area in upstate New York that attracts vacation makers from the world over.
Enjoy glorious summers on the beach, or year-round fun further inland. Whatever you choose, you just can't go wrong with the Hamptons.
We've asked experienced real estate professionals to give their top tips on how to buy a house and the top locations for vacation homes in the Hamptons – these are their top choices.
1. East Hampton
East Hampton is a top choice with our realtor experts in large part due to its unbeatable location. It is the easternmost town in New York state, boasting 70 miles of shoreline. It also has a very attractive downtown area perfect for upmarket dining and shopping.
Simon Ru, CEO of UpNest, who has over eight years of experience in the real estate industry, explains that while this is a very expensive area to buy in, it will pay off in amazing rental income rates:
'Even given the small geographical size of the Hamptons, certain areas are more popular than others, but you'll pay a lot more for the privilege of that future rental income. Consider East Hampton or Southampton, where the median listing price is close to over $2 million, but you can make over $60,000 for a summer rental.
'East Hampton is historic with a beautiful Main Street with designer boutiques and great restaurants.'
Expensive? Yes. Worth it? Absolutely.
You can also check out Sag Harbor, a tiny whaling port, with many landmarks
and museums, which is fantastic for walking. Slightly less expensive is Montauk, which is on the easternmost tip of Long Island. It's known for being home to the largest commercial fishing fleet in New York.
2. Sag Harbor
Sag Harbor is your best bet if the main appeal of the Hamptons for you are the many opportunities for active boating vacations or walking trips. Sag Harbor itself is a large area, but Sag Harbor village itself is a great place to start looking for a vacation home.
Simon describes Sag Harbor as 'a tiny whaling port, with many landmarks and museums, which is fantastic for walking.'
Yorgos Tsibiridis, a realtor at Compass, also singles out Sag Harbor and nearby villages such as Amagansett as great investment opportunities: 'Sag Harbor Village is on the port of Gardiner's Bay while Amagansett is located on the Atlantic Ocean. According to current availability, rentals in Sag Harbor start around $45,000 per month while Amagansett begins at $20,000 per month.'
Yorgos does emphasize that one thing to bear in mind with buying in these locations is that you'll need to invest into high-end interior design to get the rental clientele: 'These locales are coveted around the world but renters will not sacrifice on sophisticated design or beautiful properties.'
Get it right, and 'owning a home here guarantees rental income every summer, though seasonality means less in the post-COVID age. Most homes are rented year
round with onset of remote work making a summer rental extremely difficult
to find and more expensive than ever.'
3. Montauk
If you want a slightly less expensive investment option, consider Montauk. Simon says that it is 'slightly less expensive' than the top areas. Montauk is on the easternmost tip of Long Island and is 'known for being home to the largest commercial fishing fleet in New York.'
It is also famous as a leisure fishing destination and a hiking hotspot, with six state parks in the area. A home here will still cost you over $1 million, but that's still way less than the $2 million-plus homes in East Hampton.
The Hamptons remain a highly sought after, exclusive destination that more than recoups the hefty initial investment. To sum up, in Simon's words, 'You can't go wrong with any of these Hampton decisions, if you can afford the entry point.'
Anna K. Cottrell is now a freelance writer, having previously been a Content Editor for Future's homes titles. She writes about interior design, property, and gardening. On H&G, she specialized in writing about property – buying, selling, renting – sustainability and eco issues.