Love The Great Pottery Throw Down? These are five ceramicists you need to know about now
If The Great Pottery Throw Down has inspired you to update the ceramics in your home, here's our edit of the best names working in clay today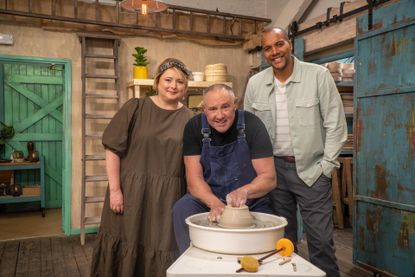 (Image credit: Mark Bourdillon/Love Productions)
The Great Pottery Throw Down is delivering a weekly dose of clay-based inspiration into our homes. As its contestants face a new ceramics challenge each week – producing everything from characterful cheese sets to lamps shaped like mushrooms, saucy fruit bowls and 'naked raku' – it's inspiring the nation to embrace creative, characterful ceramics in our own homes.
You don't have to get behind a potter's wheel and start making your own. We've found some of the most creative potters and ceramicists working right now, creating everyday ceramics, stunning vases and vessels, and collectible pieces that elevate clay to works of art.
Read our hot list of potters to watch, starting with the man himself, Keith Brymer Jones…
The Great Pottery Throw Down is on Channel 4 every Sunday, but you can watch it on catch up, on HBO – and catch clips on YouTube.
Keith Brymer Jones
The Great Pottery Throw Down wouldn't be the same without its emotional head judge, master potter Keith Brymer Jones. The ceramicist is almost as well known for his tearful response to the contestants work as he is for his own renowned ceramics.
'Be it pottery or anything creative, the human endeavour of making something out of nothing is emotional,' he says. 'We put them through the mill but they raise to the occasion. It's the determination and sheer will of these people, to create something they may never have made before, that gets me. Everyone tries so hard and to see them struggle really hurts.'
Brymer Jones made his first piece of pottery aged 11, then went on to produce work for Habitat, Heal's and Barneys NY. But it was his Word tableware collection (above) that made his name. It was inspired by his struggle with dyslexia 'The "Love" bucket mug is one of my most popular designs,' he says.
'My design philosophy is pretty straightforward - I like things to be simple yet stylish and pleasing to the eye, and practical in the modern home.'
As well as his own-brand products, Brymer Jones has collaborated on ranges with the British National Trust and Tatty Devine, among others. But it's his Word collection that we think is truly worth writing home about…
Richard Miller
The fourth season of The Great Pottery Throw Down has seen Richard Miller graduate from kiln technician to fellow judge, alongside Keith Brymer Jones. It's about time his own skills took centre stage.
Miller took over then-struggling handmade tile business Froyle Tiles just two years after completing his MA in ceramics. Twelve years on, he and his team still make every single tile by hand, often recreating vintage Victorian, Edwardian and Arts & Crafts designs. 'There is a real thirst for something more individual and specific, and we can work in a collaborative way with our customers,' explains Miller.
If you're looking for something more artistic, Miller also has his own studio practice, producing beautiful vessels inspired by colonial history.
'My father is from Guyana, my mother from Wales, and I'm fascinated by the British Empire,' he says. His work explores the influence of immigration and the eclectic mix of cultural styles in the UK, using images adopted from the colonies that have become part of mainstream British culture.
Katherine Cuthbert
South African-born Katherine Cuthbert moved to the UK when she was 18, originally intending to go to art school. Instead, her career took a roundabout route to creative success, taking in bag design, needlepoint and fresco painting – before she joined a local evening class in pottery and found she had a natural affinity with clay.
'I found it easy to make pots but it always seemed odd that we were asked to cut them in half to check they were perfectly even,' she says. 'I discovered that Japanese ceramicists throw pots that aren't centred on the wheel and that are made with softer clay so the shape is more organic and natural. That technique clicked for me.'
Today, Cuthbert is a multi-disciplinary artist and her work is sold to collectors worldwide. Hotelier Kit Kemp is a huge fan and displays many of Cuthbert's pieces in her Firmdale Hotels. If you want a piece for yourself, Cuthbert's work is sold through Haviland Designs.
Her tip for artists following in her footsteps: 'There is always so much more to explore and discover, so never stop absorbing what's around you.'
Robina Jack
Robina Jack began as a stained glass artist but switched to working in clay after a friend persuaded her to take pottery classes. 'I loved the endless malleability of clay; it felt so much freer than working with glass,' she says.
Although the medium was different, the vibrancy of her designs remains the same. 'I'm driven by pattern and colour – and I almost always use a framework of different borders to show off a central motif.' Nature, animals and even her husband's seafaring memorabilia are a source of inspiration for her slipware designs.
Just like the contestants on The Great Pottery Throw Down, it's the anticipation of seeing what's revealed when the kiln opens that inspires Jack. 'Sometimes I can't sleep as I'm so excited about what will come out of the kiln in the morning,' she laughs.
You can discover Robina Jack's latest work and purchase her intricately patterned plates and platters on her website.
Richard Brendon
Richard Brendon is on a mission to preserve the artisan skills and industry that goes into creating ceramics. 'The more I looked into the world of ceramics – particularly bone china – the more I realised that the pottery industry is declining,' he says. 'I'm passionate about regenerating it and the traditional skills used by skilled craftspeople all over the world.'
His slick contemporary creations put a twist on historic designs – his Dip collection (below), for example, was inspired by 18th century creamware by famed potter Thomas Whieldon, that Brendon spotted on a trip to the V&A.
'I wanted to use cobalt blue as it's the most prevalent colour in British ceramics,' he says. 'We also settled on a smokey grey tone with a subtle white base to add drama.'
Brendon's ceramics are handcrafted in the home of British pottery, Stoke-on-Trent, and are collectibles of the future. See the full range on his website.
Where can I find unique ceramics and pottery?
Makers' fairs, open studios and craft events are the place to find one-off pottery pieces and artisan ceramics. Look for listings from organisers such as Made Makers, the Crafts Council and UK Craft Fairs.
Online marketplaces such as Etsy and Not On The High Street are also good sources of accessible pottery.
For more exclusive pieces, museum shops often sell fine ceramic pieces, while some art galleries will specialise in collector's pieces. See Galleries Now for listings and exhibitions.
How much can I expect to pay for ceramics and pottery pieces?
This really does depend on the materials used, how many pieces are produced, the skill of the maker and how renowned their work has become. Expect to pay from a few dollars/pounds for a relatively mass-produced mug to thousands for a unique gallery piece.
Where can I learn to throw my own pots?
If The Great Pottery Throw Down has inspired you to get behind the wheel, check out the classes from the Craft Potters Association which run nationwide, Clay College in Stoke, plus the local evening classes and independent studio courses run in your area.
Sign up to the Homes & Gardens newsletter
Decor Ideas. Project Inspiration. Expert Advice. Delivered to your inbox.
Andrea has been immersed in the world of homes, interiors and lifestyle since her first job in journalism, on Ideal Home. She went from women's magazine Options to Frank. From there it was on to the launch of Red magazine, where she stayed for 10 years and became Assistant Editor. She then shifted into freelancing, and spent 14 years writing for everyone from The Telegraph to The Sunday Times, Livingetc, Stylist and Woman & Home. She was then offered the job as Editor on Country Homes & Interiors, and now combines that role with writing for sister title homesandgardens.com.