5 tips for designing a mudroom that our favorite experts don't want you to miss
From clever storage solutions to practical flooring tips...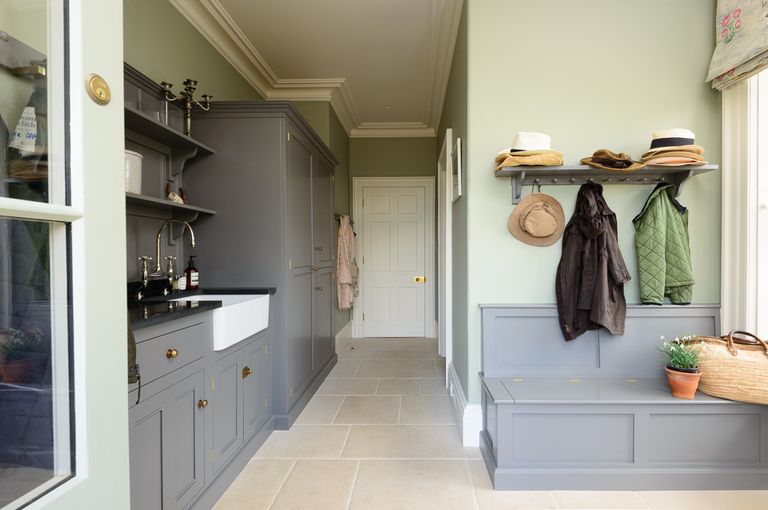 (Image credit: deVOL)
Mudrooms – or boot rooms, as they're also called – are a staple feature of a country home, a place to remove muddy boots, store outdoor clothing and keep the outside from covering the rest of the home. A mudroom is the perfect spot to shake off the waterproof jacket – and also to dry off the dog after a bracing country walk.
A mudroom is also the ideal place to store necessities that you don't want to keep in the main kitchen, and can be the perfect spot for your washing machine and tumble dryer.
Not everyone has the space for a dedicated mudroom, but one can be created in the smallest of areas; in fact, all you need is a spare wall ideally near the back or side entrance to your home.
Designing a mudroom
Want to create a mudroom but not sure where to start? We've rounded up top tips from the experts at deVOL, Neptune, Hush, and British Standard by Plain English to bring you five things to consider when designing your mud room.
1. Consider the main practicalities first
Even the smallest of spaces can be turned into a mudroom, as we said above. If you are working with a tiny room, think about the absolute basics before you move on to the 'would like to haves'. 
'Make sure to think about practicalities first, incorporating plenty of coat hooks, seating, shoe, and boot storage,' says Adrian Bergman, Senior Designer at British Standard by Plain English. 'Think about having somewhere to sit, a bench can also act as shoe storage.' 
The one above has a clever lift-up lid where outdoor shoes can be stored. Putting small drill holes into a solid piece like this will allow some air flow into the storage to keep the damp and dank air at bay.
The designers at Hush agreed, advising: 'Start with a bench providing a perch to change your footwear. In most designs, the top can be lifted up to provide storage; or create pull-out drawers for extra room. Place a row of hooks above the bench to provide somewhere to hang coats and hats.'
If you have room– and especially if you don't – tall built-in cupboards and shelves are always a great idea.
2. Make space for a sink – and dog shower
A sink is a must to clean any dirty footwear (or dogs!). 'A big deep sink is perfect for all the messy jobs, and make sure the taps are tall so you can fit buckets and watering cans under them to fill up,' advises Helen Parker, deVOL's Creative Director.
Installing a dog shower is an option more homeowners are taking up, Emma Sims-Hilditch of interior design agency Sims-Hilditch reveals in her feature for us on how to make a home pet friendly – and super stylish. If you are designing a mudroom and don't have a dog, we'd suggest installing some kind of shower attachment, even if only for the sink – may kitchen faucets have this option. Why? They are very useful for cleaning everything from boots to potatoes. And you never know, your children may persuade you to get that pup at some point.
3. Choose easy-clean flooring that doesn't show dirt
The mudroom is essentially where you clean off all the dirt and ready yourselves to head indoors for a nice hot chocolate. Remember to use practical flooring materials that are easy to clean; choose patterns, dark colors and natural stone, all of which will not only withstand the trials it will have to go under but will hide dirt, too, so you don't feel you have to clean constantly.
'A practical hardwearing floor is necessary, make sure it's easy to clean and ready for muddy boots,' says Adrian. And deVOL's Helen Parker agrees, adding, 'Choose dark colors and a natural floor that will take knocks and hard wear without looking tatty very quickly.'
Hush's experts add: 'Natural stone flooring is the obvious choice for a boot room, but a stone-effect porcelain would work equally well.'
Want to elevate the room further? 'Consider underfloor heating,' says Adrian. 'After a cold walk in the rain the warmth under feet is an indulgence but it also aids drying wet boots, shoes or dogs!
4. Ensure the lighting is practical
Keep cabinetry and color schemes light and bright, particularly if you're working with a small space. Amber Greenman, Home Designer at Neptune Bath, says: 'You can make a huge difference to your utility room by considering color and lighting, and as it is often a smaller room, the more light the better.'
5. Pick the perfect location for the mudroom
It might seem obvious, but the mudroom should be situated next to the garden if at all possible. 'Have the room located directly to the outside, to avoid muddy boots and gardening equipment being traipsed through your house,' says Helen.